Maintaining an organized bedroom can be a challenge, but with the help of professional organizers, you can transform your cluttered spaces into streamlined and functional areas. A cleverly placed bookshelf or a corner closet shelf can easily be the answer you need. Here, we explore expert tips and tricks for organizing bedroom and bathroom closets, using clever closet shelving strategies.
Outsmart Bedroom Closet Chaos Using Shelving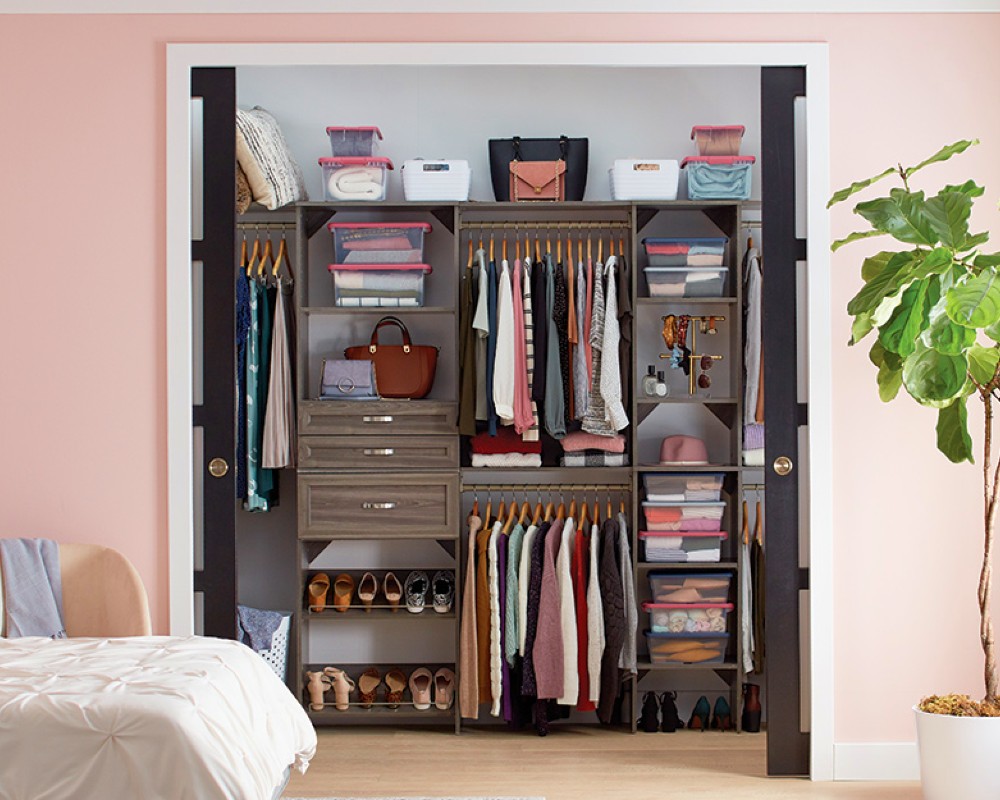 There are several ways you can organize your bedroom with clever shelving techniques.
● Create a Slim Built-In Bookshelf
Maximize your closet space by incorporating a slim bookshelf into the design of your bedroom. This technique creates a custom built-in look and provides additional shelving space for organizing clothes. Consider using a utility-based double-rod on one side of the bookshelf or installing a hanging organizing system within the shelf for added functionality.
● Designate One Shelf Exclusively for Cherished Items
Carve out a dedicated shelf in your closet to store accessories and items that make you happy. You can place picture frames with treasured photos, jewelry organizers, makeup, a mirror, and even an iPod dock on this special shelf. It not only adds style but also makes getting ready a delightful experience. You can even use this shelving idea on your bookshelf.
● Enlist a Step-Stool for Easy Access
Make your closet more user-friendly by keeping a step-stool nearby. It allows you to reach high items effortlessly. Group clothing by type and assign a specific shelf for purses to create a neat and organized space. A step-stool can be helpful to reach for your high bookshelf too.
● Add a Pop of Color With Stick-On Wallpaper
Make your closet visually appealing and easier to navigate by painting the interior walls a pretty shade or using colorful stick-on wallpaper. This simple touch can make finding clothes a breeze. Also, consider using colorful bins and baskets to hide clutter and store out-of-season clothing. Go for a monotone wallpaper to highlight the various book covers on your bookshelf.
Utilize Bathroom Closets With Shelving Secrets
Your bathroom also needs a tidy look, which can be achieved with shelving.
● Toss and Organize
Start organizing your bathroom closet by decluttering expired products and old items. Group similar items together and place less frequently used items on higher shelves, reserving eye-level shelves for easy access to essential everyday items.
● Use Clear Storage Jars
Store often-used items like cotton balls and bath salts in clear storage jars on shelving. It not only keeps things organized but also creates a visually pleasing and cohesive look. Clear jars also make it easier to identify when supplies are running low.
● Enlist Dedicated Baskets
Old baskets are excellent for organizing bath items in small spaces. Assign a basket or bath caddy to each family member to reduce product mix-ups. Additionally, label bins on shelves by categories to establish a tidy grab-and-go system.
● Get Handy With Hooks
Hooks are one of the most versatile and affordable storage solutions. Utilize them to hang towels or install them inside cabinets to hold hair dryers and accessories. Hooks maximize storage space and prevent floor or cabinet pileups.
See what Bronco's Hackett Has to Say About His Decision of 64-Yard Field Goal
When fans had all their hopes on the legendary quarterback Russell Wilson, he was found nowhere to be seen on the field. This happened during one of the most crucial moments during the match between the Seahawks and the Broncos on 12th September. Let us take a look at why the Broncos coach decided to take a leap and guided the team to go for a 64-yard field goal.
Why Nathaniel Hackett Tried 64-Yard Field Goal
Coach Nathaniel Hackett was making his debut back in the game after working as an offensive coordinator for the Packers for three seasons. With just over four minutes remaining and all three timeouts used up, the Broncos took the ball at their own 22-yard line. With 20 seconds left, Wilson was faced with a fourth-and-5 from the Seattle 46-yard line after the offense took too much time off as they neared midfield. Instead of going for the covert, Hackett went for a 64-yard field goal and lost the game 17-16. When asked during an interview why he took this decision, he said that the team wasn't working with the ball efficiently and he took this step to improve their chances of winning. He wanted more than just a few chunks here and there.
Was it a Wise Decision?
Well, when Hackett tried the 64-yard field goal, he put his trust in Brandon McManus, the placekicker of the Broncos football team. However, McManus missed the kick to his left and the plan wasn't a success. During his interview, Hackett added that even though there was enough leg for McManus, he missed. However, he added that this really wasn't the only reason behind the lost game. The team was already in a similar position. He ended up by saying, "If you're not gonna score in the red zone, if you're gonna have too many penalties, they're gonna lose the turnover battle."