There's no denying that mental health care is important and necessary. Regular therapy can help to cope with grief, depression, anxiety, etc. Though not the same as the real deal, here are a few handy therapy apps that can also be your viable support system.
7 Cups (Free or $13/Month for Premium, $150/Month With Therapy Plan)
7 Cups will let you chat anonymously with active and trained listeners to receive support on many serious issues like loneliness, depression, and chronic pain. The Personalized Path feature provides specialized content and exercises on almost everything from family stress to breakups. The Therapy Plan will let you message a matched licensed therapist on weekdays.
Wysa (Free or $80/Month for Premium)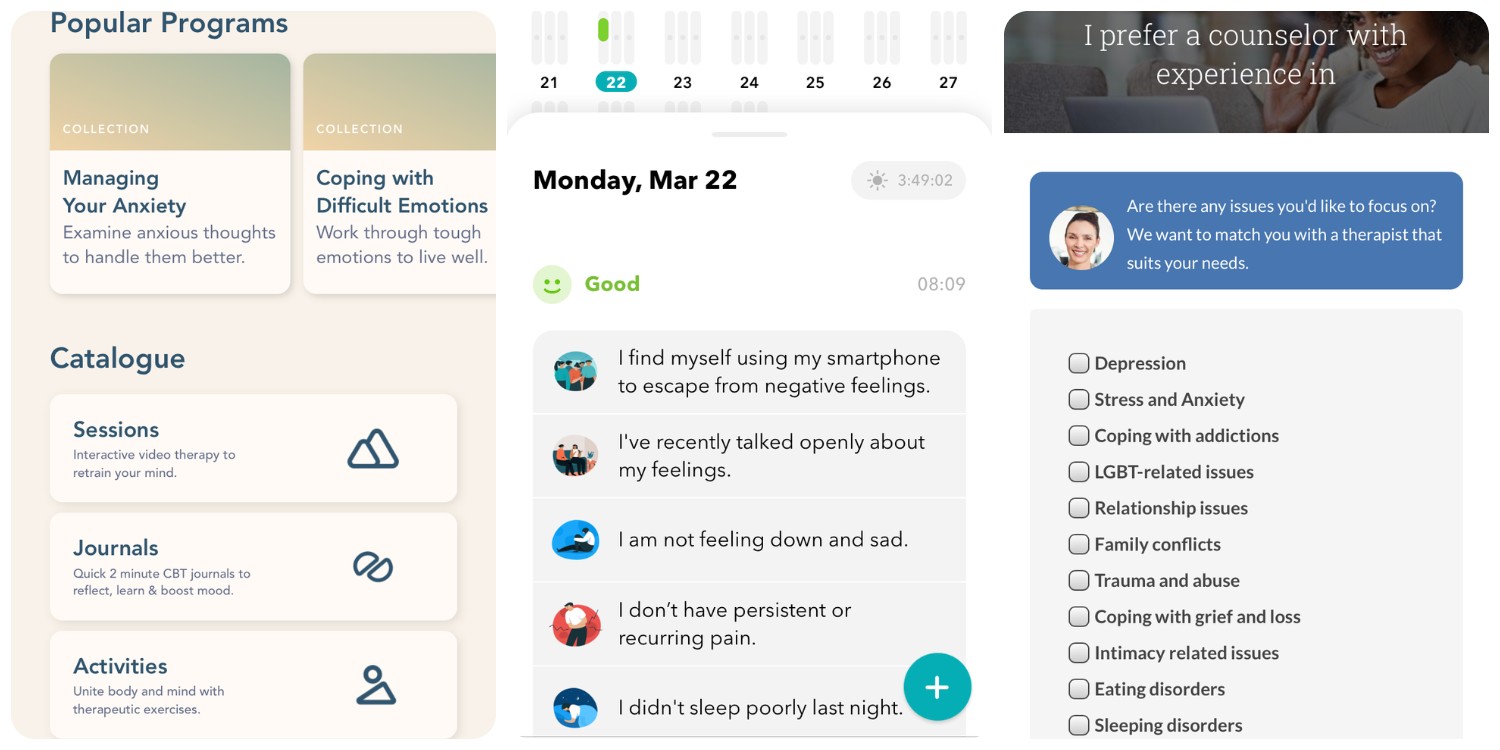 It's undoubtedly the cutest therapy app on the list! Wysa is centered on an AI penguin with whom the users can chat about their emotions and thoughts. In response, the cute penguin offers helpful techniques and research-backed tips to help fight depression, stress, and anxiety. The Premium version will pair you with a therapist for weekly live chats.
MindDoc ($7/Month After a 7-Day Free Trial)
Developed by clinical psychologists, MindDoc helps with mild to moderate mental health issues. This affordable app lets you track your daily mood and also offers a range of reading or listening courses on various topics like self-confidence, mindfulness, understanding depression, etc. You can use it alongside your regular therapy sessions to get the best of both.
Bloom ($10/Month After a Free Trial on iTunes)
Bloom is a unique app that offers users a self-guided approach to CBT or cognitive-behavioral therapy. According to the American Psychological Association, this treatment usually involves active efforts to change the patient's thinking patterns. Here, you can select CBT-based activities, journal prompts, therapy videos, etc. to tackle work stress or manage emotions.
BetterHelp ($240-$360/Month)
BetterHelp is a great option for those who want to talk directly to a therapist. Once you provide information regarding particular issues and your preferences, the app connects you with a licensed therapy professional with matching expertise. Depending on your plan, you can even schedule live video sessions with your counselor along with texting them as often as you want.
Talkspace ($260-$390/Month on Google Play and iTunes)
Talkspace is another app that matches you with a licensed mental health expert. Based on your plan, you can opt for texting, live video sessions, and audio messages as the communication mode with your therapist, with a guarantee of having responses five days a week. This therapy app also includes a Journey feature, a symptom tracker, and guided mental health exercises.