Celebrating the News
We all mark big milestones in our own ways. Maybe you prefer to catch a video of an event while someone else grabs a moment. This person got rather creative.
They explained that they had a specific outfit they would wear when something big happened. It just so happened that the outfit they fell back on was a clown costume. It definitely made for some interesting photos from when their younger brother was born!
Come Back!
If there's one setting that's almost always sure to come with quite a few chaotic family photos, it's going to see Santa Claus at a local event. It was sure not to be a visit to Bass Pro Shops like any other.
It seems like this child just didn't want to sit with a stranger rather than their mom — can you blame them? It's hard to pin down what's the funniest thing in this photo. Is it the mom sprinting away? One child staying in a pose? Is Santa ignoring the whole thing?
School Photos
School photos can really be hit or miss. Plenty of people have photos they look back on and wonder just what anyone was thinking when the photo was snapped. This person had a few questions about this school photo.
While they were only 11 years old in this photo, they also pointed out they could have passed 55 years old with this photo. It could be worse but we can see how they might find the style a little dated in the early '90s.
They Want to Join
It's not easy to get everyone in one place for one big family photo. For a minute, it seemed like this family managed to do the impossible! To their credit, the family seems like they were ready for the photo for the most part.
Still, pets are a part of the family, too, and they want to be involved! We're not sure this family was hoping for a canine wrestling match when they took a second look at this picture.
She Needs Some Rest
Having a lot of children takes a lot of energy. Once those kids have their own kids, though, you'll have a lot of grandkids around.
Even if you're used to a large family, thirteen grandkids running around would use up a lot of energy. This grandmother was still trying to have fun when all the excitement of Christmas got to her. The result was a puzzle being turned into a pillow.
Oh, Okay
As a parent or a grandparent, you usually want to grab plenty of cute snapshots of the newest members of your family. Some are a little frightening, though.
This expression is already a little unsettling before you notice this toddler is enjoying a copy of The Exorcist. The person who shared this photo said they received it from their mom after a night of babysitting. It'd definitely catch us off guard, to say the least.
Good Effort
There was a time it was popular to head to a local photo studio when you needed a professional family portrait. That's what this family had in mind.
After all, what's a better gift for Mom for Christmas than that family photo she's been wanting? Well, almost the family photo she's been wanting. The only problem is that these siblings may have forgotten to show their smiles when the camera flash went off.
What Is She Planning?
There are some moments you want to get on camera forever. Siblings meeting for the first time is a huge milestone for everyone involved and parents probably want that for posterity or to show them one day.
These parents decided they needed a picture of the two. While the smile here was likely conveying excitement, the person who was the baby in this photo couldn't help but notice how sinister their older sibling seemed in this pose.
Pretty Sure We Know Who's Guilty
There are some things your phone simply won't withstand. You can't really expect your phone to work after being flushed down a toilet. Luckily for these parents, the phone was at least intact enough to get the pictures off their phones.
While they may have been hoping to save some baby photos, they found one baby photo they weren't expecting. It seems pretty clear which one of their kids was behind the phone's disappearance.
Don't Do That!
There are some things you simply can't stand for. This grandmother wasn't about to be disrespected by anyone, wildlife included. So, when this pelican came to take a bite of her, she wasn't having it.
Her grandchild snapped this picture while she was right in the middle of lecturing the bird. We're not sure how but it seems like she really made the bird feel ashamed. They might even think twice before trying that again!
Stunning Results
There are some poses that seem safe for a family photo when you're working with a photographer. After all, if they weren't, why would the pose be so popular? To be fair, both of the parents look rather serene here.
The toddler they're holding between them doesn't look quite as relaxed. Even worse, they'd managed to get the same picture perfectly only a year before. We suppose this would make a hilarious then-and-now comparison, though.
Who Is That?
Baby pictures in a family can sometimes be a mystery. After all, genetics are strong and family members often look alike when they're still so young.
This person couldn't help but laugh at the face in these family photos. Just as they were laughing, they decided to ask about the baby in this photo. They were quickly informed that this photo was of them as a baby at only a month old.
Baby Photos
Like we said, people look a lot different when they're babies and this can lead to some interesting photos. When this couple was looking at an old photo album, they managed to find a picture of the husband that left them in stitches.
The picture in question here isn't necessarily weird in any way — the two were just surprised by how large this person's head looked when he was an infant.
Not Quite Enjoying Things
When you're trying to get a family photo, making sure that everyone is smiling can be a challenge. On a log flume, you probably aren't going to nail too many smiles. To start, we have to say the mom in this picture was ready for the photo.
Her son, though, seems a little more nervous about the whole situation. As for the person in front, they assure everyone this is his standard look but he definitely doesn't seem to be photo ready.
"Fun Clowns"
At first glance, this photo is incredibly terrifying. We're not sure how we'd react if a bunch of clowns rode by on bicycles. The person who posted the picture explained that it was a childhood photo of their wife and a few others.
Apparently, it was regular practice to ride around the neighborhood like this. The kids called themselves "fun clowns" but we're sure they scared more than a few people together.
Not Worth It
It's hard to stay up and party when you're a little kid. After all, you need a lot of sleep when you're very young! This person snapped a photo of their sister when she was already tired.
The facial expression that steals the show here immediately follows her very first sip of sparkling grape juice. While it's a drink some kids love, we're not so sure that this child was ready to try it again anytime soon.
Quality Time
It's funny to see what entertains kids when they're young. They often break into fits of giggles over things adults do every day or wouldn't think to do at all.
Unfortunately for this dad, the game their kids came up with one morning seems like a pretty harsh way to wake up. While we understand a newly-found ability to balance must be exciting, it doesn't look like the spot they found to pose for a picture is comfortable for everyone.
Really Loving the Ride
There are some things you get to do as a kid that are just wildly exciting. Hitting up an amusement park you love? That's a real opportunity for fun. This child seems thrilled for the chance to check out the rides at Dollywood.
While this photo may not be the picture-perfect family photo some were hoping for, it's memorable in its own right and surely has a place in the family photo album. They said they laughed so hard at the picture they couldn't help but buy it!
It's Definitely Creative
As we've said, hitting a local photographer's studio for posed pictures in front of a backdrop was the go-to method for family photos for quite some time.
When this family decided to get their portraits done to serve as directory photos for a church, the photographer wasn't feeling the standard poses. So, they asked the family if they could get a little more creative. Judging from this final result, that creativity was a little off-the-wall. Also, does the back of your head help in a directory photo?
She's Ready
As you go through life, you probably learn a few genuine life hacks here and there to help you out. This grandmother lived and learned.
So, when her grandchild came up and asked for rice because they dropped their phone in water, their grandma was ready. Instead of sacrificing some of the rice from the kitchen, she already had a container dedicated to rice only used to dry out electronics. Not a bad idea!
Not Posing for the Picture
Vacations with the family are a great chance to show younger members new experiences and create some really special memories together. If you want great photos, though, maybe aim for midday while everyone still has the energy to pose.
By the end of the day on a trip to Croatia, this family was trying to snap a cute picture but the younger sister of the family was a bit too tired to stay up any longer.
Babyface
For those that are less familiar with professional wrestling, a face (or babyface) refers to a "good guy" wrestler. Judging from the wrestling pose these siblings were captured in, we'd say that baby bro here is the fan favorite — while his older sister is obviously the antagonist.
All jokes aside, we're not entirely sure what these kids' parents were thinking. Not only did they dress their children in wrestling singlets, but they also had them pose in the most awkward position imaginable.
Congratulations to You Both
When you're pregnant, you might really be looking forward to the experience! A maternity shoot is a great way to commemorate and celebrate the upcoming addition to the family.
As it turns out, this mother-to-be wasn't the only one in the family expecting. Alongside their pregnancy, one of the goats the family had was pregnant too. So, why not share the celebration and get a few maternity shots together?
Asleep Instead
When it comes to weddings, the youngest members of families aren't always as excited. Sometimes, they're just too young to understand the circumstance. Still, this baby was enlisted as the flower girl at her aunt's wedding.
It's a good thing that they made sure she was safely strapped into her seat. When they finally pulled her down the aisle to throw flowers, she'd already nodded off for a nap, leading to a much funnier scene.
Interesting Preference
It's not uncommon for young kids to get attached to an object. For example, your child might love a blanket or a teddy bear they won't leave behind. There's no reason kids have to stick to these clichés, though.
This toddler had a different idea. Instead of a stuffed animal that had to be in their room while they slept, they fell head over heels for a life-sized Halloween skeleton. The resulting monitor photos are hilariously nightmarish.
Put it Out!
Birthdays are an exciting time to celebrate with family. At first glance, you might even think this is a cute photo, even if the child doesn't seem quite ready for the camera flash.
A closer look reveals the real problem with this photo. Unfortunately, if you have long hair, you really need to watch it around fire. Otherwise, you might ignite it with something like a birthday candle on the cake you're leaning over.
A Celebrity Appearance
There are some things that always blow people's minds. Most people are rather shocked when they meet a celebrity for the first time. After all, it's not like it happens every day.
This baby seems surprised, even if they don't understand the implications of meeting someone this iconic. We have to wonder, though — why do they have a baby photo with Mr. T? The mom seems pretty excited about it, too!
A Family Effort
Riding your bike as a kid is exciting. After seeing something like what they do at the X Games, though, you might want to up your game a little bit.
Back in 1980, this child was just looking for a bit more of a thrill. So, they turned to a classic choice of building a ramp — sort of. Instead of building it on the ground, their mom got about as involved as possible. This seems like a painful labor of love.
What's Happening?
There are some days you always want to remember. Many people really cherish their wedding photos with their spouse. You have a lot of options when it comes to how to take these photos, too.
Most opt for photos before, during, and after the ceremony. You can get creative if you want to, as this couple clearly did. We're just wondering whether or not this photo was supposed to be comedic.
Everybody Matches
It's almost a cliché at this point to take a family photo in matching sweaters. Still, grandma put so much effort into these, so how can you say no?
The result was a family photo that's already a little awkward. What really makes this stand out is the expression on everyone's faces.
This Isn't Good
If you're looking for something serene, you might think a beachside shoot is a good way to go. What could be more peaceful? Well, if you're photoshoot goes like this, then the beach might not exactly be peaceful.
First of all, everyone ended up being fine. What led to this shocking shot was one of the older kids jumping on this mom's back unexpectedly while she was holding the youngest. The result was a bit chaotic.
Ready for the Renaissance Fair
There are some photo booths that are a little more gimmicky than others. If you stop at a Renaissance fair, you might get the chance for some fun photos.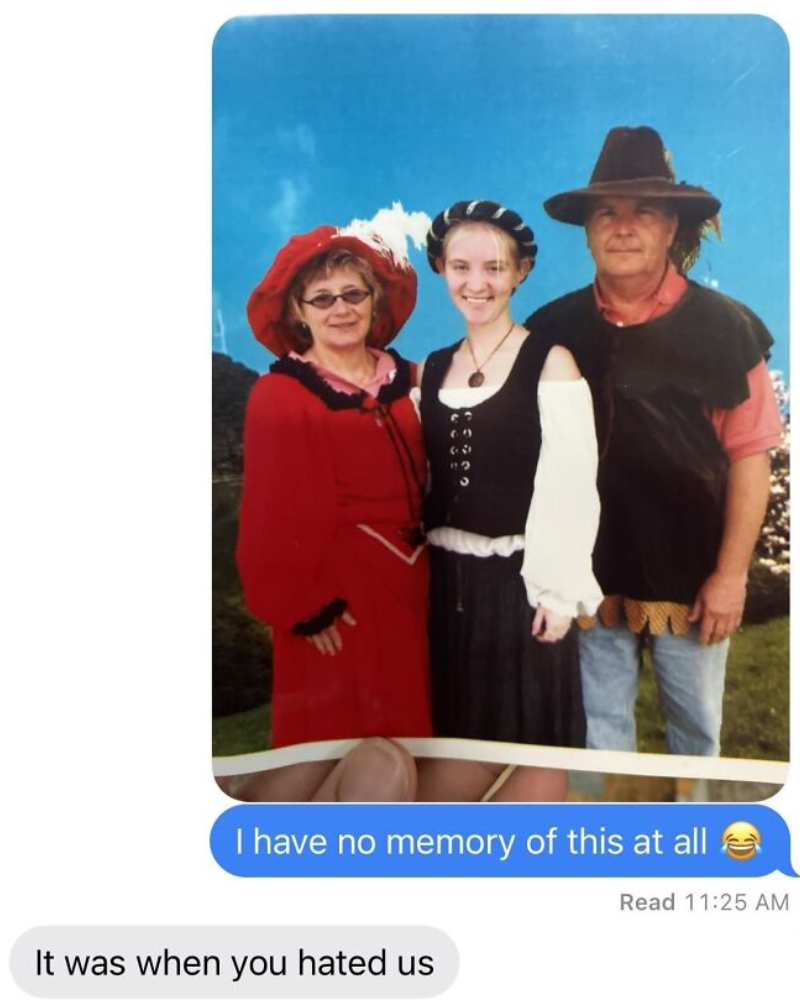 While the photo itself was slightly comical, this person was even more caught off-guard to realize they didn't remember it. When they told this to their mom, she was even funnier in her response about her memories of that period of time.
They Did Ask
When you want everyone to look happy in a family photo, you might remind everyone to smile. However, you can't really guarantee consistency across everyone's expressions.
When this family wouldn't sport big enough smiles, the family encouraged them to smile even more. At some point, though, you can only smile so much more before you start to look a little odd. The wide eyes really stand out in this expression but can you blame him?
Finally Found Them
There are some photos from our younger years that we'd rather not share with everyone. Still, you can't just throw them away, can you?
This person couldn't quite let go of their old photos but they didn't want to keep them out in the open together. That worked great until they got ready to clean out the garage with their spouse — only to stumble upon this picture together. Maybe it does deserve a place of display!
A Good Sense of Humor
As we've said, there are a lot of ways you can commemorate your wedding day. Many people go for photographs of the event to look back on years later.
We didn't realize there was such a trend of making the bride look so small. These two really had the chance to play with perspective in such an open field and they definitely took advantage. The result is a wedding photo that no one will forget anytime soon!
Playing the Part
It seems like something straight out of a sitcom but when you're young, you really can get some strange roles in the school play.
When it comes to a show like Beauty and the Beast, at least the cutlery doesn't just stay sitting in a drawer. Given that this was a skating carnival, we're sure this person playing a spoon at least got a moment or two to show off their skills on the ice!
"Heart Breaker"
Listen, the camera sometimes creates illusions that we don't want it to. In this case, this student's shirt was a bit warped in her school photo.
To start, let's clarify that the shirt actually says "heart breaker." Still, with the fabric folded and the angle of the camera, you would think from the picture it read "fart breaker." Apparently, it's a joke their siblings got a lot of mileage out of.
Accessorizing Siblings
By the time you're the eighth kid, you know you'll have plenty of people to hang out with growing up. This person's siblings were just there to have a little fun. It's pretty innocent fun, too.
After all, it's just a few balloons and we're fortunately not in a cartoon, so they aren't going to float away. It does make for a funny picture, though, and the baby seems pretty fascinated with the situation — or maybe they're just confused.
Trying to Match a Friend
This is the sort of family photo that would really confuse someone the first time they saw it. It makes more sense once you hear the story.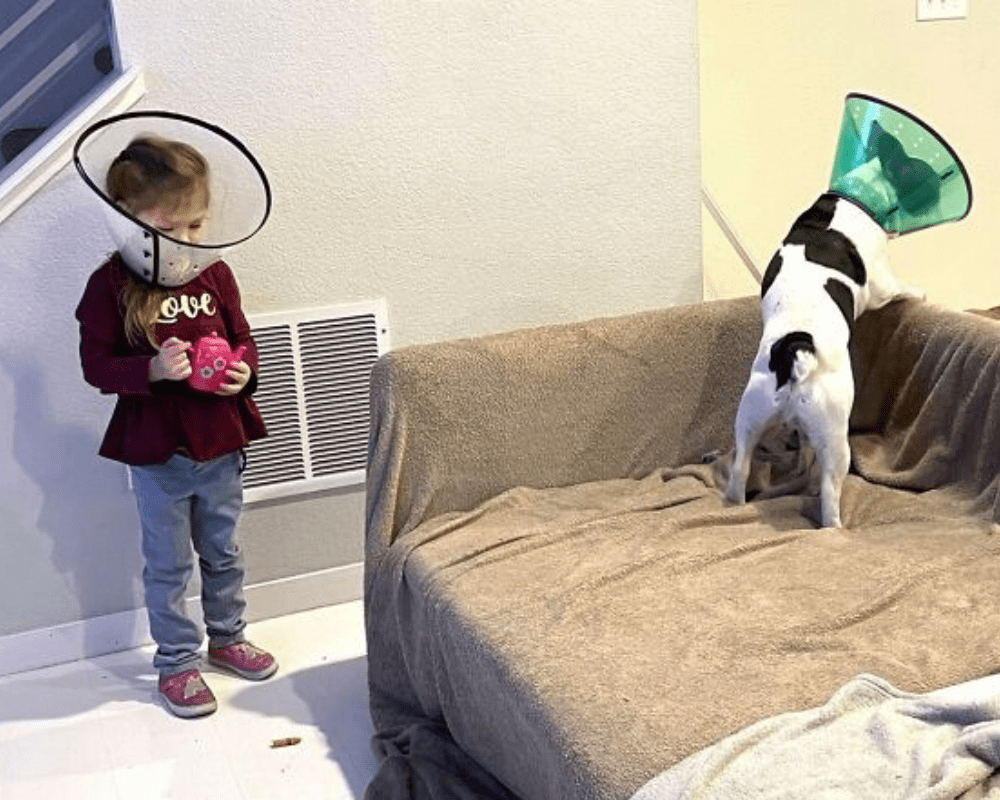 The dog in this photo was home shortly after a trip to the vet, leading to a cone to wear for the time being. As for one of the younger humans in the house, they didn't want their beloved pet to feel alone. As such, they demanded a matching cone.
A New Tradition
Some people really love family photos. Grandparents, like the one in this story, love to collect these memories and display them any chance they get.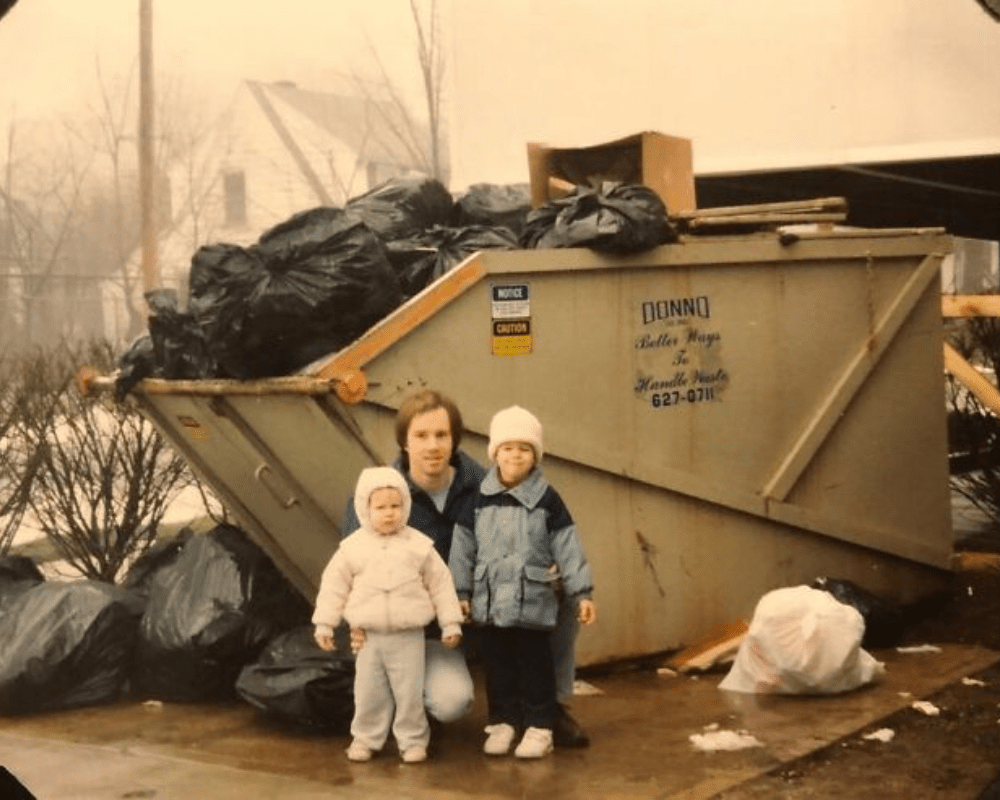 When this family noticed their grandfather kept all the photos they gave him and hung them up around the house, they had an idea. What if they gave him a picture next to a dumpster? Not only did he hang it up, but it also started a new family tradition as well.
It's Efficient
We've all seen a movie scene of someone cutting their ex's face out of all the pictures they have together after a breakup. This mom decided that was the catharsis she needed.
Let's be honest, though. It's pretty labor-intensive to cut the faces out of every photo. It takes time and it's hard to just cut out what you want. If you need a lifehack on it, however, this mom found that White-Out really did the trick.
Looking Alike
Some people know the pain of matching haircuts for family photos all too well. As this person shared, their grandma liked this style — it wasn't just for the photo.
As a result, she forever has a photo featuring her and her sister in the '80s with rather… busy haircuts. To start, they had mullets, which fit the time. However, they did start to think it was overkill when the matching mullets were paired with matching perms.
Favorite Snacks
Family photos don't always commemorate relationships between different family members. Sometimes, they just really show the personality of one member. If there's one thing we can say about this photo, it's definitely full of personality.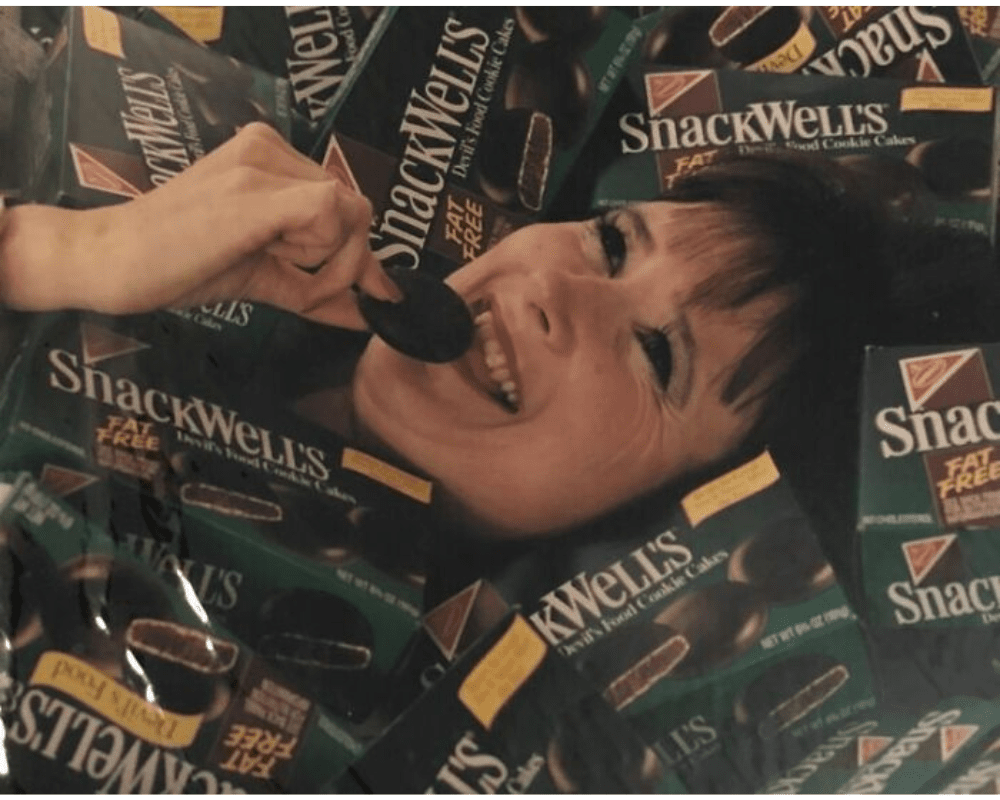 Apparently, this person loved these snacks so much, they did a photoshoot to prove it! We have to say, it's a great way to make sure your family knows what you want as a snack when they run to the store.
This One Is Scary
Some family photos really show off the time they're in. Sometimes, that's pretty scary to see! After all, things look a little different now.
In this case, we're referring to the safety standards for kids. Back in the 1960s, this family caught a family photo that seems harrowing now. We think that, even as adults, we'd at least want a seatbelt on that ride. That's a long way down, after all!
Even Scarier
These chair lift pictures make for some memorable family photos that can really make your heart drop. An older photo, this one is from 1956. The picture this person found of their dad and grandmother going for a ride.
The idea of just holding a baby in your lap while you hold on in this seat is already scary enough. We're not sure we'd want to turn around and look at the houses behind them from that height!
Geneticists Studying Ancient DNA Discovered a Girl Whose Parents Were Two Different Species
People descended from apelike predecessors through a long process of transformation known as human evolution. Scientific data suggests that the physical and behavioral characteristics common in all humans evolved over a six-million-year period from apelike ancestors. We know that a variety of creatures have inhabited the Earth before, and even alongside modern human beings. Yet, this discovery made by scientists has unearthed a very important fact about mankind…
Modern Humans Are Homo Sapiens
Humans are the largest and most widely distributed primates. They have huge, complex brains that allow them to develop advanced tools, culture, and language. Humans are highly sociable creatures who prefer to live in complex social structures.
All modern humans are classified into the species Homo sapiens — a term first coined by Carl Linnaeus in his 18th-century publication Systema Naturae. The only extant member of H. sapiens emerged around 300,000 years ago.
The Oldest Known Human Ancestors
Australopithecines are thought to be the oldest known human ancestors. Australopithecines are an evolutionary generation of early hominins that were all bipedal to some degree. Bipeds are species that can walk on two legs. Australopithecine brains were just slightly bigger than that of an ape.
Furthermore, they had adapted to a diet that included at least some difficult-to-chew items on occasion. These distant ancestors of Homo sapiens first appeared in Africa about four million years ago, according to researchers. Then again, they would have looked nothing like we do today.
What Are Hominins?
Hominins are members of the zoological family, Hominini. Out of the Hominini, only one type has survived today — Homo sapiens, also known as human beings. The word "hominin" is most commonly used in reference to extinct members of human ancestry, some of whom are now widely known thanks to fossil evidence.
Upright stance, bipedal mobility, larger brains, and behavioral features like specialized tool use and, in some cases, the ability to communicate through language are characteristics that have separated hominins from other primates, living and extinct.
The Various Species Emerge
According to experts, various Homo species began to arise. They developed longer legs that were more suited to running and walking. Then, their brains started to expand. These modifications may have signaled a shift in behavior when these early humans began to hunt and eat more carnivorous foods.
Then, around 700,000 years ago, the Homo heidelbergensis appeared in Africa and Eurasia. Experts have speculated that these hominins resembled contemporary humans in appearance, establishing the foundation for how their successors would evolve. They also behaved differently than their predecessors.
A Little About the Homo Heidelbergensis
Homo heidelbergensis is an extinct archaic human species discovered in Africa, Europe, and probably Asia from 600,000 to 200,000 years ago. The word was originally used in literature in 1908 to refer to an ancient human jaw discovered in 1907 near Mauer, Germany — less than 10 miles southeast of Heidelberg.
Several extinct mammals from around 500,000 years ago were discovered among the fossils discovered with the Heidelberg jaw. The Heidelberg jaw, also known as the Mauer jaw, is extremely broad and chinless.
What Happened to Homo Heidelbergensis?
Homo heidelbergensis was reportedly more clever than those that came before. Members, for instance, used sophisticated tools — not to mention that they perfected their hunting skills. Some speculate that people may have banded together to bring down larger creatures, implying a degree of social unity.
Despite its numerous advantages, Homo heidelbergensis became extinct. Homo heidelbergensis began to develop geographical distinctions, resulting in two distinct human species. Homo heidelbergensis species in Europe developed into Homo neanderthalensis (the Neanderthals), whereas Homo heidelbergensis populations in Africa grew into our own species, Homo sapiens.
The Homo Sapiens and the Homo Heidelbergensis
The number of chromosomes in human ancestors is assumed to have been the same. This allowed for interbreeding between the various species. Experts believe that shortly after moving from Africa and expanding over the world, Homo sapiens began reproducing with Homo neanderthals.
So, roughly 2% of human populations in Asia and Europe have Neanderthal DNA. However, it wasn't merely Homo sapiens who mated with Homo neanderthals. Members of the species coupled with members of another section of the human family tree, according to studies.
The Denisovans
In the sphere of evolutionary sciences, the Denisovans are a relatively recent discovery. In reality, definitive proof of their existence was finally discovered in the 21st century. In 2010, a group of scientists from the Max Planck Institute released the findings of their most recent study.
They discovered evidence of a new type of ancient human after analyzing a molar and a finger bone discovered in the Altai Mountains of Siberia. The species was given the name Denisova after the cave where the specimens were discovered.
Who Are the Denisovans?
The Denisovans, also known as Denisova hominins, were an extinct archaic human race that lived in Asia during the Lower and Middle Paleolithic periods. Denisovans are only identified from a few remnants, thus DNA evidence accounts for the majority of what we know about them.
In the absence of more comprehensive fossil evidence, no official species name has been established. The Denisovans are long-extinct human relatives who shared ancestry with Neanderthals. A closer examination of Denisovan genomes reveals that populations formerly traveled as far as Southeast Asia.
It All Began in a Cave
A tiny bit of bone was discovered by researchers in a cave in Siberia. Initially, the team had no idea that this came from a hominin, which is a phrase that simply referred to all species that are considered human. However, a remarkable story eventually began to unravel.
Denisova Cave is a cave in the Altai Mountains' Bashelaksky Range in Siberia, Russia. Paleoarchaeological and paleontological finds have been found in the cave. The cave contains Denisova hominin bone pieces, including artifacts dated to around 40,000 B.P.
What Did the Bone Signify?
Despite the fact that the bone had been lost for years, it was eventually discovered by an adventurous researcher. Viviane Slon took the risk of extracting DNA from the artifact as well.
Yet what she discovered has thrown decades of research into disarray. Slon, a paleogeneticist, began investigating the DNA contained within the sample in an attempt to discover more about this mysterious hominid. However, in the end, she discovered far more than anyone had anticipated.
What Did She Find?
At first glance, the bone did not appear to be very noteworthy. It is thought to have come from a teenager who was approximately 13, and it's only one inch long. Considering that the Denisovans colonized this small part of the Altai Mountains, she's supposed to have died around 90,000 years ago.
Slon was taken aback when she looked at the DNA in the mitochondria of the bone. This form of the cellular structure comprises a material that a child receives only from their mother.
The Evidence Reveals…
In this example, evidence showed that the adolescent was a descendent from a female Neanderthal. Their understanding of genetics indicates that this material is passed down both male and female lineages, allowing scientists to discover a little more about the ancient teenage girl's father.
However, the results were so surprising that she thought she had made a mistake at first. Her mother possessed Neanderthal DNA, but her father was a Denisovan mixed with Neanderthal DNA. The paleogeneticist determined the girl's genetic makeup was surprisingly diverse while studying the bone matter.
Why Is DNA Important?
Scientists can trace the ancient hominin's paternal lineage since nuclear DNA is inherited from both mother and father. To begin, the paternal lineage closely matched the Denisovan genetic profile. Furthermore, the child's DNA contained an unusually high level of diversity — a statistic known as heterozygosity.
This can tell experts how closely a person's mother and father are related. You would have very little heterozygosity if your parents were cousins. On the other hand, heterozygosity would be significant if they were from completely separate hominid species.
What Does This Mean?
Slon had somehow uncovered one of the greatest discoveries of human evolution — a first-generation offspring born of interspecies interbreeding. We knew from earlier research that Neanderthals and Denisovans may have had offspring together on occasion.
It seemed doubtful that scientists would be able to capture it in the process, a person who's actually a first-generation hybrid. In fact, the revelation was so unexpected that it has prompted queries about how prevalent such interbreeding was in the first place.
The Neanderthals & Denisovans Met Frequently
According to Svante Pääbo from the Max Planck Institute, it's astonishing that scientists find this Denisovan/Neanderthal child among some of the minority of ancient people whose genomes have been analyzed. It's possible that Neanderthals and Denisovans didn't have several opportunities to socialize.
When they did, however, they must have done it more frequently than scientists previously assumed. Researchers are examining various possibilities, including the possibility that the discovery was nothing more than a lucky break. One of them is that the two hominid species regularly interacted — and interbred.
Denny May Not Be the Only One
However, the teenage girl's bone, named Denny, was not the only piece of evidence that supports this theory. Up until 2018, scientists have only studied the genetics of a tiny variety of historical humans — 23, to be exact. Despite this, at least two individuals in this small sample exhibited indications of interbreeding amongst species.
Then, in 2018, researchers discovered that Denisovans, who vanished some 50,000 years ago, left part of their genes behind in Homo sapiens. Let us look at some examples.
Consider Oase 1
Take, for example, the person known as Oase 1. This Homo sapiens individual, which you can distinguish by the bottom half of his jaw, is thought to have inhabited Earth some 37,000 years back. Considering his obvious arrival on the human family tree, he was discovered to have Neanderthal DNA.
As shown in a 2015 research published in the international Nature, Oase 1's Neanderthal forefathers lived only four to six generations ago. Scientists reasoned that, if interbreeding amongst species happened only infrequently, finds like this should be rare.
Other Implications
There could be additional reasons why a first-generation hybrid has already shown up in such a small sample size. Caves like the one in the Altai Mountains, in Green's perspective, could easily have been preferred gathering places for prehistoric humans, introducing sample bias into the analysis.
According to Katerina Harvati-Papatheodorou of the University of Tübingen, such cross-species exchanges could have been crucial to survival. According to the German scholar, human groupings were quite small and subject to dramatic fatality, as she stated to New Scientist.
Information Gathered From a Tooth
It could be something as simple as a tooth that might reveal information about human evolution. Scientists' questions aren't answered by the remnant's appearance. Instead, scientists devised a method for examining the enamel of an 800,000-year-old chomper.
Furthermore, the findings will shed light on the status of a historic meat-eating relative who was only identified in 1994. Researchers have long maintained that chimpanzees are the sole surviving cousins of humans, and also that the different species parted about seven million years ago.
Evolutionary Changes Between Primates & Humans
However, the evolutionary differences between monkeys and humans aren't always evident. As a result, scientists and academics have spent years delving into the theories of how we humans got from one point to another.
Lucy, a fragmentary skeleton unearthed in Ethiopia that's considered to be 3.2 million years old, is among the most renowned fossil discoveries of all time. Lucy had long limbs and a chimp-sized brain, however, doctors could establish she wasn't a primate since she walked on hind limbs.
A New Piece of the Puzzle
Experts discovered a fragmentary skeleton of another one of our predecessors, the Australopithecus, while researching for Lucy. However, in the instance of these more recent changes, all researchers had was a tooth to work with. As a result, yielding productive results would take years of meticulous analysis.
The tooth, on the other hand, had just enough genetic material to assist scientists in learning more about a certain species. So while researching this one dental record, they concluded that the human genealogy needed to be expanded.
More Information Appears During an Excavation
Now, experts have known for quite some time that Neanderthals and their related group, Denisovans, share a common ancestry with modern people. However, the species Homo antecessor was never completely right in its place. In fact, the later species' fossils were finally discovered in 1994 at an ancient site in Spain.
Homo antecessors lived in Western Europe between 1.2 million and 800,000 years ago, according to estimations. During an excavation in Spain's Sierra de Atapuerca zone, paleoanthropologists discovered the remains of Homo antecessor.
The Gran Dolina
Paleoanthropologists discovered the Gran Dolina, a large cavern on the location. José Mara Bermudez de Castro, Eudald Carbonell, and Juan Luis Arsuaga made up the team.
Gran Dolina includes 11 separate rock formations in the Earth, the majority of which contain fossilized animal and human remains. Bermudez de Castro, Carbonell, and Arsuaga discovered remnants from the latter type on the sixth layer. Experts dated these to around 780,000 years ago, making them the earliest human remains yet discovered in Europe.
The Homo Antecessors
Homo antecessor was the name given to this species. After all, "homo" means "human," and "antecessor" implies "early settler," "pioneer," and "explorer" in Latin. Given that the relics were Europe's earliest, the name was appropriate. The Homo antecessors were the very first recognized human population in the region, marking them trailblazers.
The findings also astonished researchers in a variety of ways after additional investigation. The Gran Dolina site revealed details on how Homo antecessors lived back in the day.
Physical Attributes of the Homo Antecessors
The Homo antecessor lacked any morphological characteristics that distinguished itself from other ancient human species. They did, however, have a rare combination of features that set them apart from other ancient individuals, notably in the teeth, cranium, and lower jaw.
In fact, several of their characteristics looked to be more similar to modern humans. Their frame was most likely "similar to present people, but more sturdy," according to the researchers. Men of this extinct species were generally shorter, ranging in height from 5'2″ to 5'9″.
Other Similarities to Modern Humans
The brain of a Homo antecessor was about 1,000 cubic centimeters in size, compared to a modern typical human brain, which is 1,350 cubic centimeters. Furthermore, the face of the Homo antecessor appeared to be quite recent, particularly in the center of their head.
They also possessed outward-projecting noses and hollowed-out cheekbones, precisely like modern people. While experts are yet to find out more information about what this implies, the facts are interesting. However, the similarities end there, and more ancient-looking traits begin to emerge.
About Their Culture
Excavations at Gran Dolina also turned up approximately 200 stone tools as well as about 300 animal bones, all dated to at least 780,000 years old and found in the same layers as the human remains. Sima del Elefante yielded similar results.
Archaeologists discovered the skeletons of a number of huge creatures, all of which would have arrived at the location in one piece. This suggested that humans did not work as individuals. Instead, they collaborated to stay alive, and they ate together as well.
Brutality of the Homo Antecessors
The bones discovered at Gran Dolina appeared to suggest that Homo antecessors had a harsh side to their character as well. There were cut marks as well as indications of crashing and burning on a few of the species' bones. This evidence indicates that they were cannibalistic.
Now, cannibalism by the Homo antecessor could have been a drastic step. Other prehistoric species were known to behave in the same way. Cut traces on their unearthed skeletons suggest that Neanderthals engaged in frequent cannibalism and even ritual defleshing of bodies.
What it Meant for Science
As a result, the paleoanthropologists who discovered the Homo antecessor bones performed some preliminary dating. They believed it was the last link between humans and Neanderthals before they separated into their own civilization. The parallels between the bones of Homo antecessor and Neanderthals could not be overlooked.
Now, experts might be able to resolve certain unanswered questions by conducting further research on this issue. They will surely be able to figure out where Homo antecessor fits in the evolutionary tree of mankind.