There are a lot of great things about America, but the education system doesn't seem to be one of them. In fact, there are plenty of examples of American ignorance on social media. Many of these posts are pretty cringe-worthy and sort of embarrassing, especially for Americans who read them. Though we have to admit that they can also be pretty funny so we thought we would share some of these social media posts.
Military Time
There are two ways to tell time. You have the American way and everyone else's. Countries, excluding the US, use military time when talking about time but America has to be different. Even so, there's no reason to behave as this individual did.
How could someone look at others and question their way of telling time? Who said that America is always right anyway?
Language Barrier
There's no question that British English is very different from American English. We're still talking about the same language, though. This person, however, didn't quite grasp it.
At least this guy knew that England was in Europe! That looks like a good start, but as for the rest, it seems like they need to go back to school to relearn a few things.
Running Water
Americans don't get to visit other countries that often and so, sometimes, they just might have wrong notions about how life looks outside the US. However, this person questioning the European plumbing system is quite embarrassing.
We really appreciate the Portuguese person's response. The only thing is that Americans might take them seriously, so they should make it clear that they were just joking!
Date of Birth
In the US, when you write the date, you first put the month, then the day, and finally the year. However, in Europe, as in the rest of the world, you first write the day and not the month. This can be quite confusing for Americans.
Sadly, this American thought that there was something wrong with the website because they just didn't realize that they needed to write the date in a different way. 
Shared Borders
North America is bigger than the United States, but sometimes, people in the US just don't understand that. The education system may have failed to do its job in the case of this individual as they seem to think Canada is just another state.
This is something that should have even been learned in geography class but clearly wasn't. How could someone think that the US government has some power over Canada? This is just embarrassing!
Native Americans
When the Europeans landed in North America there were already people living here. This made the first European settlers immigrants.
But, after years of conquering these people, the white settlers took over the land. Clearly, this person did not pay attention in history class and now they are just making a fool of themselves.
Not a Country
The truth is that some people are just bad at geography. Since there are a lot of countries in the world, maybe this person was simply unable to memorize them all. However, there are some countries that most people know about.
One of these is definitely Scotland. Or, maybe we're wrong? This American was unaware that Scotland was an actual country. Well, at least now they know!
American Literature
One of the most well-known books in the world is the Bible. It has inspired three religions and remained important for over 2,000 years. However, Jesus was not an American and he didn't write the Bible.
We can attribute this false notion to the fact that some Americans think that their country invented everything. In this case, it led to this poorly educated American thinking that Jesus was an American. They seem very sure of themselves which makes this statement even more cringe-worthy.
No Accent
People who speak different languages have also different accents. But, when you come from that country you tend not to hear them. This might make you say crazy things like this person did.
Just because as a US native speaker you don't hear an accent does not mean it isn't there. We recommend them to go back to school to learn a little about different countries and languages.
Asking for a Friend
When you grow up in a certain country, you get used to all the holidays in that country. If you don't travel, you might think that everyone else celebrates the same holidays as you. But, that's just being ignorant.
It's good that these people are schooling the Americans because clearly, the education system did not! It's still a little embarrassing that somebody had to do this for them, though!
A Tale of Two Cities
If you look at many city names in the US you will find that they share the names with many cities across the world. But, if you weren't taught that in school, you might find yourself embarrassing yourself on social media.
This person, however, is making the case for the poor education system by not realizing that Rome is a city somewhere else in the world. This is wrong on so many different levels.
Protestors
The United States was founded after declaring independence from England. The fact that this person doesn't realize this was done by protesters, who later turned into revolutionists, is a clear indication that they lack proper education.
At least another American opened their eyes to the truth. We think it's unacceptable that this American doesn't know their own history. It's not like they were expected to know that England once ruled India.
Wrong Flag
The use of emojis and emoticons is a great way to make posts on social media much easier. However, if you're going to use flags, you should definitely make sure you use the right ones. Mistaking your own country flag for another is a gross mistake.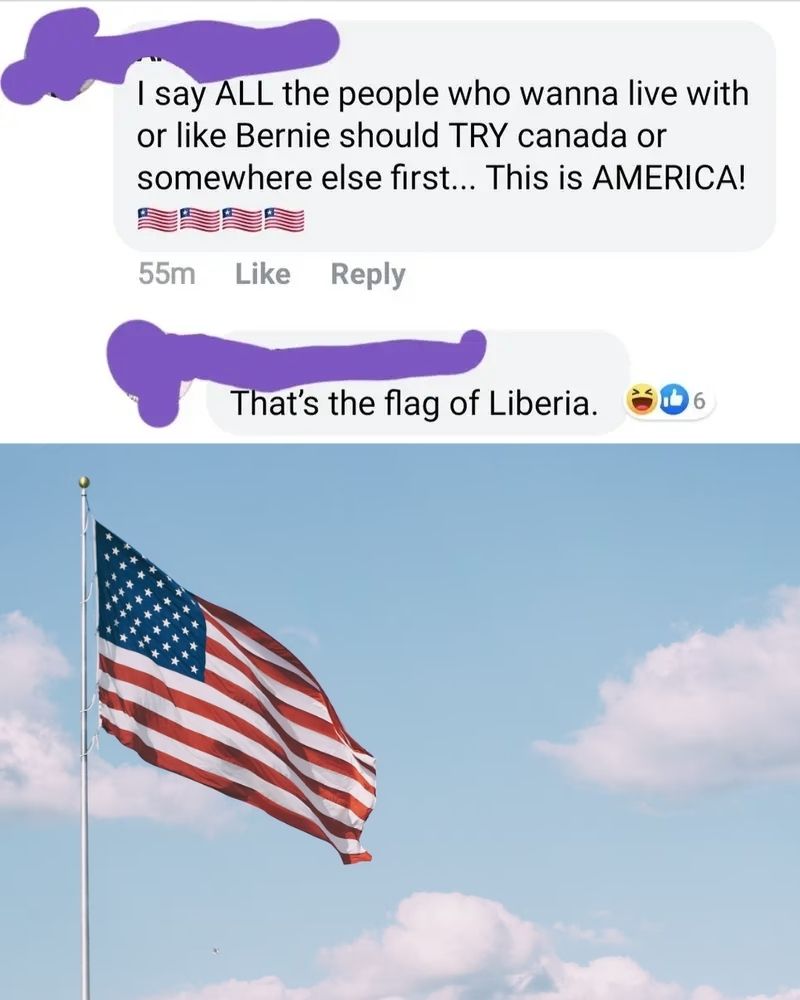 Sure, that flag has all the right colors and even a star. But, the fact that this American didn't realize that the flag only had one star seems like a sign that they need to go back to school for a little while.
Turned Around
Columbus Day in the US is a very controversial holiday — so controversial, in fact, that many states don't celebrate it anymore. Instead, they celebrate Native American Heritage day. However, there are some that think it's important to keep the holiday alive.
This is what we call the proper response. Maybe there is still hope for the American education system after all. 
Rising Temperatures
The metric system is not used in the United States, and that's why many Americas sometimes find temperature calculations very confusing. But, just because you're not used to it doesn't mean that it's stupid.
Maybe this person should go back to school and learn a little about the rest of the world. The metric system is a lot more commonly used than they think.
Made in the US of A
Americans tend to think that they are the center of the world and that they have invented pretty much everything. While most of us — the educated folk — knows that's not the case, some appear to be less fortunate.
While Tim Berners-Lee is an American whose name is often associated with the invention of the internet, it was actually invented in CERN. Lee began writing the first internet protocol only six months after.
State Recognition
Not knowing your own country's geography and history is just sad. This person didn't know Rhode Island's abbreviation nor that it was a state in their own country. Let's begin by making sure that Americans actually know this.
Then, after we get them to realize that they have states like Rhode Island, we can move on to educate them about the rest of the countries in the world.
Mesuring Time
Military time isn't used in the US. When presented with this magnificent invention, this American had one simple request — that it would show time the American way.
The day does not work in 12-hour cycles. The day is divided into 24 hours and that is why military time is used. They really need to add this to the school curriculum!
Geographically Challenged
It sometimes seems like Americans think they're the center of the world. Primarily this is because their education system is not great.
However, one subject that cannot be changed is geography. Clearly, this American did not do well in this subject! It's pretty well-known that Europe and North America don't share borders!
Not Sure About That
Despite the fact that the US has an impressive automobile industry, Americans were not the ones who invented the car. It was, indeed, invented in Germany, by Carl Benz. We think we know why this guy thought that cars were invented in the US, though.
Henry Ford revolutionized car production in the US and made cars affordable for everyone. There is also a good chance that this just comes from a pure American sense of entitlement and self-importance.
World Geography
The Earth is divided into two hemispheres: Northern and Southern. This guy seemed to have a hard time understanding that not everything revolves around the US, after all.
This person, though, explained it in terms that they could understand. But the fact this even had to be done is just embarrassing! After all, there's a lot more in this world than just the US of A!
Right Word
There are tons of words in the English language, and everyone can be used in different ways depending on the type of English you use. For instance, in the US soccer means soccer, and everywhere else soccer means football.
But, once again, the American here proves that some of them are just ignorant. But, even after someone tries to help them out they are still refuse to accept it.
A Country Within a Country
It seems that one of the worst subjects for Americans is geography. Clearly, this woman had troubles with this subject. We recommend she reads a little about the history of South Africa.
Although she could have easily looked it up on the internet, she still ended up posting things like this. So embarrassing! But the person who responded could have been a little nicer about her ignorance. After all, it's not her fault.
Change of Date
When you're taught how to do something, it can be quite confusing when you see that other people do it in a whole different way. Take, for instance, writing dates.
But, you don't have to embarrass yourself like this person. You can simply google to see what's going on. There's no need to insult anyone else because you don't understand their methods!
Proper Order
There are some Americans that get very defensive when it comes to the way they were taught in. This person is trying to prove their point when it comes to dates.
But, because they've never been outside the US, they just ended up embarrassing themselves. Many of these misunderstandings could have been avoided if the education system did a better job.
Foreign Correspondence
The inner workings and concepts of the internet should be understood by everyone. But, it appears that some Americans don't understand the concept of the World Wide Web.
This is definitely a flaw in their education that needs to be desperately addressed before more embarrassing moments like this would appear on the internet.
Good Call
Most of the world uses the metric system. We cannot understand why there are still countries that haven't switched to it as well. In truth, many Americans feel the same way.
But, there are some that try to defend the use of the imperial system as best as they can. Unfortunately for this person, they did so in sort of an ignorant way. They just need a little help, and they will get the point!
Running Water
There are a lot of misconceptions by Americans when it comes to the rest of the world. For some reason, if it's a country that they're not familiar with, they tend to think that it's underdeveloped.
But, the fact is that this is just a lack of education when it comes to the rest of the world. We still find it hard to believe that some Americans can be that silly.
Not a Country
Most Americans know that there are a lot of great things in Europe. It has a rich history and a diverse culture. But, they also sometimes forget that from a geographical standpoint, Europe is a continent!
The fact this person called it a country tells us a lot about their level of education. Or maybe they just were not paying attention in class that day!
Stepping Back
There are a lot of people that want to save money in the US and one of the best ways to do that is by not owning a car. So, this person here is on the right track.
However, their response to a logical suggestion clearly shows that the education system in the US is flawed.
Our Invention
Everything was created in the US, right? Sometimes, because our educational system focuses on what America has brought to the world, it may seem like America has created everything. But, this is kind of embarrassing!
The fact that this person thought they invented something that the US doesn't even use is just ridiculous. Looks like someone here has to go back to school and learn a thing or two.
Country Flag
Having the feeling that everything revolves around America is a problem. The fact that this person thinks that climate change only affects the US is a clear example of flawed thinking.
Perhaps they didn't get the memo — climate change affects everyone, regardless of who they are or where they live. That's why it's a global problem.
Independence Day
We wonder what made that person ask this silly question. No seriously, this is a whole new level of ignorance. Why would anyone celebrate a national holiday unless they actually come from that country?
At least someone tried to teach them something about other countries' national holidays, albeit unsuccessfully, judging by their reaction.
Refrigeration
It can be scary to move to another country. There will be different things to learn, and they may have different living standards than you are used to. It can be quite a cultural shock, especially for Americans.
But, the fact that this person was scared that the UK didn't have fridges seems a little too much. Luckily, someone was there to help with the misunderstanding in a very British way.
Not Able to Share
There are so many things that are wrong with this post.  Not only did they paint the wrong flag on this barn, but they seem to think Facebook isn't letting them share it because of their supposed patriotism!
Someone needs to take a few courses at the nearest community college to help prevent future embarrassing posts like this one — or at least google things before posting them!