Very Talkative
It is always the best date when you can have a good give-and-take conversation. This date, however, did not have that. In fact, it was a one-sided conversation, and it wasn't even interesting!
We might have been okay if our dates controlled the conversation a bit, but only if it wasn't this type of conversation. With a guy who clearly thinks he's the universe's gift to women, we would have just gotten up and left!
Dude, Where's My Car?
Many people use dating apps not to find long-lasting, loving relationships, but to search for a fun date or a companion for a single night. That is fine, but you have to be cautious because you don't really know the people that you are meeting up with well.
This story is a perfect lesson on why not to trust people you just met online. You need to be a little more cautious, or you might end up filing a stolen car report.
On Second Thought
Dating as a mid-sized or plus-sized woman can be quite a challenge. There are a lot of guys or gals out there that only care about a person's outer appearance, and refuse to even give someone above a certain size the time of day.
Having a preference is fine, but the least you could do is be polite about it.  This guy, though, was just disrespectful, not even trying to hide his bias and rudeness. That was just wrong, and we hope that someone treats him like that one day.
All About the Chase
We've come to expect some pretty crazy stories from dating people. And, apparently, some of those may include a wife chasing you around a parking lot. This has to be one of the worst dating situations we have ever heard of.
The truth is that if we were that wife, we wouldn't be chasing the girl our husband was cheating with. It would be our husband that would get the rage. Who's with us?
Just Passing By
There are some rules that every person that dates online should know. The first and most important rule has to be — don't give any personal information until you really know them. Sharing too much on the first couple of dates/chats could leave you with a bit of a stalker situation.
This situation honestly sounds like a horror story. At the end of the day, you have to be cautious and smart when you're dating. You never know who you're meeting.
Meeting the Family
When you're out on a first date, the last thing you think is going to happen is meeting the parents. Typically, that happens after at least a few months of seeing each other, not on your very first time out together.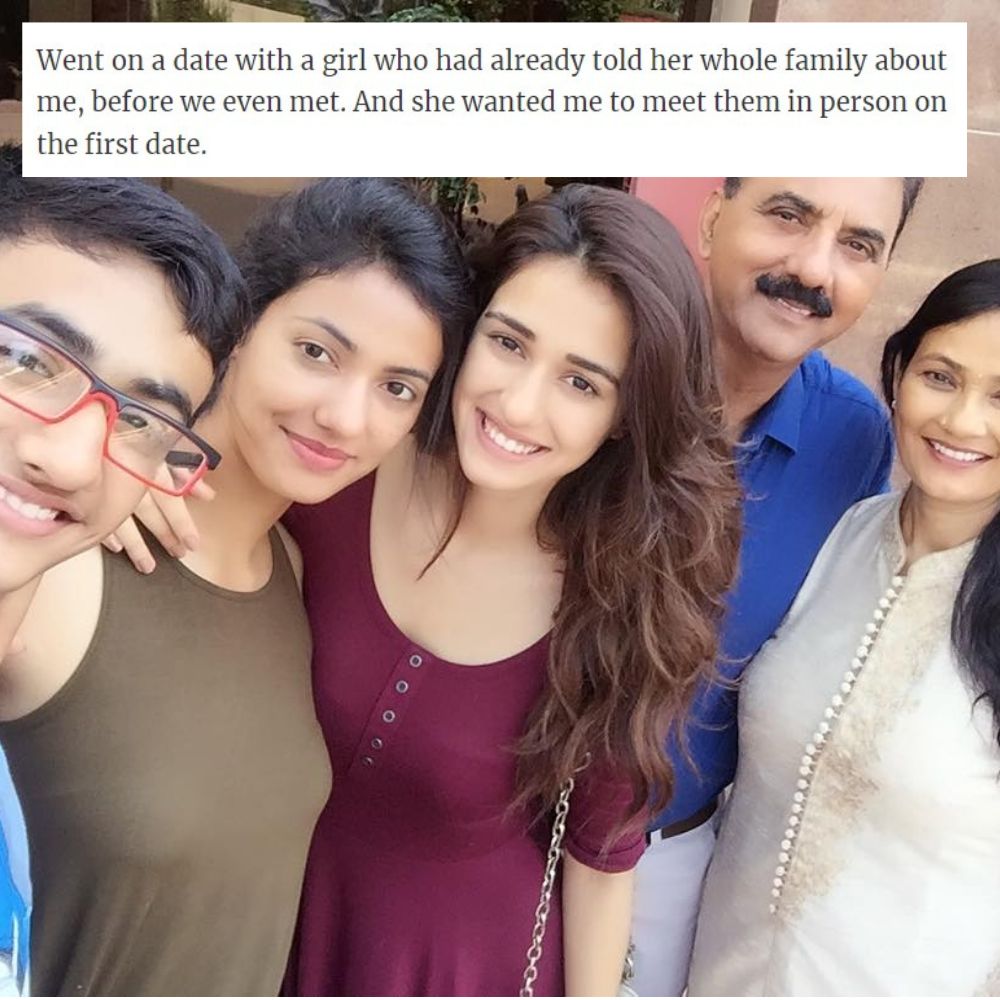 So, if we were this guy, unless he really liked the family and girl, this would probably be the last date we went on together. Having mom and dad act as wingmen really isn't the best plan.
My Fiancé?
When you agree to go out with a person on a date, you assume that they're single, right? Well, maybe we should all rethink that, because it may not be the case. This poor guy had to be pretty shocked when this happened to him!
We would have no idea how to handle this situation and we would want to give our condolences but also stand up and leave. Either way, we doubt there's going to be a second date.
All White
It's always hard to decide what to wear on a date. Even when you know where you're going, sometimes you feel like you need to dress up to a different level than you would just casually going out with your friends.
But, having this fear can make one go a little overboard. We're hoping that's what happened here and that this guy was just trying to give a good impression — but, honestly, he's probably just being delusional.
Funny Meeting You Here
The first time is an accident, the second time is a coincidence, but the third time is definitely suspicious! This guy seems to have a bad case of this when it comes to meeting his date's parents before they've even finished their first date.
We're not sure how he wound up being so lucky (unlucky?) to have these horrible run-ins, but it definitely makes for an interesting date. Maybe it's time for him to give up on the online dating scene.
Nope!
When all you're doing is looking at a profile and a picture, you may think you're attracted to someone. But, then, when you actually meet them, you find out that they're completely not your type.
Typically, though, you go ahead and try to see if there's some sort of chemistry. This person didn't even want to be bothered with trying to do that. Though it seems harsh, maybe this guy lucked out in the end.
Who's Date Is This Anyway?
Sometimes, doing something to calm your nerves before going out on a double date is a good idea. This takes the pressure off your shoulders and allows you to be more comfortable. That is unless you are these two guys!
This girl could have been a little more discreet. We understand finding someone that you're attracted to is important, but when you're out with someone else, it's just polite to maybe talk with them at least some of the time.
Expecting
Sharing your hobbies, goals, and dreams on the first few dates is wonderful. It allows both sides to check for compatibility and to set shared expectations of what the relationship could look like. But, dropping the fact that you're expecting to be expecting in soon, isn't quite what we had in mind.
We're not sure whether it is a good or bad thing. But, what we are sure of is that it makes for a very awkward situation, especially if you're someone who's not really ready for that conversation.
Not My Roommate
Since many people using apps to find dates are young, it makes sense that many of them happen to live with roommates to try to save some money. So, that on its own isn't really a red flag. But, learning that the roommate in question in actually the guy's girlfriend definitely does!
We would be upset to learn the guy we were dating was a huge liar, too! That is not a good way to start off any type of relationship, let alone a romantic one.
Premature Panic
A new romantic connection is incredibly exciting. It makes sense that it brings with it fantasies of a possible future together. But, this girl might want to cool it down with her doom-and-gloom attitude.
While, yes, dating someone in a wheelchair could pose a challenge or two when it comes to travel plans, it's definitely still possible! Also, this is way too soon in the non-existent relationship to freak out over this issue.
Then There Was This Time
When you're on a date and feel comfortable with someone, you want to share things that you wouldn't normally share with others. Though this comfort usually is something that doesn't come until well into a relationship.
But, to have a guy pull out his phone and start to tell you every story that goes with every photo is basically the definition of oversharing. What happened to creating a bit of mystery for later?
Freeloader
Having a girl come over to the house is a big deal. But, usually, they leave when the date is over. If she doesn't, she at least leaves in the morning. This girl, though, did not take the hint and sneaked back.
The funny thing is this person didn't know that this was a bad date for days. Not until the cop car pulled up and escorted her off the premises. That's probably the last time in a long time that he brings a date home.
Just a Salad
Do you know what's a massive red flag on a first date? The person you're about to meet calling you to tell you they already ordered something for you, as if they know exactly what you like — which they definitely don't!
It seems that from there, this date really just kept going downhill. This guy clearly doesn't know that you don't talk about yourself the entire time, or about your ex-girlfriend!
Not the Vibe
Once you've finally gotten to a point when you're ready to meet for a first date, some thought must be given to the location of the meeting. Somewhere public is good, but it also needs to have a good feeling to it.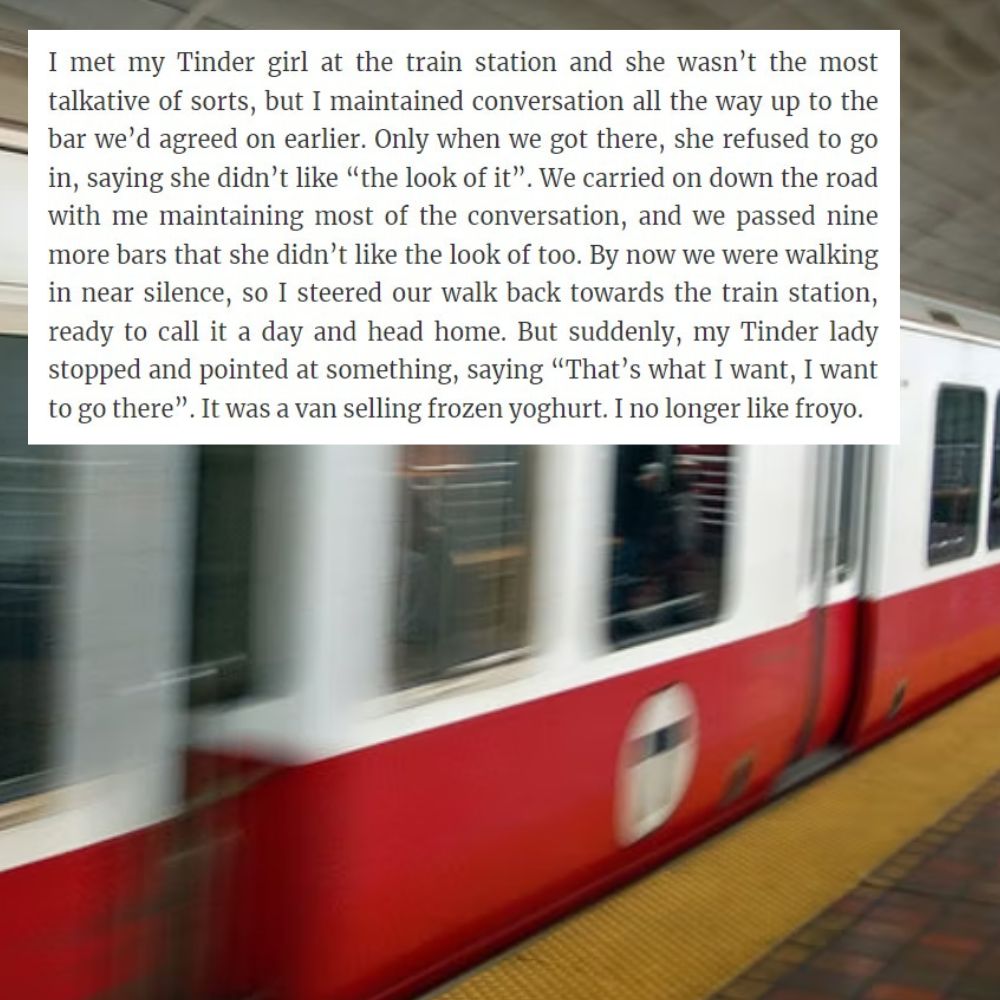 Clearly, none of these places were working for this picky girl. But, to choose, in the end, out of all those cool spots, a froyo van, is just strange to us.
Long Ride
The use of these apps has allowed people to travel long distances to have amazing relationships. But, sometimes those amazing relationships they think they will have don't turn out so fantastic.
This poor woman had a long ride only to find herself with a date that would go down in the books as one heck of a date. At least we think so, don't you?
Close Call
Snapchat is one social media app that has exploded over the past few years. This app has even begun to make it into the dating circle as a way to keep in touch. Bu,t you have to be careful, just like with everywhere else online.
This guy, though, got more than he bargained for. But, at least he found out before it was too late. It seems like they handled it well and were able to remain civil.
Concert Ticket
It's always cool to have an exciting first date, like going to a concert. This girl was trying to be nice, or at least that's what he thought. We would have been so mad if we were him. Wouldn't you?
This poor guy, we could not even imagine how he felt. But, maybe he shouldn't be so sad about it because at least he got a concert and a funny story out of it.
Good Times
Sometimes, those dates we thought would be from hell actually turn out to be pretty darn good. Though we have found many bad stories, this one made us hope for a happy ending. That is until the second dinner, where it all went downhill.
This woman was actually hoping to have a horrible dinner, and it seems she found a way to do it. But, it only made her life rough as well. Maybe just don't use people's feelings as a joke, that's all we're saying.
Blog All About It
Many people have become bloggers nowadays. They blog about everything from food to dating. Unfortunately for this guy, he went out with a dating blogger and became the subject of her latest post.
He thought he did well, but it sounds like it didn't go as he thought it did. That sucks for him, and all we can do is hope she didn't use his real name.
Happy Birthday
When people throw themselves a birthday party, they want to make sure that they have enough people there to feel loved. If you're someone looking for love, maybe that means inviting a bunch of guys from Tinder to your party, as this girl did.
But, it had to suck for all of them as it was clear they all thought they would be her date. We wonder who would end up being the lucky gentleman.
Cemetery Row
There are so many romantic things that can be whispered in your ear during a hook-up to make the night great. But, this poor guy heard the one thing that would definitely destroy the mood.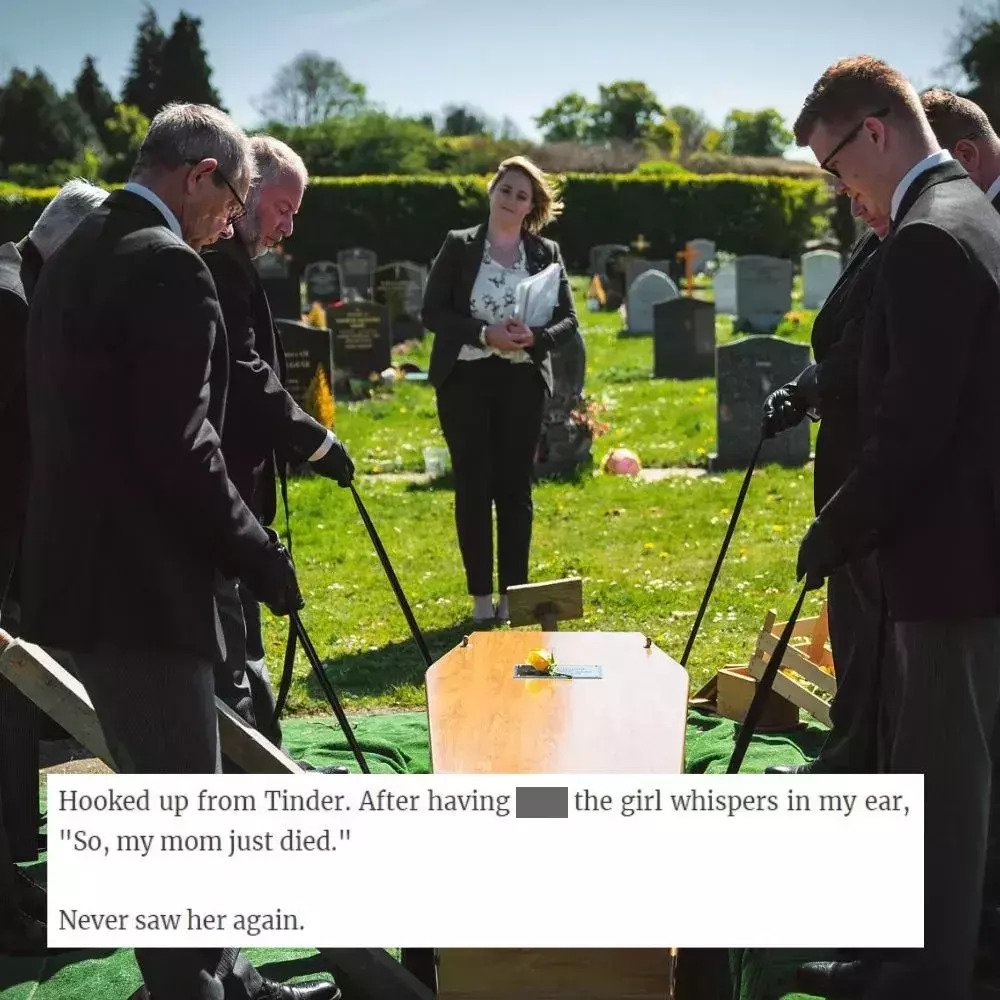 This girl has got to get her pickup lines in order! There are just some things you don't bring up on a first date, and the loss of a loved one may be the biggest of those subjects.
Need Some Time
It's hard when you lose someone, but it doesn't mean that life stops in its tracks. The world keeps turning, and that even means dating. This poor guy had the worst experience because this girl couldn't be sympathetic.
This guy deserved better than this. We think this is just mean and that maybe she should take a class on being a kind person! That would be a good tool to have when you are dating.
Breaking the Bank
It can be fun to share stories from your childhood when you're on a date, but you have to be careful what you share. The wrong story can leave a bad taste in someone's mouth, which could ruin the date.
This girl clearly knows how to find the absolute worst dates on the app. No one should trust a guy who would bring his mother on a first date, or someone who would steal his sibling's piggy bank.
I'm Engaged
You don't know who you're swiping on or if their profile is accurate. Really these apps leave you playing the trust game. Unfortunately, this girl wound up finding that out the hard way. Boy, did she have the worst date ever!
Finding out someone that you are dating is engaged is horrible and probably really disappointing. We think it would be hard and a little embarrassing if this happened to someone. That seems like a pretty messed up thing to do! That is all we are saying!
Ghosted
When you set up a date, there's always a moment that you think about what would happen if someone didn't show up. But, when they don't show up and then have the audacity to ask you to pick something up from the store it's a whole different story.
It was probably good that this guy didn't show up. Definitely dodged a bullet with this one. Just imagine what would have happened if he had shown up.
Not as Fit
One of the big things on a person's profile is their likes and dislikes to decide who to swipe on. But, swiping like this could lead to some issues, and this woman experienced just that.
It's one thing to like hikes. It's another thing to be a hiker. This poor girl sounded like her first date almost killed her, and it really wasn't the guy's fault, if you ask us!
Packing it In
When you go out on a date for the first time, you usually try to temper some of your more intense personality traits and habits. This may be wrong in the long run, but you want to make a good first impression, so almost all of us do it.
This girl, though, has no shame in her game when it comes to enjoying food. We feel sorry for the guy because of how she completely disappeared.
Back Up Plan
The world of dating is often unpredictable and confusing. One moment you could have an incredible connection with someone, and the next have them disappear with no explanation. Thankfully, that's not quite what happened here.
We're not sure if this guy made up the bus date as a way to avoid the date he had already set up, or if this really happened. We're just glad to see that this poster took the rejection with humor and grace!
Where's the Chocolate?
Come with us, and you'll see a world of pure strangeness… Dating someone who's into cosplay is one thing. Having that same someone display their love for character costumes completely unprompted is a whole other level of weirdness.
We can't help but be both impressed by his dedication to the act (with the outfit, the routine, and the cane), and by his complete lack of awareness of how out-there this must have felt for his date. Hopefully, the snacks were Wonka level!
Consultation
A major element of a first date is to check if the two people meeting are actually attracted to each other's looks. While that attraction can grow over time, there still should hopefully be some initial spark.
This guy, though, seems perfectly happy to mold his possible dates into his ideal version of a person. Honestly, this is just really gross and inappropriate. We would get out of there before he takes us straight to the plastic surgeon.
The Fashion Critic
Most date locations have some kind of dress code, and it's okay to expect your date to adhere to those unspoken rules. It's not okay to send them all the way home just because you don't personally approve of their outfit choice.
If this was an interview for a job in the fashion industry we might have understood his insistence. But, to be this mean about his own personal taste, is just rude. Maybe he should have gone home to change his attitude.
Gross!
First dates can be horribly awkward. But, as long as you keep the atmosphere light and humorous, you can stir clear of most of the discomfort. Starting the date this horribly, though, is definitely not a good sign.
We just hope the poor guy didn't think the poster was that disgusted by him. This is a perfect case of "it's not you, it's me." We hope the poster at least offered to pay for his dry cleaning.
Return to Sender
we've all accidentally sent someone a message that absolutely wasn't meant for them. But, this case of mistaken identity is extra painful and mean.
We just love how this poster decided that this guy deserved some instant karma — and read to him, out loud, his own mean words. Good riddance to this awful guy!
Cat Person
We all have our own pet references — some people love cuddling with dogs, while others much prefer to cohabitate with a cat. That's perfectly fine! What's not okay is simply refusing to accept your date's long-time furry companion!
The nerve of this woman to think she could make this guy give up his beloved pet for her, all because she thinks that cats are "unmanly!" We're sorry, but that's just a stupid opinion to have!
Fan Club
Dating is generally hard and gets even harder when you date long enough to meet the family. That being said, usually, this happens way down the road, not just a few months in. But, at least this guy had something to talk to his date's dad about.
This guy was way more understanding and open than we would have been. It takes a lot more than a few months to know it's time to take that next big step.
Happy Passover!
Having someone over to a family dinner is hard but having one over for a holiday is even more stressful. We're really not sure why this person thought Passover dinner was a good time to introduce her tinder date to her friends.
This just seems like maybe she was tired of her family pestering about when she will settle down! If we were her friend, we would have strongly advised against this course of action.
What's My Name?
We all have types of people we are attracted to because of certain attributes, but few of us have a thing for people with the same name. That, to us, seems like a strange thing to be attracted to. After all, it limits your dating pool.
If we were this guy, we would have found our way to leaving without anyone knowing. That might seem wrong, but there is something off about wanting to date a guy that looks like, and has the same name as your ex.
Rockabilly Chick
You might find yourself dating people that you never thought you would date with passions that you've never even heard of. Meeting new people and experiencing new things can be a great way to bond during a date.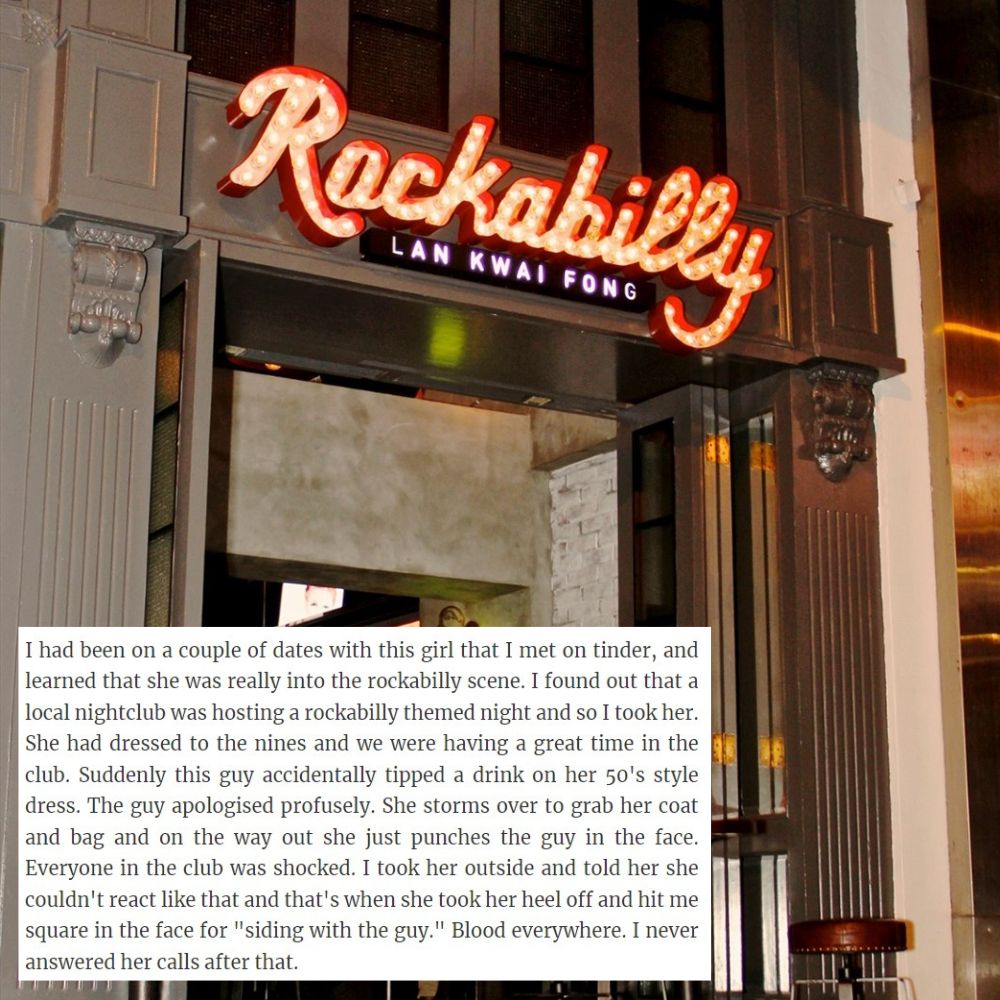 But, getting into a fight with your innocent-looking date probably isn't the fun new experience you were looking for. This guy was definitely in the wrong place at the wrong time and with the wrong person.
Ride in an Ambulance
Much of dating — choosing a good match, setting the vibe, creating a good connection — relies on instincts. This guy might want to learn to listen to his instincts a bit more, as they might have been able to tell him that he should go get medical help a lot sooner.
At least his medical trouble had nothing to do with the poor girl. However, it does make for a horrible date story and one that he probably tells over and over again.
I'm Walking Here
When you're in college and have a ton of roommates, it becomes very awkward when you're trying to date and be a little more intimate. It often leads to many awkward walks through the common area and, for sure, a few jokes from your roommates.
That said, this poor girl must have been so embarrassed. This had to have been the worst date she probably ever had in her young life. Hopefully, it didn't scar her for life!
No Holding Hands
It's always nice on a date when you can hold the hands of the one you're with. It's a way to show intimacy without talking and a great way to develop a physical connection. So, not being able to do that is definitely a red flag.
It's amazing that this guy managed to hide all his many red flags long enough to actually get a date with this poor woman. Clearly, this creep was never getting a second date after this disaster!
40 Awkward Moments From High School Reunions
Knitted for Me
Most people consider homemade gifts to be the most precious, especially if they were made by a mother. So it isn't surprising that this young child was so quick to name the person who destroyed his scarf.
That said, the fact that the bully still held a grudge more than fifty years after the situation is kind of ridiculous. We think perhaps there are more important things to hold a grudge about.
Wrong John!
One of the more sad parts of a reunion is when there is a memorial for lost classmates. This is the time for everyone to reflect on their memories. Sometimes though, if you haven't kept in touch with the person, learning about their memorial can be quite shocking.
Attending a memorial service for a classmate can be even more shocking when the person isn't dead and the memorial was done for the wrong person. That is sort of messed up.
Too Soon
There are many fundamental memories and feelings formed during your high school career. As students make the transition from young teens to young adults, some of these events can leave quite the mark.
This person needs to let go of the fact that he was cheated on. After all, it's not like the two of them wound up together, which is the only reason we think holding on to this would be appropriate.
Incognito
A lot of people love going to their reunions to prove people wrong. This person went to their reunion with the intention of bragging about his successful investments, and even making a joke out of it.
While we can imagine that it might be awkward to discuss money, particularly huge sums of money, we're not sure how could he stand there with a straight face while people gave him advice on work?
Rules and Guidelines
Planning an event as big as a high school reunion comes with a lot of responsibility. Typically, the idea is to make it a fun event that everyone will be talking about for years to come.
It seems like this person, however, took her planning responsibilities a little too far. While we're sure there will be many conversations about the reunion, we can't imagine that it will be all positive. The rules and guidelines were definitely a little too strict, in our opinion!
Daddy?
As you go through your high school years, you are also going through many physical changes. Sometimes, there are decisions made that can impact your life way into your future. Fleeting relationships can sometimes lead to some sticky situations down the road.
It had to be pretty shocking for this guy to find out that he was a father. Not only for him but the kid too. The fact that this woman kept everything a secret is pretty messed up!
What Is That?
Trying to figure out cool activities and themes for a reunion probably is pretty challenging. After all, you don't want everything to look the same as other reunions. This person, though, may have thought a bit too far outside the box.
Most grown adults may not be that into a bounce house. Or maybe they would be, who knows? Either way, it seems a little juvenile for grown adults!
Ruined it for Everyone
There are many elegant venues available for reunions and other gatherings.  Yet, no matter how upscale the establishment is, nothing can prevent a reunion from becoming an embarrassing event. This person had a pretty interesting experience at their reunion at an Elk Lodge.
There seems to always be someone who is looking to ruin everything for everyone else. We don't know about you, but we would be pretty ticked off if this happened to us.
Kiss Reunion
As you grow up, you sometimes find your clique through a mutual appreciation of the same band. Many people get so into their bands that they even dress up when going to a concert. Typically, that obsession doesn't carry over to something like a reunion.
These people, though, were pretty nice as they just went with the flow. We don't think we would have been able to not say anything when talking to some in full-face paint.
Take This
Between high school and the reunion, many people go through a lot of ups and downs. Overcoming these situations should be a source of pride. So this guy was right to feel confident in his journey.
It is pretty messed up that after telling his story, people did nothing but pity him. He should keep his head high and don't let them tear him down. After all, they haven't walked in his shoes!
Raffle Ticket
In order to have a reunion sometimes, the alumni have to come up with funding. This could be because the schools are not able to budget for that, or simply because the alumni want a more extravagant reunion.
The fact that none of these students wanted to contribute to the cause is frustrating for some. Perhaps the reunion wasn't successful because they were trying to do it over Thanksgiving weekend!
Entry Fee
There are many responsibilities involved in setting up a reunion, it's no surprise that organizers tend to give up easily. This person thought they could pick up the ball and get the rest of his fellow alumni on board.
Unfortunately, he was charging a bit too much. We completely understand that if people were going to spend that money, they would expect refreshments to be included. Not only that, but it seems that his attitude was also a deal-breaker for most of the alumni.
Private Message
Unfortunately, there are people out there in the world that are willing to take advantage of others. Using a high school reunion to dupe your former classmates is a new low. The fact that people fell for the con, though, is also pretty surprising.
After all, we would definitely want some sort of receipt to prove that our money was going where it was supposed to. We hope that these guests were refunded at least some of what they paid.
Let's Fight
Sometimes, there are things that happen in high school that still sting … even twenty years later. That said, having a fight break out over a girl from your past seems a little juvenile. We do wonder if she was at the reunion, though.
If so, we wonder if she knew that she was the reason for their fight? It seems a bit strange that these two men would still feel so strongly about this woman, that they would get into a physical altercation over her.
Just Try It
In life, there are many reasons why someone feels they need a little therapy. It can help you overcome fears like going to your high school reunion, which can trigger a lot of feelings. This therapist was just doing their job when they encouraged this patient to attend their high school reunion.
Or were they? We can definitely understand why someone might think that their therapist was just trying to make sure they had more sessions coming.
And the Award Goes To …
Many reunions have a portion of the event where they give awards to the attendees. While this can be a fun way to see where your fellow graduates have gone in their lives,it can make the reunion a little uncomfortable.
We are sure this girl wasn't looking to be outed like this, but it happened. At least we know that this high school's math classes were good because everybody was able to figure out just when she had that kid!
Let's Talk About It
Many reunions offer adult beverages for alumni to enjoy.  These refreshments can cause people to lose their filter, leading to some pretty uncomfortable conversations. If that happens, there should be someone there to steer the conversation away from these controversial topics.
If we were these classmates, we would have been pretty angry that this topic even came up. In fact, we would have probably walked away the minute they did!
Look at This
Many people define success by the amount of money that they have in their bank account. This can be a great way to show people at your high school reunion that you didn't end up the way they thought you would.
Even though many people may exaggerate when it comes to their financial status, pulling out a paycheck is just strange. If someone tried to show us their bank statement at a reunion, we would just be annoyed!
You Were it for Me
In high school, many kids are shy and unable to express their feelings easily. After maturing through, they gain more confidence, and that is when they are able to make those wild proclamations!
We would have done the same thing if we were this woman. After all, enjoying a few too many adult beverages can make us say some pretty regretful things. While this must have been uncomfortable for the woman, we can't imagine how uncomfortable the fiancée was!
Let it Go!
Disney's Frozen was not only a box office success, but it's also a favorite film of many people. Unfortunately, the film's song, "Let it Go" has also become an anthem for bullies.
This high school bully apparently never learned how to properly apologize. Instead, she offered the most ridiculous "non-apology" ever when she basically told her victims to just forget about all of the bullying they had endured because of her.
Went on the Run
In order to get a high school reunion started, members of the alumni association need to create a budget. One of the best ways to get the ball rolling is to use social media. Unfortunately, social media can also apparently lead to some scams.
The fact that this guy got away with stealing so much money is crazy to us. There is no way we would fall for this. Or at least that is what we think!
You Have the Right
You know it's a memorable party when the cops get called in. However, we are not sure that you want that to happen when there are children involved in the event.
This is definitely not a good look for any parent. We would never let our parents live this down if this happened. While it's never fun to end the night in the back of a police vehicle, we're happy that nothing happened to the children that were at this venue.
Mean Girls
For some, the idea of going to a high school reunion is just frightening. Maybe they had a horrible experience and chose not to relive it, or perhaps they just don't care where everybody is in life. At the very least, they should have the opportunity to turn down the offer.
We would be mad if there was a reunion that was set up and we didn't even get invited. This would make us want to just show up just to spite the people that set it up.
Canceled
You have to worry about the safety of everyone when setting up a reunion. If there has been a situation where there has been stalking involved, you need to be even more so. So it is not surprising to us that the reunion was canceled.
The fact that there were threats made us think it was a great thing that the people setting up the reunion opted to err on the side of caution.
Let's Go Back to My Place
When you are having a good time, the last thing you want is for the party to end. So it makes perfect sense to us that this guy moved the party back to his place. Unfortunately, it wasn't actually his place.
We would be pretty ticked off if we were this dad too. Especially since so much of his private stash became fodder for the alumni. It seems that some people simply refuse to grow up, even after high school!
It's Over
When you go to a reunion, the last thing you can imagine happening is that your life will be turned upside down. Unfortunately, that's exactly what happened to this couple. This turn of events is pretty shocking to us.
While this must have been difficult for him, perhaps this event brought something to light that needed to be discussed! Even so, we can't imagine how strange this whole breakup must have been for this man.
The Roster Is Smaller
In a small city, many kids stay in the same place even after graduation. That means that when it comes to a reunion, many of the same faces will appear. Sadly, it also means that there will be plenty of people that don't make it because they've passed away.
This would be super depressing for us, and that would be enough to make us rethink actually going to the reunion!
Awkward!
The last thing you want to do is go to a party where you are being told over and over again that your mom was a bit of a looker when she was younger. We're sure that this poor person just wanted to enjoy their evening, without hearing about the bartender's crush on her mom.
We're sure that she didn't expect to learn about her mother's love life when she agreed to accompany her to the reunion. We can't imagine how awkward it must have been to hear those stories!
A Moment of Silence
There are always those kids in your class that everybody remembers because of how much trouble they got into. However, just because they were trouble makers then does not mean that they don't deserve to be remembered in a respectful and appropriate way.
We would have felt bad if we were the people that kept talking over the moment of silence for one of our classmates that passed away! It's very sad that the crowd couldn't control themselves for just a short moment to pay respects to their former classmate.
Not a Hugger
There is always a moment of humor to be found, even in the most uncomfortable of situations for some. This moment of uncertainty would have definitely had us rolling on the floor in a fit of laughter.
We applaud this person for being able to make it to safety before they started laughing. It would have been so much worse if they hadn't been able to do that. That is a lot of self-control! More than most people would be able to exhibit!
I Didn't See You
There are just some people in life that you will never get along with. That said, when it comes to events like this, most people would at least fake being polite. Apparently, it seems that this guy was trying to make a point.
If we were this guy, we would have walked right up to him and said, "Hey, how are you doing?" This would have taken the steam out of the guy's pettiness! Plus, it would have probably felt pretty good to get one up on the jerk!
Still Alive
Sometimes, when tragedies happen while a student is still in school, stories get told about them. It seems that these former students can't get a clear answer when it comes to the health status of one of their former classmates.
It seems strange that with the internet and social media, people still can't determine whether or not this person has passed. If he is alive, then this guy has an opportunity to make quite the entrance when it comes to his high school reunion.
How About Now?
There are missed opportunities throughout your life. While you sometimes get the chance to rectify those mistakes from your past, it's probably best not to do what this guy did.  After all, it seems a bit obnoxious to us.
The fact that he was willing to hook up with this person he had not seen in years just seems a bit desperate to us! It's a good thing that this person didn't fall for his charms!
I Am the Police!
No matter who you are, there is always a time in your life where you wonder about where certain people ended up in life. These are typically people like the captain of the football team or the less-popular kid who always smiled at you.
This dorky kid was clearly trying to compensate for his inadequacies and ended up making a giant jerk of himself. We are sure that the rest of the police force would not be happy to hear that he was waving his badge around like this, in addition to driving under the influence.
Not Together
The last thing anyone wants to do is go to a big event like a high school reunion by themselves. Not only does this seem very lonely, but it could lead to some embarrassing moments. Then again, going with someone could be just as embarrassing.
This guy just wanted to have someone to talk to, but we think he made a mistake. We don't blame the confused reunion guests, we would have been just as puzzled by this pseudo-couple!
If the Dress Fits…
Awkward reunion moments can happen, even when you're just a guest. This little girl had no idea that she would be exposed to such crazy people when she accompanied her father to his reunion.
Not only is it strange that this woman kept and wore her old prom dress, but telling a young girl that she should have been the girl's mother – just ridiculous! We're sure that this weird reunion has resonated in this girl's head because she can remember it clearly, even though it happened many years ago.
Working the Event
One of the most important things to have at a reunion is a photographer. After all, just like any event, you want to be able to share those memories with everyone for years to come. So when a photographer backs out, what do you do?
Apparently, take advantage of having a photographer in the alumni. Considering how strange and boring the event was, we don't think this person really even needed to photograph the reunion.
Faking Status
Many people use their high school reunions as a time to show off or make themselves feel more important than they really are. We understand why people would want to seem more successful than they are, but if you're going to do that, do it right.
That means making sure there are no holes in your stories or ways that people can prove that you are faking your status. This person was obviously so concerned with appearances, that they didn't realize how quickly their story fell apart.
Poor Messaging
When the school year ends and you're ready to graduate, getting your yearbook signed by everyone is a traditional rite of passage. Unfortunately, there are always jokers that think it's funny to leave inappropriate messages.
Like with everything in life, what goes around comes around. So we are not shocked that people called this guy out at the reunion. He must have been mortified when his past comments came back to haunt him at his reunion. We just hope he apologized and learned from the lesson.
Unhappily Ever After
When you get out there in the world, you expect to have an amazing life. As you get older, however, you realize that even those that seem to have their lives together and to be living the best life may not be really doing that.
Sometimes the way things look is far from what is reality. We kind of feel bad for the ladies dressed in ball gowns, as it seems they aren't quite as fulfilled as it seems.