Say Hello to Your Grandson
Here's a doting grandfather meeting his brand-new grandson for the very first time. Have you ever seen a grown man so full of love and pride? In fact, he's not full — he's positively over-brimming with love, so much so that it's leaking out of his eyes. The new dad and photographer wrote on social media, "I've never seen my dad so happy. Feels real good, man!"
With a relationship like this and his reaction to meeting his grandson, you know he's gonna be the World's Best Grandpa!
Reunited With Grandpa
This young lady hadn't seen her grandfather in 15 years — and they were both overwhelmed when they were reunited. After lots of hugs, laughs, and smiles, the first thing he did was reach into his back pocket and pull out his wallet.
Not to hand over a wad of cash but to show her something money couldn't buy. In his wallet was a photo of her from when she was five years old. Gramps had been carrying it around with him every day for the last decade and a half.
Baby Elephant Blanket
This story comes to us all the way from South Africa… via the UK. This British lady's grandchild works on an elephant sanctuary, so when she heard the news that a baby elephant named Khanyisa had just been born, she decided to knit a blanket for her.
When the multicolored blanket finally arrived after four months, Khanyisa was delighted with her prize and walked around showing it off. In fact, Khanyisa was so proud you could even say she was blowing her own trumpet!
First Date
This granddad was over the moon that his granddaughter was taking him out for lunch. So much so, that when her dad phoned him, her grandpa proudly stated he had been up and showered since 7:00 am in preparation for his "date."
In fairness, it was possibly grandpa's first date in half a century! And judging from the smile on his face, it seems like his outing with his grandchild couldn't have gone any better. All we want to know is if this going to become a weekly tradition!
World's Snappiest Waistcoat
This dude's 90-year-old grandmother made him the world's snazziest waistcoat to wear to parties. The technicolor waistcoat features an African savannah scene made up of lions, elephants, giraffes, and rhinos because she still thinks her grandson is six years old. Bless her.
The front of the waistcoat shows a daytime scene with a dove flying under the blazing African sun. The back of the garment features a nighttime scene showing the moon and stars.
Generation Gap
As the caption shows, this kid comes around several times a day to check in on this lady. He says he visits to make sure she wakes up from her naps. Then, remaining socially distanced, this odd couple hangs out on the porch and chats about life.
Maybe the kid doesn't have a grandma of his own, so he found a surrogate. Whatever the case may be, it doesn't get much more wholesome than this.
Grandpa Crochets Dolls
This cool grandpa has vitiligo, which is a condition whereby pale patches develop on the skin due to the lack of the pigment melanin. In addition to his gorgeous smile, what makes him so cool, is that he spends his days crocheting little dolls who also have the skin condition.
Once he's knitted the dolls, he sends them to youngsters around the world who also have vitiligo. The idea behind his generosity is to make the kids with vitiligo feel better. What a brilliant, unsung hero!
Up, Up, and Away!
Disney Pixar's Up tells the tale of retired balloon salesman Carl Fredricksen fulfilling his lifelong dream by tying thousands of balloons to his house and flying away to the South American wilderness. Carl's plan goes well until he discovers a stowaway Boy Scout named Russell.
This grandmother and her grandson love Up so much that they recreated the film for her 93rd birthday. Three weeks after this photo was taken, they were discovered alive and well, living with a tribe in the Amazon jungle.
Spider-Grandad
When Jerry's grandfather was bitten by a spider, he ran to fetch him some ointment. But before he made it out the door, he heard his grandfather mumble something so hilariously wholesome, we barely finished reading the post without crying.
In what Jerry describes as an upsetting moment — or so he thought — Grandpa used his wonderful sense of humor to calm the situation, just like Peter Parker or any friendly neighborhood Spider-Man would.
Consummate Professional
A photography student asked her grandfather if she could take a portrait of him for an assignment. And gramps didn't just say yes, he said, "Let me just grab my stethoscope and change my clothes. I want to look good if I'm getting my picture taken by a professional."
He returned in his best blazer, shirt, and tie with his doctor's stethoscope around his neck. The portrait is great but encouraging his granddaughter by calling her a pro is priceless.
Arts & Crafts Gran
Some old folk definitely have too much time on their hands, but it's okay when they use that time to go the extra mile. Beautifully wrapped presents under a tree are part and parcel of Christmas decorations, but this artsy grandmother actually hand-drew all these wonderful designs on her grandchildren's Christmas presents.
We just hope that they didn't rip their presents open to get at the gifts inside, and that they kept the wonderful wrapping paper rather than going on the fire or in the trash.
Grandpa Joins Woodworking Group
This story is as inspirational as it is heartbreaking. When Katie's Papa lost his wife after 50 years of marriage, it hit him hard. The grieving widower was lost and lonely without his life partner until he joined a local woodworking group made up of fellow widowers.
The group meets up every month and welcomed Katie's grandad with open arms. It's safe to say that socializing and talking with similarly-minded folks has definitely helped improve his life and restore his faith after such a sad loss.
Life Begins at 90!
This trendy grandmother promised she'd dye her hair a shocking shade of pink and would get a Mohican if she ever reached 90 years of age. So, when the big day rolled around, sure enough, she made good on her outlandish promise.
And doesn't she look wonderful? Would you believe the punk movement began in the first half of her life?! This lady's attitude towards life should be a lesson to us all. To quote George Bernard Shaw, "We don't stop playing because we grow old; we grow old because we stop playing."
Gran's First Tweetle
Bryony might have been born in the Prohibition-era Jazz Age of 1926 and lived through a swathe of technological changes, like television and fax machines and CDs, but she's no Luddite.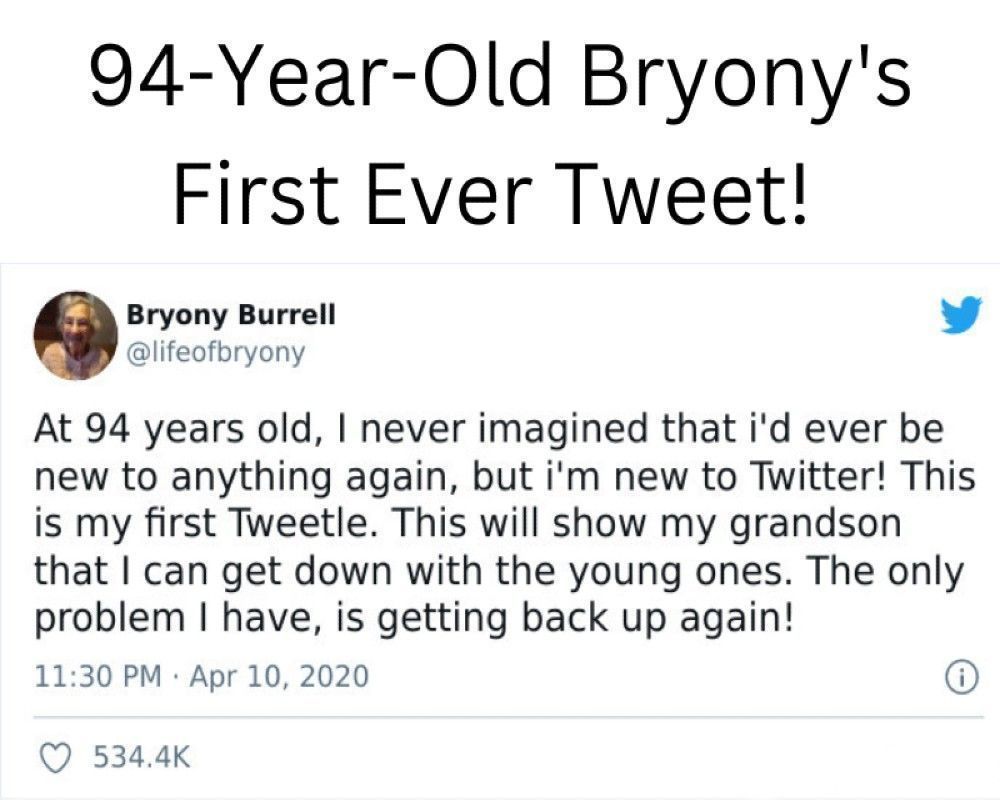 In 2020, the 94-year-old grandmother proudly fired off her first tweet to show her grandson that she was still down with the kids. She even jokes that her only problem with being down with the young ones is getting back up again. What makes it even cuter is that she calls her first tweet her first Tweetle!
Like Grandfather, Like Grandson
This brave hard-of-hearing youngster received a cochlea implant. Of course, the device would improve his life to no end but still, it would take some getting used to. In the meantime, he would surely have felt self-conscious wearing the implant, and that's where grandpa came to the rescue.
Now, granddad just so happened to be bald, so he had a cochlea implant tattooed on his noggin above his ear so his grandson would feel better. Is this the coolest Pops ever? We think so.
First Family Facetime
After not seeing their grandparents for months and months — presumably during the pandemic — this person's grammy and gramps finally figured out how to work FaceTime on their computer. And the golden moment was worth waiting all those months for because take a look at grandpa's face when he saw his grandchild.
As for grandma, well, she looks like she's still getting to grips with understanding this new-fangled 21st-century technology. But, as for granddad… a picture paints a thousand words, and he's beaming from ear to ear.
Double Trouble
When this lady's grandson and granddaughter went to different colleges, she was torn. How could she show her love and pride in them both? Wear one college sweater in the mornings and the other in the afternoons? Wear one from midnight Sunday to midday Wednesday and the other from Wednesday afternoon to Sunday night?
In the end, she had them torn and sewn together to make this brilliant double-college shirt. There was one slight downside to wearing both college shirts… Grandma didn't know if she was coming or going!
This Is the Way
Sadly, this poster's grandmother suffers from dementia. But, when they took their Baby Yoda toy along for a visit, grandma instantly fell in love with the little green critter. She seemingly won't let Grogu out of her sight and has named him Lady Bug.
As well as being the cutest thing you've ever heard, it speaks volumes about why so many people love Grogu. Maybe grandma looks after him so well because she's a secret Mandalorian bounty hunter.
You Shall Go to the Ball
This little cutie drew a picture of her dream dress. Most of the other pictures she'd drawn were stuck to the refrigerator or her bedroom wall, but this one was special. In a secret scheme cooked up by co-conspirators mom and grandma, the drawing winged its way across town. A few weeks later, and after much hard work, grandma showed up bearing gifts.
Grandma had made the little girl's drawing into this perfect pink, purple, and blue dress. And doesn't she look just like a princess? Well done, granny!
Kitten to the Rescue
This elderly grandfather was devastated when his beloved cat passed. He didn't want to replace her as he felt that would have been insensitive. Pining for his dearly departed feline friend, grandpa became incredibly lonely, but the family was not sure what to do.
Eventually, he allowed them to find a new kitten after a couple of weeks. The result was this tiny, adorable furball. Just look at how happy grandpa is now. This great photo proves that the company pets provide is a godsend.
Lucky Hat
Every year, this grandmother crochets hats for kids in need. But this particular year, she went the extra mile. When gran was 90 years old, she read in one of the kid's bios that they were bi.
So, she went out of her way to order the magenta, purple, and blue wools that make up the colors of the pride flag and knitted the lucky youngster this fantastic hat. We're not sure what the green represents. Maybe it represents the jealousy of everyone who didn't get a hat!
World's Best Grandma
Twitter user Loly tweeted this heartwarming exchange between her and her grandmother. Sadly, her gran has Alzheimer's and some days doesn't even recognize her family. But thankfully, Loly's gran has a heart made of pure gold, so the love still shines through.
She didn't know who Loly was, but she still knew she loved her. Of course, it's a bittersweet emotion, but it's a lovely thing that Loly can treasure these moments and hold on to her memories of her dear old grandmother. We're not crying, you're crying!
Alvin & the Chipmunk
This spontaneous selfie of an elderly gentleman with a chipmunk on his lap is pretty special in its own right. But, when you consider this is Grandpa's first-ever selfie with his new phone, it's even more special. He deserves a Wildlife Photographer of the Year prize.
We don't know his name, but we're going to call him Alvin because he's definitely down with the chipmunks. How many nuts do you think that cheeky chipmunk has stored in his cheeks? We're gonna guess 423.
Reel Him in, Gran
This three-year-old boy and his 89-year-old great-grandmother went fishing together. And if you thought that meant a day by the lake, idly passing the time, we have news for you. This unlikely angling duo meant business! Despite being separated by 86 years, they teamed up to catch a fish.
The kid hooked it while grandma reeled it in. And the best thing about it is that it was the first time either of them had ever caught a fish. The kid will remember this day forever.
Rock-a-Bye Baby
This granddad made the coolest rocking cradle for his infant grandchild. But far from being a rock-a-bye baby blown to sleep in a tree top by the wind, this boat-shaped crib gently rocks the little one to sleep with the gentle lapping of the waves.
And you can be sure of two things — first, the baby will grow up to be a sea captain in the Navy. Second, the beautiful cradle will be passed down as a family heirloom for generations.
Grandad's Surprise Journals
Twitter user @renblankk tweeted to show what her grandfather did for her when she was a toddler. Going by the dates, we're guessing that Lauren is now in her early 20s. And starting back in 2003, her grandpa filled three notebooks with stories of when he used to babysit Lauren between the age of two and five.
The first story was called "Tales of a Two-Year-Old," and the three-year journal no doubt featured loads of adventures and great days out. Now, that's dedication.
I Will Always Love You
If this picture doesn't melt your heart, then we're afraid we have bad news… you don't have a heart! This agonizingly expressive photo shows a 100-year-old grandpa holding the hand of his 96-year-old wife in bed. Heartbreakingly, the snap was taken just hours before grandma passed away.
They had been married for a staggering 77 years — which, by our reckoning, means the young couple tied the knot in the late 1940s when Harry S. Truman was President and before Elizabeth became Queen of England.
Don't Mess With Ben's Gran
Twitter user Ben revealed his nearly nonagenarian nanna trawls his tweets looking for anyone that's made mean replies. If she does find any mean replies, she then takes it upon herself to "investigate" those cruel people's profiles. While it sounds cute, the longer you think about gran going rogue, the worse it gets.
What does she do? Does she go around to their house and hit them with her handbag? We're sorry, Ben; you're a grown man — don't let your grandmother fight your battles.
Ivy League Granddad
This proud old-timer collects baseball caps from all of the universities that his grandchildren have attended. We count 18 caps on the wall plus the one Gramps is wearing for a total of 19 grandchildren.
19 university-educated grandchildren — now, that's something else. And don't forget, he might have more grandkids who haven't made it to university yet. So, his wall of hats might keep growing and growing!
Proud Grandmother
This grandmother has clearly taught her children and grandchildren to take pride in everything they do. So much so, that when her granddaughter unfurled her multicolor flag on the morning of Washington D.C. Pride, grandma noticed it was crinkled and insisted she iron it before she set off for the event.
Nonna immediately set up her ironing board and pressed out all the creases so that her granddaughter could attend the LGBTQ+ event looking even more proud.
Turtle Heaven
One grandpa decided to make a floating dock for the turtles who live in the lake by his house. Why grandpa thought this was a good idea, nobody knows, but this is what happens to people with too much time on their hands.
As you can see, the turtles took to the floating dock like ducks to water as the aquatic creatures seem to love soaking up the sun. Next on grandpa's list is building a turtle hot tub. We just hope it's not a turtle disaster!
We Salute You, Gran!
Here's Jamie's grandmother celebrating her 100th Birthday. Now, anyone making their centenary is a worthy event, and since she's from the United Kingdom and this tweet is from 2020, she would have received a telegram from Queen Elizabeth II.
But, what makes Jamie's gran's special day even more noteworthy is that she's a genuine war hero. The Aberdeen native worked at Bletchley House on the Enigma Machine, which decoded Nazi messages to help the allies win World War II. Thank you for your service, Ma'am!
Romantic Poet
This is the last note one husband left for his wife before he passed away. He left the romantic poem with his last will and testament so he could be sure that his wife found it. The poem may only be a simple, two-line rhyming couplet, but it's enough to melt anyone's heart.
Even our hearts are melting right now, so imagine the feelings and memories it must have conjured in his wife when she read it. Note to all men reading this — be more like this legendary husband.
Separated by 100 Years
This lovely black and white photo shows a grandfather celebrating his 103rd Birthday with his three-year-old great-granddaughter. Now, if you're a rocket surgeon, you'll have already worked out that this means the pair are separated by a whole century!
What better 100th birthday present could you wish for than a beautiful, healthy great-granddaughter?! There's something so special about family generations coming together…
I Want to See the Sea
This grandmother wanted to see the beach one last time before she checked into the hospice for palliative care. So, her loving family obliged by popping her in the back of the car and driving her to the seaside for a surprise mini-vacation.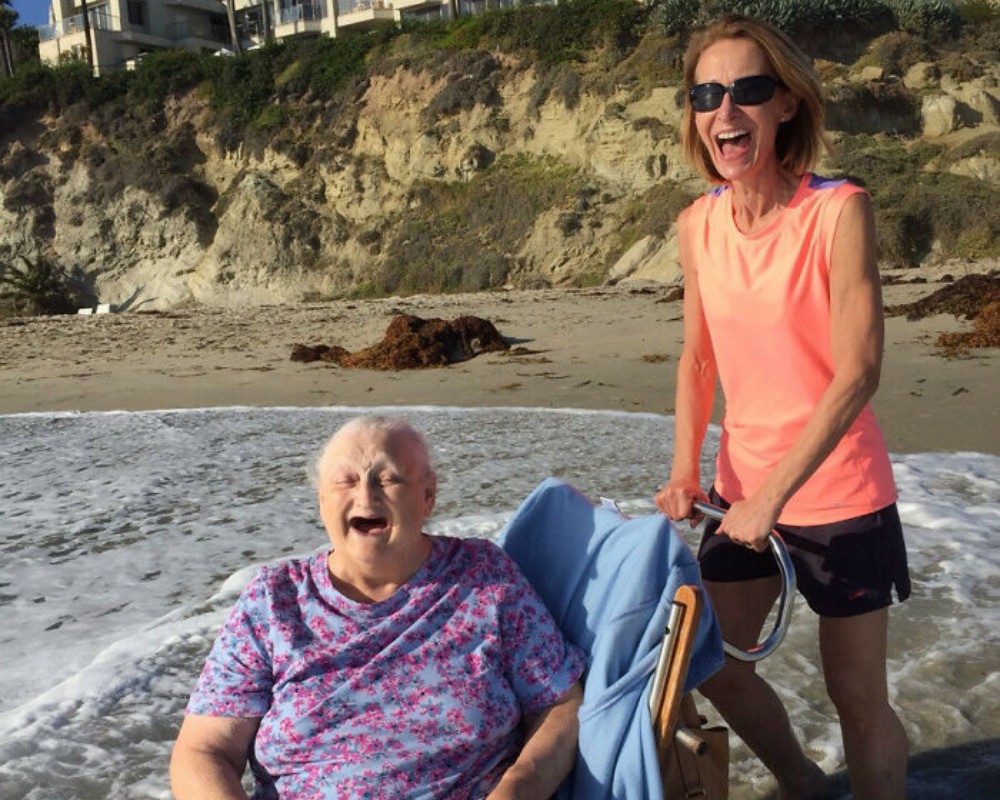 And the expression on her face tells you everything you need to know… except perhaps the location. We're not sure where it is, but hope it's maybe somewhere exotic like Hawaii or Malibu. Answers on a postcard…
Rainbow Quilt
When this lady's grandchild graduated, she made them a quilt. But, not just any old American quilt. Because their grandkid is a member of the LGBTQ+ community, she made them this extra special quilt featuring cool rainbows.
As the poster explained, "She thought the rainbows would be good because I'm gay. My grandparents are new to this whole gay thing, but they are doing their best." Still, even though grandma is new to it all, she definitely restored her grandchild's faith in the world.
Are We There Yet?
One social media user's dog gets really anxious whenever they have to take a car ride. So, their grandma insisted on sitting in the back seat with the frizzy-haired Labradoodle. Well, we think he's a Labradoodle, anyway. As they drove, all they heard emanating from the back seat were comforting words from grandma like, "It's okay, we're almost there, brave boy."
These words of comfort continued for the entire car journey. What a great grandmother! Not a great-grandmother, but just a superb grandmother.
That's One Great-Great-Grandmother
This sweet great-great-grandmother is 102 years young. In fact, she was 103 on Valentine's Day — which is an appropriate birthday considering how full of love she is for her two-month-old great-great-granddaughter. With our Sherlock Holmes deerstalker on, we make that a total of five generations!
And doesn't the baby just know what safe, wonderful hands she is in? Have you ever seen a pair of more loving smiles? Even though they are separated by over a century, love transcends all barriers, including space and time.
Dressed to Impress
This 84-year-old grandmother apologized to her grandson and others for making an appearance in her nightshirt. So, her grandson assured her it wasn't a problem. To make her feel better, he then said that nightshirts looked very comfortable, so grandma scuttled off to her bedroom and returned with a nightshirt for him.
As the grandson said, "It's not like I could have rejected this generous gift!" So, he popped her nightshirt on, which must have provided a few laughs and made her feel less self-conscious.
It's a Catastrophe!
This ginger and white cat was really upset when he ripped his favorite toy open. In fact, he was so sad, he called (meowed) it a catastrophe. But, seeing how distraught he was without his toy, Nana soon came to the rescue.
She grabbed her sewing box and quickly started sewing the toy back together again. Check out the kitty as he patiently waits for his favorite toy to undergo surgery… so he can rip it apart again 10 minutes later!
Water Baby
This endearing family photo from all the way back in 1991 shows a grandmother watering her grandchild's feet from a tiny watering can. Grandpa is directing procedures from his deck chair in the background. Of course, the idea behind grandma's stunt was that the kid would grow. And someone captured it on film for posterity.
We say "on film" because there were no iPhones back then. Now, more than 30 years later, it definitely worked as the kid stands six feet tall and plays professional NBA basketball. Probably.
Rainbow Sweater
This social media user told their grandmother that they were bi — and it's safe to say that the kid would probably have been worried about how their gran would react to the news. But a few weeks later, Gran revealed her thoughts when she surprised her grandchild with this excellent rainbow sweater.
And the best thing is, she'd taken weeks to knit it herself. What better way to show love, compassion, and encouragement for your grandchild in what must have been a challenging situation?
Duck Tales
Some elderly people get stuck in their ways. In fact, many photos of their houses all look the same — wooden sideboards filled with family photos, trinkets, eggcups, and those tiny spoons. But sometimes, being stuck in their ways can be endearing.
When this kid moved away, their grandma bought them this duck towel for when they came to visit. Fast forward 12 years, and even though the kid is all grown up, grandma still hangs out the same duck towel for them when they arrive. How cute is that?
Proud Grandson
Normally, it's grandparents who are proud of their grandkids — but this time, it's a grandson's turn to be proud of his pops. The two fellas were out fishing from a bridge when another kid's rod broke. To make matters worse, there were also several knots in his line.
The kid was struggling as he had learning difficulties, so grandpa fixed his rod and untied the knots. The grandson posted this photo on social media, saying he had "never been more proud of my grandad."
40 Grandparents That Prove People Only Get Better With Age
Be Prepared
This picture is one reason you should never go to your grandparents' house unprepared and without the right clothing. This is what happens if you forget your pajamas and ask your grandma for some to wear.
You should keep in mind that this type of pajamas was trending when they were very young. So go prepared, or you will end up like this guy in the picture with an oversized granny nightgown.
The Confusion
It 's funny how one word can mean two different things to two people, and they are only one generation apart. Maybe this grandpa never saw himself as a lovebird and deliberately misunderstood what he was called.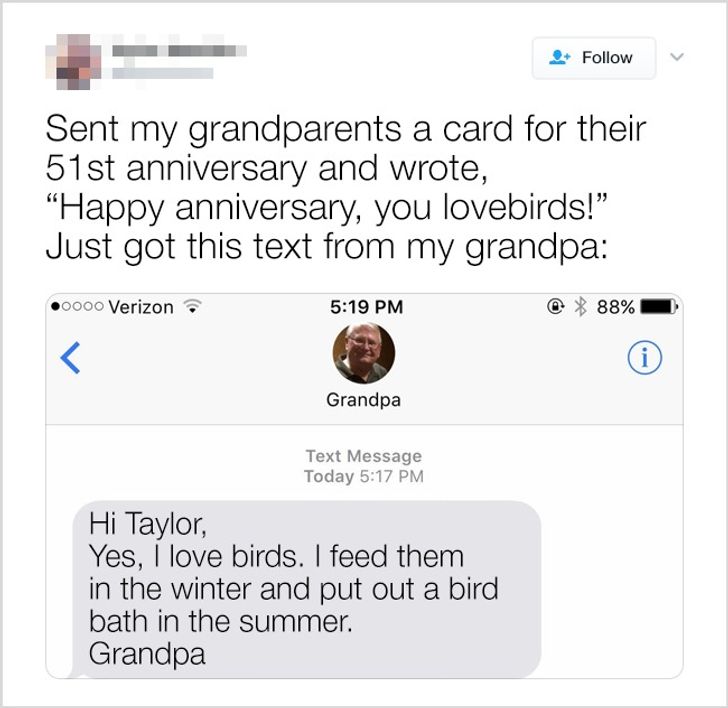 Or maybe he completely forgot what that word really means, or he was just fooling with the young person. But for all we know, he knew exactly what his grandchild meant and was just mocking him. Nobody really knows the minds of older people.
Not the Face
If you want to have a Facetime chat with your grandparents, you should teach them how to do it first. Or you will end up like this guy who had to have a sweet face chat with his grandfather's ear.
And it is not easy to get older people to change their habits if they have been doing things a certain way for years. That was what he had learned to do since the first time he had to speak to someone on the phone, how else will he know?
Be Frugal
This is a thing that all grandparents can do when it comes to spending money on all types of accessories. This grandmother simply does not throw away anything, and as you can see this picture, not even the iPhone container.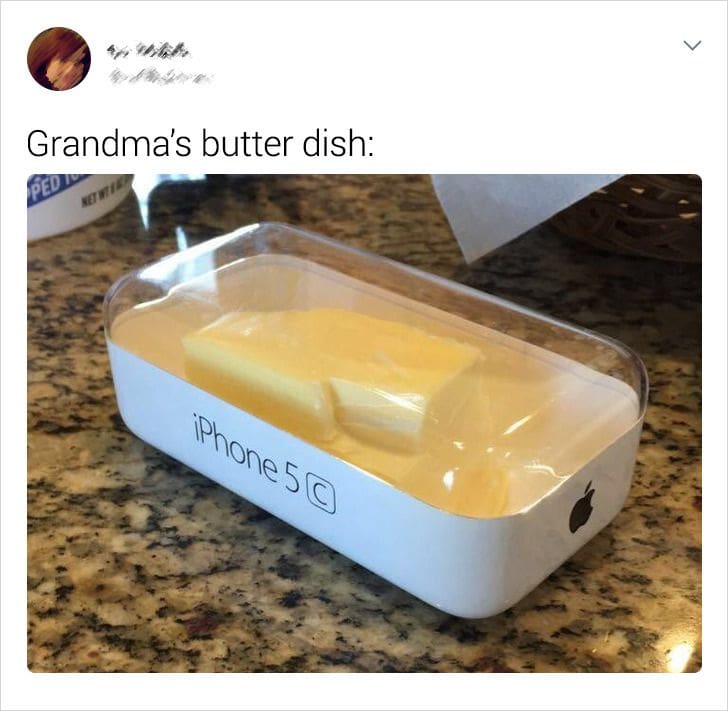 This grandmother saved some money and thought this container looks nice and beautiful enough to be used for the butter. Thank you, Apple, for this thoughtful and modern butter dish that can be used by grandmas.
Stay Away From Me
This grandmother tries everything to avoid being alone with her neighbor. He is clearly interested in her and maybe in love with her too. Sometimes when people are in an awkward situation or are pushed into a corner, they will say the first thing that comes to mind.
And the best thing this grandmother could say when the neighbor wanted to get acquainted again is that she does not eat. That was after he asked her if she had eaten dinner yet.
Save Some Space
There is a lesson we all need to learn. What is that lesson? Do not visit your grandparents around lunchtime after you've eaten. We all know that grandmas always believe that their children do not feed their grandchildren properly. And grannies are determined that they will fix that.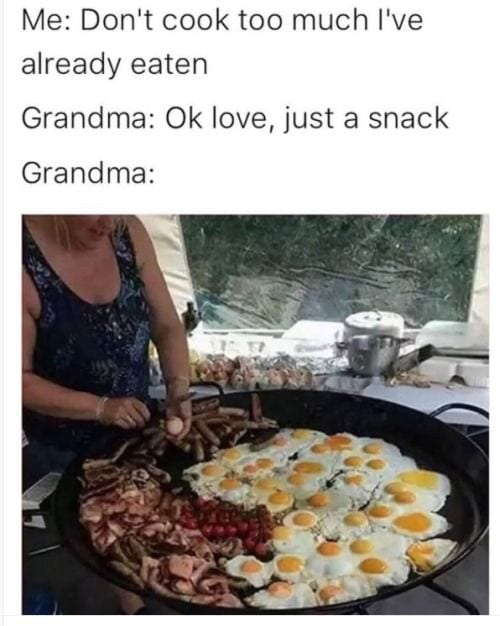 In this picture, you can clearly see what we mean with that; you just can't win when it comes to feeding time at grandma's place. It will always feel like there is just too much food at their house.
Prescription Pills
With a harmful addiction, this grandfather had to get something to help himself control it. And who would have guessed the doctor had a sense of humor and prescribed pills that look like the addiction.
This is a sure way to cope with the illnesses that come with old age that need to be treated promptly. But that works only for certain old age problems and illnesses, and not everybody will benefit from it.
Rock Candy
This grandma thought that what she had was a beautiful rock that could be used to decorate her home. Hopefully, it did not attract an army of ants, because then she would have known what it really was she was hoarding.
On the other hand, if you do not know how to tell her it is some candy, you should just ask her for it. We all know that grandparents do not really like to say no, and the dilemma would be resolved.
Getting Too Old For This
This will never get old, and even grandpas still use this when they are getting overwhelmed or just to add some humor. When this grandpa was bitten by a spider, he mumbled that he is too old for the responsibility of being Spiderman.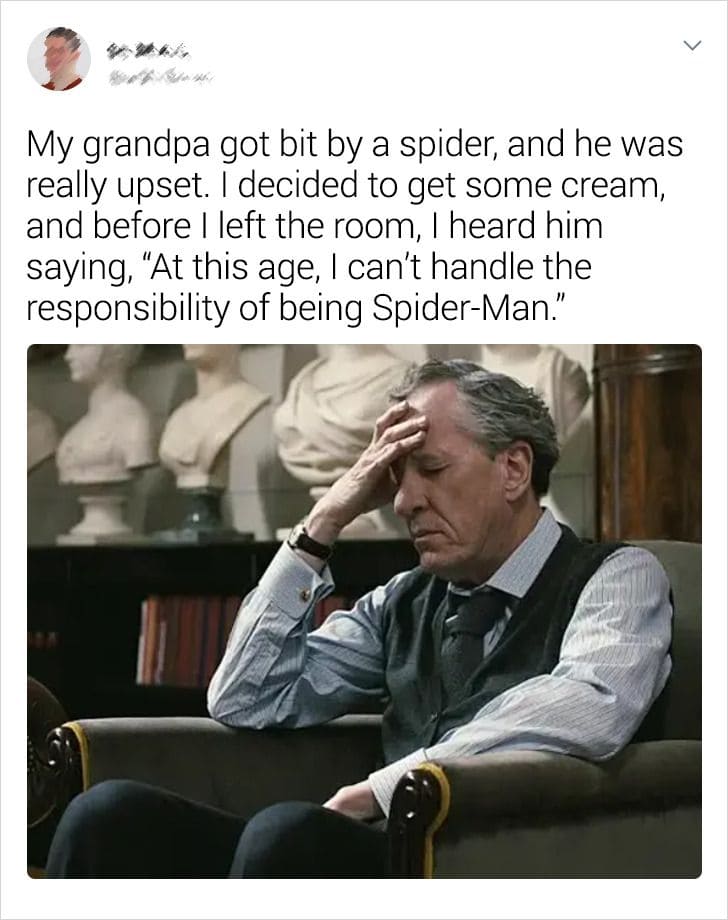 At least one thing older people seem to gain a lot of is humor, and that helps to soften the blow of aging even when their minds are still sharp as a tack.
Vice Versa
When this person asked their grandma for a pair of Converse sneakers, he should have said exactly what he meant and wanted. As you can see in the picture, that is not what he expected while grandma knew exactly what she made for him.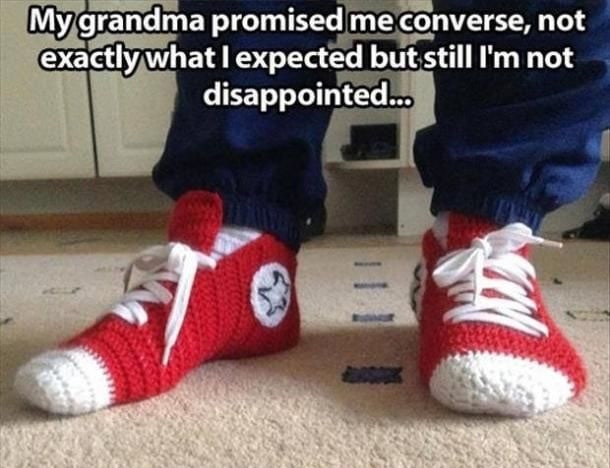 When it comes to grandparents and modern clothing, you should be more specific and explain what you want, or you're in for a surprise. Remember, they might know everything, but they grew up in a different era.
Back to the Future
When it comes to terms for modern technology as well as the names of new gadgets popping up everywhere, it is kryptonite to some of the older generations. Yes, this is the weakness of the older people, and we need to be patient with them when talking about it around them.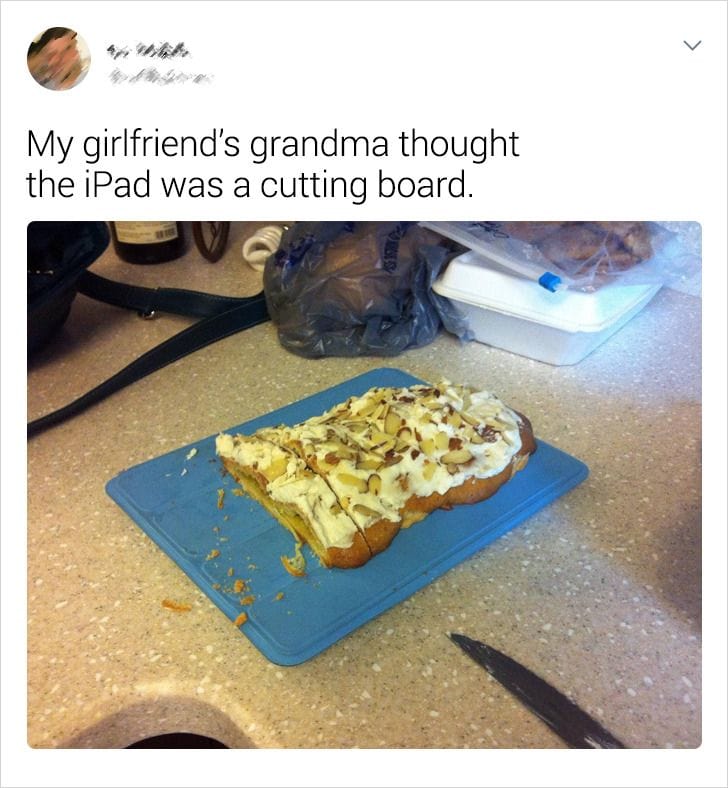 Like this grandma, when her grandchild brought out an iPad, she thought it was a cutting board. Imagine how confused they are sometimes while we are talking high-tech in front of them.
Only the Best
This is how grandmothers' minds work when it comes to feeding their grandchildren, no matter where they go. This person received a visit from their grandma, and the first thing that came out of her suitcase was food.
And not just food, but the best they can afford and more than enough to last the grandchild for quite some time to come. She just wanted to make the most important things come first, and that is to feed them.
Like a Child
When it comes to new and modern gadgets, grandparents are like little children with a new toy, but they do not know how it works. They will annoy whoever is nearby with their new smartphones and want to explore all they can do with it.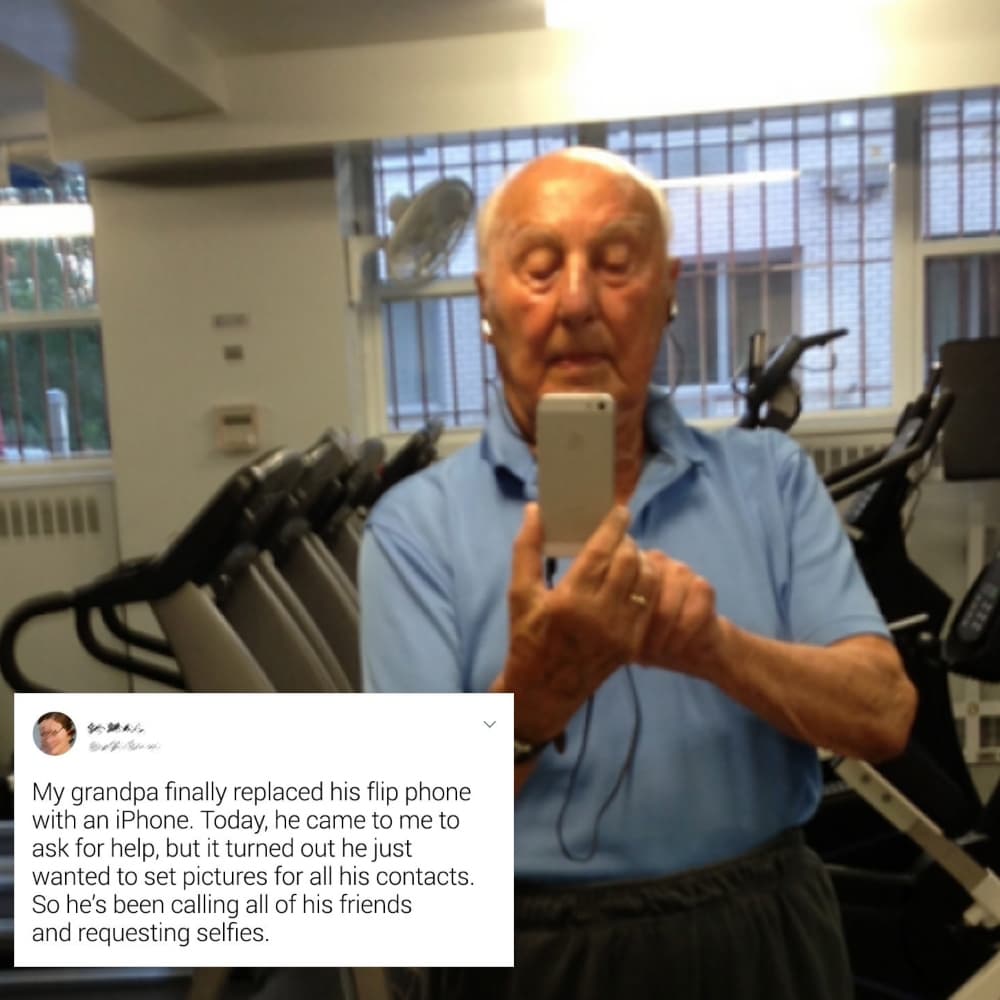 That is why this grandpa wanted his grandchild to help him so he can see who he is calling. But sometimes grandparents find new ways to use technology that we didn't even think of!
The Terminator
The movie The Terminator came out when many of today's grandparents were still young enough to have seen it. Even the actors in this movie are grandparents now. Maybe that is why this grandpa does not trust the robot vacuum.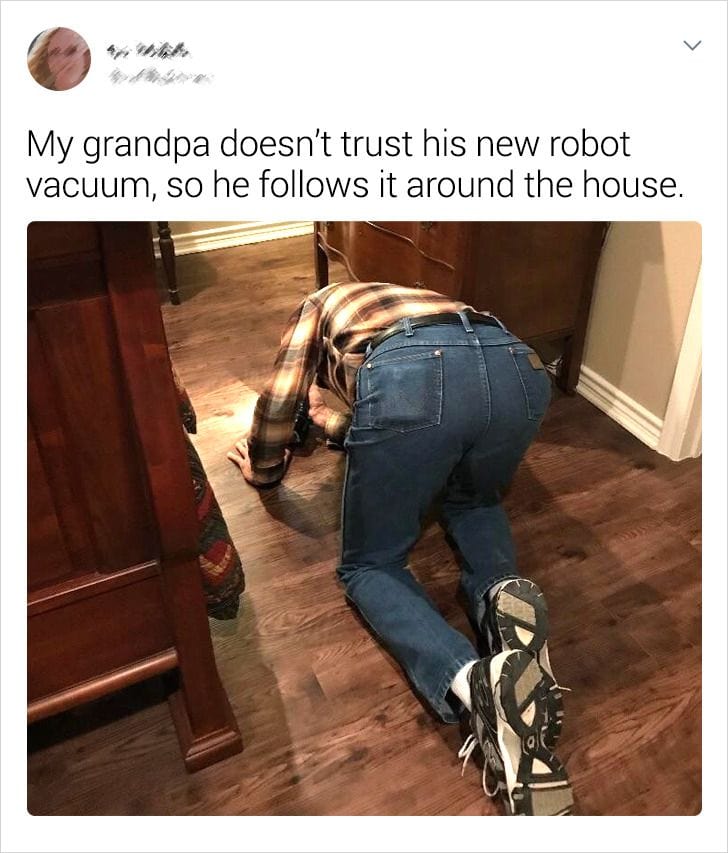 Or he simply just believes that certain jobs were meant for people and not machines that do not even know what dust is. But that is the case with most older people; they do not trust machines to do the job.
Rules Do Not Apply
That is the case when it comes to grandparents and grandchildren and the strict rules for their children. In this picture, the grandchild was allowed inside the refrigerator just so grandma could share it with everyone.
Now, where are the rules that applied for that grandchild's parent now, and how is it not enforced? But as we know, the rules are only applicable between parents and children, and that is the extent.
Why Did You Do It?
This is certainly the question that this cat wants to ask the grandchild who got their grandma a camera phone. This might be good for people, but for animals, it turns into a nightmare when grandmas get camera phones for Christmas or their birthday.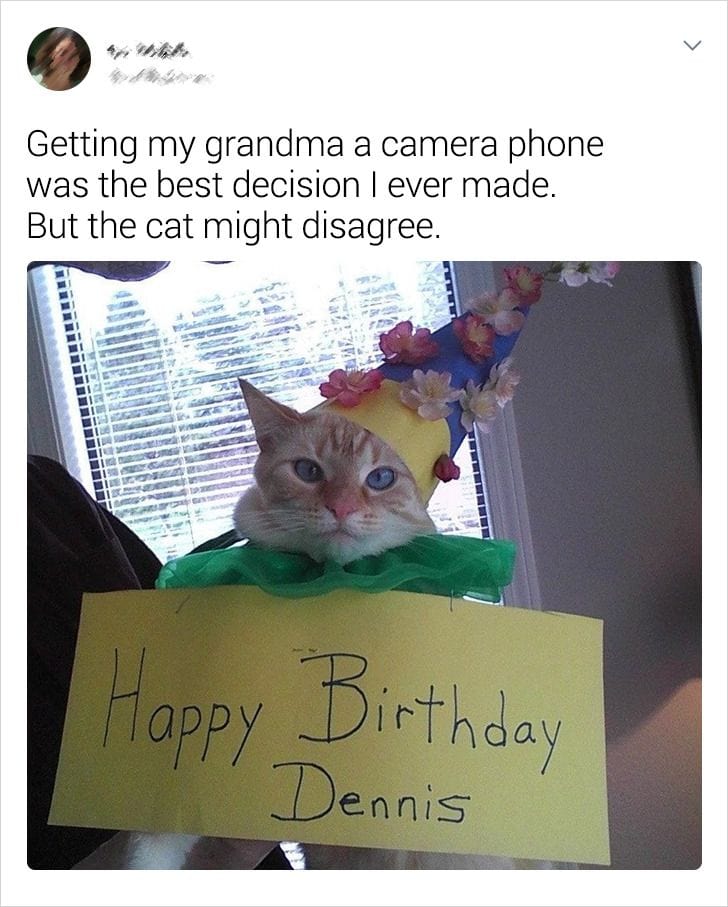 As you can see in this picture, the poor cat is dressed up, and with a happy birthday sign, his picture is sent into the world. What will the lady cats say? Oh, the humiliation.
The Myth Is Confirmed
Some grandchildren think their grandparents know everything, and this might just confirm that theory. Not all grandparents are uninformed when it comes to technology and modern gadgets, as it is clear in this picture.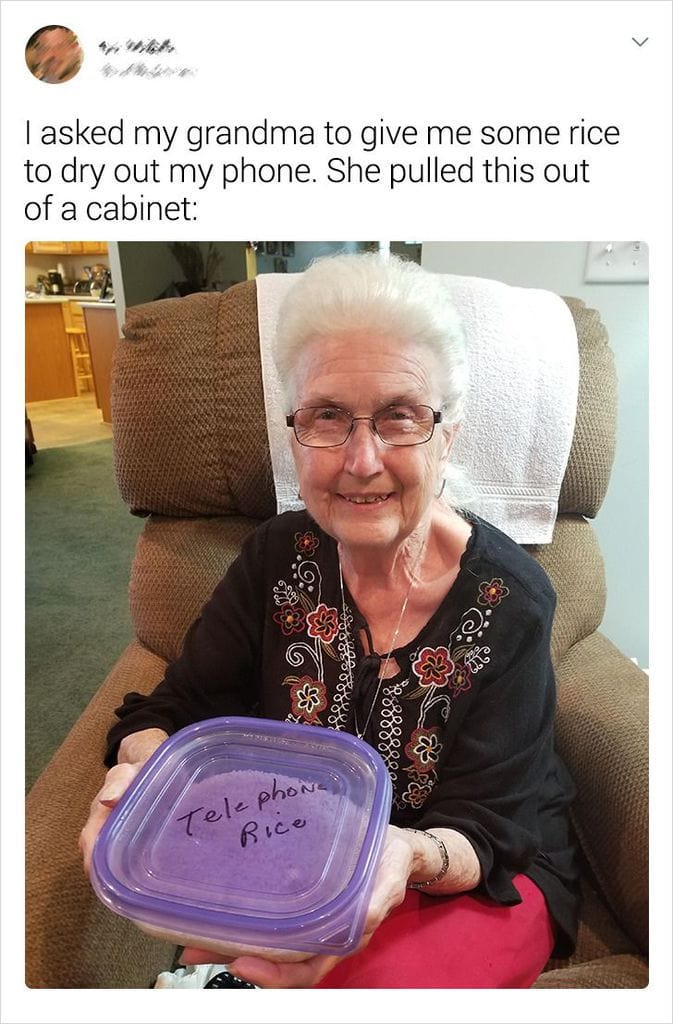 Who would have thought that if you asked your grandmother for the rice to dry out your cell phone, this would happen? A container that was set aside with rice in it, especially for the occasion of drying out your wet phone!
To Thy Aid
When you get older, there are certain things that might slow down, like your steps, or your hearing. And for that, you will be able to get some devices that might help you to still enjoy life to the fullest.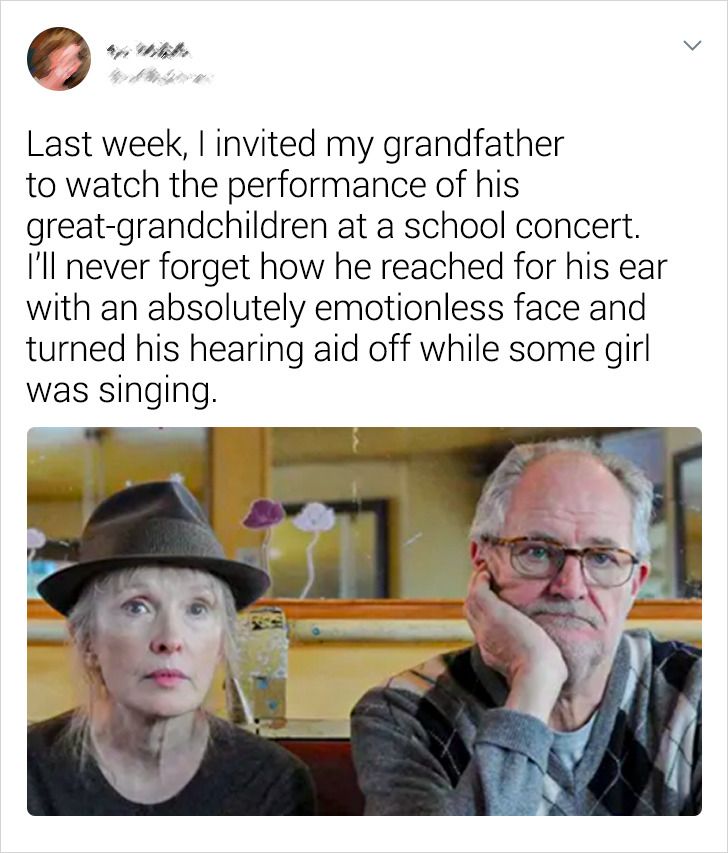 But according to this story, the problem of lack of hearing might be a blessing in disguise if your ears can not handle the noise. This grandfather probably felt sorry for those around him.
All Included
When this grandchild asks for a packet of onion and sour cream chips, they get literally just that. The grandma bought them a packet of Funions and a container of sour cream according to their request.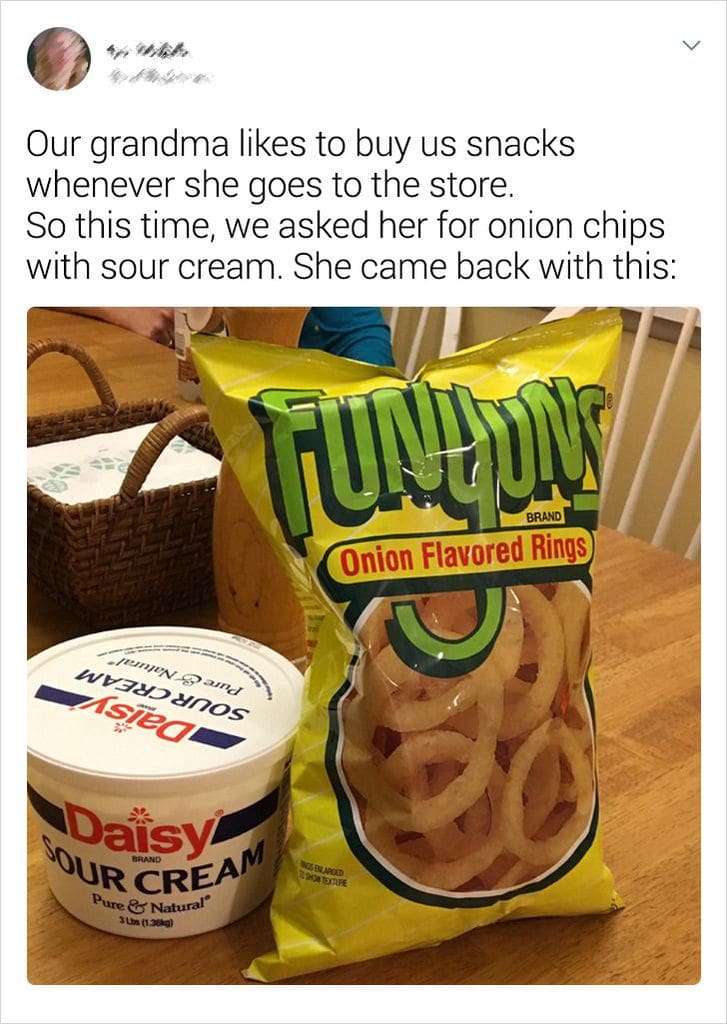 Of course, the child meant chips that are flavored with sour cream and onion, but that is why you need to explain to the older people what you want and not just assume they understand. We must remember that they grew up in another era and some things are still new to them.
No Professionals
This grandpa does not need a therapist to sort out the little problems in his marriage; he does it the old fashioned way. When his wife is cross with him and gives him the silent treatment, he has a remedy for that.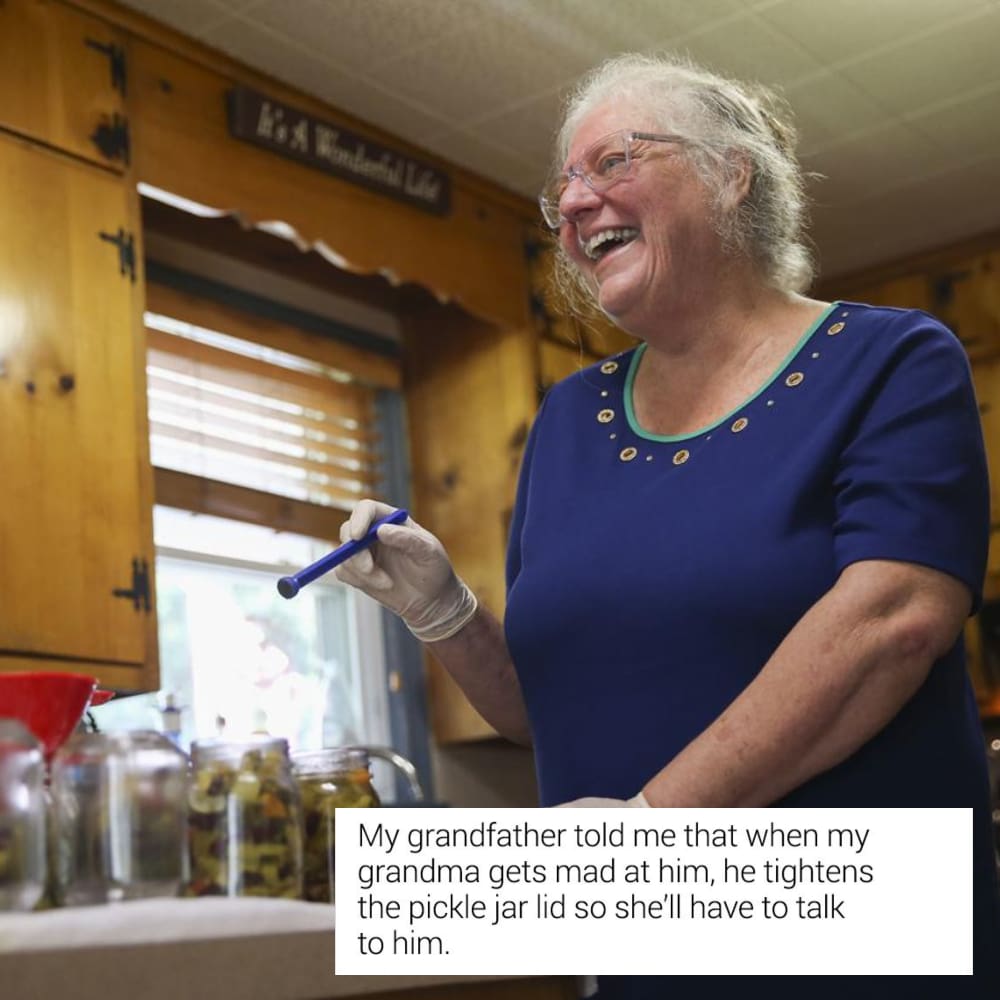 He just tightens the pickle jars so she will have to talk to him if she wants to get it open. And that is how you do it folks, no professionals that will charge you a lot of money, just simple tricks.
The Walking Circus
When it comes to grandchildren, grandparents are the most patient people you can find in this world. If you look at this picture, you can understand why. The granddaughter is making a circus out of her grandpa, and he just sits there.
As long as she enjoys herself and as long as she is happy, this grandpa is also happy…no matter what the words say. But in the end, it is really fun to be a grandfather…and a circus.
Grandpa's Revenge
In this picture, the grandchildren were making fun of their grandpa while he was taking a nap. But they did not know what was coming for them, and he got back at least one of them with a good retaliation.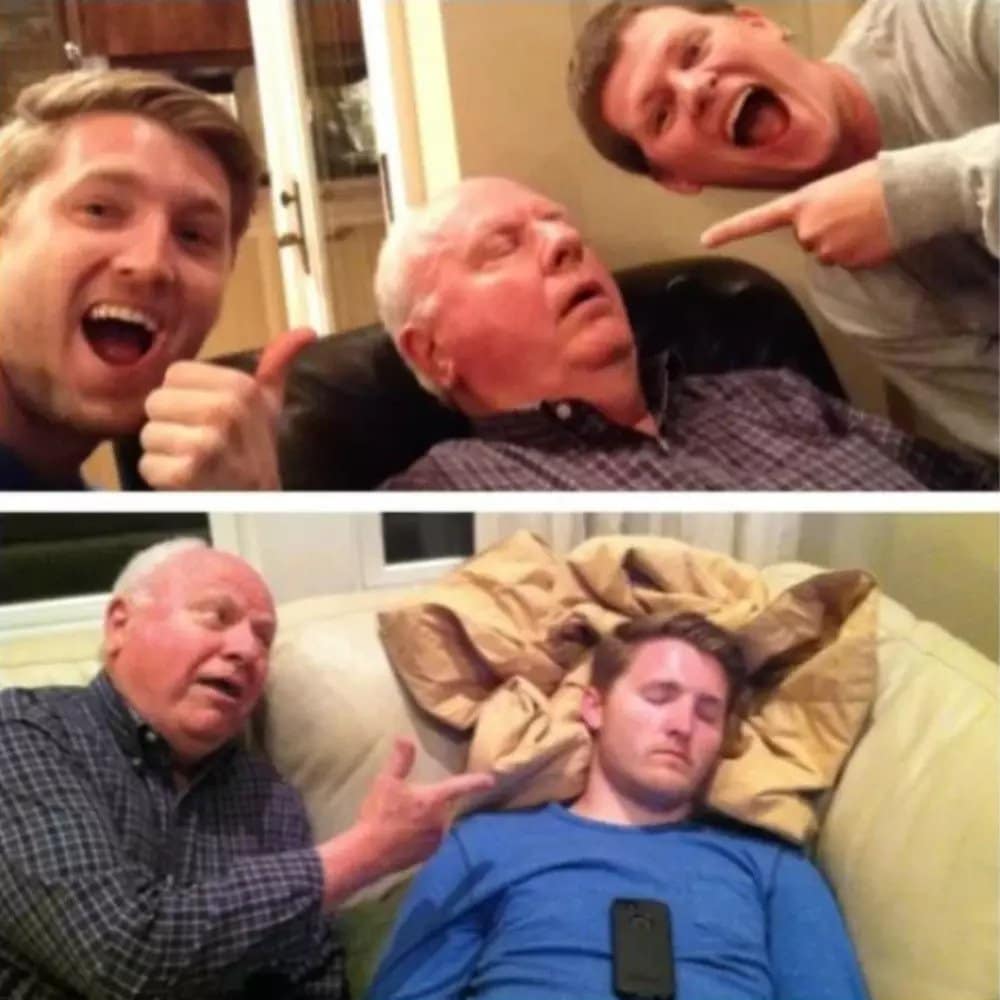 One would always wonder what went through the young ones' minds when he found out that the revenge was sweet. And there is also the other one of that gang that still needs to be repaid.
Take My Seat
This guy might look like a grandpa, but he is still very much alive and definitely not an elderly person. When someone offers him a place to sit because he's an older person, this grandpa showed them what he still can do.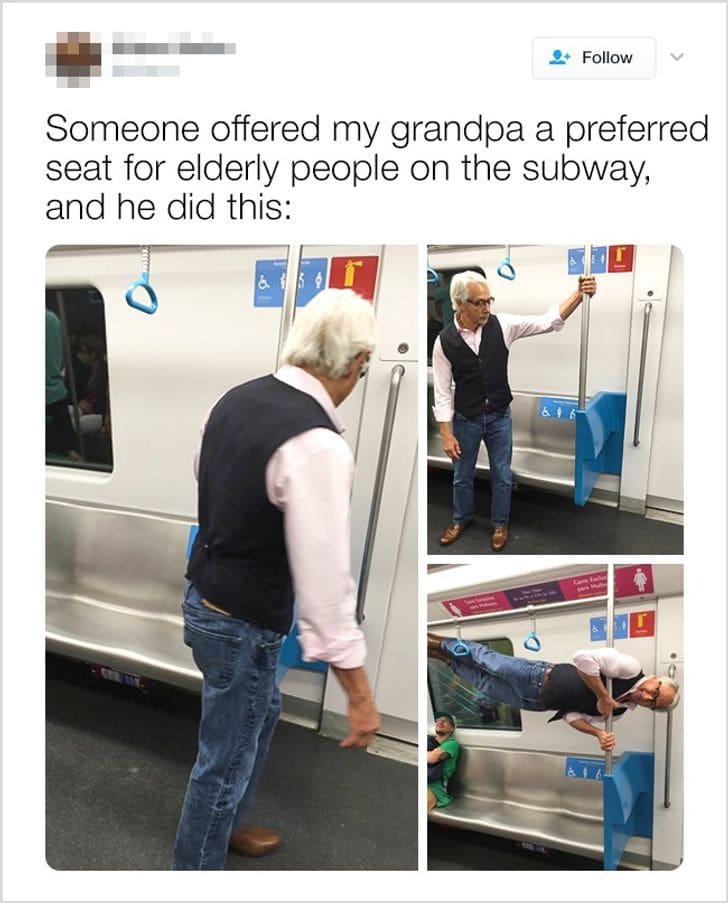 If you ever looked for an example of why you shouldn't judge a book by its cover, this is the one you were looking for. Nobody will offer this grandpa a seat for the elderly ever again in a public place.
They Never Say No
This is one of the best things, and that is to have grandparents who never say no to their grandchildren. And that mostly happens when mom and dad are not around, and you want more than just the one candy.
The biggest problem here is that your hands are not big enough to hold more than what can fit in them… like the whole bag of candy. Maybe next time it will be better if granny takes a handful and gives it to you before mom comes.
That is Not How We do it
Anybody would have felt the same as this pelican did after he got a good scolding, and clearly, this animal deeply regretted what he did. He could not even look this grandma in the face after that tirade.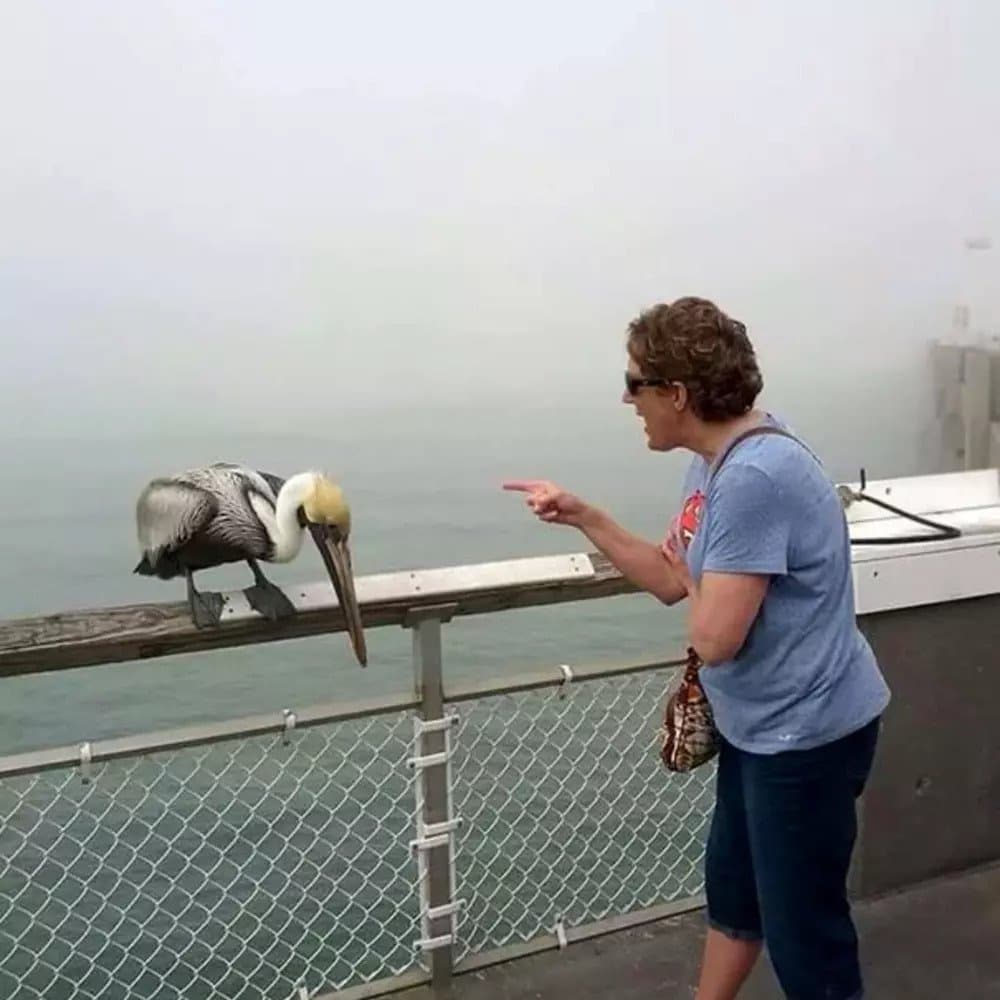 That is what happens to a pelican who bites a grandma and thinks he will get away with it. This poor animal will not bite anybody again ever in his life after this lesson of humiliation from this sassy granny.
Disappearing Grandma
If you want to disappear in your own home, this is how you do it, and it's not even high-tech. Did this grandmother need a break from the daily responsibilities and decide to take that break without going far?
The next time you cannot find your grandma, start looking down, you might just find her right under your nose. And that is how grandmas use their superpower to vanish in plain sight.
When Your Eyes Let You Down
This grandmother got a John Cena bracelet, but she was entirely under the impression it was one of Jesus. How this could have happened, we might never know, but this is the problem with aging.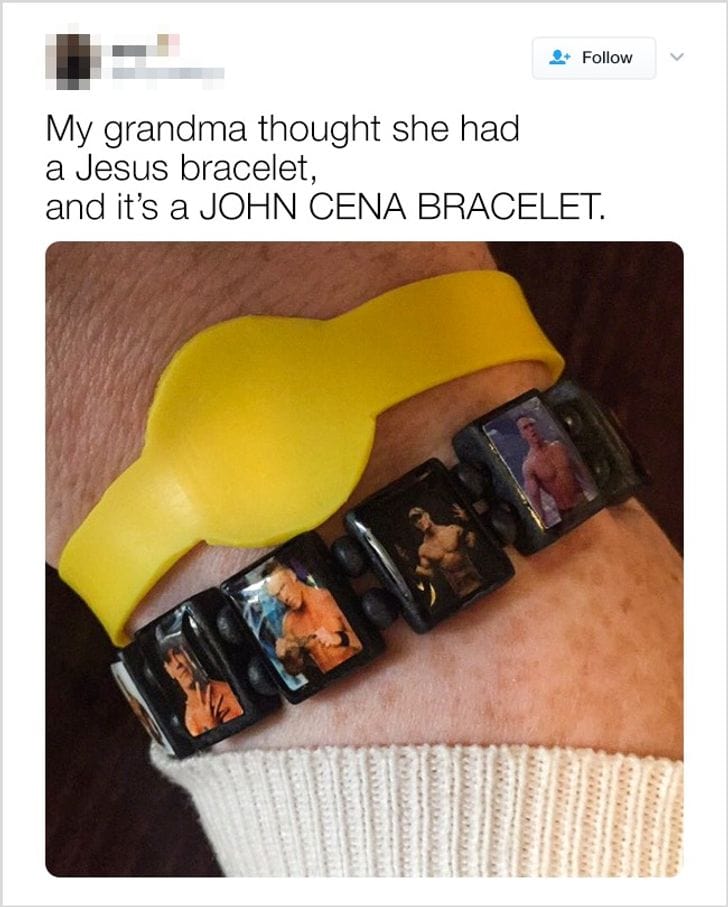 Your eyes will just one day begin to let you down, and you will not even know it. Hopefully, someone informed her of this misunderstanding so she will not feel embarrassed, or maybe she took it in stride.
It Is Well Done
When Jean let his phone fall in the water, he asked the grandfather to put it in rice to dry it out. But this is what he did; as you can see in the picture, he cooked it with the rice to get it dry.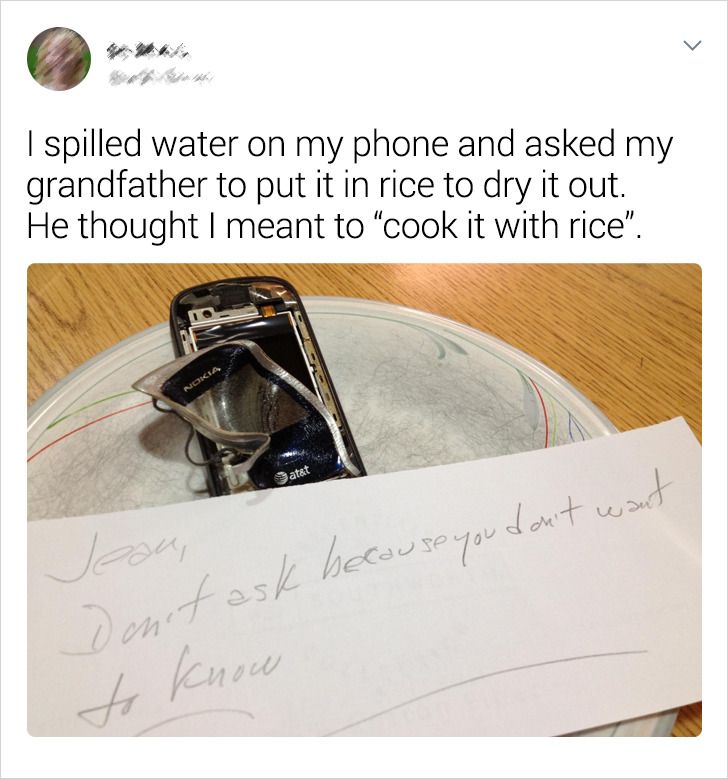 Perhaps next time Jean will give clear instructions on what he meant – put wet electronics in rice to dry it out. This is not something the grandfather should know; at least he left a note with the cooked cell phone.
Keep the Fire Burning
This grandma takes a photo of her husband every time they go to In-N-Out Burger and texts it to her grandchild. If you look at the history of this fast food joint, the owners started it when they were newlywed.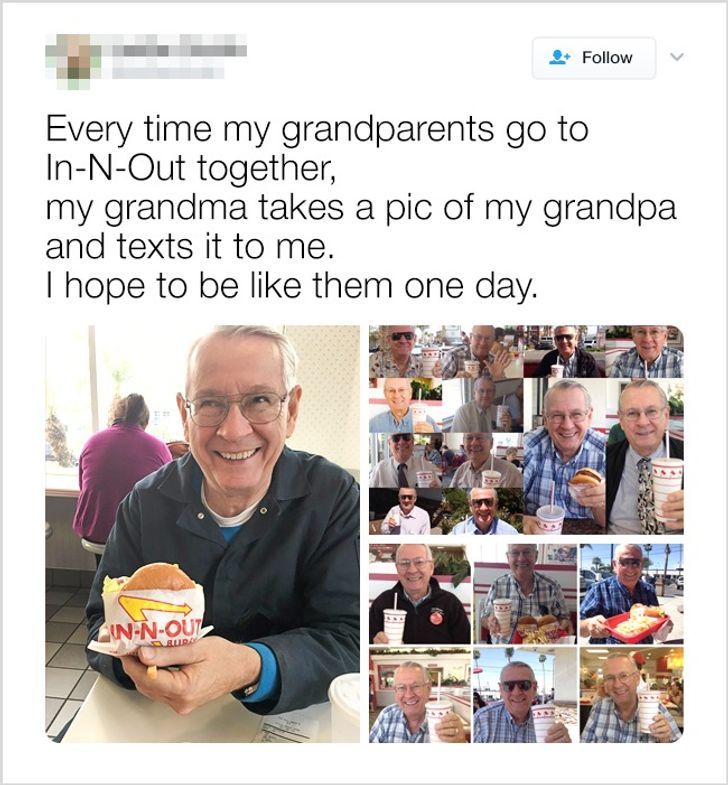 And these grandparents are just following tradition with a photo to keep the marriage going, just like the owners. This grandma must be an undying romantic, and that is why she keeps celebrating love.
That's How It's Done
When this grandpa got the invitation to come to a wedding with a medieval theme, he took it upon himself to come well-dressed. And he literally included everything medieval in his costume from the clothing to the transportation of the time period.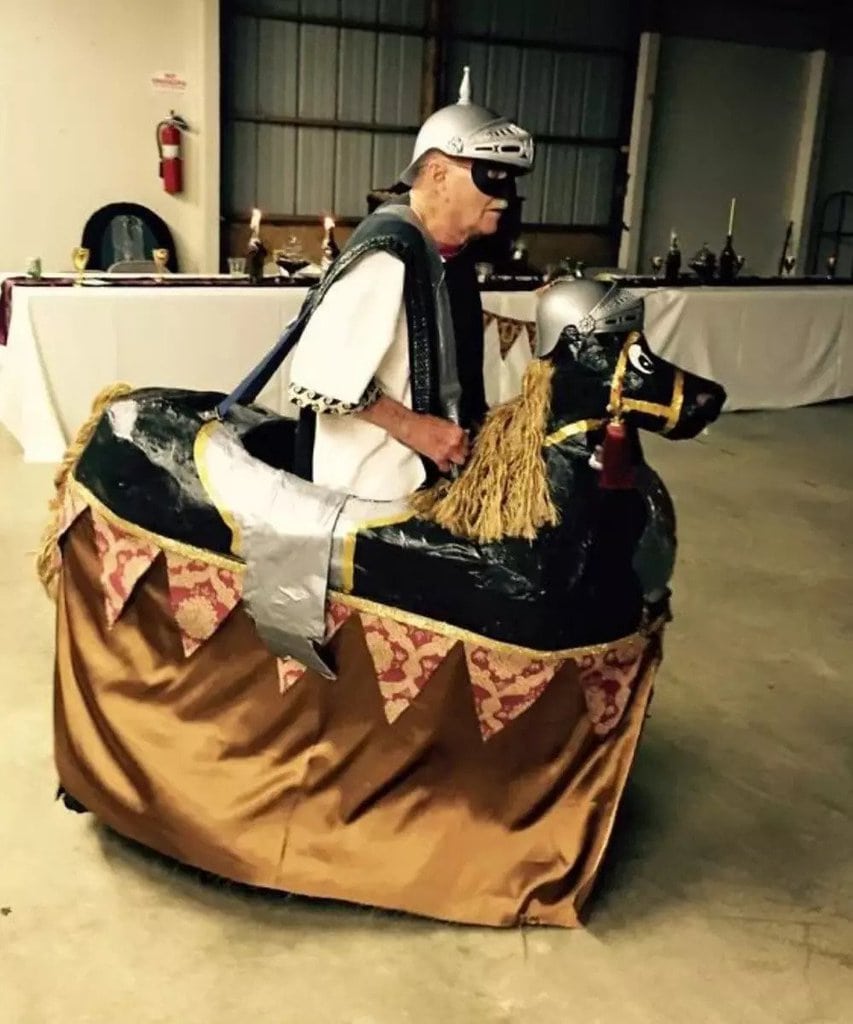 There was even space to put down his drink without the need for a table. I just wonder if he got a chance to dance and if he could find a dancing partner.
This is How it Works
Sometimes small children might think that grandparents are there to be their playmates, or else to put them back in their place. This grandma just found a way out of being a playmate, even if she was there for her grandchild.
She just showed a child how things work in this life, and one of them is to keep respect for the elderly. And maybe that is a lesson we all need to learn, to not take the older people for granted.
Who Are They?
These grandparents came to a costume party as snowmen, and they looked like characters from a scary movie. But what was the intention, did they try to dress up as some family of Olaf the Snowman?
At least it was an original idea and must have taken them quite some effort to get those costumes made. Who says that grandparents can't be original and innovative – and even scary – at the same time?
Thou Shall Not Pass
This is how seriously a grandma takes her job as a security guard at the ATM while her loved ones are drawing money. Maybe this is the solution for crime in the world, to shame those who take others' hard-earned money.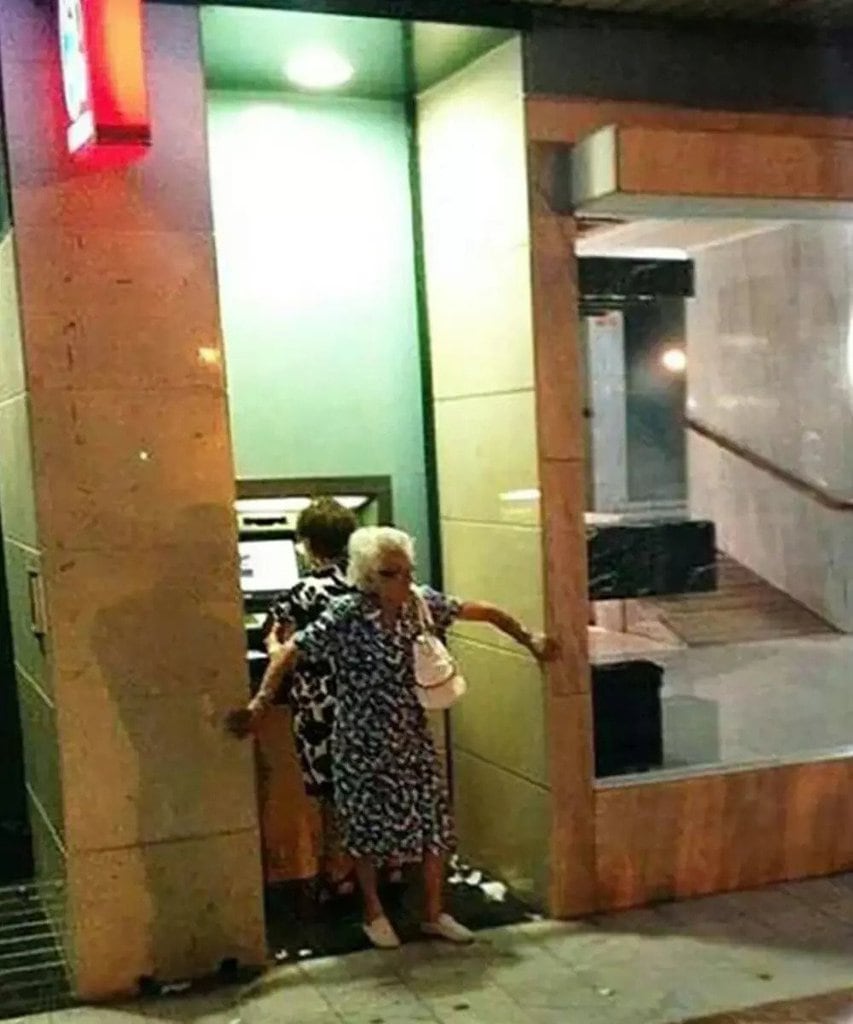 As you can see in the picture, this grandma is ready for anything or anyone that might come to take their money. Not that she will be able to stop the thief, but her heart is in the right place.
Old Tech Efficiency
This was how you listened to music when this grandpa was young, and it still is a very effective way. It might be a little bit heavier than the MP3 players or smartphones nowadays, but it still gets the job done.
He might also have turned a lot of young heads with his old ways of listening to his music in a public place. But who cares? He was happy, and everyone around him thought it was funny, so everybody was happy.
Here Comes the Bride
Some people believe that you can be too old to ever love again. These people claim that once you reach a certain age, you have missed the boat and could never find true love. If ever there was evidence that this is simply not the case, it would have to be the following Tweet.
This woman isn't just a grandmother – she's a great grandmother. And even at this stage of her life, she ended up falling in love with someone and is enjoying her wedding day.
A College Collage
Any grandparent is bound to be proud the day that they find out one of their grandkids has enrolled into college. It's a huge moment for any family and is a testament to how far they have come in life.
However, when so many of your grandchildren have attended university, the amount of pride and happiness you must feel is unfathomable. This heartwarming photo sees a granddad posing in front of a number of very meaningful baseball caps.
A Sport for All Ages
It's not just parents who should be able to enjoy watching their kids play sports, whether it is for a local club or for their school. Grandparents should also be welcome for the ride and this grandad loves nothing more than watching his grandkids play soccer.
That's not all though, he also cares a lot about his teammates and can't help but gasp whenever one of the players is down and potentially injured. This is one grandparent who cares for all kids.
Suited and Booted
These photos just go to show that you can never be too old to be incredibly romantic. It seems like this couple's relationship just gets better with time. Even though this grandmother had to spend her 57th anniversary in a hospital bed, this didn't mean she didn't get to celebrate with her beloved husband.
And he certainly made the most of the situation, dressing up in a tux and bringing flowers to her. This man has plenty of tricks up his sleeve.
A Way With Words
It is no secret that grandparents absolutely adore playing Scrabble. This classic word game is believed to improve cognitive strength and generally improves one's vocabulary. However, the following grandparent seems to want to up the difficulty by changing the rules so that you can only use the names of their grandkids.
If this was to work though, you'd probably have to have a lot of descendants to even stand a chance of winning.
The Dynamic Duo
It is well-documented that having a pet in later life can be hugely beneficial for one's emotional and mental wellbeing. Having a close bond with an animal can only help us and it seems like this grandfather is loving spending time with his new dog.
Moreover, the photos that his caregiver took of him with his new pooch are absolutely heartwarming, to say the very least. If this does not light up your day, we honestly don't know what will.
Some Memories Aren't Worth Sharing
Grandparents tend to not make the best decisions when it comes to social media. As soon as they discover a new facility on Facebook, they are all over it in a heartbeat. However, that doesn't mean that they know how to use it properly.
Take this grandmother, for example, who was excited to share memories on the social media platform. What she didn't realize though is that there are some memories that others simply want to forget.
Grandma's Always Right
While many of us enjoy having a relationship with our grandparents and do a good job of staying in touch with them, there is no denying that conversations with them aren't always that easy. In fact, it can be easy to get into all sorts of silly arguments with your grandparents.
Take this guy, for example, who spent a quarter of an hour arguing with his grandma about how old he is. Little did he realize though that he had got his own age wrong.
Age Is Nothing but a Number
Many grandparents do a good job of showering their grandkids with love and presents. Whenever the kid's birthday comes around, it is likely that Grandma and Grandpa will be quick to spoil them with all sorts of treats.
At the very least, they are bound to provide a sweet birthday card, maybe even with some money in it. The following grandparent though wasn't exactly interested in finding the perfect card for their grandkid's big day. Hey, it's the thought that counts.
Tweet Texting – That's a New One!
It has become a common occurrence for grandparents to not really understand the dynamics of social media. How often have you seen a grandparent try to engage in a conversation with someone online that probably should have happened in their inbox?
However, this grandparent managed to take things to a whole new level. They thought that they were texting their grandkid when in reality, they were writing a tweet! Someone needs to give them a 101 on texting.
Unconditional Love
It can often feel like our grandparents are from another planet. After all, we did grow up in completely different eras and as a result, our way of thinking might be different. Moreover, grandparents can often be stuck in their ways and unfamiliar with what's new and current in the world.
Take these grandparents for example, who don't completely understand what their grandkid is telling them. Nevertheless, they are happy to nod along and will support them no matter what.
No Glass Slippers Here
Every woman at some point in their life has wished that they could have some sort of fairytale happy ending. As in, they are the best-dressed person at the party, a handsome man swoops them off their feet and rides off into the sunset with her.
That's why so many girls want parties that are in the theme of iconic Disney princesses, such as Cinderella. That's what this girl wanted. However, her grandmother managed to grant her wish in the most unconventional way imaginable.
How Rude!
There is no denying that from time to time, there are going to be some awkward exchanges between a grandparent and their grandkid. The difference in age definitely has a part to play in it. But at the end of the day, it is the parent's job to teach their children tact and it seems like this kid hasn't been taught any.
Rule number one – never ask any woman if they are pregnant. We'll give this kid a pass because they were probably very young.
The Gift That Keeps on Giving
Grandparents are renowned for bestowing plenty of experience and wisdom on their grandkids. However, that's not all that they are good for. They also have a tendency to spoil them rotten with all sorts of gifts, both essential and non-essential.
When this young lady told her grandma that she loved her sneakers, she quickly obliged and made sure she had a matching pair. This is clear proof that grandmothers are the absolute best in the world.
Bingo Hard or Bingo Home
It has become quite the stereotype that elderly people enjoy playing Bingo. To be fair, the majority of contestants and a variety of Bingo venues are retired and 70+. It makes you wonder, why don't more young people play this numbers game? It sure is a lot of fun!
The following person though had a bone to pick with this game, as well as her own grandmother. She believes that she loves Bingo more than her own granddaughter. Maybe it's a joke.
No Filter
Sometimes it seems like your grandparents have no filter and say the first thing that pops into their head. While waiting in a hospital waiting room, an older lady was overheard saying something that tickled the whole waiting room.
Upon seeing a skinny girl from the valley walk in, Grandma pipes up and says "this hospital doesn't fill me with confidence if they can't even stop the skeletons from escaping from the morgue." Grandma behave!
Cute and Clueless
Imagine this guy's surprise when he saw the gift that his daughter's great grandmother gave her for Chrismas! We're not quite sure if his grandmother is utterly clueless or was just trying to be funny…
Eventually, we decided that great-grandma must be sweet, innocent, and clueless, mainly because we like to sleep at night, but also because of the lack of emojis that would usually follow such a crass joke.
Tell it Like it Is Grandma!
Once upon a time, grandparents were known for their more conservative nature, but as we can see from this one girl's experience, times have changed! Grandma seems very proud of her sexual prowess, married or not.
If you'd said this to your parents at that age, we're pretty sure they'd encourage this ideal of celibacy until marriage, whether they believed in it or not. But not grandma. She tells it like it is!
Tweeting With Pride
This grandma quickly saw the irony of her grandson defiantly lying down in the road right on top of a no parking sign. Luckily for us, she quickly snapped a picture of him and shared it for all the world to see.
That's one pretty media-savvy Grandma. We're particularly impressed with the correct usage of hashtags. This Grandma navigates Twitter like a queen, but we hope she moved her grandson from the road before sharing her pic.
If at First You Don't Succeed…
Don't you just love the resilience of the older generation? People tend to give up too easily these days when they're knocked down. Not this grandpa. It looks like he was quite determined to make his voice recognition work.
He gave the voice to text service several tries before deciding to send the birthday message anyway, errors and all. Luckily, thanks to your Facebook profile, they knew who the message was from grandpa Chuck.
A Simplified Version
While some grandparents seem to be excelling at using technology and social media, others still get confused with the remote control for the TV. However, this grandfather quickly learned which buttons he needed and which ones were only put there to confuse.
If we're honest with ourselves, we don't know what half of the buttons on our TV remote do either, so maybe we'll take a leaf out of grandpa's book and tape up the unused ones!
She's Still Got It
Take a look at this grandma doing some of the more advanced yoga poses. At age 83, she could give women a quarter of her age a run for their money.
Some of these poses take years of training to master and grandma has certainly had a lot of time to practice. We think it's amazing that she's managed to stay in such great shape over the years. Just wow!
Grandma Knows Best
You don't get to grandma's age without learning some valuable life lessons about how to treat people. This grandma was quick to school her granddaughter on how she should be nice to people, even if they're mean to her.
Obviously having no clue who this internationally famous pop star is, grandma publicly told her granddaughter to be nice to her. We think grandma's right, Rihanna doesn't deserve your hate, even if she doesn't return your calls.
Coming Out to Grandma
The uncle that's featured in this story obviously waited a long time to come out to his family and may have been dreading telling grandma, as the matriarchal head of the family.
Well, it turns out there was no need to worry as grandma is more astute than people give her credit for and knew all along. She probably rehearsed this clever and witty response for years, waiting for this very moment.
If You Don't Know, Just Ask
Many people get embarrassed when they don't understand a joke or reference and oftentimes will laugh or nod knowingly anyway. But not the grandpa featured here. He relies on his grandchildren to keep him up with all the latest textspeak.
Grandpa proves that people only get better with age by being honest and ridiculously cute when he asks the grandkids what YOLO means so that he can look cool in front of all of his friends.
Personal Touch
This is how things were done in their time when this grandmother was still young, when everything was personal. Even the service providers and the doctors had personal service to their clients and patients.
Maybe this grandmother just wanted to show the next owner of the house how much she enjoyed staying there. And what better way to do that than with pictures of a real person living in the house. That is what a home is, full of loving people.
And They Will Be One
This is a good portrayal of the real reason why people get married, and that is that they will be one. Maybe we should take a lesson from these grandparents and let marriage be what it should be and even show it.
With this image of two people together after half a century, and wearing the same color every day, you can do it. Thank you, grandparents, for a good example you are showing to the new generation, we will learn.
Find the Right Frequency
This is what these grandparents were asking when they got their smartphone. To what frequency should I tune to get the internet? They thought that they needed to find the internet station as in the time of short band radios.
When you give new tech to older people like grandparents, please explain to them the current technology. This will just embarrass them when they are not among their own people and they get stuck.
Stick Together
With this picture from the grandparents on Valentine's day, this can only mean one thing, and that is to stick together. Together in the tub or the washing machine or the dryer, they did everything together and stayed together through the wet and the dry.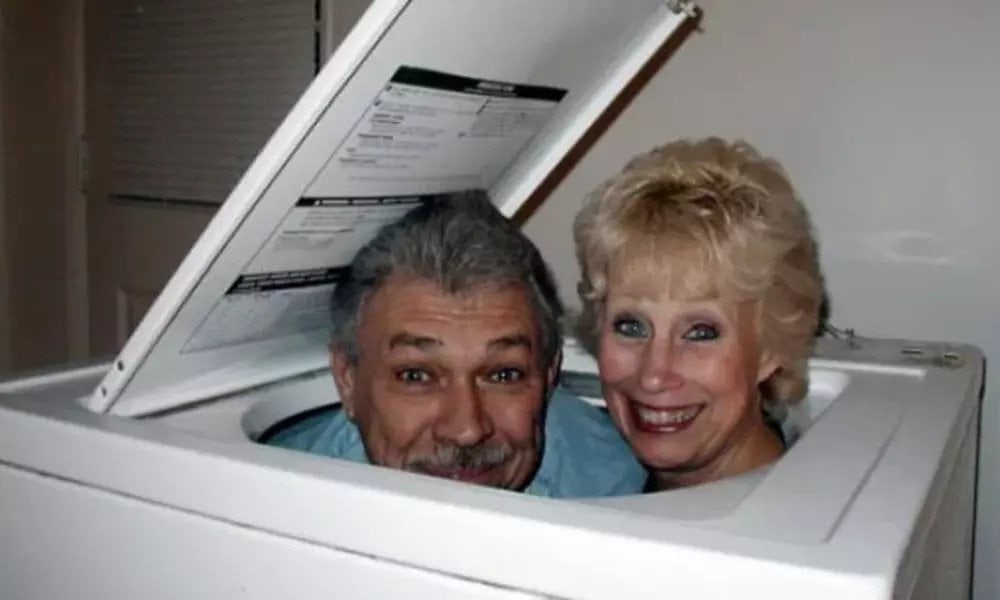 It is a fun lesson for others, which is that through the good and the bad they just stuck together. And they do not need a lot of space to enjoy Valentine's day together.
One For the Road
Grandparents know that children are not allowed to eat too much sweet food, like candy and chocolates. And they also know that parents try to keep it away from their children, so that they don't have to deal with a child on a sugar-high.
That is what happened in this picture when their grandchild had to go home, they just had to let her have one last bite. They cannot help but feel sorry for their poor little grandchildren.