A Happy Day
Sometimes, your grandparents aren't already married in your lifetime. Alternatively, they may get remarried later on in life when the family is there to see it.
This person had the honor of seeing their great-grandmother on her wedding day. It seems like she really found someone that made her feel special, too. Out of all the sweet things to say at your wedding, this one might just take the cake for the most romantic.
Learning About Technology
There are times when our grandparents' reactions to technology can seem frustrating. Other times, it makes for an endearing moment that we won't forget anytime soon.
This small reaction when you congratulate someone on an iPhone was something this person thought their grandma might like. From the looks of it, we'd have to say she was right! We wonder how many times Grandma used this trick once she learned it.
Grandma's First Selfie
It seems like everyone is sharing pictures of themselves lately. It's not a bad way to show off when you feel like you're looking great one day!
This grandma had the heart behind the concept even if she didn't necessarily use a typical method to share the image. We have to wonder, it seems like printing off an image that you took on a flip phone would take more steps than just texting it to someone directly.
Would You Look at That
If you take a look in the greeting cards section when it gets near your older relatives' birthdays, you've probably seen a card that looks like this before.
The cartoon itself is pretty stylized but that doesn't mean it's unrecognizable. This grandma got one of these cards and noticed something interesting. With a quick trip to her closet and the right pose, she made for a nearly spitting image.
Merry Christmas!
When you're considering a Christmas gift for your grandparents, it's best to consider what they like and what they might appreciate for Christmas. This can help lead you to a few options based on their preferences.
Knowing how much their grandmother loved apple pie, this person knew exactly what to get them. That might be the biggest apple pie we've ever seen and it truly is wholesome to see how happy she looks as she gets ready to dive in!
Extra Effort
Speaking of Christmas, grandparents can really go the extra mile to make these holidays special for their grandchildren. After all, they just want to see them smile!
It's not just the presents that this grandma put a lot of thought into as she placed her presents under the tree. Those gorgeous wrapping paper designs you see there are all hand-drawn. It'd make it pretty hard to just tear open on Christmas morning!
The Matching Couple
There are some things that you see your grandparents do that really make you believe they found "The One." What does a couple whose been together for so long do?
If you're this couple, you show off your love through this wardrobe. Over their 52 years together, they raised a family and forged a real connection with one another. Their grandchild even managed to get a nice collection of their matching outfits as time went on.
Recreating Memories
There are certain stories in your family that are passed down over the years. You've probably heard the tale of how your grandparents met. For many couples, this is a touching story and there are moments to help keep the memory alive even decades later.
After 40 years had passed, these grandparents decided it was time to recreate a set of images from much earlier in their relationship. All in all, these are both touching memories!
Anybody Hungry?
There's an old cliché that if you visit your grandma, you'll never leave hungry. What about this grandma — can you expect the same?
Despite the fact that she wasn't having her grandkids in her own kitchen, this grandmother wanted to make sure everyone was well-fed. In fact, when they opened her luggage, it seemed like she came prepared for that and not much else! We hope there was something in the suitcase to keep this packaged meat chilled.
Meeting a New Animal
There are few things as near-universally exciting to people as meeting new animals. A baby animal that you're allowed to hold and pet is even more exciting.
When this grandfather was presented with the chance to meet a baby goat, he was over the moon. It's hard to imagine him looking more joyful than he does in this picture. We hope that he got to hang out with that cute little guy again!
On the Move
As people get older, mobility isn't always as easy as it once was. The good news is that there are a variety of mobility aids to help you out.
If you want something motorized that will take a lot of the work out of moving for you, a mobility scooter is a great tool. What would you do to celebrate a new set of wheels like this if you needed them? This grandma was ready to get on the move once she had a method of motion.
Sticking to Tradition
There are some patterns you repeat with your grandparents until it becomes an unspoken tradition to carry them on. These little gestures carry a lot of love.
This person said their grandfather wrote them a card every year on Valentine's Day. At 82 years old, his handwriting has changed due to a tremor but he's still never missed sending this message every year. This is the sort of thing you keep for the rest of your life.
Making Friends
It seems like some grandparents are so wholesome they can make friends with almost anyone. You might even see them make some unlikely friendships.
When this grandpa got a phone, he was quick to snap a selfie with a furry friend. While most people would grab their pet like a dog or cat, he managed to grab a selfie with a chipmunk. We really have to wonder how he managed to get the little guy to take the picture with him.
Goodnight from Grandma
Sometimes, a grandma doesn't have to message you with a point. There are times they just want to remind you that you're loved and to have a good night.
This grandma was doing just that with this picture as a goodnight message. Of course, she couldn't just take her goodnight selfie alone. Alongside her is her orange cat who, despite appearances, is actually 23 years old in this picture!
Too Cute Too Handle
There are some couples you see a picture of and you just know that they're in love. These two really seem smitten with one another.
This appreciation post didn't come from their grandchildren but it's easy to tell they have a special place in their family all the same. Not only are these two snacking on matching homemade pudding cups but they have outfits to match one another as well!
A Little Encouragement
When you're feeling nervous, you might reach out to your grandparents. For instance, they're probably a source of security in your life if they're so wholesome.
This grandmother was coming in for one of her four-legged grandchildren. This poor guy doesn't like car rides, so Grandma got in the backseat to comfort him on the way there. The person who posted the picture said her encouragement was, "It's okay, we're almost there brave boy."
Friendly Competition
Sometimes, a couple builds a lot of small routines that stand out to their kids. Maybe they even keep them going when their kids are bringing their grandkids around.
This couple loved their tea every day but how could they decide who would make the next batch? That's not a problem. They just need a few minutes with their Nintendo 64 to play a round of Mario Kart. Why stray from a method that's worked since 2001?
Smiling Snowmen
Getting older doesn't mean that you have to give up the things that were a lot of fun when you were a child. There are some things that are still entertaining.
This grandmother wasn't about to give up her chance to make snowmen when the weather turned snowy. In fact, she was ready to go the extra mile and even got him a scarf to keep him fashionable. Look at the smile they both share, too!
Seeing You Again
When you're separated from your family for an extended period of time, it can be hard. However, the minute you see each other again is often very special. This family didn't exactly get to meet up in person.
Yet, they managed to figure out the next best thing and finally managed to get a video call to work. Once they finally figured it out, they snapped a photo of their grandfather's delighted face when they saw each other again.
A New Crib
A new baby in the family is often exciting for almost everyone. Grandparents are often ready to spoil the newest family member with whatever they want or need.
Since babies aren't born with preferences, a lot of people give gifts that would help the parents. Instead of just buying a crib, though, this grandfather went the extra mile and built a crib from scratch. This is the sort of gift you keep in the family for generations to come.
A Little Time Together
Sometimes, the best thing you can give your grandparents is to spend a little bit of time with them. They love you, after all.
That much was clear when this person wanted to take their grandfather out for lunch. It seems like he's enjoying himself quite a bit here and we're sure the company is even more outstanding than the food. It looks like they managed to make his day!
Anything Is Possible
As you age, there's no point in which you have to stop chasing your dreams. You can do new things at any age, so don't give up!
This grandmother is hard at work studying in this picture. That's not just any homework she's doing, though. While an Associate's or Bachelor's degree would have been impressive in its own right, she's actually working on a thesis for her Master's Degree!
Learning Together
Grandparents tend to have teaching roles in the family. After all, they've had the most life experience and they're often passing down what they've learned. However, there are times that grandparents can learn with their grandchildren too!
These two are both working together to go fishing for the very first time. With a little bit of teamwork, he managed to catch a fish while grandma's strength went into bringing it to shore!
Showing Off a Bit
A lot of grandparents don't have social media or don't update it as regularly as you might. Still, there's a bit of intrigue there.
For one, social media is a great place to show off creations you're proud of. That's all this grandmother wanted. When she asked her grandchild to share this image online, it was because she wanted "everyone in Italy to see how big my tomatoes have gotten."
Coming Home
There are some things you see and you just know you have to take action. What would you do if you saw a lost cat in the woods?
The answer was clear to this grandfather. It was time to jump back on his bike with the cat in his arms and get them home for some dinner. While he looks a little confused at this turn of events, we're sure this cat will be happy to be warm and fed!
A Meaningful Gift
Some gifts have a lot of meaning and you'll never forget them. This grandfather definitely set the bar high for any future gifts.
As this person celebrated their birthday, their grandfather decided to go for something more sentimental for their gift. They handed them three spiral notebooks, each one filled with precious memories they wanted to pass on. These would definitely make for a meaningful read. We'd be speechless, too!
Still on Camera
This adorable grandfather accidentally let his grandkid know how much he appreciated their conversation. Of course, it's always nice to receive a compliment in a straightforward manner. However, praise can mean even more when you know it's truly authentic.
Surely, the OP doesn't need to have any doubts about how much their grandfather enjoyed their FaceTime chat. Given how wholesome the whole interaction was, maybe they can make their FaceTime calls a regular thing!
Finally Joining the Club
We've all had experiences that we couldn't fully describe because we didn't know the correct terminology. That's exactly what this grandma experienced, as she learned that there's a word for a woman who likes to check out other women.
It's great that she felt comfortable enough with her granddaughter to clue her in on what was happening. We hope this grandma gets to explore her newfound preferences. After all, better late than never!
A Matter of Habit
There are some things that you do years later out of habit. Even if it's just muscle memory, though, this is still rather heartwarming for the memories it evokes.
This person remembered coming to their grandparent's house as a kid. As it happened, 12 years later, their grandmother was still hanging the same duck-themed towel when they visited now. This would bring up fond memories every time that you saw it!
Keeping You Close
We all want to keep good memories close to us. Maybe you keep a few photos on your phone or have a piece of jewelry from a family member.
This grandfather went with a classic and kept a photo in his wallet. It seems like he was careful about the photo too since this person hadn't looked like this little kid in 25 years! For a physical photo, the condition it's in is impressive.
Ready to Celebrate
There's no one like your grandparents to really celebrate your achievements. This grandfather wanted his grandchildren to know he was proud of them.
As a result, he made sure to collect a little something every time one of them got into college. It looks like he had a real collection going as the years went on. He looks so proud of each one that he's collected, too! Giving him a hat would make for an exciting day.
Leaving No One Behind
When you're a grandparent, there are a few things you aren't supposed to do. For one, you never want to play favorites, lest you hurt someone's feelings.
What about when you're wearing a college jersey? You can't wear two at once to keep it perfectly even, can you? That's one problem that this grandmother was determined to solve and did so rather creatively. Now everyone's happy!
Won't be Hungry
Like we said earlier, the stereotype is that you won't go hungry at Grandma's. What about when she's not right there in the kitchen, though?
That's something that this grandmother wasn't about to struggle with. With the use of some delivery services, she wasn't about to let her grandchild go hungry. In fact, since she wasn't sure what they wanted, she made sure to get them a lot of everything.
They Always Share
A grandmother won't leave you in need either. This grandmother knew that her grandson had forgotten pajamas when he came over to spend the night.
While it might not be his usual style, this is definitely one option for bed that she was willing to share. There aren't too many people who are ready to give you the shirt of their back or, more accurately, the nightgown out of their closet, when you need it.
Trying a New Look
There are times that you can't have exactly the hair that you want. Maybe you're waiting for it to grow or your job just won't allow it.
This grandmother had a plan. Once she turned 90 years old, she'd try a hairstyle she'd been thinking about for a while. When the day finally came, she didn't back down either. It looks like she's happy with her new look, too!
Finding New Friends
As you get older, it's natural to start losing some of your peers to old age. That doesn't mean that it's easy to handle when it happens.
Losing a partner you've had with you for decades is devastating. So, finding a group of people you can relate to and rely on is incredibly important. This person couldn't help but feel emotional over hearing about their grandfather's new social group.
Being Serious
Grandparents often love to hear about your hobbies and interests. If they can directly support them in their endeavors, that's even better!
This grandfather didn't have to take this photography project so seriously but he wasn't about to slack off now. He especially wasn't going to miss out on looking sharp when he had a professional ready to take his picture. How often are you asked to model, really?
Being Supportive
There are some things that people can be really nasty about. Not everyone would be as supportive, accepting, and positive in this scenario.
Not that this child did anything wrong — there are just some outdated views out there about who can wear makeup. Luckily, that's not a bias that this kid needed to face that day. Instead, it was easy enough and all-around better to smile and tell him how great he looked.
Bringing Creativity to Life
Kids are really creative and they think of a lot of interesting concepts. Any stack of children's drawings can show you this fact.
This young girl drew this picture to show off her dream dress. When her grandmother saw it, she got to work. She didn't just find the dress that her granddaughter drew in the picture but she made it herself to bring her granddaughter's dreams to life.
Becoming a Grandfather
There are times in life that you're just so overwhelmed with emotion that you burst into tears. It doesn't necessarily mean that you're sad. It's safe to say that this person wasn't sad.
Actually, this picture is a snapshot of the very first time they met their grandson. It's a special moment to become a parent but it's a precious moment to become a grandparent, too. The parent here said they'd never seen their father so happy before.
Having Fun
Just because you're getting older doesn't mean you can't have fun. As a matter of fact, there are plenty of ways to have fun as you age. These two weren't going to let anything stop their fun.
As a matter of fact, they didn't even have to leave the retirement community to get this bit of fun in. We have to imagine that it would feel like you were going pretty fast riding behind this golf cart like that.
Doing it Again
Weddings often hold a lot of precious memories. As a result, many people want to keep their wedding photos around to remind them of that happy day.
This couple didn't want to just let their wedding photos live in their memories either. After all, they were still in love with one another, right? The results are worth hanging up with the original photos as a new set of happy memories.
On YouTube
There are a lot of YouTubers out there with generic sign-offs where they thank their subscribers as a group. Sometimes, there's no other option if you're short on time.
The solution this person had is to make time. They wrote down every subscriber's name in a book and took the time to make a video to thank everyone. We hope that it was a long list given their care for the people watching.
Out Shopping
When you get something new, of course you want to show it off. That's all this grandfather wanted to do. Well, with a twist.
The post was a bit of a joke. He did get a new motorcycle but not exactly one you'd find on the street. Did he have you going there for a moment, too? We really have to appreciate how proud he looks in the last photo.
Getting Comfortable
When you go to the furniture store, you probably want to make sure that the chair you buy is comfortable for you and anyone else who uses it.
If other people use it, you might want to bring them along too. That's what this grandfather thought, at least. When he went to pick out a new chair, he made sure to bring his furry friend along who would be enjoying his new seat with him.
Generations Apart
When you're young, you don't always get the chance to meet your great-grandparents. If you're lucky, though, you can make some unforgettable memories.
This photo captures a charming moment between these two. The older man is the young girl's great-grandfather. At the time the picture was taken, he was 103 years old and she was only three years old. That's quite an age gap and a loving moment to capture on camera!
Going Up
There are some movies that really break your heart. There are few people who haven't seen Up and shed a tear or two.
So, when Halloween rolled around, this grandfather had a great idea for a wholesome costume from the animated movie. He looks like a spitting image of the character, even down to the haircut and glasses. He's even got his own balloons ready to go on the next adventure!
30+ Questions Asked That Make Us Nervous About Humanity
We See Nothing Wrong
We see absolutely nothing wrong with this, especially given the fact that she's only 14 and some full-fledged adults still have stuffed animals. It'd be one thing if the OP's daughter was still playing pretend with the stuffed animals and believed that they were alive.
However, if she's just buying them because she thinks they're cute and she likes having something to hold at night, then she's maturing at a perfectly normal rate. Let's not make her grow up too fast.
The Evil Stepfather
Given that the OP's "stepson" is older than him, maybe the OP should be taking life advice from the 31-year-old, not the other way around. Furthermore, if the OP and this more mature woman are only dating, why's he referring to himself as the "stepfather" of his girlfriend's son?
We don't blame the son one bit for wanting nothing to do with this guy. This son is grown and doesn't need a father figure in the form of a child. Additionally, this whole relationship will probably last about five minutes.
We Were All Lied To
Wow, OP, it's almost as if there's life after high school! Seriously though, we were all lied to for so long that we can't 100% blame the OP for this ridiculous question. We've been led to believe that unless we get straight A's and a Master's degree, we won't ever get jobs.
While that used to be somewhat true, times have changed, and companies are now more focused on experience and abilities than formal education. So if you got straight D's in high school, there's hope for you yet!
Is This a Genuine Question?
Truthfully, this looks a lot more like a thinly-veiled flex than a genuine question. On the off-chance that this person is really asking, we'll try to answer. How much allowance is appropriate for a child is entirely dependent on the family's financial situation.
It also has to do with what they want to teach their kids about the value of money. Some children get no allowance at all and turn out great! Others get $1,000 a week and also turn out totally fine. It all depends on your specific kid.
Too Little, Too Late
Obviously, we don't know the circumstances that made this parent unable to be present for the past 12 years of their daughters' lives, so we won't judge that.
That being said, regardless of why they were absent, they can't just appear and expect to be treated the same as a parent who's always been around. Especially because the way they want to parent their daughters isn't really age-appropriate. Maybe, in this case, it's best to take things slowly.
You Know the Answer
No one can possibly think this is a good idea. It actually sounds like a terrible script for a rom-com from the year 2000. First of all, the OP's friend should be honest with his parents. Second, the OP shouldn't be getting involved in his friend's family drama.
Third, if the OP doesn't usually dress in traditionally feminine clothing, they're simply not going to be able to pull this off. How about we leave these kinds of ideas for Adam Sandler movies?
Asking the Wrong Question
Call us crazy, but we think the OP is asking the wrong question. It shouldn't be, "Am I being harsh enough?" They should be wondering, "Am I being too harsh?"
We're totally against skipping school, and we agree that there should be consequences, but taking away the kid's bed is just too much. Basic necessities like food, shelter, hygiene, and a bed to sleep on, should never be involved in rewards or punishments at all.
Feel Your Feelings
First and foremost, no one needs permission to feel their feelings. Everyone is entitled to feel. However, the question is whether or not they should act on those emotions. In this particular scenario, the OP's definitely entitled to express her unhappiness with her mom's behavior.
We get that her mom just wants to protect her daughter and make sure all is well on the biological front. That being said, there still needs to be boundaries and a reasonable amount of privacy — even for a minor.
No Means No
Given that the OP's girlfriend explicitly said "goodbye," there's really no reason to ask if it's over or if he should go to her house. She's answered those questions perfectly clearly. He's just not listening.
Either way, he shouldn't need an explicit "goodbye" in order to understand how that conversation would end. It's kind of like going to a party, slapping the host in the face, and then wondering if you'll be invited back next time. It's pretty self-explanatory.
Check His Bank Account
One million subscribers is considered a success on YouTube, and most creators with that amount are making good money from their channels. So if this guy has 12 million subscribers, then it's probably a full-time job in which he's earning more money than a lot of other professions.
It seems that the OP is from a generation that didn't really have the internet as a means to earn a living, so they're struggling to understand how it all works. Times have changed, though, and so have profitable careers.
Her House, Her Rules
The OP needs to think back to the days when she'd tell her daughter, "my house, my rules." That same policy stands true, but it's now the other way around — while in her daughter's house, it's her daughter's rules.
Being someone's parent doesn't give you the right to dictate their entire life forever. If that were the case, nothing would ever change because we'd all be doing exactly as our mothers have done!
Victor's Secret
We strongly agree that boys need to learn from a young age to respect girls. That being said, the OP's strategy is simply not the way to go about it. This method won't actually teach her son anything or give him a reason to respect women.
It'll only embarrass him and potentially, make him resent girls. Instead, maybe teach him about all that women do and go through and why they're worthy of just as much respect as men.
Do Nothing
If the employees are good at their jobs and get their work done by 6:00 pm, why shouldn't they leave when their workday is over? Sure, if they were slacking off all day, it'd be a problem.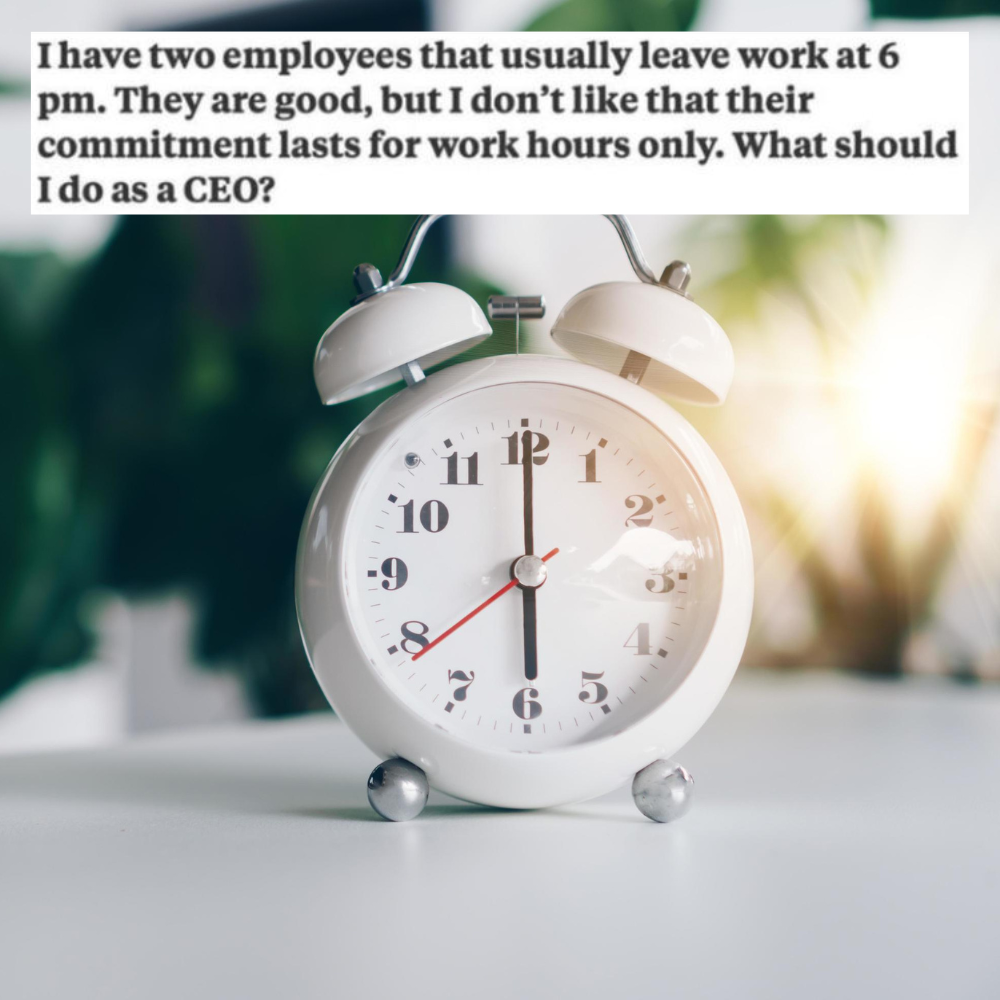 However, if they've completed their tasks, are they really supposed to stay later just to say that they did? If you want your employees to stay into the night, you're going to have to pay them accordingly. If not, then they have every right to go home when the workday is over.
Get Your Own Therapist
The OP doesn't need to convince their daughter to share what she talks about with her therapist; we already know the answer: She complains about her overbearing parent who won't respect any privacy or boundaries and asks the therapist what to do about it.
We absolutely guarantee that's at least one of the things those appointments are about. Therapy is extremely private, and being forced to talk about one's sessions completely negates the point. Dear OP, have you really never heard of doctor-patient confidentiality?
We Can See Why
Given what a Chad the OP is being, we can understand why his barber lied to him about being out of business. Judging from this post alone, we can imagine that this guy is the type of client who wants to sue over every little misstep the barber makes.
He didn't like his haircut? Lawsuit! The parking lot was full? See you in court! This poor barber can't even get rid of the client without being threatened with legal action!
Stop Lying
Given that Albert Einstein's IQ was estimated to be 160, we're gonna go ahead and assume the OP is lying. Either that or there was a mistake in their results. In that case, the fact that the OP didn't catch such a huge error kind of answers the question of whether or not they have an abnormally high IQ.
Or maybe, this person is so intelligent that they've managed to write, conduct, and calculate the results of an entirely new IQ test that us mere mortals can't comprehend.
Lie by Omission
We're usually all for being truthful, but there are definitely situations in which a white lie or a lie by omission is the way to go. Given that the OP's kid is four years old, it can be assumed that her artwork sucks, and it really doesn't matter.
It's not like this parent needs to rent out an art gallery and invest in these drawings. Maybe this child's skills will improve one day, or maybe not. But she definitely won't learn how to do anything if she's being shot down all the time.
Get Out of the House
This person has been spending way too much time cooped up at home if they've reached a point in which they're counting their neighbor's packages. Are they just jealous that they don't get as much mail?
We suggest that the OP leave their house, make some friends, go for a nature walk, and if they're still concerned about the packages when they get back… Move. Not for their sake, but for their neighbor's.
The OP's a Nuisance
For those who don't know, an attractive nuisance is something that's on someone's property that can be harmful to children, and will knowingly attract minors, in which case the property owner can be held liable.
Since there was a fence around the pool, it doesn't count as an attractive nuisance because the owner took precautions against someone falling in. Furthermore, given that the OP is talking about a lawsuit, they're clearly not a child. So… yeah, this whole thing is ridiculous.
We Smell Divorce
Either the OP needs to learn to separate from his parents, or his wife will separate from him! If he's old enough to get married, then he's certainly old enough to travel without his parents present — and to engage in consensual intimacy with his wife.
Does this remind anyone else of the honeymooning couple in the show The White Lotus? Things didn't work out so well for them, so maybe the OP should take that as a sign.
A Flaw in Logic
This isn't really how possession of property works. Let's say you go to a friend's house. Does that friend have the right to go through your wallet? After all, it's in their house! What if you're in a restaurant — can the owner go through your phone? It's their establishment!
See the flaw in logic here? That being said, it's important for a parent to monitor their kids' internet access and make sure nothing dangerous is happening. If that were the OP's argument, we'd be a lot more sympathetic.
His Body, His Choice
Does it really matter if this kid has a beard? If anything, it's pretty impressive that a 16-year-old can grow a full-on beard! If the OP is worried about the kid getting teased or feeling like an outcast, 16 is old enough to decide for himself if that's a trade he's willing to make.
But shaving this poor boy's beard in his sleep is a whole new level of messed up. Who knows? Maybe his peers think his beard is pretty cool! In any case, the OP should really leave their son's facial hair alone.
Immoral? Yeah. Epic? Definitely!
We hate to admit it, but we think this is an awesome idea! It's definitely wrong, and the OP certainly shouldn't do it, but we admire the creativity. Clearly, this person is a fan of movies like 50 First Dates and 13 Going on 30, and we're right there with them!
We wish there'd be a moral way to go about this because we're genuinely curious about what would happen. Can someone please pitch this idea to the creators of Black Mirror?
Not Normal, No
Look, we get it, kids are expensive, but everyone knows that before entering into parenthood. If you don't want all the burdens that come with having a child, then… don't have kids. Children don't owe their parents anything at all. After all, they didn't ask to be born.
Sure, it's always nice to hear stories of people who grow up, get rich, and buy a house or car for their parents. However, that's by no means a requirement for any child.
That's Called Extortion
Does the OP really believe that he's the only person in the world who wants to get rich without working? If people could get millions of dollars just by asking, we'd all be trillionaires!
Everyone wants financial freedom, but those of us with common sense are finding other methods to achieve it. You can get a high-paying job that'll allow for early retirement, you can invest, play the stock market, or even try to win the lottery. But, no, you cannot extort people.
An Epic Response
The OP's wife is most definitely a keeper, and he should do whatever it takes to get her to stick around. You can always find a new job, but a baddie like her is rare! Not only is she laying down the law, but she's even sending her husband on an errand at the same time.
We highly suggest he find a new job in Bangalore and pick up those vegetables on his way home because that woman is not messing around!
Hold on to the Magic
There are some adults who still love to watch Disney movies for nostalgia, or just because they're great films. If a 14-year-old is still enjoying that type of entertainment, there's absolutely no reason to be worried.
If she were exhibiting other behaviors or interests typical of a younger age group, we might see why the OP's concerned. However, simply enjoying a film like Tangled is perfectly understandable. After all, a lot of those movies have jokes for adults, too.
What's in a Name?
The OP's motivation is unclear, but regardless, the answer to the question is "no." Does the OP want to change his son's name out of spite for his ex-wife? We understand that divorce is tough, but you don't spit on someone's grave like that.
Or is it that the OP misses his ex-wife when he says his son's name? In that scenario, we're sure that they can agree on a nickname instead. His son probably loves having a name his mom picked out, so we definitely wouldn't change it.
Packing on a Few
No one should ever dictate what another person does with their own body. It'd be fine and well if the OP wanted to gain weight for his own aesthetic preferences or for medical reasons, but to get the heat off his girlfriend's weight gain is ridiculous.
We're sorry that his girlfriend is struggling with her family, but messing with her boyfriend's health isn't the solution. So no, OP, don't put on the pounds. And if your girlfriend won't let it go, then let go of her.
When You Realize You're the Jerk
This one kind of reminds us of those Reddit threads in which people ask, "Am I the jerk?" More often than not, the person is the jerk, but they're asking because they want everyone to say that the other person's wrong.
Well, this OP is about to be in for a nasty surprise because she's definitely not the victim in this story. Her boyfriend broke up with her not because he's insecure. On the contrary, he did it because he has self-respect.
Living Vicariously
We have a few questions for the OP: Do you watch sports games on TV? Do you play those sports yourself? Do you listen to music? Do you make your own music? Do you watch adult films? Are you really replicating all those scenarios in your own bedroom?
Yeah, we went there. There's nothing wrong with wanting to watch someone excel at an activity that you may not always enjoy doing or be capable of doing yourself.
The Solution Is Glaringly Obvious
If you want your son to stop breaking the security cameras in his room, then we suggest that you stop putting security cameras in his room for him to break. We get that a concerned parent wants to keep an eye on their child if the kid perhaps has some behavioral issues.
That being said, making their son feel like he's in prison isn't the way to go about it. Of all the possible solutions one could come up with, security cameras are what the OP chose?!
A Foolproof Pregnancy Test
Don't tell us you're unaware of this foolproof pregnancy test. No need to see a doctor or do one's business on a stick; just see if someone's willing to change a baby's diaper. If they are, then congratulations are in order.
It's like if you want to see if your child is eating enough vegetables. Just observe whether or not they're drawn to the color green. With these types of totally scientific medical checks, who needs healthcare?
Uninvited
The only person who gets to decide who is or isn't in the delivery room is the woman giving birth. Given that the OP and her son-in-law aren't on speaking terms, we're going to assume that the mom-to-be doesn't want the OP present.
In that case, there's no "getting past that." The last thing any woman in labor needs to deal with is family drama. She's about to make her own family, who'll inevitably have their own drama, so let the old issues go.
The Devil's Music
Every few generations, we get a new type of music that older generations are scared of. They used to call pretty much everything "evil music," and basically every genre had its turn. Blues, jazz, and rock n roll have all been given the scandalous title at one time or another.
The point is that people are naturally scared of what seems new and different to them. OP, give your son his phone back and just be grateful that he's not listening to Billie Eilish.
Time to Move Out
It's bad enough that the OP is violating their son's privacy, but now they're violating his girlfriend's privacy too! Given the son's age and the fact that the OP clearly doesn't have boundaries, we'd say that this kid needs to move out ASAP!
Of course, that's not always financially feasible, but if he can do it, he should. Sure, you save money by living in your parents' place. However, you run the risk of being a 22-year-old who can't even lock his own bedroom door.
Nobody Asked You
Given that the OP's son is in his 30s, nobody should be asking the OP for their opinion at all. Sure, they can tell their son what they think of this match, but no one really needs their permission at this point.
Also, what's wrong with that age difference? It's not a huge gap, and they're both consenting adults. Is it because the woman is older? We think it's kind of refreshing that a man's interested in a mature woman for a change.
Not Funny
Physical touch that a person doesn't like and hasn't consented to is never okay. By this logic, you can say that it's fine to hit a child if you hit them lightly and they're a physically tougher kid. But you're still hitting them, and that's wrong.
If your children don't like being tickled, then doing so would be inappropriate. Physical punishment is not discipline — it's abuse. Find a better method to teach your children boundaries, and learn some boundaries yourself while you're at it.
Stacy's Mom
At the time of writing, there are roughly eight billion people in the world. Does the OP really mean to tell us that, out of eight billion people, they can't find anyone else to date other than their ex's mom?
No one else (out of eight billion) is good enough to make out with, or will consent to kiss this guy? Eight billion! Yeah, we've got to side with the ex here. Both the OP and the mom need to get out into the world and meet more people.
It's Definitely You
When your 13-year-old child is acting more mature than you, you know there's a problem. A parent and their kids are a package deal, and if the parent's partner isn't ready to treat the kids right, then the partner's got to go.
This mom needs to stop being selfish, get her act together, and grow up for the sake of her children. For the record, it's not lost on us that a guy who mistreats his girlfriend's kids will one day mistreat his girlfriend too.
Marry a Doctor Yourself
Rather than dictating their daughter's love life, why doesn't the OP just go and marry a doctor themself? Sorry, but parents don't get a say in who their children date (assuming that their child's partner isn't mistreating them).
The OP's daughter is the one who has to have a relationship with this guy and, if all goes well, wake up next to him every morning for the rest of her life. Why would anyone listen to someone else's opinion on who they wake up to every day?
That Escalated Quickly
To be fair, it's not so much the question that's the problem here. The real issue is the answer. Don't get us wrong, we totally feel for this guy, and he has every right to be upset about his wife cheating on him. That being said, the way he chose to handle the situation is diabolical.
Whatever happened to just breaking up with someone when you discover they've been unfaithful? Tricking her into an accidental pregnancy, though… we think that's something even Kanye West would find insane.
Hi, Karen!
Let's put it this way: Let's say that you go to your neighbor's house, and while you're there, you answer a work call. You were breathing your neighbor's air, in their home, while handling the call. Therefore, can they sue you for any money you made at work while on that call?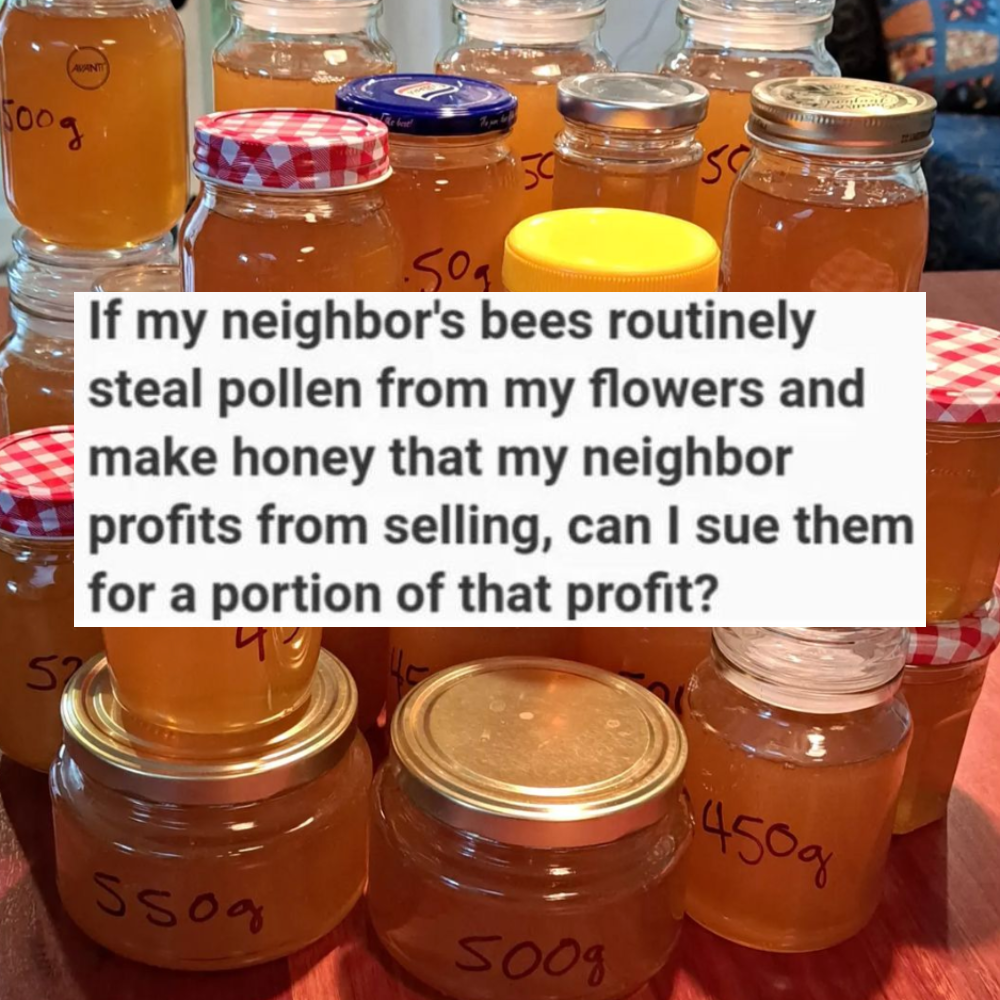 How about if you have a glass of water while in their home? Should they send you a water bill? No? Then stop bothering them about the honey.
Fantasy vs. Reality
Adult intimate content can be genuinely addictive, and some of that content includes anime. We assume that these are the type of movies the OP's son is watching if he believes the fictional characters are his girlfriends.
In that case, he needs to seek the same type of help anyone with any dependency would need. It should also be explained to him that nobody has 20 girlfriends — even Brad Pitt could only get two women at a time, and Jennifer Aniston didn't know about Angelina Jolie!
Empty Nest Syndrome
Well, OP, given that your son is 25 years old, there's no getting custody back. No one can have custody over your son because he's a full-fledged adult. Good for this man (not a boy, sorry, he's 25) for trying to get out of his parent's house.
He's got a stable job, making good money, and can take care of himself; we see no reason that anyone should have "custody" over this guy. Given the question the OP asked, we're just wondering how their son lasted in their house that long!