When the Creative Director Is Modest
Pablo Rochat has likely worked hard to get where he is. Now, the creative director at his own company. He surely sacrificed many years to achieve his success. But, one thing Pablo definitely didn't sacrifice is his ego.
Only someone who pushes hustle culture would say something like this. He's showing that no matter how hard you work, or what you achieve, money and success don't always make you a nice person.
Is Someone Going to Tell Him?
Twitter user SideHustleKing is clearly not that good at math, as he compares a mere $50 a month to a whopping $1,000,000 in his lifetime. While a side hustle is good for making some extra cash on the side, it's not a business opportunity that'll get you very far in life.
Can someone please give Mr. King a quick math lesson, or shall we leave him to believe he's right? Is he doing something with the $50 per month to make it magically worth more? Tell us!
Cancel Hustle Culture
This tweet is a bit different. Rather than promoting hustle culture, Stegan The Mallion (not her real name, obviously, but props for creative wordplay) wants it canceled. We have to agree with her when she says that working to death for money isn't the way to go.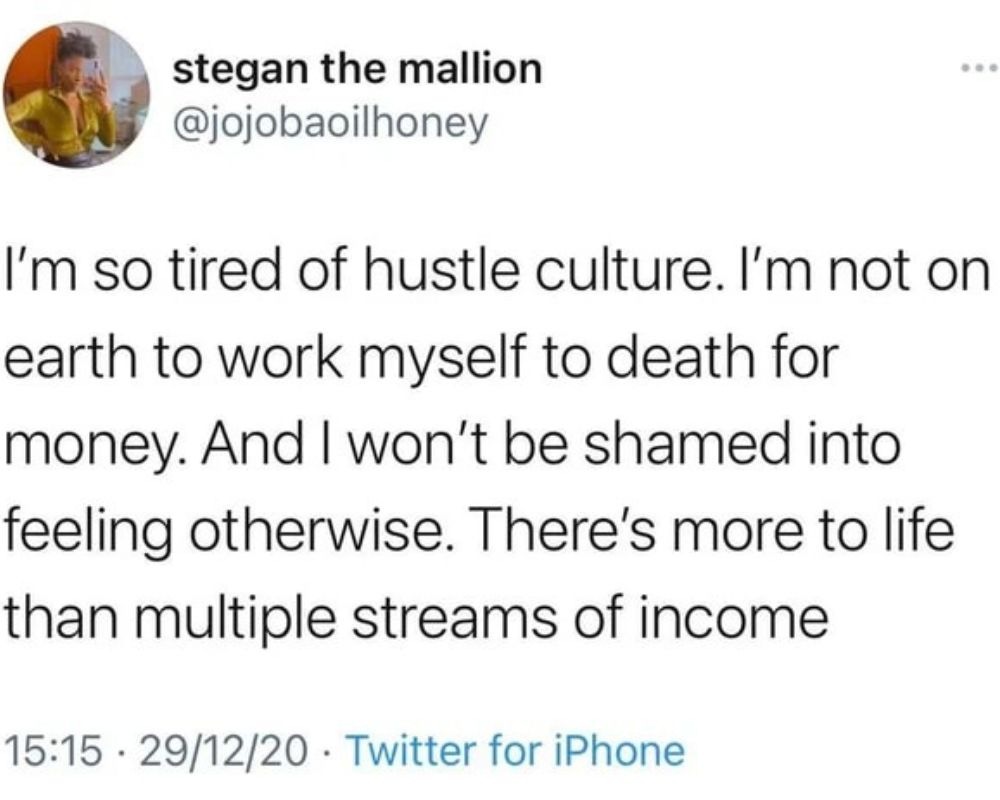 Having money is great, especially in this day and age where the cost of living is so high that every cent helps. However, job satisfaction, a good work-life balance, and strong mental health are far more important than making millions.
It's a No From Alex
Alex has shown us that hustle culture isn't for everyone and that skills and experience are the keys to landing a job. It doesn't matter how nice of a person you are or how well you get along with people; what counts at the end of the day is your qualification and work experience in your field.
We, too, wonder how that guy is doing, Alex. We hope he found a job somewhere that makes him happy and that the company that hired him had the patience and willingness to teach him so he could grow within the company.
Where Do We Apply?
Is Ty trying to make us laugh? Yes, some hustles can bring in that all-important dough, but is it a realistic option? In this tweet, Ty Frankel lists the three things anyone needs to earn 100K a year.
We would love to see his salary and also the salaries of those who punt this nonsense. No, Ty, it's not always that easy. We know plenty of people who put in double that time, per day, who have internet and people skills who don't earn that sort of money. Tsk.
Oh, the Lies
Those who believe that hustle culture is the only way to go will often exaggerate or embellish stories to push their agenda on others. As you can see in this tweet, the original poster was called out for using Bill Gates as an example of how rewarding hustle culture can be.
While Bill Gates was successful in his ventures, this guy seems to forget that it took years of hard work and sacrifice to achieve what Bill has. The best part of the story is that the Twitter user got the dates wrong and made himself look rather silly on the internet for the world to see. Then, he tried to cover it up by saying he wasn't talking about Bill Gates after all.
LinkedIn Lies
A quick scroll through LinkedIn will lead to hundreds, if not thousands, of stories just like this one that are rarely true. In this post by Kajol Srinivasan, she points out how toxic hustle culture is as she shares a story she came across of someone busy on a Zoom call while his mother lay in her ICU bed.
Sadly, this is what many companies expect, and it's just not realistic. That's not showing him kindness and empathy. That's cruel and unfair. Those employers should just wait until their moms are ill, and then they'll understand.
Please Wait While We Grab a Book
Florian Decludt shared his rather profound views with the world when he suggested that it's not enough just to read a book but to apply what we've read to grow as people. We agree that reading is important, and so is self-development.
But in a world where working hard seldom leaves time for foolish things like reading, it can be hard just to sit back and read a book. Any other suggestions, Florian?
Whoop, There it Is!
Again with the idea that you need to wake up at ungodly hours to be successful in life! But that's not the item on this list that got our attention. Look at number six: Father owns a Fortune 500 company. This's often how "hustlers" make their money, and not by doing an honest day's work in their lives.
Yes, some become successful on their own, but it's usually after a bit of a cash injection from Daddy or Mommy's wallet. If only we all had this privilege in life!
When a Meeting Could've Been an Email
Even second graders cannot escape the horrors of Zoom meetings and calls that could well have been an email. With so many meetings to attend, people often don't have enough time to do their work. This begs the question, why can't important work information be shared in an email?
This tweet probably came in 2020, when kids were taught over Zoom, but it's still relevant today as corporate jobs often drain productivity.
We Highly Doubt That Twitter User
It's good that this Twitter user's name is blanked out because the temptation to call him out for this rather idiotic comment is just too great! He claims to have turned down a 40% increase and promotion because he wanted to earn it rather than just have it handed to him.
We're pretty sure that unless the boss is his dad, he earned it and is being rewarded for a  job well done. Congrats on the not-so-subtle brag, Sir.
Good for You, Raj!
This man deserves a high-five… In the face… With a chair. Twitter user Raj needed to tell the world that he loves the grind and would love more hours in the day. This is toxic hustle culture at its best, and we're not too sure what his point was.
Sure, we all wish for more hours in a day, but certainly not to work more than we already do. A good old 9-5 is perfect for us, Raj. But you can go ahead and work yourself to death all you want.
More Lies on LinkedIn
While we get that LinkedIn is a platform to find jobs and make great connections with business people from around the world, it's hard to fathom why some people feel the need to add so much fluff to their profiles.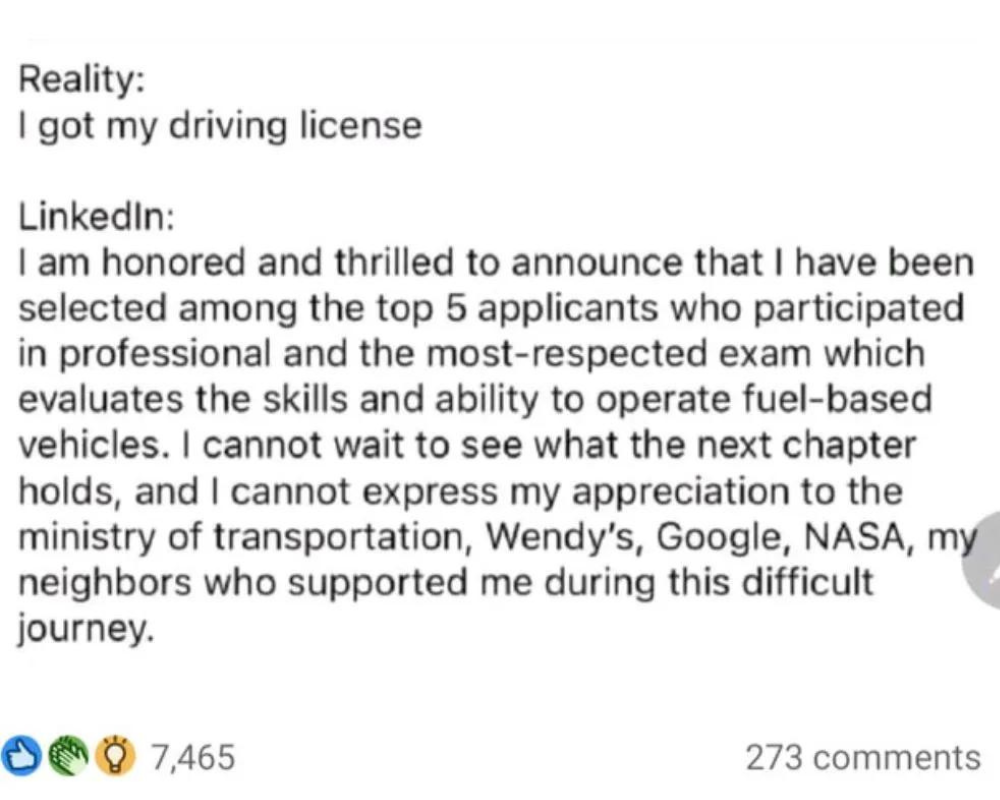 Sure, your accomplishments are great, but they also make you seem like a workaholic with no work-life balance. Stick to the facts and try not to oversell yourself too much. It might just come back to bite you in the behind.
Quiet Quitting Explained
There's no denying that the business world is in complete chaos. With many companies forced to retrench their staff, others have increased their workloads significantly to make up for any losses. This has given rise to a new trend of "quiet quitting."
In a nutshell, it encompasses doing only what you are paid for, which is how it should be in the first place. It's sad that things like "quiet quitting" even exist, but is there really any other option to maintain a good work-life balance and not work yourself to death?
How it Really Goes
Managing Director Peter Cohen nicely sums up the problem with LinkedIn in this social media post about his recent hire. After seeing his credentials listed on LinkedIn, Cohen hired the guy, even though he had zero experience and wasn't a good fit for the company and its ethics.
It just goes to show that these stories on social media are completely untrue. The reality is that if you're unqualified and not a good fit for the company, you won't get the job.
An Interesting Hiring Tactic
Pristyn Care certainly has a pretty unusual hiring tactic, as explained by co-founder Harsimarbir Singh. They call their potential candidates at rather odd times of the day to schedule interviews and then judge them based on the outcome.
This is honestly one of the worst tactics we've seen to date. We'd highly recommend that other companies steer clear of this method, especially nowadays that people are desperate to find a job and make some cash.
A Good Night's Sleep
This is what hustle culture has come to – someone celebrating that they actually got a full night's sleep! Is this where we're heading for now? That we work ourselves to death? While we celebrate with this woman on her good night's sleep, we wonder what kind of job has her so busy that she isn't even sleeping properly.
Hustle culture is not all it's cracked up to be and should definitely be canceled. When people are losing sleep, and time to live a healthy life, that's when you know it's not something to be celebrated and encouraged.
A Handout
The cost of living is rising at unprecedented rates, leaving many employees battling to make ends meet on their current salaries. A Twitter user hit the nail on the head as he shared a joke about a CEO giving an employee a flashlight after seeing them digging through the trash for food, rather than giving her a raise.
We, the working class, are all just cogs in the machine, and there's very little compassion and care in the workplace these days. Is this the type of life our society truly wants to live?
Hear Ye, Hear Ye
Announcing a new job on your social media platform is a good way to boost your confidence and celebrate your good luck with others. But have you ever thought of how arrogant or egotistical this might come across to others who are reading your posts?
It's cringy, to say the least. While you might be congratulated, some may be jobless, struggling, and reading your post with a heavy heart.
Are They Ill?
Many successful entrepreneurs credit their success to waking up early and starting the day with a cold shower. But, as Twitter user AnotherDumbDumb asks, are they doing this to soothe their aching bones?
It's no secret that the brain needs sufficient sleep to help you focus and concentrate on your work, so why are these people sacrificing their precious time to punish their bodies? We've said it many times before, and we'll now say it again: Cancel hustle culture!
Thanks for the Edit
It's a good thing Shantana Deshpande added that edit at the end of the social media post. The first bit probably had many young working women and men questioning if they were working hard enough. No one can work an 18-hour day, so thanks to Mr. Deshpande for clarifying his meaning.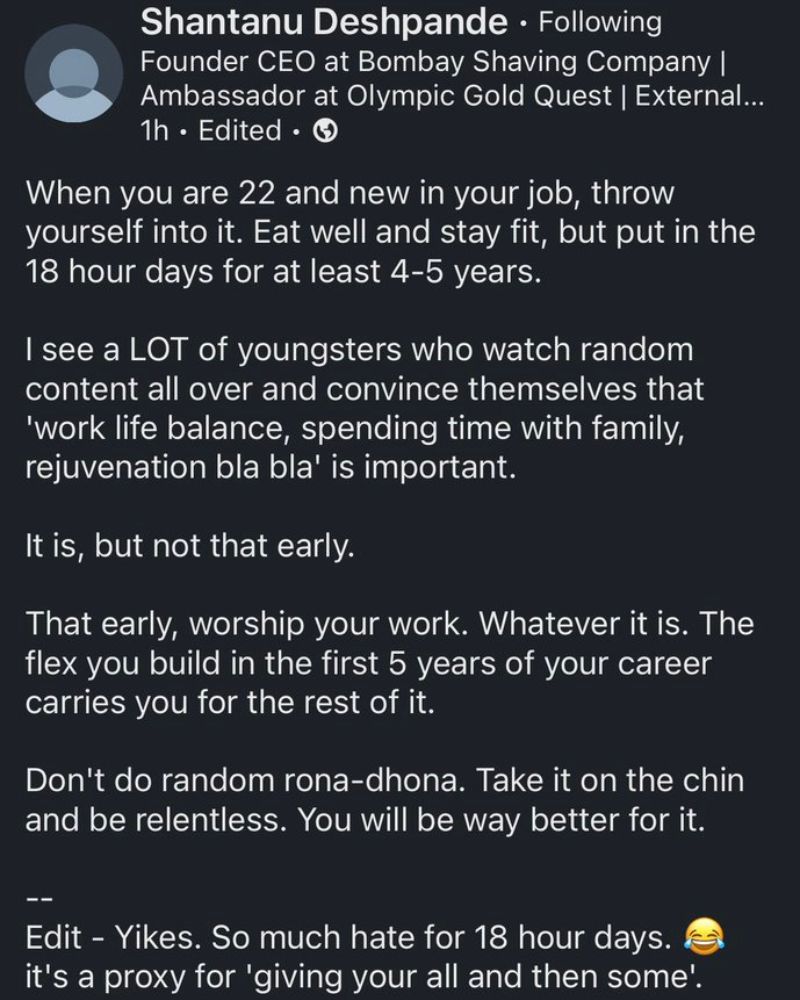 No job is worth working yourself to the bone for, and job satisfaction is what should matter most. If you want to work for longer hours, that's fine, but don't feel like you have to.
Thanks, Google Images
This social media user used his page to make fun of hustle culture. We all know that it's important to work hard, but this post calling out "hustlers" who boast about their lavish lifestyles was worth a laugh.
When you first start reading, you think, "Wow, this guy has it together!" But then you get to the last part, where he says he got a good internet bundle that enabled him to download the picture. Good one!
Yeah, Sure, Mitch!
Do the lies on LinkedIn ever stop? In this incredibly hard-to-believe post, Mitch Whiting claims to have been approached by a few people who knew him from LinkedIn while at a wedding.
We're going to bite the bullet and say that this is complete and utter nonsense. Did he think anyone would believe his story, or does he just like punting hustle culture to anyone who'll listen? Oh well.
When Twitter Spews Facts
Twitter user MelaninTalks couldn't have been more right when she said that hustle culture is toxic and that we should normalize resting. Yes, working hard for what you want is important, but so is only taking on as much as you can handle.
Don't overload yourself to the point where your mental health suffers. Focus on your mental health, and the rest will follow. It's a critical part of leading a healthy and fulfilling life, so take it seriously.
Lockdown Goals
Mr. Jeremy Haynes is clearly a hustler. In a tweet shared in 2020, he listed a few things people should've achieved when they came out of lockdown. In reality, people were more stressed than ever and just focused on getting through the day.
We commend your attitude, Mr. Haynes, but you need a reminder that not everyone was in the same boat and some people had other things to focus on.
When You Don't Pay Your Employees
It would seem that Annurag Batra, editor-in-chief of BW Businessworld, wasn't expecting backlash when he posted his words of wisdom on social media.
While his post spoke of how to live intelligently, one of his employees was in the comment section telling him to pay their salary. Social media has a way of exposing people for who they are. In this case, we think it's exactly what Mr. Batra deserved.
What Are You Doing, LinkedIn?
LinkedIn wants to control the information shared on its network, whether true or not. They went on to delete this user's paid-for account for sharing information about scams and containing multi-level-marketing schemes.
The user goes on to share that while his account was banned, other accounts that share pyramid schemes and fake stories remained on the site. We agree, Mike Winnet. It's absolute madness!
Really, Frank?
Frank lives in his own dream world, where people work themselves to death for free! We're not sure what rock he crawled out from under, but in this day and age, no one's going to work 40 hours a week for no pay.
Companies who advertise intern positions for no salary should be named and shamed, as no one can work for free anymore – no matter how desperate they are.
Be Gone, Hustle Culture
Thanks to Millenials and Gen Z-ers, hustle culture will soon be nothing more than a memory and a thing of the past. Nowadays, many people focus on their mental health and job satisfaction above all else. They've simply had enough and are putting their foot down!
They'll no longer be told to work extra hours for no pay, come in on their off days, and work themselves to death for a company that'd replace them in a heartbeat. Rise up, Millennials and Gen Z-ers! Down with hustle culture! The last thing you want to be doing at a younger age is aging your body and mind with too much work and minimal reward. Life is for living!
Recruitment Matters
Poor recruiter Dwayne Wakil had a good old rant on social media about how he and other LinkedIn recruiters are treated. He goes on to say that it's akin to racism when it isn't. We suggest Mr. Wakil takes a closer look at his hiring strategies, especially on LinkedIn.
This is a platform where people lie about their qualifications and experience. We wonder why a problematic network like LinkedIn exists when it does nothing but cause drama.
Health Above All
It's a sad day when someone publicly announces that they're unavailable due to ill health. Is that what the world has come to, using a public platform to announce that you are sick?
We wish Shailja all the best and hope she recovers quickly. Remember, we're called human beings, not human doings. Resting, recovering, and recuperating are all part of the human condition.
Son of a Billionaire
Have you ever wondered how the billionaires of today achieved their success? Here's a hint: their parents. This graphic posted on social media shows four of the world's richest men and the details of how they got a start in life and made their money.
It all started with their parents. Sure, a parent always wants to help their kids get the best in life, but calling these men "successful" is rather problematic when they don't start at the bottom like the rest of us.
Western Culture Goals
It's always interesting to see what other cultures value in the world. In Western cultures, money talks. Kids are taught to work hard to make as much money as possible. It seems that for Eastern cultures, the opposite is true. Their main goal is to achieve happiness.
Can you imagine how beautiful the world would be if we all started looking at life this way? It'd be bliss! But the way the world works now doesn't really allow for this way of life. Too bad.
Tax Talk
Ayush Mittal raises a good point when he says that rich people shouldn't have to pay more taxes, but he clearly doesn't understand how the financial world works. Tax is tax, and no one should be exempt from paying, regardless of their financial status.
We encourage you to do some research on the topic, Ayush, because you need a serious wake-up call. If the poor and middle class can find a way to pay their taxes, the rich and wealthy should too.
Billionaire Blunders
This tweet had us in stitches! Twitter user Mayank shared his thoughts on how to become a millionaire and said that you first need to be a billionaire. Was he hinting at living a lavish lifestyle and spending billions? Or is there a hidden and deeper meaning to this rather strange way of thinking?
We can't quite decipher this tweet, so we guess it's up to the reader to decide for themselves. But it did give us a chuckle thinking that Mayank may be implying that billionaires are a bit reckless with their money.
We Get it, Younas!
Only the rich can say that money doesn't buy happiness. As Younas pointed out in this rather lame post, he can do anything, buy anything, and go anywhere with his riches, yet he ends his post by saying that money isn't everything.
We'd be happy in our 1,700-acre ranch, too, but not if it means sacrificing who you are. Money is merely a tool to make options available, not to wallow in luxury and opulence. There are people starving in the world, after all.
RIP Internet Explorer
Twitter user Hadi Partovi shared this rather frightening experience of what it was like to work for the Internet Explorer team. While it's all but forgotten now, getting IE up and running took its toll on employees who often ate their meals at the office and played foosball at 2 am to boost their energy.
Would you like to work like this? Or do you prefer packing your bag and heading home at 5 pm like the rest of us? All we can say is that, while we love team spirit and foosball, it's not worth losing our family over.
We Believe You, Lumko
Did Lumko Solwandle think anyone would believe his ridiculous story? Or is he just poking fun at the type of posts that people share on LinkedIn these days? Often, these stories are posted to give others hope. But in reality, they do nothing more than create a false sense of security that the right job can be found on a problematic platform.
Thanks for sharing, Lumko, and please give your boss (the dog) our warmest regards. But this does give us a look at the mentality of his boss – he wants to hire people who show care and generosity of spirit. Love that!
Quitting in a Time of Hustle Culture
Can you believe that doing the job you're paid to do, and no more, is now considered a form of quitting? We'd love to know who came up with this idea, so we can give them a boot up the behind for making people believe that they need to work themselves to death!
Hustle culture is real, folks, so be careful of who you work for and what they want you to do. Most of us are happy to go above and beyond, investing in our job to ensure our security, but to each their own.
New Logo
Giovanni Loverso poked fun at LinkedIn when he came up with this hilarious design for a new logo for the company. With many fake stories and pyramid schemes posted on the site daily, you never know what's real.
Loverso took advantage of that in creating this silly logo. Thanks for the laugh, Giovanni., we needed that! And yes, we do agree! What else is there left to say?
Thanks, Gary!
Gary Travis makes a good point! Not everyone can afford a degree or has the correct professional experience to land a job. These days, companies have outrageous expectations of what skills or abilities a candidate needs to have.
While many are skilled, they don't have X amount of experience in the field. Thank you for the pep talk, Gary! We appreciate you believing in us!
129 Days Wasted
This poor guy dropped off a card every day for 129 days, each with a new reason why he should be hired, and he still didn't get the job. This is hustle culture at its best and shows how desperate people are to get their foot in the proverbial door at a company.
We think those 129 days could've been spent applying to other jobs, but whatever floats your boat! If we're honest, the most surprising part is that the company took four months to finally put its foot down. That's patience!
Skills Vs. Influencers
From the get-go, we need to make it clear that we're not bashing influencers. That being said, as this interesting picture shows, influencers are often favored above people with actual skills and experience in their field.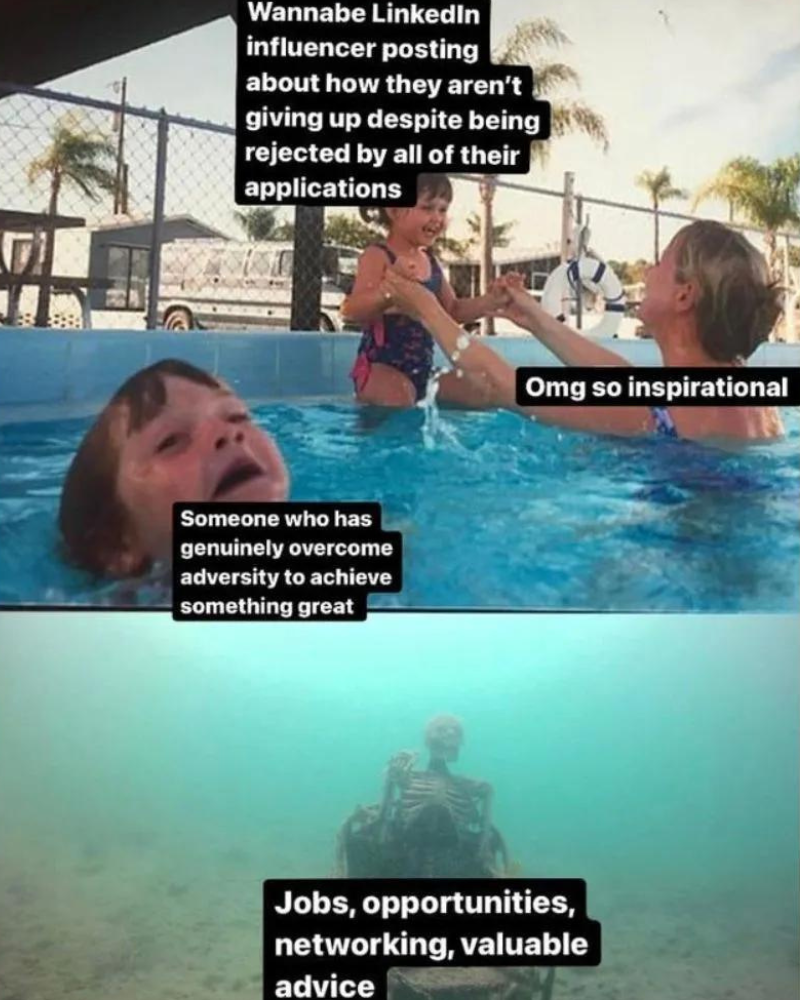 We guess society is to blame for this. We're so desperate to fit in socially and socio-economically that influencers with absolutely zero skills are chosen above those who've worked hard to get where they are today.
Privileged Life
Children of wealthy parents will often force their opinions on children of working-class parents. Ironically, they push their belief that working hard will get you far in life when they live comfortably off their parent's money.
Perhaps a bit of a wake-up call is in order for them to see how "middle-class" people work and live, despite working their behinds off.
Reality Vs. LinkedIn
Anyone can create a LinkedIn profile these days and, judging from the posts we have already covered, we know this is problematic. Rather than listing your actual credentials or stating that you're currently unemployed, you can create a fake persona by listing your hobbies as "work experience."
But just a reminder, this doesn't end well! If you lie on your profile or resume, you'll eventually be found out, and the consequences will likely not be great. Tread carefully.
40+ Seemingly Innocent Jokes That End Up Taking a Dark Turn
The internet is full of online court jesters who love to make others laugh with their witty humor. What's interesting about the following jokes is that they were shared on social media, and just when you think it's a completely innocent gag, things spiral out of control.
Til' Death Do Us Part
There are two ways that any relationship can go. Either, you are destined to be with that person for the rest of your life. Or, you're going to part ways at some point. As far as this joke goes, this guy met his demise the day he proposed.
Things Are Getting Coyote Ugly
Not everyone loves cats. Those of us who do, though, can't help but stare in awe at those beautiful, pulsating eyes. That's why it breaks our hearts when we hear terrible stories like this one.
We kind of see the funny side of someone who has no idea that they are causing serious damage to the feline community in their neighborhood. Ultimately, it's the way that the guy is telling the story on Twitter that will earn a couple of chuckles.
Delivery or Takeaway?
Delivery workers are bound to have a couple of places they feel like they have to visit more often than others. But this might also apply to medics when you think about it.
It makes you wonder — why would this ambulance keep having to go to the same house? Does an old lady keep falling over every other day? Or is something much more sinister going on? Like multiple homicides in the same place. We'll let you decide what the case might be.
Lights, Camera, Live-Action
People are growing more and more against the idea of zoos as years go on. In theory, going to see a wide variety of animals is a pleasant experience. But, when you consider the poor conditions that they might live under in those zoos, you'd think that they'd be better off living in the wild.
This joke hits home on two fronts. One, Disney movies with sad animals in them is a bit of a cliché at this stage, and two, well — what we previously discussed.
Best Girlfriend Ever!
None of us are cool with the idea of our significant other's cheating on us until it is too late. But, some victims of adultery are more laidback than others. The following individual took things to a whole new level when he discovered a random guy in his cheating girlfriend's closet.
Thankfully, he was able to take the positives out of the situation, highlighting some things that would usually be convenient for him. However, something else is happening beneath the surface…
The Calm After the Storm
When a bad storm hits a community and so much destruction is caused, we'd like to think that the victims pull together and help each other out during such tough times. However, there are some people out there who purely look out for themselves.
Take this guy, for example, who was more than happy to just pack up and abandon his community. He didn't mind letting them pick up the pieces while he kicked back in Hawaii of all places.
Self Drive and Kicking
It seems like the machines are slowly taking over the world, one upgrade at a time. This can even be seen in the automobile industry. Self-driving vehicles are eventually going to be a mainstream thing, whether we like it or not.
Do you know what's terrifying, though? There are bound to be people who pass away mid-drive, yet the car will be completely unaware of this and continue to drive the corpse. This joke highlights this morbid future phenomenon.
Too Soon
There are many occasions where one's name might be the subject of a good old joke. However, there's a time and place — and plenty of occasions where it's just inappropriate. Obviously, a crucial time not to use someone's name in vain is on the way to their funeral.
With that said, this person simply couldn't resist exploiting the correlation between his Uncle Joe's cremated remains and his mom's desire to drink some coffee. You know, since it's basically a box of Joe.
Abstract Daddy Issues
You might not realize that a social media post is someone simply making light of a deep, dark issue they have dealt with for so long. That's what this person did. He really did come up with something completely out of the ordinary, and definitely on the morbid side of things.
The thing is, there's always going to be some random person online who can relate to whatever you write, no matter how abstract or depressing it is.
The School of Hard Knocks
Valentine's Day can be brutal for people of all ages. But, there's something about celebrating the romantic holiday at school that can be particularly unforgiving. Someone is always bound to fall by the wayside in class while others manage to get paired up with others.
This teacher had a pretty pleasant way of consoling her students who didn't receive anything for Valentine's. However, there was one kid who she didn't even need to ask. The audacity!
Tough Love
Just to add a bit of context to the mix, for those who don't know, R20 is alluding to the currency of South Africa. Now that we've got that out of the way, let's cut to the chase.
This guy really did a number on his own daughter, teaching her a valuable lesson, albeit a pretty dark one. Apparently, in their country, theft is a big deal and the earlier she learns this, the better. What a sad world we live in.
Generation X-Rated
Every once in a while, someone will start listing off a bunch of stuff and casually drop a huge bombshell in the middle of everything, hoping that you might not notice it.
More often than not, though, our attention is immediately captured and we can't help but ask, "Can you repeat that?" This guy thought no one would notice the little beheading reference he mentioned in the middle of his little Twitter list. What a time to be alive (or not).
Putting the "End" in Man's Best Friend
Any dog owner will agree that it's absolutely heartbreaking to lose their "best friend." Inevitably, we all have to say goodbye to our canine friends at some point. But this guy on Twitter went super-cynical, essentially saying that no matter what, we are eventually going to lose our dog and it will usually be in a decade or so.
We know he's technically right, but there's no need to remind us! Cherish every day you have with your pooch.
Stick to Astrophysics, Neil
There are plenty of celebrities and great thinkers out there who use social media to share their wisdom with the world. While Neil deGrasse Tyson is full of that, he often just resorts to trolling his millions of followers with funny, albeit dark jokes.
Truth be told, the following statement is pretty obvious, but Neil knows that many people would try out this experiment simply to prove him wrong. Word of advice, readers — please don't try this at home.
A Heartbreaking Joke
Here's another example of a joke that went pretty morbid very quickly. As we get older, there's more of an emphasis on ensuring that our heart rate is at an optimal BPM. It seems like this person didn't fully grasp though what it means to be running at 65 beats per minute.
"Only 65 more to go" could be read one of two ways. Either they are excited to run it down to zero, or they're extremely sad about it.
I Have a Bone to Pick With You
Sometimes, the things we write on Twitter can be darkly profound and other times, they are simply dark. This tiny little tweet tells a pretty impressive story in just a handful of words.
The day is not Halloween, and this guy is apparently talking to someone about the phenomenon of skeletons and their relationship with the spooky festival. He's clearly doing something wrong and the person he's speaking to happens to be a cop.
Global Warning
This tweet perfectly typifies how crazy people can be when receiving certain information. On the one hand, many people are quick to react in an extreme way when they are fed some sort of prediction that doesn't carry any real scientific evidence.
However, when the science actually does start to kick in and the evidence is there to prove it, people remain strangely calm. Come on, people — global warming is here and we need to do something about it!
Who's Helping Who?
At face value, we like to think that we'd happily help out those in need, especially those people who don't have a home and have to live on the streets. Unfortunately, though, a lot of homeless people resort to illicit substances in order to suppress the pain of their circumstances.
This guy proposed the dilemma of giving money to a homeless person, not knowing where it would go. It seems, though, that the money is better off with the homeless guy!
What a Load of Clap
There's a general stereotype that transporting around London can be a pretty cold experience. For a start, people refuse to speak to one another on the tube and won't even look at each other in the eye.
So, when this little boy decided to clap his hands and sing a happy song, no one joined in with him. We're not saying that this is always the case in London, but this definitely does further the stereotype!
Making Dreams Come True
Not everyone in this world is supposed to be a parent. It's a brutal truth of life. That doesn't mean, though, that some people can't make others parents who so desperately want to be.
This guy told the dark story (probably just a joke) of how he left his nephew behind in an Uber taxi because the driver was unable to have kids. It's a win-win for everyone. The guy no longer has his annoying nephew to worry about and the Uber driver is now a dad!
This Joke's Off the Hook
It's so easy to offend people these days. Seems like whatever you say to someone, there's a chance that it might rub them the wrong way. Even Captain Cook, you know, Peter Pan's enemy, has feelings.
This little piece of fictional dialogue on Twitter perfectly demonstrates that even the most nefarious villains in the world have a soul. Everyone deserves to feel appreciated, even Captain Hook.
The School of Hard Knocks
Some people will do whatever it takes to gain the respect of those around them. And yet, there's nothing quite like having the love you give to your kids reciprocated straight back to you.
Whether it's something nice they said about you to someone else or a kind gesture, all parents want to feel appreciated by their kids. This dad felt the love from his kid, but he did a pretty negligible thing in the process.
Weirdest Family Reunion Ever
Listen, teenagers will be teenagers, and they're going to become "adventurous," for lack of a better term. This means that every once in a while, teens might get caught red-handed by their parents doing all sorts of indecent things.
This kid stumbled across an inappropriate scene while watching a movie. We doubt that the father who caught them had actually been missing for 12 years — probably more of an exaggeration than anything else.
Better Late Than Never…Very Late
The idea that it's never too late to chase your dreams is, in theory, very inspirational. It's comforting to think that there's always time to do what you want to do, even later on in life.
But this person really threw people for a loop by highlighting some truly nefarious villains who waited for hundreds — sometimes thousands — of years, so that they could simply perform acts of evil. We get the point, Angry Robot, but yikes!
Bad Cop, Bad Cop
We currently live in a climate where the police have been under immense scrutiny, and rightfully so. A lot of injustice has happened over the last few years, affecting people from all walks of life. We expect the police to maintain order, not to create further chaos.
This tweet shows how someone became disillusioned with the police force, believing they were one thing, but through years of experience and exposure, looked at them as something else entirely.
I Get a Kick Out of You
It's common knowledge that babies kick from inside when the mother is pregnant. But, it seems like the kicking that this guy is talking about is very different. It's a ridiculous comparison to make in order to excuse his actions.
We assume he didn't actually kick anyone and is pretending to be a guy who kicked a woman. Either way, people who actually do this must feel the force of the law. Most definitely.
Self Care to the Max
We live in an era where the term "self-care" seems to be a real buzzword that people cling to. Whether it's through yoga, going to a spa, or just taking some time off, it's important to focus on yourself every once in a while and shut off all of your responsibilities.
This person took things to a whole new level, though, when each act became more outrageous. Relocating to another country and changing your name isn't exactly a form of self-care.
Talk About Quick Fixes
There seem to be millions of tips and methods to get ourselves in the best physical shape, or to a least, undergo some kind of drastic physical transformation. But, what exactly works, and what's simply a company's desperate attempt to cheat their customers?
It seems like the following offer kind of does both. Unless you actually want people to meet you and see you in the flesh, this Photoshop tool seems to have a 100%  success rate.
You Are What You Drink
On any level, cannibalism is a pretty nasty idea. There have been entire movies and books dedicated to this strange habit. And yet, it can even be found in animated kids shows, like this one.
It seems like the following character is some sort of humanoid orange. And as you can see, they had no idea that they were basically drinking a cup of their own "blood." This is certainly taking the term "blood orange" to a whole new level.
That's Good News, Right?
At the best of times, no one wants to find out that they have been diagnosed with some sort of serious disease. But, you know what's even worse? That's right, folks — discovering that you are the carrier of an extremely rare disease.
This, in theory, suggests that it's going to be a lot more difficult to be cured or even treated, for that matter. And then the person in this meme got a disease that was so rare, they got to name it!
Too Much Information, Mo
Venn diagrams teach us so much, from time to time. It's amazing to see how many things overlap that on paper, don't seem to have anything in common with each other. Of course, "collecting skins" in these two separate contexts mean two completely different things.
What makes the post so much darker though is the sick, twisted comment that this young man provided us with. Wait a minute — so if you're referring to yourself as "us," then that means… Oh no!
I Made You!
There's no denying that fully grown adults can be just as immature as their own kids, from time to time. But, to start throwing silly insults at them when they're annoying you is just taking things a bit too far.
We don't think this dad's diss toward his son will have the exact impact that he's hoping for. One, it's kind of inappropriate to share any aspect of your "bedroom" life with your children. Secondly, the son will probably just find it gross!
Time to Save Face
Truth be told, a lot of the tips on this list sound pretty sensible when it comes to reinventing yourself. After all, drinking a lot of water each day can only provide you with benefits. So can sleeping for more than eight hours per day.
Not to mention the fact that going out once a day to soak in some sun is a pretty good thing too. But, the penultimate entry on this list is definitely something we wouldn't recommend.
What to Expect When You're Not Expecting
Most people who read the following tweet were bound to be excited for this guy when he mentioned that his girlfriend was "eating for two," at first. When one uses this expression, it usually means that the woman involved is pregnant, which is, more often than not, something to be excited about.
But, it soon became clear that this seemingly harmless phrase meant something else entirely. Always make sure to read until the very end of a tweet.
That's Not Gonna Fly
Planes are one of those places where you can literally bump into any kind of person from any walk of life. This means that people of all ages can board virtually any flight. This includes babies, elderly people, and everyone in between.
There are some people who only fly for the first time later on in life, like the man in this story. The person who told the joke makes you think that he's going to show some act of kindness to the senior citizen. But no.
Grade 'A' Prank
You would think that $500 for each A you get at school would be an absolute steal. Simply get your head in the game every night, hit the books, and you'll be the richest kid in your class.
However, this parent made this very deal with his own kids because he has absolutely no faith in his children's ability at school. That's pretty bad if you ask us. Also, why would you be happy to part ways with 500 bucks on the off chance that your kid does get an A?
A Paranormal Medic
Did you ever play the board game Operation when you were a kid? Well, it seems like this young lady still enjoyed playing it when she was older. However, she ended up using a real body for the game instead, by the sounds of it!
Look, it's ok to have dreams. But usually, it's best to aspire to be a doctor and then learn how to perform life-saving surgeries on those in need — not the other way around!
Survival of the Meanest
Many of us can relate to the following story — at least, the first part of it. You're shopping at your local grocery store, and something you desperately needed, like milk or bread, is nearly out of stock.
You and a senior citizen are staring over the last two loaves of bread in the store. What do you do? Well, we would suggest either each person taking a loaf or, the more admirable thing to do would be giving the elderly customer both loaves. But no.
Game Over
Many people underestimate how important video games are to certain individuals. Heaven forbid you are in a relationship with someone who loves to play their fair share of PlayStation or Xbox.
This guy had a pretty terrifying answer to the following question. Look, we know it sucks when someone disrupts your progress on a video game, but this reaction seems a bit too over-the-top for its own good. At some point, you just need to realize what's important in life.
Who's a Good Boy?
Service dogs are surely some of the most wonderful creatures in the world. Think about it, they are trained specifically to help blind people get around, so they are very much welcomed in the world.
Not to mention the fact that they are absolutely beautiful. That's where the following villain comes into play. To think that they would exploit this cute dog's abilities just so that he could steal a wallet from a blind person. The horror.
Earth's Protectors
It's absolutely adorable when kids come up with these funny and sweet questions about the world around them. Often the result is humorous, especially when you are struggling to come up with a proper answer without giggling.
The problem begins when you remember you don't actually have children or why they ask about Earth's defense system while squinting their obsidian black eyes. Pretty creepy in our humble opinion.
Talking Carrots
Imagine just walking down the aisle in the supermarket one day, looking for your favorite fresh produce. You are on the lookout for carrots. But not just any carrots. You, for some reason, are interested in genetically modified carrots.
Or perhaps, you are actually trying to avoid buying genetically modified carrots. So the most logical thing to do is to ask the vendor about those carrots you are holding in your hand. Certainly, you didn't expect that the answer would come from the carrots themselves.
Good to Go
Don't drink and drive, they always say, and for a good reason. You don't want to end up in an accident or to be pulled over by the police. But in case you do, just pull the trumpet you keep under the seat and show them how well you can play.
Apparently, if you can show the cop that you know how to play the trumpet they will let you go! We're kidding, this would probably happen only in a cartoon or something.
Are You an Only Child?
Growing up with siblings can be hard. So the obvious solution is just to tell your parents that you don't want any. They would probably tell them to move to the tool shed in the backyard in case you are their favorite child.
It's also possible that they will just let someone adopt them, that might work as well, no? Your siblings obviously might take it to heart, but they will get used to sharing the dog house with the family dog.
Leave the Crust
What's the first thing that comes to your mind when you hear someone saying that they don't eat the crust? You'd probably think about bread. While we absolutely don't get these people, it's a whole different story when it comes to watermelons.
Why would you not want to eat the watermelon's rind (or crust)? This is an absolute waste of food. So what if it's green and hard and has a different texture.
You Are What You Eat
When we were kids our mothers used to tell us not to lie. As we grew older, we realized that they were wrong. Sometimes you have no choice, but to skirt the truth. It seems that in this case, the opposite is actually true.
Technically speaking, they are right. If you are, proverbially speaking, what you eat, then they should plead not guilty. Actually, since we didn't go to law school we are not allowed to give any legal advice.
Ask the Dog
Marital disputes are not fun. Sometimes these disputes can even result in an ugly divorce. The hard part about divorce is deciding who gets to keep the dog. Yes, the jeans-wearing dog.
But, judging by the wife's reaction we bet she would happily give it up, we mean the husband. Honestly, we see nothing wrong with buying dad's favorite little pup jeans. He gets cold during winter! And that's how you end up being divorced, kids.
Love Birds
This sounded like a scene straight out of Fast & Furious. We get it, it's not always easy to be around your significant other. They can be really annoying sometimes. In fact, they can be so annoying that you just want to kick them out of a fast-driving car.
Maybe a few bumps on the head (when they hit the tarmac) would straighten them up. However, we hope this wasn't part of a darker plot to kidnap them. We would really hate to explain to the cops how it got to this.
Magnetic Love
Imagine that you are going to Paris on a holiday with your lover. You plan to spend a few days in the city, visiting all the important tourist attractions.
When you get to the famous Eiffel tower, you intend to get down on one knee and propose. At least, that's what they think. Otherwise, why would you just bend like that? If for some reason your knee is made of magnets that actually explains it –  so no marriage proposal for you, Sara.
Keep Going
We know what they told you. Life is short and you should take chances and all that. Yeah, yeah, we hate to break it down to you, but most of us just go about our lives imagining all the great things we could accomplish without actually doing them.
Why is that? We don't know, but we've learned to accept life as it is. That's why we are totally down with you never directly approaching your crush. She probably doesn't even know your name anyway.
No Refund, No Return
The thing about kids is that they are not like a product you buy in a store. Once you've got them, it's too late to go back. They are yours — forever. It doesn't even end when they turn 18.
You guys are just bound for life, whether you like it or not. But, on rare occasions, you can just regret your decision and say you don't want them. We get it. Kids can be too much sometimes. So just go and tell them that and see what happens next.
Stalker Boyfriend
Some people just can't let go. If you went out with somebody and they decided to break up with you, that can be hard. But, with time, all wounds heal – even the romantic ones. Some, however, just wouldn't accept that and wouldn't move on.
This often leads to situations such as this one. All he was trying to do is to be nice to her. So he was hiding behind the bushes like the creepy stalker he is – big deal. At least he was polite!
What Did You Say?
Men will always be boys at heart, even when they are old enough to have kids and act like adults (they never do). It seems that in this case someone just couldn't deal with the fact that their husband is a big baby.
We wonder what he did to deserve that reprimanding remark (we've heard it a couple of times from our moms). Our guess is that it may have had something to do with his attempts at beating the world record for most gummy bears stuffed into one's mouth.
Keep Dreaming
There is nothing more satisfying than making your ex feel bad after a breakup. What's a better way of doing it than by making them believe that you are still, supposedly, thinking about them?
It's easy to do it to men because they will pretty much believe anything a girl says. This is what happens when you aren't really using your brain in the first place.
Whose Baby Is It?
It seems like planes nowadays come with a baby on board as a default. No matter how many times we've taken a flight, there was always a baby on it. And for some reason, it always had to cry.
We bet that some parents would be glad if they could just leave their baby with someone else for a couple of hours. Looks like that the plan, in this case, was similar. Too bad you can't actually do it.
What the Fork?
We have all been guilty in the past of sending a message to the wrong person. But, is there anything more awkward than sending the wrong message to one of your parents? Moreover, this person sent a pretty nasty message to her dad by accident.
What shocked her more than anything, though, was the response from her dad. He supported her violent behavior and gave some pretty detailed advice. Dads are supposed to love their kids, no matter what, but this is going too far.
Sorted for Life
Don't we all wish that we could get to a stage in life where we have so much money that we no longer need to work another day in our lives? That's the goal, right? Not having to work.
Simply enjoy your life and have unlimited resources at your disposal. This guy's tweet seemed to have all kinds of promise, but then it hit us like a ton of bricks when we realized that he was simply being really cynical about his life.
Spice Up Your Love Life
It's not just real-life social media posts where you can find jokes that take dark turns. Here's an example from the popular sitcom, The Office. To be fair, when you start bringing up fantasies within your private life to coworkers, things are already getting pretty dark.
But it's the follow-up comment that Michael Scott (Steve Carrell) came up with that really put a twist on this already hilarious scene. We advise not bringing up this kind of stuff at work any time soon.
Like Father, Like Son
It can be easy to be a little reckless around your kids. After all, they are so small and you, as a parent, are so big in comparison. But, this guy should have known better than to whack his kid across the room with one single pillow.
Sure, it sounds hilarious if it happened in a Looney Tunes episode, but in real life? It sounds like an absolute nightmare. This is one of those jokes that isn't that dark compared to others on this list. But still, it counts.
Happy Wife, Happy Life
There's no denying that the pandemic has had a terrible impact on so many lives. Not only have people literally lost their lives, but many relationships have suffered because of all of the social distancing we have had to do.
So, imagine how stressful it must be for people who were having affairs when the outbreak hit. All of a sudden, you are no longer allowed to see that person you were having fun with on the side. Life is so difficult sometimes.