When the Creative Director Is Modest
Pablo Rochat has likely worked hard to get where he is. Now, the creative director at his own company. He surely sacrificed many years to achieve his success. But, one thing Pablo definitely didn't sacrifice is his ego.
Only someone who pushes hustle culture would say something like this. He's showing that no matter how hard you work, or what you achieve, money and success don't always make you a nice person.
Is Someone Going to Tell Him?
Twitter user SideHustleKing is clearly not that good at math, as he compares a mere $50 a month to a whopping $1,000,000 in his lifetime. While a side hustle is good for making some extra cash on the side, it's not a business opportunity that'll get you very far in life.
Can someone please give Mr. King a quick math lesson, or shall we leave him to believe he's right? Is he doing something with the $50 per month to make it magically worth more? Tell us!
Cancel Hustle Culture
This tweet is a bit different. Rather than promoting hustle culture, Stegan The Mallion (not her real name, obviously, but props for creative wordplay) wants it canceled. We have to agree with her when she says that working to death for money isn't the way to go.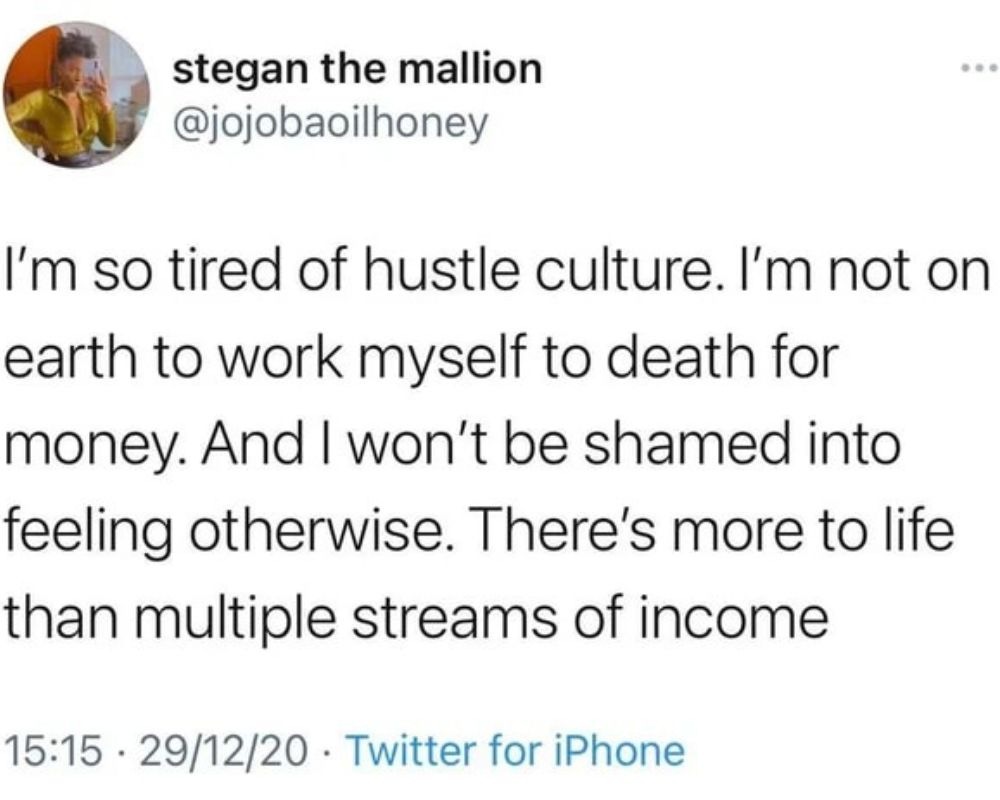 Having money is great, especially in this day and age where the cost of living is so high that every cent helps. However, job satisfaction, a good work-life balance, and strong mental health are far more important than making millions.
It's a No From Alex
Alex has shown us that hustle culture isn't for everyone and that skills and experience are the keys to landing a job. It doesn't matter how nice of a person you are or how well you get along with people; what counts at the end of the day is your qualification and work experience in your field.
We, too, wonder how that guy is doing, Alex. We hope he found a job somewhere that makes him happy and that the company that hired him had the patience and willingness to teach him so he could grow within the company.
Where Do We Apply?
Is Ty trying to make us laugh? Yes, some hustles can bring in that all-important dough, but is it a realistic option? In this tweet, Ty Frankel lists the three things anyone needs to earn 100K a year.
We would love to see his salary and also the salaries of those who punt this nonsense. No, Ty, it's not always that easy. We know plenty of people who put in double that time, per day, who have internet and people skills who don't earn that sort of money. Tsk.
Oh, the Lies
Those who believe that hustle culture is the only way to go will often exaggerate or embellish stories to push their agenda on others. As you can see in this tweet, the original poster was called out for using Bill Gates as an example of how rewarding hustle culture can be.
While Bill Gates was successful in his ventures, this guy seems to forget that it took years of hard work and sacrifice to achieve what Bill has. The best part of the story is that the Twitter user got the dates wrong and made himself look rather silly on the internet for the world to see. Then, he tried to cover it up by saying he wasn't talking about Bill Gates after all.
LinkedIn Lies
A quick scroll through LinkedIn will lead to hundreds, if not thousands, of stories just like this one that are rarely true. In this post by Kajol Srinivasan, she points out how toxic hustle culture is as she shares a story she came across of someone busy on a Zoom call while his mother lay in her ICU bed.
Sadly, this is what many companies expect, and it's just not realistic. That's not showing him kindness and empathy. That's cruel and unfair. Those employers should just wait until their moms are ill, and then they'll understand.
Please Wait While We Grab a Book
Florian Decludt shared his rather profound views with the world when he suggested that it's not enough just to read a book but to apply what we've read to grow as people. We agree that reading is important, and so is self-development.
But in a world where working hard seldom leaves time for foolish things like reading, it can be hard just to sit back and read a book. Any other suggestions, Florian?
Whoop, There it Is!
Again with the idea that you need to wake up at ungodly hours to be successful in life! But that's not the item on this list that got our attention. Look at number six: Father owns a Fortune 500 company. This's often how "hustlers" make their money, and not by doing an honest day's work in their lives.
Yes, some become successful on their own, but it's usually after a bit of a cash injection from Daddy or Mommy's wallet. If only we all had this privilege in life!
When a Meeting Could've Been an Email
Even second graders cannot escape the horrors of Zoom meetings and calls that could well have been an email. With so many meetings to attend, people often don't have enough time to do their work. This begs the question, why can't important work information be shared in an email?
This tweet probably came in 2020, when kids were taught over Zoom, but it's still relevant today as corporate jobs often drain productivity.
We Highly Doubt That Twitter User
It's good that this Twitter user's name is blanked out because the temptation to call him out for this rather idiotic comment is just too great! He claims to have turned down a 40% increase and promotion because he wanted to earn it rather than just have it handed to him.
We're pretty sure that unless the boss is his dad, he earned it and is being rewarded for a  job well done. Congrats on the not-so-subtle brag, Sir.
Good for You, Raj!
This man deserves a high-five… In the face… With a chair. Twitter user Raj needed to tell the world that he loves the grind and would love more hours in the day. This is toxic hustle culture at its best, and we're not too sure what his point was.
Sure, we all wish for more hours in a day, but certainly not to work more than we already do. A good old 9-5 is perfect for us, Raj. But you can go ahead and work yourself to death all you want.
More Lies on LinkedIn
While we get that LinkedIn is a platform to find jobs and make great connections with business people from around the world, it's hard to fathom why some people feel the need to add so much fluff to their profiles.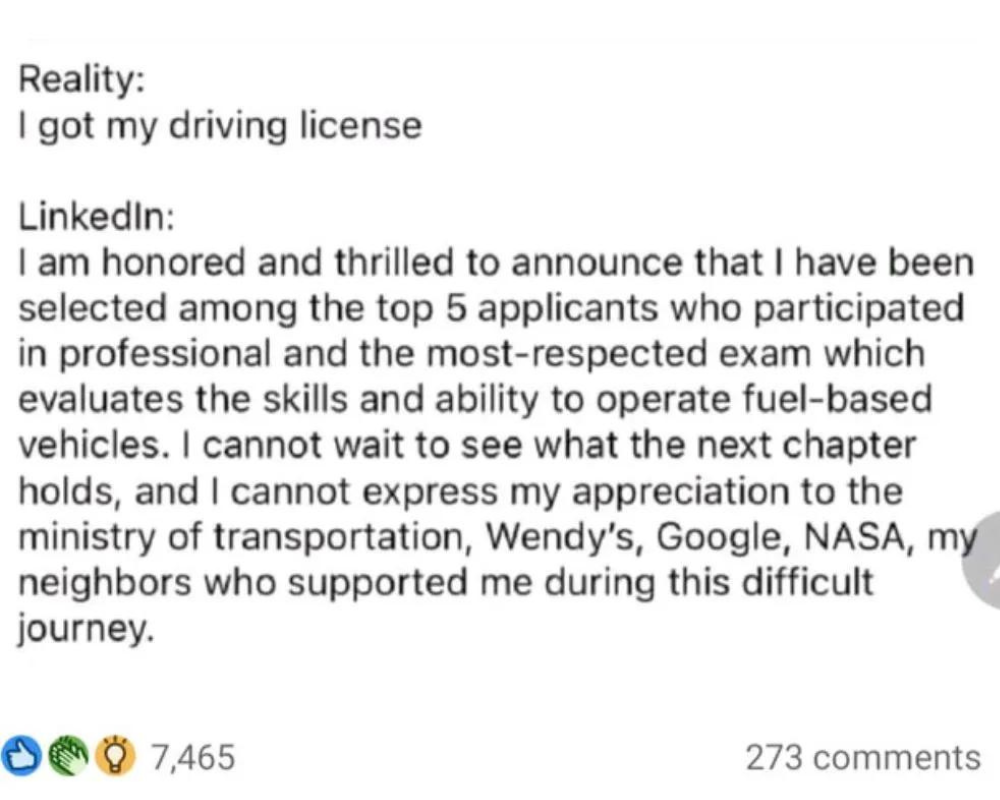 Sure, your accomplishments are great, but they also make you seem like a workaholic with no work-life balance. Stick to the facts and try not to oversell yourself too much. It might just come back to bite you in the behind.
Quiet Quitting Explained
There's no denying that the business world is in complete chaos. With many companies forced to retrench their staff, others have increased their workloads significantly to make up for any losses. This has given rise to a new trend of "quiet quitting."
In a nutshell, it encompasses doing only what you are paid for, which is how it should be in the first place. It's sad that things like "quiet quitting" even exist, but is there really any other option to maintain a good work-life balance and not work yourself to death?
How it Really Goes
Managing Director Peter Cohen nicely sums up the problem with LinkedIn in this social media post about his recent hire. After seeing his credentials listed on LinkedIn, Cohen hired the guy, even though he had zero experience and wasn't a good fit for the company and its ethics.
It just goes to show that these stories on social media are completely untrue. The reality is that if you're unqualified and not a good fit for the company, you won't get the job.
An Interesting Hiring Tactic
Pristyn Care certainly has a pretty unusual hiring tactic, as explained by co-founder Harsimarbir Singh. They call their potential candidates at rather odd times of the day to schedule interviews and then judge them based on the outcome.
This is honestly one of the worst tactics we've seen to date. We'd highly recommend that other companies steer clear of this method, especially nowadays that people are desperate to find a job and make some cash.
A Good Night's Sleep
This is what hustle culture has come to – someone celebrating that they actually got a full night's sleep! Is this where we're heading for now? That we work ourselves to death? While we celebrate with this woman on her good night's sleep, we wonder what kind of job has her so busy that she isn't even sleeping properly.
Hustle culture is not all it's cracked up to be and should definitely be canceled. When people are losing sleep, and time to live a healthy life, that's when you know it's not something to be celebrated and encouraged.
A Handout
The cost of living is rising at unprecedented rates, leaving many employees battling to make ends meet on their current salaries. A Twitter user hit the nail on the head as he shared a joke about a CEO giving an employee a flashlight after seeing them digging through the trash for food, rather than giving her a raise.
We, the working class, are all just cogs in the machine, and there's very little compassion and care in the workplace these days. Is this the type of life our society truly wants to live?
Hear Ye, Hear Ye
Announcing a new job on your social media platform is a good way to boost your confidence and celebrate your good luck with others. But have you ever thought of how arrogant or egotistical this might come across to others who are reading your posts?
It's cringy, to say the least. While you might be congratulated, some may be jobless, struggling, and reading your post with a heavy heart.
Are They Ill?
Many successful entrepreneurs credit their success to waking up early and starting the day with a cold shower. But, as Twitter user AnotherDumbDumb asks, are they doing this to soothe their aching bones?
It's no secret that the brain needs sufficient sleep to help you focus and concentrate on your work, so why are these people sacrificing their precious time to punish their bodies? We've said it many times before, and we'll now say it again: Cancel hustle culture!
Thanks for the Edit
It's a good thing Shantana Deshpande added that edit at the end of the social media post. The first bit probably had many young working women and men questioning if they were working hard enough. No one can work an 18-hour day, so thanks to Mr. Deshpande for clarifying his meaning.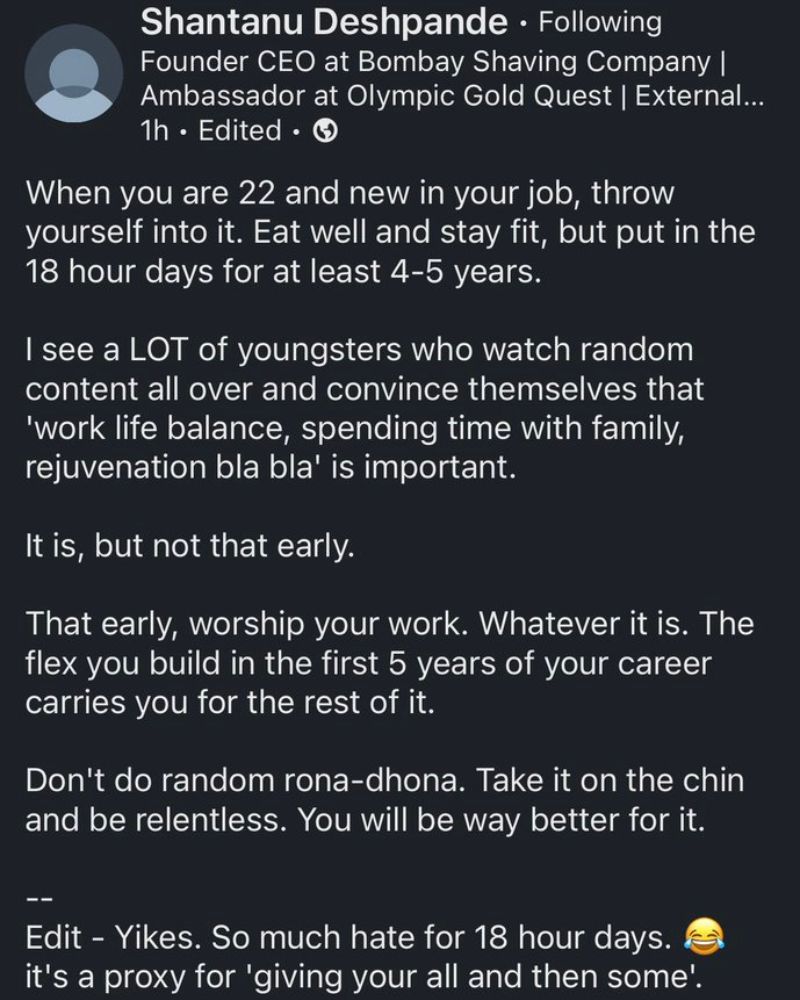 No job is worth working yourself to the bone for, and job satisfaction is what should matter most. If you want to work for longer hours, that's fine, but don't feel like you have to.
Thanks, Google Images
This social media user used his page to make fun of hustle culture. We all know that it's important to work hard, but this post calling out "hustlers" who boast about their lavish lifestyles was worth a laugh.
When you first start reading, you think, "Wow, this guy has it together!" But then you get to the last part, where he says he got a good internet bundle that enabled him to download the picture. Good one!
Yeah, Sure, Mitch!
Do the lies on LinkedIn ever stop? In this incredibly hard-to-believe post, Mitch Whiting claims to have been approached by a few people who knew him from LinkedIn while at a wedding.
We're going to bite the bullet and say that this is complete and utter nonsense. Did he think anyone would believe his story, or does he just like punting hustle culture to anyone who'll listen? Oh well.
When Twitter Spews Facts
Twitter user MelaninTalks couldn't have been more right when she said that hustle culture is toxic and that we should normalize resting. Yes, working hard for what you want is important, but so is only taking on as much as you can handle.
Don't overload yourself to the point where your mental health suffers. Focus on your mental health, and the rest will follow. It's a critical part of leading a healthy and fulfilling life, so take it seriously.
Lockdown Goals
Mr. Jeremy Haynes is clearly a hustler. In a tweet shared in 2020, he listed a few things people should've achieved when they came out of lockdown. In reality, people were more stressed than ever and just focused on getting through the day.
We commend your attitude, Mr. Haynes, but you need a reminder that not everyone was in the same boat and some people had other things to focus on.
When You Don't Pay Your Employees
It would seem that Annurag Batra, editor-in-chief of BW Businessworld, wasn't expecting backlash when he posted his words of wisdom on social media.
While his post spoke of how to live intelligently, one of his employees was in the comment section telling him to pay their salary. Social media has a way of exposing people for who they are. In this case, we think it's exactly what Mr. Batra deserved.
What Are You Doing, LinkedIn?
LinkedIn wants to control the information shared on its network, whether true or not. They went on to delete this user's paid-for account for sharing information about scams and containing multi-level-marketing schemes.
The user goes on to share that while his account was banned, other accounts that share pyramid schemes and fake stories remained on the site. We agree, Mike Winnet. It's absolute madness!
Really, Frank?
Frank lives in his own dream world, where people work themselves to death for free! We're not sure what rock he crawled out from under, but in this day and age, no one's going to work 40 hours a week for no pay.
Companies who advertise intern positions for no salary should be named and shamed, as no one can work for free anymore – no matter how desperate they are.
Be Gone, Hustle Culture
Thanks to Millenials and Gen Z-ers, hustle culture will soon be nothing more than a memory and a thing of the past. Nowadays, many people focus on their mental health and job satisfaction above all else. They've simply had enough and are putting their foot down!
They'll no longer be told to work extra hours for no pay, come in on their off days, and work themselves to death for a company that'd replace them in a heartbeat. Rise up, Millennials and Gen Z-ers! Down with hustle culture! The last thing you want to be doing at a younger age is aging your body and mind with too much work and minimal reward. Life is for living!
Recruitment Matters
Poor recruiter Dwayne Wakil had a good old rant on social media about how he and other LinkedIn recruiters are treated. He goes on to say that it's akin to racism when it isn't. We suggest Mr. Wakil takes a closer look at his hiring strategies, especially on LinkedIn.
This is a platform where people lie about their qualifications and experience. We wonder why a problematic network like LinkedIn exists when it does nothing but cause drama.
Health Above All
It's a sad day when someone publicly announces that they're unavailable due to ill health. Is that what the world has come to, using a public platform to announce that you are sick?
We wish Shailja all the best and hope she recovers quickly. Remember, we're called human beings, not human doings. Resting, recovering, and recuperating are all part of the human condition.
Son of a Billionaire
Have you ever wondered how the billionaires of today achieved their success? Here's a hint: their parents. This graphic posted on social media shows four of the world's richest men and the details of how they got a start in life and made their money.
It all started with their parents. Sure, a parent always wants to help their kids get the best in life, but calling these men "successful" is rather problematic when they don't start at the bottom like the rest of us.
Western Culture Goals
It's always interesting to see what other cultures value in the world. In Western cultures, money talks. Kids are taught to work hard to make as much money as possible. It seems that for Eastern cultures, the opposite is true. Their main goal is to achieve happiness.
Can you imagine how beautiful the world would be if we all started looking at life this way? It'd be bliss! But the way the world works now doesn't really allow for this way of life. Too bad.
Tax Talk
Ayush Mittal raises a good point when he says that rich people shouldn't have to pay more taxes, but he clearly doesn't understand how the financial world works. Tax is tax, and no one should be exempt from paying, regardless of their financial status.
We encourage you to do some research on the topic, Ayush, because you need a serious wake-up call. If the poor and middle class can find a way to pay their taxes, the rich and wealthy should too.
Billionaire Blunders
This tweet had us in stitches! Twitter user Mayank shared his thoughts on how to become a millionaire and said that you first need to be a billionaire. Was he hinting at living a lavish lifestyle and spending billions? Or is there a hidden and deeper meaning to this rather strange way of thinking?
We can't quite decipher this tweet, so we guess it's up to the reader to decide for themselves. But it did give us a chuckle thinking that Mayank may be implying that billionaires are a bit reckless with their money.
We Get it, Younas!
Only the rich can say that money doesn't buy happiness. As Younas pointed out in this rather lame post, he can do anything, buy anything, and go anywhere with his riches, yet he ends his post by saying that money isn't everything.
We'd be happy in our 1,700-acre ranch, too, but not if it means sacrificing who you are. Money is merely a tool to make options available, not to wallow in luxury and opulence. There are people starving in the world, after all.
RIP Internet Explorer
Twitter user Hadi Partovi shared this rather frightening experience of what it was like to work for the Internet Explorer team. While it's all but forgotten now, getting IE up and running took its toll on employees who often ate their meals at the office and played foosball at 2 am to boost their energy.
Would you like to work like this? Or do you prefer packing your bag and heading home at 5 pm like the rest of us? All we can say is that, while we love team spirit and foosball, it's not worth losing our family over.
We Believe You, Lumko
Did Lumko Solwandle think anyone would believe his ridiculous story? Or is he just poking fun at the type of posts that people share on LinkedIn these days? Often, these stories are posted to give others hope. But in reality, they do nothing more than create a false sense of security that the right job can be found on a problematic platform.
Thanks for sharing, Lumko, and please give your boss (the dog) our warmest regards. But this does give us a look at the mentality of his boss – he wants to hire people who show care and generosity of spirit. Love that!
Quitting in a Time of Hustle Culture
Can you believe that doing the job you're paid to do, and no more, is now considered a form of quitting? We'd love to know who came up with this idea, so we can give them a boot up the behind for making people believe that they need to work themselves to death!
Hustle culture is real, folks, so be careful of who you work for and what they want you to do. Most of us are happy to go above and beyond, investing in our job to ensure our security, but to each their own.
New Logo
Giovanni Loverso poked fun at LinkedIn when he came up with this hilarious design for a new logo for the company. With many fake stories and pyramid schemes posted on the site daily, you never know what's real.
Loverso took advantage of that in creating this silly logo. Thanks for the laugh, Giovanni., we needed that! And yes, we do agree! What else is there left to say?
Thanks, Gary!
Gary Travis makes a good point! Not everyone can afford a degree or has the correct professional experience to land a job. These days, companies have outrageous expectations of what skills or abilities a candidate needs to have.
While many are skilled, they don't have X amount of experience in the field. Thank you for the pep talk, Gary! We appreciate you believing in us!
129 Days Wasted
This poor guy dropped off a card every day for 129 days, each with a new reason why he should be hired, and he still didn't get the job. This is hustle culture at its best and shows how desperate people are to get their foot in the proverbial door at a company.
We think those 129 days could've been spent applying to other jobs, but whatever floats your boat! If we're honest, the most surprising part is that the company took four months to finally put its foot down. That's patience!
Skills Vs. Influencers
From the get-go, we need to make it clear that we're not bashing influencers. That being said, as this interesting picture shows, influencers are often favored above people with actual skills and experience in their field.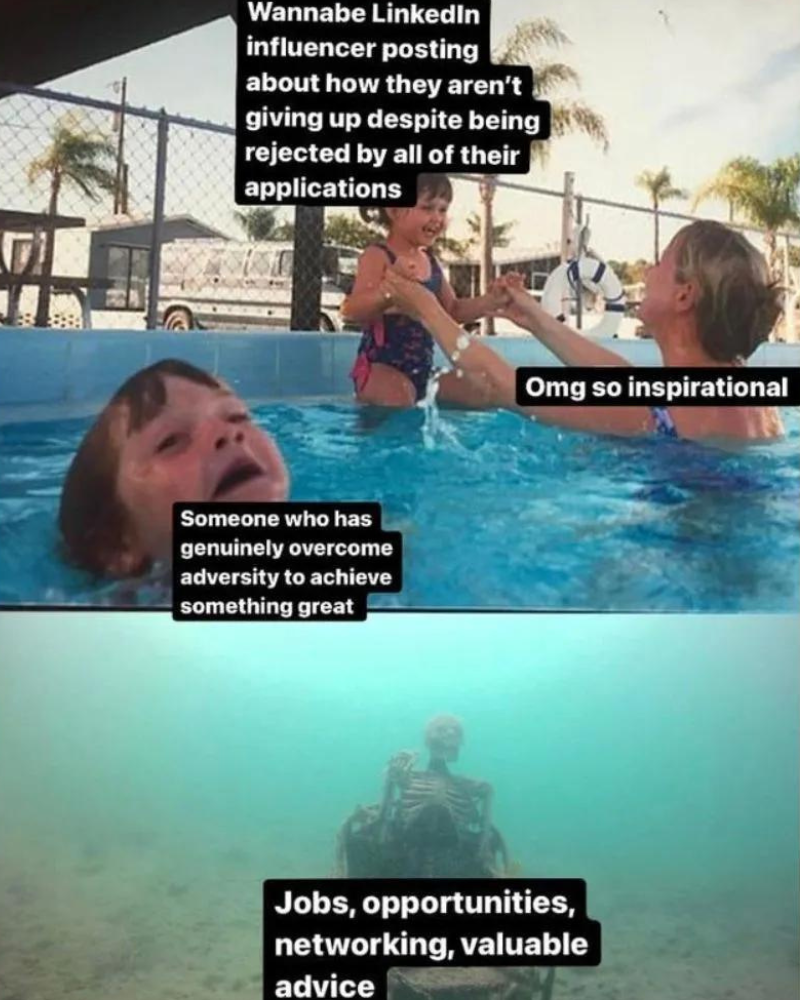 We guess society is to blame for this. We're so desperate to fit in socially and socio-economically that influencers with absolutely zero skills are chosen above those who've worked hard to get where they are today.
Privileged Life
Children of wealthy parents will often force their opinions on children of working-class parents. Ironically, they push their belief that working hard will get you far in life when they live comfortably off their parent's money.
Perhaps a bit of a wake-up call is in order for them to see how "middle-class" people work and live, despite working their behinds off.
Reality Vs. LinkedIn
Anyone can create a LinkedIn profile these days and, judging from the posts we have already covered, we know this is problematic. Rather than listing your actual credentials or stating that you're currently unemployed, you can create a fake persona by listing your hobbies as "work experience."
But just a reminder, this doesn't end well! If you lie on your profile or resume, you'll eventually be found out, and the consequences will likely not be great. Tread carefully.