Should We Give Him a Trophy?
You know that scene in every teen movie when the protagonist gets a makeover and walks through the halls of the school and everyone stares at them? The music is triumphant, they're flipping their hair, and everyone is admiring them.
Yeah, that's what it's like when dads take their kids somewhere. You know that scene when the antagonist enters the room and everyone kind of looks over like, "What are they going to do wrong?" That's what it's like when moms take their kids somewhere.
It Takes Two to Tango
Every aspect of getting pregnant and having a child is stigmatized against women and men tend to get off scot-free. It's almost like people don't realize that it takes two to have a child! Blaming a single mom for "choosing" a deadbeat dad is the same logic as blaming a woman who was harassed because of what she was wearing.
How about we start blaming men for being deadbeat dads, rather than blaming single moms for getting pregnant — as if they did that all on their own?
The Fun Parent
Sometimes, as a parent, you really just can't do it all. It's completely understandable if, after a long day at work, you find that you don't have the energy to cook dinner so you want to order in.
When children say that dad ordered McDonald's for dinner, people think it's sweet that he gave the kids a fun treat. When moms do it? People are quick to remind her that fast food is unhealthy and she should really try to find the time to cook for her kids.
The Viral Hairstyles
Parents do their kids' hair, it's really not that big of a deal! It seems like every few years, some dad goes viral on social media for doing his daughter's hair. When has a mom gone viral for doing her child's hair? Literally, never.
Why is it that when men do something traditionally feminine for their daughters, everyone loses their minds? Yet, when a mom learns about sports for her son, nobody even bats an eye over it.
Call Me, Maybe?
This is just as offensive to dads as it is to moms. If a father has chosen to be a stay-at-home dad, then he obviously wants to be available for these kinds of situations.
Why do schools, doctors, and babysitters assume that fathers can't handle an issue and so, mom needs to get involved? Let's give dads a little more credit, especially if they've explicitly listed themselves as the emergency contact to call if there's ever a problem.
Getting Lectured
Why is it that mothers are under constant scrutiny while fathers are seen as great dads for doing the exact same things? It's even reached a point in which moms get criticized for "letting" dads mess up.
Seriously, check out what happened when Ryan Reynolds accidentally forgot to secure his baby in the baby carrier. Blake Lively was criticized for being there and not correcting him! We wish we were making this up but that's truly how huge the double standard is.
Not a Babysitter
Can we all just agree that it's literally impossible to babysit one's own kids? That'd be like if someone who works as a chef expected praise for making himself a sandwich while at home. Don't get us wrong — it's great when any parent spends quality time with their kid.
However, we shouldn't act like dads are doing moms a favor by taking over parenting duties for a few hours. They're being a partner and co-parent, which is exactly what they should be!
Parenting Is Hot
According to Evolutionary Psychological Science, men who are or show interest in becoming fathers are seen as significantly more attractive. However, the same can't be said for men's perception of women who are or want to be mothers.
Sure, there's the whole concept of a MILF but the woman usually has to be exceptionally attractive in order to fall into that category. To be a DILF, though? You just have to be a dad.
No, "We" Aren't
No disrespect to men but their direct involvement in pregnancy ends after conception. Sure — they can (and should!) come to doctor appointments, help their baby mama feel comfortable, and provide emotional support.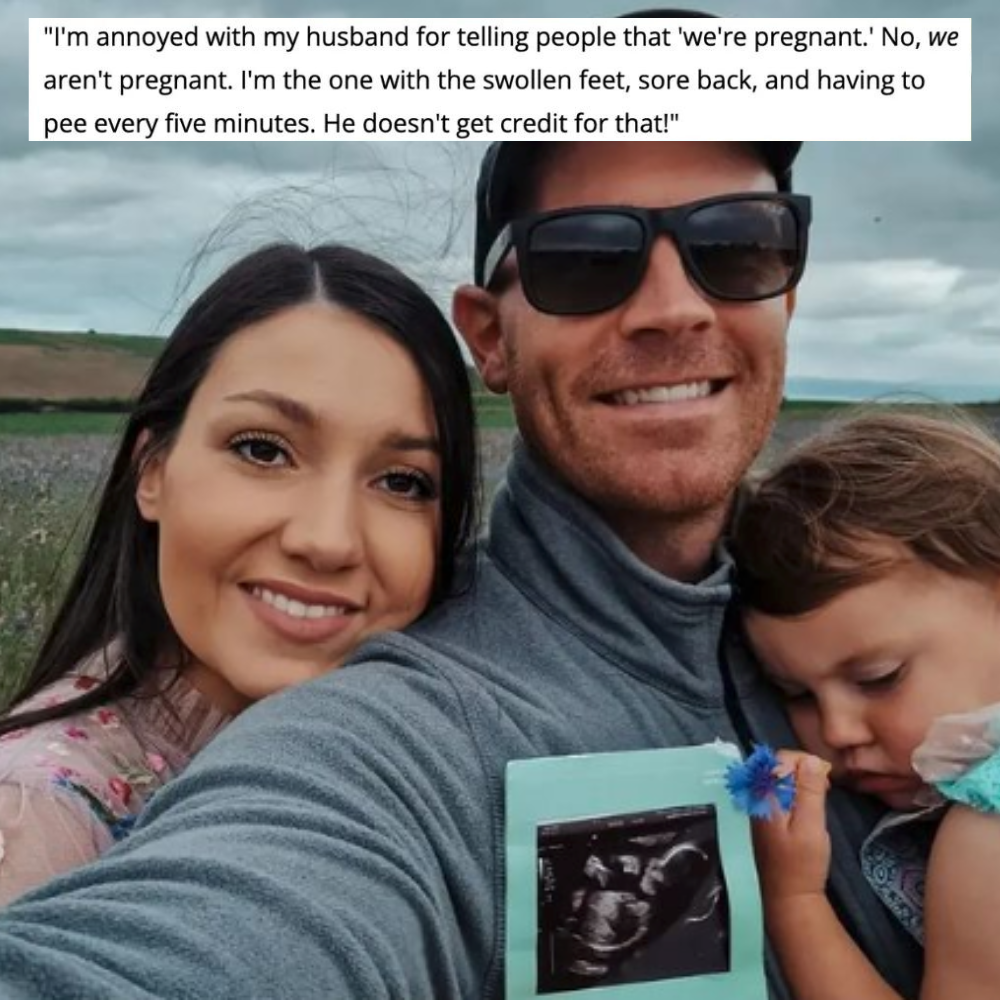 However, we can probably all agree that the toll taken on a soon-to-be father's body is nothing compared to what an expecting mother goes through. No, "we" aren't pregnant. One person is pregnant and your job is to help her through it. You can get credit for moral support but not for going through pregnancy.
Dads Change Diapers, Too!
This is completely unfair to fathers as they also obviously need to be able to change their kids' diapers. Why does society believe that for every father, there's a mother? Not only that but a mother who's able and willing to change the baby's diaper every single time?
Let's just put changing tables in all bathrooms, rather than making assumptions about people's family structures. On another note, we have to give some serious kudos to this guy's squatting abilities!
Level of Involvement
Dads are so often celebrated for just being fathers while moms are constantly made to feel like they're not doing enough. It's completely unfair to expect mothers to be able to be perfect employees, wives, parents, friends, and emotionally and physically maintained women… at all times.
Meanwhile, men are given a pat on the back for just showing up. It seems pretty insulting to men that the expectation of them is so low, doesn't it?
More Than "Mom"
While being a parent is a massive undertaking and does truly change every aspect of your life, it doesn't replace your entire personhood. People seem to understand that when it comes to dads, and they allow for other aspects of men's personalities.
However, when a woman becomes a mom, her motherhood is expected to become her entire persona. She was a whole person before she became a mom, so it makes sense that she's still a whole person after she has kids.
Dad Can Read a Calendar
Once again, we have a double standard that's both insulting to dads and makes more work for moms. We'd also like to add to this by pointing out that there are a lot more support groups for mothers than there are for fathers.
Overall, it seems that society has a much easier time swallowing the idea of an involved mom than an involved dad. Meaning, that we all need to do better.
It's Like Winning the Lottery
We really need to stop calling women "lucky" when their baby daddies take care of their kids. That's what's supposed to happen! "Lucky" is winning the lottery or getting through a whole day without hearing about a Kardashian — it's not having another full-grown adult doing what they're supposed to do.
That's not to say that it isn't appreciated but we need to put things into perspective. Especially when no one calls dads "lucky" for having baby mamas who take care of their children.
He Can Fend for Himself
Fathers are perfectly capable of taking care of themselves and their kids. After all, they got through life before they met their partners, didn't they? As for taking care of children, there are single fathers who do it every day, so we're sure that the OP's husband can manage just fine.
If people are really that concerned about a parent dealing with kids on their own, why don't they offer to help the OP when her husband's away? If we were her hubby, we'd be incredibly insulted.
Spot the Difference
There's only one difference between these two scenarios and that's the gender of the parent using their phone. First of all, people shouldn't be concerning themselves with how other parents raise their kids — assuming that the child isn't in danger.
Secondly, even if you're really a Karen and can't help yourself, it may be worth asking yourself if you'd feel differently if someone else did that exact same behavior? If so, the question is, why?
He's Not a Big Kid
No, a kid's dad is not another child — he's the father. This whole "good cop, bad cop" deal in parenting is an incredibly old cliche that the media has ingrained in us.
Pretty much every teen movie from the late '90s and early 2000s portrays the dad as a fun but clueless dude and the mom as the strict one who keeps everything in order. We're not sure why this cliché began but it most certainly needs to end!
Asking the Wrong Question
Why does society pigeonhole women into the role of desperately trying to trap some man? Simultaneously, men are pigeonholed into the role of being unreliable and unable to commit. When, in reality, men's and women's desire for children is nearly equal.
According to surveys conducted by Match.com, 51% of men surveyed want children and 46% of the women surveyed want to have kids. Maybe the difference in the numbers is the sheer pressure women face once they become moms?
Not Competing
Being a step-parent is no easy task. On the one hand, you want to show love and affection for your step-kids. On the other hand, you don't want to cross any lines and try to replace either of the children's parents. That being said, that Goldilocks zone is a lot larger for step-dads than it is for step-moms.
Perhaps this is because of how the media routinely pits women against each other? People forget that, in real life, there's always room for two strong women to share the same space.
One Big, Happy Family
This goes back to the (completely untrue) cliché that all women want kids and men never do. Why does everyone assume that the OP needed to talk her husband into having lots of children? Maybe he wanted a big family?
As for the nasty comments, what would those people prefer the OP do? Un-adopt the siblings she and her husband took in? Not go through with having the twins that were unexpected? Maybe people should just mind their own business and let this big, beautiful family live their lives?
Um, Their Dad
When dads are out and about, without their kids, nobody bats an eye. However, when moms go somewhere without their children, without a diaper bag, and looking somewhat relaxed, everyone starts to worry about who's taking care of the kids.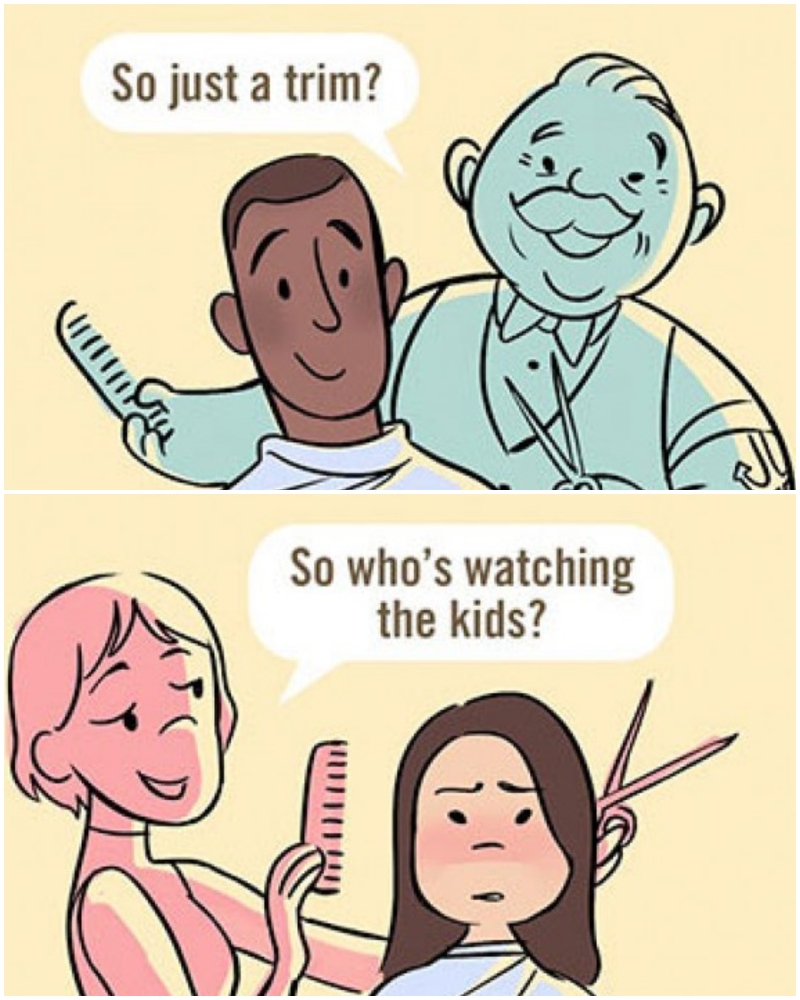 Once again, fathers are perfectly capable of looking after their children. Before anyone asks — no, it's not "babysitting" when it's their own kids nor are these dads "helping out." They're just being good parents, as they should.
Mom Guilt
Not only is some me-time understandable but it's necessary! How can you be a good parent if you're not practicing a bit of self-care? People seem to comprehend this when they see dads taking a moment for themselves. However, mom guilt is a very real thing and it's mostly caused by societal pressures.
Ironically, people get upset when mothers take time for themselves to work out but they also judge mothers who don't get back to their pre-pregnancy weight quickly. *Sigh* Sometimes, you just can't win.
Is Your Presence Necessary?
Don't get it wrong — we're glad that guy was there for his wife and we agree that he should be at those appointments. What's throwing us off is that, with all due respect, his presence at the doctor's office isn't crucial.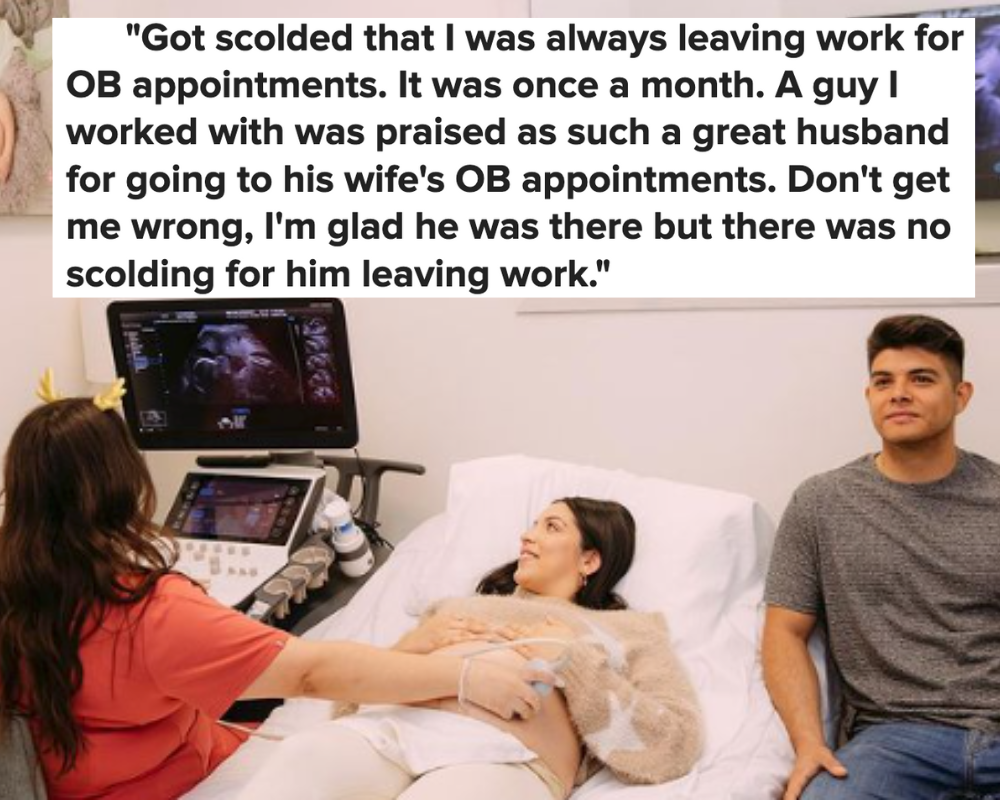 As opposed to the OP, who has to be at those appointments or the exam simply can't take place. If their boss is thinking about who absolutely must leave work and who can stay, then it doesn't make sense that the OP was the one scolded.
A Little Help Here?
We've all heard the saying "it takes a village" and there's a reason that it's such a common phrase. Yet, when moms need a bit of help with their kids, they're often seen as incompetent and bad mothers.
However, when dads need some help, they're seen as good fathers who are just doing their best in a tough situation. People are more willing to help dads because they're seen as honestly struggling. As opposed to moms, who are seen as too lazy to handle their kids on their own.
Full-Time Only
We really need to stop with all these clichés of moms handling the mundane aspects of parenting and dads just jumping in for the fun stuff.
Of course, this isn't really what happens (at least, not in healthy co-parenting relationships) but the media and society's standards would most definitely have us believe that's how it is. As the OP said, it's insulting for both parents, so let's just unlearn this tone-deaf way of thinking.
Constantly "On"
The bar is so incredibly low for fathers that literally just being physically present is enough. As much as it can be nice to not be constantly judged, aren't dads a bit annoyed that people expect so little of them?
Meanwhile, the bar for mothers is impossibly high. They're supposed to be a million different things to a dozen different people and fill all those roles perfectly. Oh, need to turn it "off" for a second, just to collect yourself? That'll get you labeled as a bad mom!
Thanks for the "Help"
No, dads aren't "helping out" moms by taking care of the kids or the house. They're their kids, they should have an equal part in raising them. It's their house, that they live in too, it's in their best interest to take care of it.
Of course, it's great when your co-parent thanks you for doing your part but should they throw you a parade for going grocery shopping with the kids? Um, no.
Parents Don't Get Days Off
Why would they assume it's mom's day off, rather than just figuring that it's dad's turn to go to the store? Anyone who has kids knows that parents don't get a day off, regardless of whether they're a mom or a dad.
Even if the OP was taking a couple of hours "off," that's undoubtedly time that she needed for her mental health, so she could be a great mom. Dad can handle a grocery store run with the kids, and may have even volunteered for it!
Diaper Duty
All parents need to learn every aspect of parenting. There is no "that's mom's job" or "that's dad's job," especially because not all children have a mom and a dad.
Times have changed since our grandparents raised kids, and the world has come to realize that men can change diapers, women can be the breadwinners, and both parents should be in the delivery room. Now, all we need is for the average Karen and the neighborhood Chad, to catch up with the times.
Dad Bods
We believe that all body types should be celebrated and there's no "right" or "wrong" when it comes to physical appearance. That being said, the majority of society seems to disagree. Dad Bods are completely acceptable while Mom Bods isn't even a popular term.
Mothers are pressured to "bounce back" to their pre-pregnancy weight, while dads who put on a few extra pounds are a whole type. Let's just all agree that having a little more (or less) to love is perfectly acceptable for all parents.
40+ Parents Who Regret Having Kids Are Anonymously Sharing Their Stories on the Internet
Parenthood isn't one-size-fits-all. This might be hard to digest for some since society has always taught us that the purpose of life is bringing new life forms into the universe; that's how the world keeps going. Not everyone was cut out to be a parent. Although taboo, this discussion is necessary. A viral thread on Reddit has anonymous users sharing how they haven't been able to cope with bearing children.
The Good Dad
Having children is one of those big decisions in life that can change everything. You can't reverse the effects, no matter how much you try. Although some parents love their children, spending time with them is a whole different story.
A Redditor dad shared how he is often termed as a "good father," translation to a dad who loves and supports his children. While he does care deeply for his offspring, being with them isn't a ride in the park. He compared the scenario to interacting with strangers.
Duties Over Wishes
Children who lose their parents at a young age and don't get the proper guidance and care later on will often end up on the streets, incarcerated, or worse. After his brother's demise, a Redditor had to take in his kids.
They make it clear that they did so against their own will, but they couldn't let their niece and nephew fend for themselves in the world. However, as they aren't as well-behaved as the Redditor's own child, they struggle to develop a real bond with them.
Mom or Caregiver?
A bond a mother has with her children lasts for eternity, regardless of what the mother or child may want. The duties of motherhood are so multifarious that it's completely okay that moms get exhausted from time to time. However, one Redditor feels less like a mom and more like a caregiver.
Here's the difference: Mothers are more likely to enjoy doing things for their kids as they love them. Caregivers are obligated to provide for their patients; it's not the same. A mother is much more than a caregiver.
Hindsight is 20/20
Getting the timing right can be the deciding thread between amazing and destroying. Having children is the same case. One Redditor hails from a socially backward area where she was stripped of the choice of determining what she wanted to do with her unborn child.
As she was forced into keeping her kid, she never really got the hang of "voluntary motherhood." Had she let another couple adopt her daughter or just decided to have her later on, the couple could have done much better for themselves.
A Bond Half-Formed
The 1950s housewife stereotype dictates that women get married, have kids, rear them up, and stay happy in that life forever. This works out for many in today's time, but many women fail to cope with the stress of having children.
They give birth to them so a connection is there – it's undeniable. However, the joy of spending time with their children is a matter of debate. She loves her children, but she knows she doesn't have the bond with them as other mothers have with their kids.
Guests That Never Leave
A Redditor had a rather interesting analogy to describe their feelings about unwanted parenthood. Comparing their children to permanent guests who constantly need to be taken care of, they mentioned how parents had to fulfill a prerequisite to not get bashed by society.
Pushing the boundaries of accepted paternal or maternal instincts, parents will often mention how they feel like an outcast in their own home. They just begrudgingly care for their kids because if they didn't, the masses would come after them with pitchforks.
Once in a Lifetime
Pregnancy is a hard and complex time. Not only are the women growing a whole new human being inside them, but the process also puts them throw several physiological and psychological changes. This is why even though the kids are planned, parents might feel disconnected from the process.
After all, who likes being ill all the time or going through severe discomfort 24/7? Her child is the light of a Redditor's life, but reminiscing the process of bringing him into the world has drained her off wanting another kid.
An Unspoken Resentment
In an attempt to explain one of the most complicated equations on the planet, this Redditor has tried to break down how taking care of someone else's kids might feel like. Imagine taking in your sibling's children because they were incapable of providing for their kids.
On one hand, you love the kids as they're your blood and have no fault in this situation. On the other, you find yourself giving up on a certain part of yourself to nurture them. There's love, but they aren't "your" kids.
Doing Everything Solo
Our condolences go out to this Redditor who lost her daughter in the womb. In itself, this is one of the hardest emotions a mother goes through in her whole life. On top of that, she wasn't even given a chance to grieve – forced into getting pregnant a second time.
She had her son prematurely and he cost them a whopping one million dollars in medical bills for the first year. After all that, the father left the frame. She was left doing everything alone for seven years.
A Piece Out There
One Redditor had to face some major moral dilemma when their ex-girlfriend popped the question. No, this isn't the question you would want it to be. She had baby-trapped him and then cheated on him as well.
When he said she didn't want anything to do with her, she gave him two options: Either stay in the baby's life and hers or leave and never hear from his child again. He wasn't mentally nor financially ready for a kid, but he couldn't live knowing her had a kid out there.
Attachment and Other Feelings
All relationships come with baggage. Some baggage is in the shape of little humans. One Redditor's girlfriend had a two-year-old when they started dating. Even though they didn't want a kid in their life, they love their girlfriend, so they try to be with the kid.
In an attempt to be supportive, they are filling in for the parent the kid is missing. The child will surely appreciate them for the efforts when they grow older, but the Redditor doesn't particularly enjoy it.
Always Draining Thoughts
Out of the hardest jobs in the world, single parenthood deserves a high spot. Raising kids alone takes a lot out of you, so if you aren't attached to your kids or don't want them there, things take a sharp left soon. For this mom, her child feels like an obligation.
Even though she still loves him, it's hard. This may stem from the fact that he was unplanned, or that she has to return to an empty apartment every day to a little human who resembles her ex-husband.
Sacrificing Myself for You
Across the world, birth rates are declining in developed and developing countries. People are leaning towards a more individualistic lifestyle and raising kids can be pretty expensive. This is a big issue for new-age parents.
With costs on the rise and the list of factors that make you a socially acceptable parent increasing in length, people often complain about how they get lost in the mix. In simpler terms, they feel like they are sacrificing themselves to provide their child with a certain standard of living.
Choice of Birth
This is a very important point to discuss. Often, parents suffer from remorse after having kids. They might be very explicit with their feelings, choosing to treat their kids harshly or directly abandoning them. Other times, they keep to themselves, just live through the sufferings because they still love their child.
While feeling like you made the wrong choice having kids should be normalized, what shouldn't be normalized is punishing your children for your wrong decisions. They didn't choose to be born, and this Redditor is reminding the world that.
Guilting Women into Motherhood
For centuries, the concept that women were born ready for motherhood has been perpetuated. Anyone who disagrees or any woman who says they don't wish to have children would be burned at the stake (figuratively). But this is a conversation more females should know and open up to.
A woman goes through multiple strenuous changes pre, post, and during childbirth. Some might never wish to repeat the process, others can't wait to be a mother again. If you're accepting the latter, there should be no problem in acknowledging the first.
Wanted, Planned, Adored
Parents weren't the only ones who shared their feelings about this topic on Reddit. Children victim of these situations also voiced their opinions and shared their stories. Hearing such hurtful words from your mother can mess up a child's head, often leaving them scarred for life.
Understandably, the post author has a lot of resentment for their mother. However, that hatred must have fuelled their need for a full family with children they can take care of.
Hardworking but Absent Father
Speaking of parents doing everything in their power to provide a better lifestyle for their family, people might take it too far sometimes. Wanting to be in an elevated financial standing isn't a bad thing, but you need to prioritize your life goals well.
For how long have we heard about absent parents? Parents who got so busy in their jobs and careers that they forgot there's another being relying on them for mental support. A loving, middle-class father would do you better than a mean, rich father.
Out with the Old
Never have kids because you think they're "cute" or could "save a broken family." A child shouldn't be used as a remedy or tool. When we look at a child, the first thing that pops into our head naturally is "adorable." How can someone not want one?
However, in reality, when you see a child, you should look at all the responsibilities and promises it entails. An irresponsible mother forgot about her kids the moment they were out of her womb yet ended up with ten.
Two Middle Names
Imagine being so callous that you forget your child's name. Kids aren't replaceable; they never were and never will be. The pain of losing a child is unparalleled, but bringing another life into this earth hoping they can fill the void is a horrible decision.
That child is going to a separate entity, and if a parent cannot respect that, this will be detrimental to both the baby and the parent. Moreover, it's hard to think of a world in 2021 where gender bias in childbirth is still a thing.
The Kids Know
Parents and children alike claim that a kid will know if they're unwanted. Albeit this is extremely sad that they have to grow up with such a reality, children will pick up where they aren't loved. This Redditor had a family with her mother and non-biological father.
He raised them but they knew that he didn't love them. At first, they thought it was because of his natural dislike for kids. However, after their step-siblings were born, they understood that to their stepfather, blood ran thicker than water.
Expectations Versus Reality
Every new parent weave dreams of what their newborn is going to be like; what their life is going to be like when the baby arrives. Sure, they go overboard with the expectations at first, ruling out the toughest stages.
You think of all the moments you will share with them, form the strongest bond, and have their back until the very end. A few parents experience something completely different when they have children. It's the worst clickbait in the history of the universe for them.
The Perfect Life
Some people don't want kids but still, end up having one. On the other hand, some couples or individuals would do everything to have a baby but fate has it another way. For them, processes like IVF, surrogacy, and adoption are saving graces.
With adoption, the procedure is extremely delicate. This Redditor knew an ambitious girl who married rich and adopted a child. Three months in, they separated and the baby was returned. A baby isn't a trophy awarded for having a "perfect" life!
Loved and Lost
Say it with us: A child isn't a band-aid for a broken marriage. For couples struggling with compatibility issues, therapy would work better. Many children born out of similar situations find themselves torn between their parents.
After his ex-wife forced him to have a child, a Redditor thought it would be a good idea as well. He wanted a kid too. Fast forward a few years and the toddler has to experience his parents' separation. Although he loves his son, the father wonders what life would be like without him.
Back in the Day
In today's world, not having kids isn't viewed as negatively as it was back in the day. This is why many boomer or Gen-Y mothers find it a stigma to talk about regretting having children. What people also need to acknowledge that not having kids is a choice, just like cutting your hair short or not.
Thankfully, women aren't as antagonized these days for wanting to lead a solo life. While these regretful mothers love their children, deep down, they wish they could turn back time and not have them.
A Caregiving Facility
This person had a rather direct analogy to describe their relationship with their children. While we don't find it appropriate, we would not term their feelings as unreasonable.
Imagine having an inebriated midget walking around your house, depending on you for necessities for 12 years only for them to grow into a hungover teen who requires more attention for the next six. Eventually, they go off to rehab (cpllege) and you can pray to get your independence back.
Depending on Welfare
The concept that there's no such thing as a bad mother needs to be rethought, discussed, and rearranged. Women aren't naturally nurturing entities. They either have a strong maternal sense or they don't. For kids with mothers who feel the latter, life can be hectic.
In many cases, these women bear multiple children and the responsibility of the young ones goes to the oldest. The oldest are children or teens at the very most and struggle with such tasks. It's sad, but it's the reality for many families.
Hatred and Love
Wanting a child but also wanting a career and achievements can be two conflicting paths. A Redditor shares their story and it involves a strong woman who loved her child but also hated them for making her lose out on opportunities.
This is the way many mothers tend to cope with their regret. They silently go along with their lives with a small part of them wishing they could rewind the tape. Things were hard for her initially; she wasn't unhappy. She simply had too many emotions to work through.
Need for Adulthood
If you've never gone down a YouTube rabbit hole, you wouldn't know about those vlogger teen moms who seem to have it all together at the age of 15. This is what we mean when we say some women were made to become mothers.
They don't limit themselves to the definition of a "nurturer," rather explore the boundaries. As the 22-year-old confused Redditor writes the post, they consider abandoning their ten-month-old niece. However, at the same time, they can't. That bond they have holds them back.
Love Not Like
When parents regret having children, one of their primary defense mechanisms is just getting the job done. They're not enthusiastic about having a kid, they don't like doing what they're doing, but they're doing it because they have certain responsibilities to fulfill.
In our opinion, this is much better than blaming your child for existing or abandoning them. One Redditor has a rather strained relationship with their mother. She goes above and beyond to be a good "mom" but doesn't even feel like a real mom. Strange, isn't it?
The Worst Experience
There's no shame in admitting that you won't always excel as a parent. However, at the end of the day, what matters is that you had their well-being in mind. After battling with substance abuse for an extended period, a Redditor got overwhelmed with having children.
They want to stress that they truly adore their children, but they knew they couldn't provide for them the way the kids deserved it. Any time the children showed them a shred of affection, they would have a meltdown.
No Matter What
Here's the story of a couple who don't regret having a child, but regret their child's past life. Their adopted son lived in foster care for three years before he came to live with them. He was constantly abused.
As his biological mom slowly started regaining the custody of her children, they couldn't help but be sorry for their son. They were unable to erase the bad memories of his past. Given how horrific his situation was, it's no surprise that the poor child is suffering mentally.
Single to Father in Days
A Redditor lived the plot of a cliche Hollywood movie when they went from being single to a pseudo stepdad in a few months. He loved his ex and would do anything for her; even if that meant caring for her needy four-year-old.
He raised the girl for two to three years but never got used to her being there. According to him, she was disobedient, loud, and had a bad habit of interrupting conversations. He admits that he sounds selfish yet it's liberating to come out.
I'm Not a Parent
Simply giving birth to a child doesn't make someone a parent, and that's a fact. History is proof that on instances where biological parents have failed to be a safe spot for the children, outsiders have become a home for them.
One Redditor reveals how he has a bad relationship with his family and his son who lives with them. They're thankful that their family gave their son a warm home since they could never deal with the pressure of being a parent.
Shaping Up Insecurities
Children growing up in toxic environments usually develop psychological issues throughout their life, no matter how big or small. Some get strong enough to shake it off. For others, it's a battle until the finish line.
A Redditor explained how they were the unwanted child and that caused them to develop some large insecurities; insecurities that have continued shaping them as an adult too. They did come a long way, so we're proud of them for that. Regardless, aren't some scars too deep to heal?
Horrid First Night
In a classic case of postpartum depression, a mother on Reddit shared how she was utterly confused and horrified the night after she gave birth. She wasn't sure why someone would entrust her with a child and worried she would ruin his life.
She apologized to her newborn to reduce the guilt. The boy's father was abusive and was involved in an affair with another woman. Needless to say, the new mother was terrified of being alone and didn't want to be a mom anymore.
Mom and Daughter Connection
Just because a person wanted a child and had one, doesn't mean they will be able to bond with the kid in a way they want. A painful and horrible truth. Many mothers and fathers can't seem to develop a connection with their offspring.
From an intellectual standpoint, this is normal and fine. You won't like everyone on this earth and vice versa. However, since they are mother and daughter, the emotional burden never alleviates.
Struggles of Parenthood
There's a cloud of negative energy surrounding step-parents. Old tales and stories made us believe that all of them are villainous. However, that couldn't be farther from the truth. Kids often get on so well with their step-parents that no one would believe they aren't related by blood.
This is about a step-parent who is struggling to manage their eight-year-old. They have two other children too, and they think this might attribute to the older son's wild behavior. Naturally, the Redditor is suffering due to this too.
One Life for Another
A common complaint with parents who aren't happy with having children is that they feel their kids are enjoying a great life at the expense of their own. If we try to view this situation from both perspectives, it's easy to understand that a child will not like their parents begrudgingly fulfilling their parental duties.
Considering that you are giving up the golden years of your life for someone can be a genuine concern for some. There's nothing wrong with wanting to live your life to the fullest.
The Struggle of Loving
Feeling other love or resentment is the easy part. Feeling both simultaneously can be mind-numbingly painful. The emotions associated with a relationship that's naturally draining and demanding but loving at the same time have been a mystery to man since time immemorial.
Could you truly explain a parent-child relationship this way? Seems like you can. Parents who love their kids but can't deny that the equations are mentally and physically demanding, find it harder to sum up their experiences.
Love Doesn't Oppress
Any form of love that makes you feel like you're under the constant burden of responsibilities and duties is sure to dissipate soon. It's human nature – you aren't going to appreciate a task that gives you stress.
For parents who enjoy the company of their kids, the stress is alleviated when they hug their children after a day's hard work or get to see them smile. However, others have their love drained by the constant responsibility and the happiness switches out for oppression.
Growth He Didn't Care for
Given how difficult parenthood is, it's fine that parents don't love their kids all the time. When they're driving you nuts, you have all the right in the world to hate them temporarily. The point is, if you don't enjoy being a parent and don't like raising your kids, you will hate the entire process.
Living life that is draining, to say the least. A Redditor was brutally honest when he mentioned how he despised being a father and isn't a fan of how his kids turned out.
Circle of Hate
Hate is a strong and powerful word. Interestingly enough, most parents that popped onto the thread to express their feelings wouldn't use the word "hate" to describe their relationship with their children. They feel like they would be better off without them.
However, in reality, there is a deep-rooted hatred they are fearful to acknowledge. The hatred isn't for the kids as humans; it's due to what they have reduced the parents to. In essence, they hate their kids, but they also end up hating themselves for that.
Would Not Recommend
In a more light-hearted and straightforward fashion, a Redditor commented that parenthood isn't fun, and they don't recommend it. They didn't back up their complaints or "claims" by any proof, but we assume they have a rough relationship with their children.
This just reinstates the point that everyone isn't suited to become a parent. Societal expectations might drive someone to the brink of insanity if they said they didn't want children. We talk about bringing better changes to this world. Accepting selective parenthood should be one of them.
Moment of Relief
Mothers who truly wanted to get pregnant but lost their child would know how excruciatingly painful it is. Going to the hospital with hopes of returning with a bundle of joy in your hands but coming back empty-handed – sounds like a nightmare.
However, not for this mom. Suffering from depression and constantly worn out from taking care of her toddler, she didn't need a child in her life. To this day, she is unable to forgive herself for being relieved when she lost her son to an unfortunate miscarriage.
Sick of Sickness
Separation can take a huge mental toll on children and couples alike. However, it's the necessary evil many parents must learn to accept. A nanny on Reddit shared a story of a lady who had five children. None of them did she want but she bore them since her husband wanted kids.
As expected, after five pregnancies, her health started deteriorating. The husband, instead of staying by her side in these dark times, abandoned her for a younger woman. Seems like it got better for her, though.