Scars can happen in spite of our best efforts to take care of ourselves. They may even be a result of a life-saving surgery or medical attention that preserved someone's health. Scars are beautiful testaments on their own to the effort we put into our everyday lives to stay well. A tattoo to celebrate that scar is a beautiful form of art signaling that you're ready to move on.
Hope Is a Thing With Feathers
We love the optical illusion and texture that comes into play with this tattoo. It might not be for the faint of heart — or those who are squeamish about body modifications. But we imagine this woman is pleased with just how realistic everything looks.
It really does look like the feather has been slipped into a pocket on her leg. We're sure she gets lots of compliments on this work of art wherever she goes.
Something's Fishy Here
We wouldn't be surprised in the least if you laughed aloud when you saw this tattoo — we did, too. This person must have a great sense of humor to incorporate a fish head and tail on their leg scar.
Instead of covering the scar completely with new ink, they complimented the scar — and likely preserved whatever memory is associated with it — with something that is certain to make people smile whenever they see it.
A Softie on the Inside
Sea turtles are majestic creatures — and they just so happen to be the ideal solution to cover up this person's scar. Something that was very likely traumatic has been transformed into something very beautiful.
It reminds us of the journey that all sea turtles must go on, emerging from an egg alone on the beach and finding their own way in the great wide-open sea. It's a wonderful animal to be inspired by.
A Beautiful Blossom
There are some scars that we're better off not having to think about again. Sure, they're a part of us forever, but we move past them and become stronger and more beautiful individuals. This gorgeous rose is the perfect way to signal that this individual is ready to get on with their life after going through a rough patch.
And the closed blossom at the top is a sign that this person isn't done growing. Nobody is!
How Does Your Garden Grow?
We couldn't believe our eyes when we were trying to pick out the parts of the scar in the after photo with the completed tattoo. The tattoo artist did a phenomenal job of incorporating the deepest parts into the darkest middles of the flowers.
This woman ended up with the most beautiful garden imaginable. We understand why this person decided to cover up their scars, and we know they couldn't have done it in a more beautiful way!
Arts and Crafts
We love the humor that's present in this tattoo, which follows the same line of the scar but doesn't completely cover it up. Still, we're more drawn to the bold line work of the tattoo, drawing our eyes away from the imperfection of the scar.
We imagine that this person loves to make art and crafts in their spare time — or perhaps even for a full-time job. The scissors remind us of directions to make crafts.
A Flock of Friends
Sometimes, all we want is to sprout wings and get out of here. This woman has worked with a tattoo artist to do just that. Now, she has a flock of birds winging across her belly, covering up the scars she didn't want to remember anymore.
This is a beautiful way to show everyone how you're ready to leave the nest of wherever you've been in the past few years and fly to something new and different and wonderful.
Throw Some Magic at It
Sometimes, life can really get us down. The mundanity of it all can really grind on a person. But if you had a constant reminder that magic can be found in even the most unexpected of places, you could make it through every boring hoop you normally have to jump through.
This tattoo is a gorgeous example of always believing in magic. If you believe in the magic within you, you can make anything happen in your own life.
A Work in Progress
We love the symbolism of this tattoo — and the fact that it embraces the scar it's enhancing. Instead of commissioning something to cover the line that the healed scar makes on the top of the person's foot, they've decided to add a spool of a thread and a needle in the process of tying everything back together.
We also love this idea for someone who enjoys sewing in real life, such as a seamstress or other crafty individual.
A Celebration of Life
Sometimes, life takes us in unexpected directions. When things go wrong, it can be easy to slip into despair. But when things go right — like when this individual overcame a disease, injury, or surgery to help her have the quality of life that she now enjoys — it's time to celebrate.
This tattoo is a reminder to always be thankful of how far you've come to achieve your current level of comfort. We love that there's still room to grow.
Of Nature's Blossom
Some scars can be really jarring and difficult to live with. We definitely don't fault this person with wanting to conceal her scar — especially when it likely caused her pain or was a reminder of things that she'd rather forget and move on from. We think the actual coverage of this scar is remarkable.
The tattoo artist was a true visionary, incorporating the beautifully detailed rose in black and white to help best conceal an event that this person is eager to put in the rearview mirror.
Memory for a Memory
We can't imagine that the memory associated with this scar was particularly pleasant. In fact, it looks like a terrible injury or necessary surgery took place. This individual actually no longer has a navel due to whatever procedure this was, making the scar stand out even more.
However, they've decided to move on with a gorgeous rendering of popular comic characters Calvin and Hobbes. This is an excellent tribute piece to childhood — and the stories we retain from that time.
Growth and Harvest
Sometimes, tattoo artists and their clients can get hung up on just how thoroughly they can cover up a scar with ink. This can result in art that's heavy handed or dark. In fact, a simple design can be one of the best solutions to help conceal — and celebrate overcoming — a scar.
We love these little wisps of flowers and light lines that weave themselves around this spinal scar. We think the tattoo artist showed great restraint — and the client showed great trust.
Come to the Dark Side
Some of the best tattoos that work alongside scars are the ones that showcase the best humor. Nowhere is this more evident than with this tattoo, which features a miniature Darth Vader from the Star Wars universe wielding an angry red scar.
The positioning of the character makes it seem like the scar itself is a red light saber — the penchant for the evil characters in this realm. We congratulate the recipient of the tattoo for using laughter as a way to address their scars.
Opening Up to People
The photo realism of this tattoo is unbelievable. This tattoo artist is enormously talented. And, as closely as we tried to look, we couldn't even discern where the scarring was. This is a tremendously successful coverup tattoo — and one we're sure is a conversation starter wherever this woman goes.
A single zipper is one thing. But to incorporate a second, more broken zipper that leads to the dark depths within is very intriguing.
Tiger Rising Up
We are a big fan of powerful tattoos marking the point that a person is greater than whatever they overcame. This is particularly the case for this majestic tiger peering out from behind the artistic black line.
The ink drawing effects for this tattoo are out of this world and would look just at home in a museum, hanging on a wall, as they do on this individual. What an awesome tattoo!
A Textural Solution
Scars are different for everybody. What might be a smooth swipe on one person could turn out to be a raised blemish on another. The latter category is often a challenge for tattoo artists to address when it comes to coverup projects.
However, this caterpillar has emerged from its cocoon as a beautiful butterfly. Using the raised scar as the butterfly's body was an ingenious solution to a challenging problem.
A Doodle With Purpose
Just hang in there! That's what this tattoo is encouraging both us and the person who decided to ink this design on themselves. Just like the kitten in the classic poster encouraging everyone to keep going, this little figure is an exemplary example to continue on no matter what happens.
If the scar was obtained in a series of events that counted as a setback to the individual who experienced them, we imagine that the tattooed figure is a sign that the individual overcame everything life threw at them!
A Friendly Reminder
Inspirational quotes go a long way in reminding us to be positive and persevere even in the face of failures and sadness. It makes sense that this woman chose this particular quote as a tattoo. It's a wonderful way to keep moving forward after challenging times.
Every time she looks down at her thigh, she'll remember that she made a choice to focus on the positive and appreciate the negative for what it is — a way to look on the bright side.
The Art of Film
Movie fans always find awesome ways to pay tribute to their favorite films. There are plenty of statuettes, figurines, framable posters, and other items you can purchase. But if a movie really resonates, you can always get a tattoo!
This person has chosen to immortalize director Tim Burton's stop-motion animation film Corpse Bride. The tattoo is beautifully rendered, featuring the titular character in an arresting scar coverup. This is a work of art!
Tribute to Vikings
Tattoos can be a great way to celebrate your interests. This individual obviously enjoys Viking culture and lore. The raven is symbolic of the Norse god Odin. The pair of ravens frame the central focus of the piece, which is a set of runes and designs.
This tattoo is a great way to cover up a series of scars without being overly dark and overwhelming. We're certain anyone who admires this piece won't even notice the scars that lie beneath.
Always in Bloom
Cherry blossom season is popular for a reason. For just a few weeks, we get to enjoy delicate pink blossoms coloring the world around us. They ignite our imagination and remind us to enjoy beauty wherever we may find it — even if it is only temporary.
We think a beautiful branch of cherry blossoms is a great way to decorate and help conceal this scar. We're sure this person brings beauty with them wherever they may go.
A Sign of Growth
This is such a remarkable tattoo that we can't even tell where the scar is anymore! The artist has pulled out all the stops in using shading and illusion to convert a scar into a beautiful rose blossom. The long scar that was present on this person's arm has been converted into a stem with a little shading and color.
It follows the natural line of the scar and looks exactly like a stem out in nature would appear. The entire tattoo is gorgeous and delicate.
Put on Something Pretty
It's often likely that someone's scar stands out and bothers them more than other people even notice it. However, it's perfectly fine to do something about it, especially if the scar brings back bad memories or even simply annoys you.
We think this single rose blossom is striking in its gorgeous simplicity, covering the scar on this woman's ankle perfectly. We hope she always loves this little reminder to be herself.
Let Your Soul Sound Off
This is another example of a tattoo that incorporates a scar in the design rather than covering it up completely. A cute little bluebird hangs on to the scar as if the scar were a twig on a tree. We can just imagine the kind of song that this bird is about to sing.
We hope this person enjoys the sight of their beautiful bird every single day — it probably brings joy to everyone else who sees it.
Quote an Author
This tattoo is less of a coverup for the scars that lie behind it and more of a celebration of getting past the turmoil that caused the scars in the first place. The quote "I am. I am. I am." is from author Sylvia Plath's novel The Bell Jar, a classic novel. The cat is also from Sylvia Plath, who drew it in a series of discovered sketches by the author.
The combination of both is a bold reminder to the person who received them as a tattoo to continue on and forge their own path forward.
We Are Our Own Experiences
We love the beauty and quiet strength this tattoo evokes. It immediately takes the attention away from this person's scars while reminding us to move forward, make progress, and make sure we apply what we learn from our past to our future.
The quote, in combination with the decorative and stylized arrows, is a powerful statement — and one that bears repeating. We can only grow if we learn from our past instead of dwelling on what could've been.
A Ghostly Encounter
This tattoo does a masterful job in covering up a scar on this person's back. It is also intriguing and haunting. We would love to know more about the vision and design behind it. We choose to interpret its meaning as a person falling but choosing to fly instead.
The figure is heading downward, but it looks as if they are mastering the air as they fall. They are just about to pull themselves up and out — and get themselves to a new destination of their choosing.
Strong and Subtle
This is another example of a tattoo that distracts from and celebrates a scar without covering it up completely. Plus, we understand that a tattoo right along the spine can be extremely painful. Instead, this person has chosen to incorporate lines and dots in a beautiful display around their scar.
The sprays of organic shapes could be whatever they want — flowers and foliage, perhaps, or feathers, signifying flight away from pain, bad memories, and suffering.
Let's Get Foxy
This tattoo is a visually arresting piece that we're sure this person will love for years to come. They did a great job in selecting the design and artist, who completed this exceptional rendering of a fox. The fox's features are so creative, colors blending seamlessly in together and with the recipient's skin color.
It's almost geometric in its design while also displaying soft edges most often seen in watercolor-style tattoos. It does a wonderful job of covering up the scar that was there before.
A Tribute Tattoo
This man looks like he has been through a lot in his past — open-heart surgery included. This tattoo appears to be paying tribute to the hands of the surgeon who saved his life. We hope that he showed his doctor the tattoo once it was completed, especially as it is a powerful way to show gratitude.
This tattoo is also rather humorous — why would the hands be poised to reopen something that has already been healed? It's an awesome illusion.
We're Branching Out
This is another example of a tattoo that turns a scar into a beautiful blossoming branch with an artist's touch. We love the effect of the bright pink petals being blown off the branch in a delightfully warm breeze — just like someone might witness if they were walking through a park on a warm spring day.
The scar coverup is phenomenal — you can't see a thing because you're so taken in by the beauty of the artwork.
Sprouting Some Spring
We love that this tattoo will always be blooming for this person to enjoy instead of worrying about a scar. Fresh flowers wilt and fade, but this vibrant and triumphant blossom will always be just as colorful and full of life.
We find the ribbon detail and the way the leaves weave around the stem extra special. You really can't see even a tiny bit of the scar with the way the texture and color have been added to the tattoo!
Just Slithering Along
This snake has something to say — just slither along and don't worry about this scar! We love how the scar has been incorporated into the design of the tattoo. It looks like this serpent is in the process of tangling itself around the scar.
It's an interesting way to mark the passage of an injury or surgery — and sure to be a conversation starter. We can't wait to see whether they'll add another snake to the scar just to the upper left of the existing art.
Just Zip It
We can't get over how funny this tattoo and scar combination is — another example of someone leaning into the memory of their scar and making other people smile in the process. So many people take tattoos so seriously that it's refreshing to see a person who just wanted to have a little fun when getting their ink.
We're sure there's a wild story behind that scar — the tattoo has us convinced!
The Blossom Beneath
This scar coverup tattoo has successfully combined two of the themes we're seeing most often in these types of body art: zippers and flowers. It's such an interesting mixture that immediately draws the eye — and distracts from the scar, which is barely present in the middle petal of the flower.
This tattoo can also highlight a combined love of fashion and gardening, for example — its meaning can be just as unique as the person who received it!
Watching Over You
The before picture of this individual is a little shocking. Those look like some pretty intense scars — and like this person overcame a lot and just kept kicking. It's almost as if there was a guardian angel watching out for them and keeping them safe in the storm!
Picking a radiant guardian angle to cover these scars is a great way to remain thankful for your blessings while feeling secure with your future.
A Wonderful Transformation
Flowers and butterflies have a lot in common. They both transform over the course of their lives. The flower starts off as a seed, after all, which slowly grows into a stem, leaves, and finally blossoms. The butterfly begins as an egg, which grows into a caterpillar, transforms as a cocoon, and emerges as a butterfly!
The combination of both to cover a scar along this person's spine is a wonderful way to mark a transition to wellness.
Gotta Have Faith
The small scar on this individual's hand might not be very noticeable to a regular passer-by, but it was obviously something that the person wanted to move on from. By adding a rosary looped realistically around their wrist, now this individual can carry their faith on their sleeve everywhere they go.
It's a constant reminder to put their trust in a higher being — and a great way to cover up a scar in the process!
A Watercolor Scene
Watercolor tattoos are gorgeous works of art that you can host on your body for the rest of your life. We love just how freeing this tattoo in particular must have been to receive.
It completely conceals what used to be a very serious scar, likely from a medical procedure. Instead, this individual can feel utter joy looking at the bird swooping in to be among the beautiful blossoming flowers.
Give Us a Hug
This tattoo is a playful example of just how simple it can be to conceal a few scars. Instead of using a lot of ink, super-saturated colors, or dark black to fill in space and cover over the blemishes, the overall effect of the hedgehog completely distracts from the scars even if some of them are still visible.
The end result is a cute — if prickly — little animal that can give this person love for the rest of all time.
Black and White and Beautiful
We are so in love with this romantic and elegant back piece, which has been strategically deployed to cover a deep scar. The sweeping blossoms and decorative swooshes and dots are a triumphant work of art rather than simply a coverup.
This masterpiece very likely has encouraged this individual to wear open-backed shirts and other wardrobe items just so they can share their tattoo with the rest of the world.
Spring, Summer, Fall
Get ready to fall in love with another gorgeous watercolor tattoo. This one perfectly conceals a scar while celebrating spring, summer, and autumn. The splashes of color are vibrant and help the simplistic and symbolic branches and leaves of the tree stand out even more.
We enjoy the way this tattoo seems to celebrate life itself — and every event throughout it. It's a unique tattoo that is sure to spark some compliments and conversation wherever the individual goes.
A Soothing Pattern
Mandalas are a beautiful way to relax, meditate and find yourself in the headspace where you're healthiest. The incorporation of half of a mandala in this abstract and geometric tattoo is just gorgeous, and we also appreciate the little pops of color in the flowers that are sprouting outward from the central design.
This is a beautiful work of art that is more than a scar coverup — it's a celebration of the sublime!
Taking a Deep Dive
We are in love with this scar coverup for the sole fact that it doesn't do a thing to actually cover up the scar. Instead, it's a celebration of the scar — and a cheeky tribute to either an interest or perhaps what caused the scar to begin with.
We imagine that this person enjoys seeing their tattoo so much that they've even forgotten what kind of pain they were in to cause this scar.
45+ People Are Sharing Weird Reasons a Customer Got Mad at Them
You know you're on the hook if you work in customer service. Suddenly, you're the "thing" customers toss around. Complying to unjustified comments also becomes a service that you're bound to provide. Customers can get angry for all kinds of reasons. These people here have shared the weirdest reason a customer got mad at them. Keep scrolling to read about these experiences…
The Tomato Song
Sometimes, customers can blow a matter out of proportion. A person working at that particular restaurant or fast-food joint doesn't make the rules — but they do have to deal with the customers that come through the doors.
According to a person working at McDonald's, a customer started singing the "Big Mac Song" with the word "tomato" to prove her point, despite the fact that Big Macs don't come with tomato unless it's requested. If the customer mentioned her preference earlier, this situation wouldn't have had to happen.
Print the "Regular" Order!
People working in bars or coffee shops might seem like a machine perfecting each order. However, they might commit unintentional mistakes when new. Here, this man didn't know what "regular" meant since it was his first time dealing with the customer.
This situation caused the customer to yell at him. Therefore, customers must clarify their orders rather than leaving them to the guess of the waiter.
The Greeting Error
People working in customer service must stick to strict rules of greetings and reverence. At least, that's what a few customers believe. This gentleman made a grave mistake of saying "no problem" to a customer instead of "you're welcome."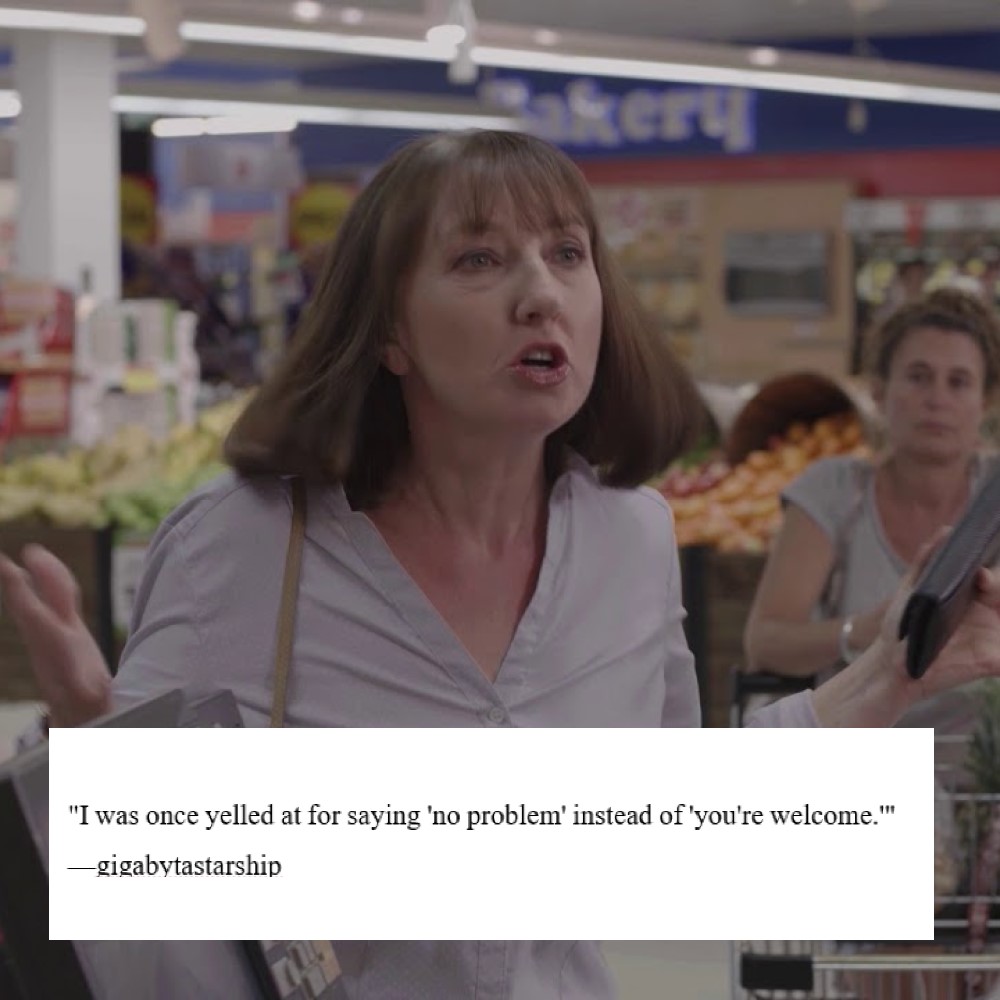 The rest is history. Now, people have different ways of expressing themselves. "You're welcome" is often replaced with "no problem." There's no way this customer has not heard this before but perhaps they were just having a bad day. In any case, this behavior was anything but reasonable.
Shift the Menswear Down
Many customers can find great joy in filing a complaint. A person working in a customer service department shared just that experience. A customer climbed upstairs to report his inconvenience to the customer service department yet he refused to go upstairs in order to visit the menswear section on account of his bad knees.
Perhaps, this customer was more willing to style himself with complaints rather than clothing. The contradiction in this story is not only strange but also hilarious.
Begin Before Time
Punctuality is of the utmost importance when it comes to customer service. However, what would you do if your customer wants you to open before shop-hours? A shopkeeper shared one such experience in which his customer became a little too aggressive about punctuality.
The poor shopkeeper ended up getting hit in the head by a metal bucket. After reading about this experience, all we've got to say to the customer is — get your facts straight before you assault somebody, or perhaps don't assault them, to begin with!
Don't Tell Me What to Do
At times, customers can twist workers' words around to make them look rude. An angry customer sent an email to a coffee shop manager. He stated that the barista was rude to him as she told him to have a nice day, rather than shooting him with a simple thank-you — which apparently doesn't follow the company standard.
This customer seems way too serious about company standards than the manager himself. We wonder what happened to this poster here after that complaint was filed.
The Organic Peers and the Choosy Bird
Sometimes, customers can yell at you for not being able to produce organic food instantaneously — and all for a bird. Yes, this could very well make your customer angry. At least, that's what we've taken away from this story.
It's one thing to take a pet seriously and another to report a person to his manager because of a silly reason. The woman promised to return to the store for her organic pears, though, so clearly they didn't lose a customer.
The Ideal Cheese Stack
There are picky people everywhere. However, when they come to you in the form of a customer, it's can be a pretty painful experience. Once, a person working in the deli section of a grocery store brought herself criticism by not presenting her customer with the perfect cheese stack.
Furthermore, the customer stated that in New York, the shops served her a perfect cheese stack. Multiple things could be the basis of comparison, but no one could imagine this to be one.
The Weird Cancellation
Being furious with the delivery guy for bringing your order later than expected is not unjustified. However, canceling your order because it came early — there's just no excuse for that. A pizza delivery person faced a similar consequence when the order he was about to deliver got canceled.
Not because he was late, but because he was five minutes early. Hail to the adherent of punctuality! If you think that nobody whines about an early delivery, it's time that you change your mind.
The Blame Game
Few customers can blame you just for the sake of blaming. No matter what you do to satisfy them, they will turn their backs on you. A waiter probably faces these sorts of situations more than anyone else.
Give these customers the same dish that they always order yet complain about, they'll immediately start yelling at and harassing the waiter. Take the food back, microwave the same food, and present it to them a second time, they'll be perfectly content.
The Unexpected Confrontation
Have you ever been accosted by somebody? A woman working in a day-care center shared her experience. A mother who had met her for the first time was angry that she didn't know where the children were. How about, ask an employee that actually knows who you are!
There's no need to yell at an innocent person, especially when you're standing in a room full of babies that could start crying at any moment.
The Guilty Teller
Low funds on the customer's account are not the fault of the teller. Despite knowing this, many customers have the tendency to be inconsiderate and rude. At least, that is what you'd think after reading this story. The person in this story got screamed at on multiple occasions when he informed customers that their low funds were causing their checks to bounce.
Getting screamed at is severely humiliating but naturally, that makes no difference to the customer when they think they're in the right. Someone should probably let them know that yelling won't increase the balance in their bank account…
The Time When Helping Became Sneaking
Did you know that there are adverse consequences for helping somebody? One of the worst feelings is trying to help someone but getting blamed in the process for no apparent reason. That's what happened here in the next story. The cashier tried to help a customer with the self-checkout machine — when he basically flipped out.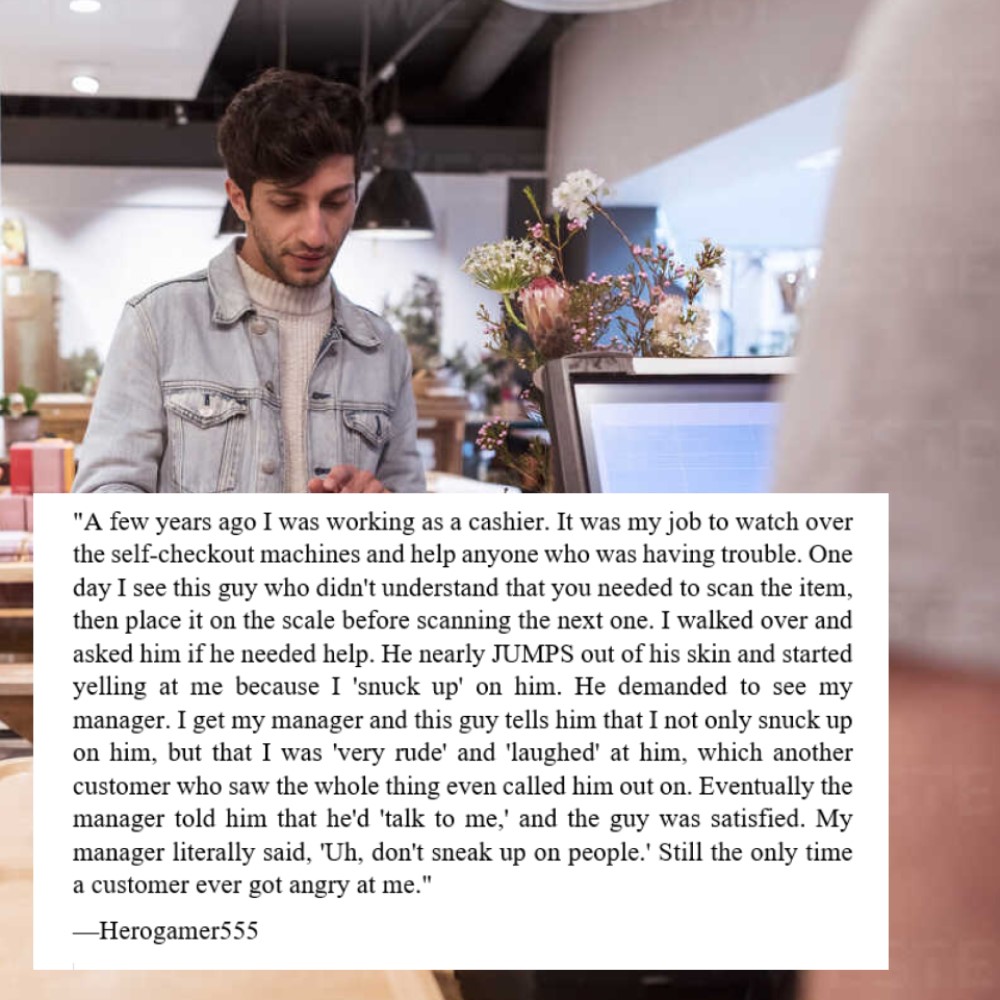 The customer ended up calling the employee rude and even lied to the manager about the situation. We sincerely feel that the manager should have taken the side of his worker.
The Melting Ice-Cream
Do you work in an ice-cream shop? Then learn the art of not letting the ice cream melt after you hand it to the customer. As lame as it might sound, some customers even expect that. This customer got mad at an ice-cream shop employee because her sweet treat melted.
It should be noted that it was an excessively hot day. Anyway, the customer wanted another cone because of the mess. Just eat the ice-cream before it melts like you're supposed to do!
The Refund Demand
Sometimes, people providing services go the extra mile to cater to the needs of their customers. With that, it can be incredibly frustrating for these workers when they face criticism from customers for the wrong reasons.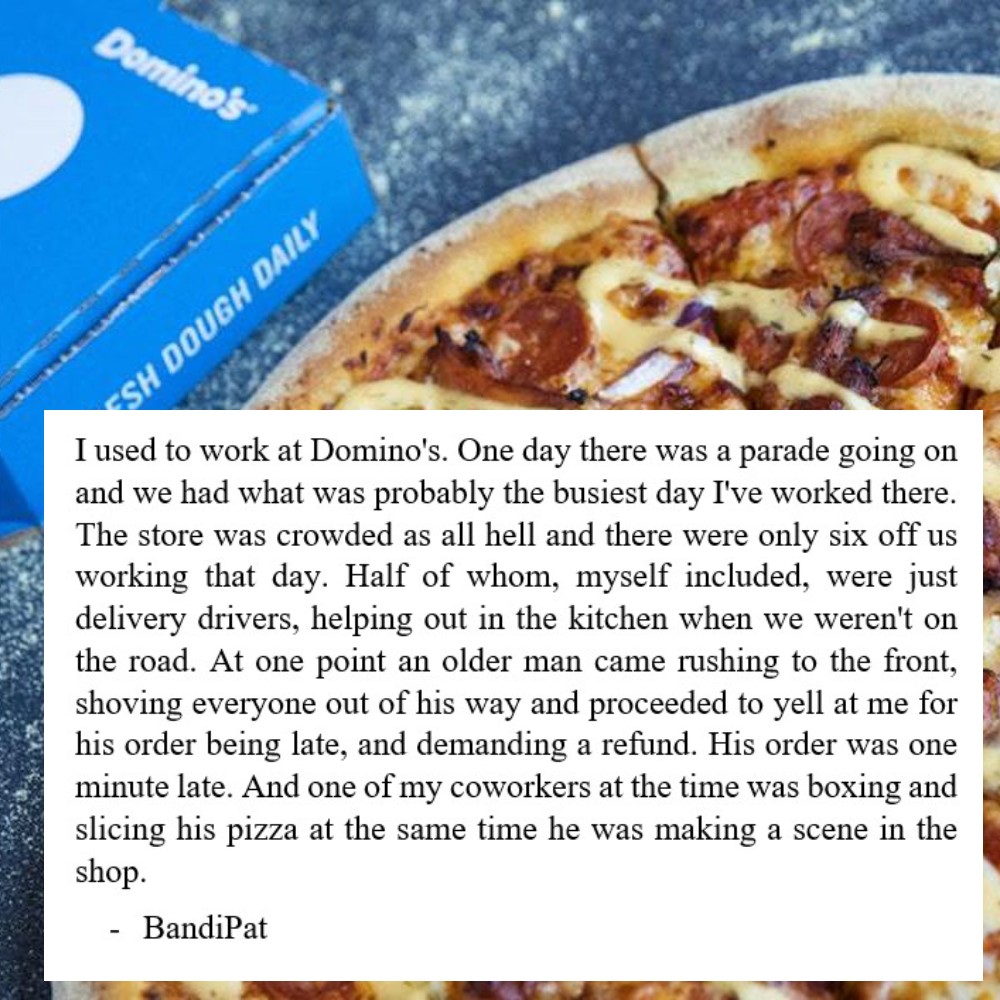 A delivery driver at Domino's decided to help in the kitchen during rush hour only to get reprimanded by a customer because his order was a minute late. The customer could have avoided the situation if he canceled his order earlier, or perhaps he should have been just a tad more patient.
Uncalled-For Accusation
Many customers take great pleasure in modifying rules to meet their needs. A customer became furious when the worker told her to provide her legal identification card. Worse, she accused them of bigotry and promised to sue the salespeople if they decided not to comply.
It was as though she was ready to go to any extent to send them to jail. Simply providing her ID could have kept all of them out of this fuss.
The Conflict Avoider
When in conflict, walk away. In this story, this person applied this rule, and it was a smart move. His customer wanted the Old Testament in English but didn't want the one that the bookstore had in stock. The absurdity of his preference could have put the salesperson in dispute with his customer if he failed to provide his customer with what he needed.
Therefore, he showed his customer the King James Version section and quickly skedaddled. By doing this, the librarian set his boundary with his customer.
The Youth Error
All she did was place the customer's credit card on the counter. This action did not have any relation to unprofessionalism but brought the employee criticism anyway. "Today's youth" was thrown at her as an insult. Now, she certainly didn't expect something so trivial to be a reason for conflict.
It was immature on the customer's part for taunting the staff member in front of his wife. This kind of behavior is completely uncalled for and could have serious repercussions on the employee's mental health.
Food Scale for Weighing Machine
You are in for laughter with this story. A CS representative got scolded by an older customer who could not tell the difference between a food scale and a weighing machine. People order the wrong items all the time.
However, considering one product to be another is hilarious. This aspect of this story made its consequence less severe. The CS representative must have enjoyed being a part of this unique experience. Tip — know the product well before you hit the "order" button.
Never Correct Them
The feeling of superiority in customers is nothing new. In this anecdote, a customer assumed that the person working in the customer service was Russian due to his accent.
However, when this person tried to correct his customer, she got offended. This customer was in no headspace to be clarified. From where we sit, this was a petty reason to take offense.
Paid on Time
Has a customer ever lashed out at you for giving a wise suggestion? If yes, you would be able to relate to this man who works in a call center. All he did was suggest that his customer sign up for autopay to save.
And knowing that, we think it's safe to say that he wasn't expecting the response he got in return. Clearly, "save" is the new insult. After this, we highly doubt this gentleman ever suggested autopay to a customer again.
The Black Screen
Have you ever contacted your phone service provider because your phone screen went dark every time you put it close to your ear? Well, this lady in her mid-20s did. A person working at T-Mobile was kind enough to share the experience with the internet.
We're not entirely sure how he kept himself from laughing at the customer. We know we would have. We just can't help but wonder why she didn't ask one of her friends about this issue first. Surely one of them understands technology…
A Dish Served Cold
Imagine working at a restaurant and dealing with a customer who would rather fight than simply state his preference. What would you have done? In this anecdote, the customer shouted at their waiter for bringing him a dish that came with fries rather than bread.
The good news is, the owner of the restaurant supported the protagonist of the story and the customer was left with a cold meal. Sometimes, the restaurant owner must intervene in order to protect their staff from the vicious claws of a few customers.
Torn Note and Bad Luck
Ever heard the correlation between a torn note and bad luck? If not, listen to this story, where a woman accused a trainee of bringing her bad luck by handing her a torn bill. She eventually made the waitress give her a new bill.
Now, this action could have been more legitimate if the bill was literally torn in half, but bad luck? There's indeed all kinds of quirkiness in this world. The more we live, the more we see.
The Wedding Chaos
Dear customers, it won't kill you to listen to the shopkeeper at your service from time to time. They don't always shove products towards you in pursuit of profit. In this story, the customer seems to have taken an oath to blame the shopkeeper for a decision that she made herself.
Despite several warnings, this woman purchased a floor-length white gown for her son's wedding. It's truly baffling that the customer returned to shout at the employee even though she was the one who advised against buying the dress!
Chicken Wings
Customers make unjustified demands more than you think. In this story, a person working at a grocery store experienced something similar when her customer caused an uproar all because she wasn't given extra wings — an expectation that's completely absurd.
In an attempt to prove her point and persuade the staff member, the greedy customer compared this particular store to one in a different location. Well, if you want extra wings that badly, then go there!
The Furtive Customer
This anecdote is downright weird. The customer was angry at this person for not serving her after closing time. She even crawled under the shutters to get inside. Perhaps she shouldn't have waited until the last second to get to the store.
We understand and appreciate the fact that people have busy lives, but other shoppers managed to get to the store during working business hours. And with that, we'd like to kindly ask this lady to go find another shop in town!
Hot Soup
This story is extremely funny. There could be complaints about thousands of things, but who would have thought "hot soup" would be one? The owner of a sandwich shop encountered this very complaint from a customer.
What made this anecdote even funnier was the fact that she really put her foot in her mouth when she mentioned she had been coming to the restaurant for a year. In reality, the restaurant had only been open for half a year at that point, so how is that possible exactly? Whoops.
Not From America
This woman was more interested in talking to someone from America than to state her reason for turning to the call center. It's surprising how she was willing to go to any extent to prove that the man who picked up her phone call was not American.
When he corrected her, she got offended and asked for his manager. From the sounds of it, this woman had a little too much time on her hands.
The Age Issues
The poster sharing this story once had an experience with a customer who got angry because she had to pay the full price for the art festival ticket — all because the local students got in for half the price.
The woman in her 40's barely realized that this was a specific discount for students from the local school. Why are people so greedy?
The Chaotic Puppet
The lady's attitude towards the employee serving the food was absolutely ridiculous. How exactly was sliding the tray towards her offensive? This woman probably doesn't need food, because she feeds herself by creating chaos out of any petty issue she can find.
Thanks to the wonderful grandma who came right in time to tell the manager what had happened when this customer accused the waiter of sliding the tray into her stomach. Lastly, we believe that no working person should tolerate physical violence such as this.
The Hand Sanitizer and the Lazy Customer
Never let your customer walk an extra mile. Read her face, understand what she wants, and keep it at the register before she has to search for the product herself. That's what this anecdote teaches us.
This experience of a shopkeeper is no less than strange. A customer in need of hand sanitizer screamed at the shopkeeper because she had to get it by herself when it was right at the register. Now, this was a hand sanitizer for a different customer. Funny!
The Win-Win Situation
Why end up in the customer's bad book when you can get simply earn 10 extra cents by sealing your lips? No, we're not teaching you to take money from your customer.
But, in this case, we can't blame the shopkeeper. After all, she did explain to the customer that she'd be saving with the dozen deal. It's not her fault that the customer got angry at the suggestion…
The Whiny Customer
The reaction of the customer was devastating yet hilarious. The customer started making a scene when this poster tried to adjust his frame. What was this customer trying to achieve with this child-like reaction? A new frame?
It would have been fascinating to know how the employee dealt with this one. Restrict yourself from helping a customer when you're not asked. Of course, we're only kidding. Not all customers are alike.
Observe Before You Say It
This isn't the first time that we've read a story like this yet we can't help but find it shocking every time. This particular employee got screamed at by a customer all because he told her to have a nice day. Has that become an insult in recent times, and we're just not aware of it?
No, she screamed because it was raining outside, and there's no way she could have a nice time. This staff member probably doesn't tell any of his customers to have a nice day without looking outside first.
Late Order and Flat Tire
This person working at McDonald's shared her encounter with a customer who yelled at her for no cause at all. This customer screamed at this person not because the sandwich was cold, but because she had to wait for a long time with a flat tire.
The contradictory part of this story is, the person parked her car to the side just a few minutes before, hence waiting for a long time with a flat tire is completely irrelevant. Truth be told, many customers misbehave because they think they can.
Be Very Specific
After reading this story, one would be able to imagine the waiter's expression and the whiny customer — which makes it all even funnier. The customer seems to have a deep passion for food in which the difference between "hot" and "spicy" is of the utmost importance to him.
For him, spicy includes thyme and does not mean chili pepper. An unintentional mixture of these two words could only mean deception.
The Medicine Expert
The person in this story seemed to be working at a medical store. A customer seemed to give wrong information to a young mother regarding the dosage of cough syrup. However, this person intruded on the scene and informed the mother about the actual dose.
On doing this, the customer that explained the wrong dosage got mad at him. According to us, this person should be proud of himself for putting a stop to the mishap.
Proper Female Sport
Not all customers are nice. However, this one went way beyond the line with his behavior. Making fun of someone's skin condition is in no way acceptable. Targeting the person for not participating in a female sport is an invasion of someone's personal life.
This person sure does not know how to be nice. And although the girl shrugged these insults off, the man should be ashamed of his nasty comments.
Turn the Heater
The world is under the feet of the person who has paid the bill. At least, that's what one can interpret from this story. A woman refused to turn on the heater, although she was cold. Why? Because the staff was supposed to.
The hotel probably should have had training for its customers on how to turn the heater on. This would have saved the staff some trouble.
Words Written in Stone
The words of her friend were written in stone. Words that nobody would disregard. This customer argued with the worker about having a seat belt extension when he mentioned that this company offers no such service.
She got this solid information from a friend who's an expert in seat belt extensions. Her expert friend seemed to know more about the services of this company than the people working there.
The Smile Interpretation
This particular story is hysterical. The woman sharing this story worked in customer service and was accused of flirting by a middle-aged customer who was also a woman. All this person did was smile at her customer like any other customer service person would have done.
The customer then refused to be served by a woman who apparently inappropriately hit on her. The worker must have had a great laugh after this whole fiasco. We know we did.
The "Change" Issue
We turn to our nearest store when we require change. However, many stores don't give break bills for customers unless they buy something. Most people would walk out and find a different store that would cater to their needs.
Very few choose to take the complicated route. The woman in this story did, though. She probably assumed that she could get some change with yelling. Well, the plan failed.
The Penny Counting Customer
This would seem like a prank or a way to harass the workers. There's no logic in counting pennies while other people are waiting in line behind you. Some customers don't have respect for the time of others.
Next time, we suggest that this customer come to the store after he's already counted the pennies and exchanged them for bills. The other customer must have been pretty frustrated considering that he told him off.
The Rule Breaker
Some customers have no respect for restrictions. Take this customer, for example, who brought a cooler full of water bottles and ice to a venue of a major golf tournament.
This customer was so furious with the volunteer that he forgot to provide his phone number while submitting the cooler at the bag check. The weirdest part is, he never returned. We wonder what these people did with the water bottles.