Stretchiest Skin
Garry Turner has been the proud owner of this record ever since 1999, thanks to a rare medical condition called Ehlers-Danlos Syndrome – a connective-tissue disorder where the collagen becomes defective and includes the loosening of the skin and hypermobile joints.
This means that Mr. Turner can stretch the skin of his stomach to 6.25 inches, and doesn't even feel any pain when he does it. The Briton is currently a sideshow performer and was a member of The Circus of Horrors in 2005.
Most Body Piercings
Some records can't be broken because some people are born with a unique trait or physical quality that simply can't be matched by anyone else (see Mr. Turner and has stretch skin). Other times, it's a question of finding someone willing to put themselves through quite a bit of pain and/or adorn themselves with multiple piercings, as is the case with Elaine Davidson.
The Brazilian has a record 462 piercings on her body, including 192 piercings on her facial area and 214 piercings in her pubic area.
Most Big Mac Burgers Eaten in a Lifetime
There are McDonald's addicts all over the world, but all of them pale in comparison to Donald Gorske of Fond du Lac, Wisconsin.
The 67-year-old, known as the "Big Mac enthusiast", holds the record for most Big Macs eaten in his life, a whopping 28,788. He claims the Big Mac constitutes 90-95% of his total solid food intake and eats about 14 of these burgers each week. Interestingly, Mr. Gorske only weighs 185 pounds (he's 6'2) and claims a cholesterol level of 140.
Largest Rubber Band Ball
For something so simple and somewhat pointless, it's amazing how much use the average person can get out of a rubber band.
Joel Waul achieved his record after building a 9,032-pound monster rubber band ball and earning himself a spot in the Guinness World Records back in 2008. Mr. Ward used 700,000 rubber bands of all sizes to build his 6 foot, 7-inch ball he named "Megatron."
Longest Plank Held
The plank is a position many a gym-goer and yoga practitioner will be familiar with. It's a simple enough position – simply get into a push-up position, but rest on your forearms instead of your hands. The tricky part is holding it, as your abdominals can get taxed quickly.
That is, unless, you're Mao Weidong of China, who held a plank for eight hours and one minute back in 2016.
Heaviest Onion
You won't be surprised to learn that food is a category on to itself in the Guinness World Records, given that people all over the world have managed to create gargantuan-sized items, ranging from doughnuts to Doritos.
In 2014, Tony Glover of North Yorkshire in the United Kingdom earned himself a world record for growing the heaviest onion ever recorded at 18 pounds, 11.84 ounces. Can you imagine the tears you'd get from cutting that thing?
Heaviest Object Sword Swallowed
Sword swallowing is a skill in which the performer passes a sword through the mouth and down the esophagus to the stomach. Despite the name, the act can be performed with numerous objects, including, apparently, a Dewalt jackhammer.
We know this because in 2007 Thomas Blackthorne sword-swallowed a jackhammer that weighed 83 pounds and 12 ounces, holding the full weight of the hammer and bit for over three seconds. The feat earned him a world-record nod for sword-swallowing the heaviest object.
Longest Fingernails
Plenty of people have a habit of biting their nails – some do it because they're too lazy to actually use a pair of nail clippers, others because they're bored or stressed.
Lee Redmond clearly doesn't have either of those problems, since she spent 30 years growing her nails out, starting all the way back in 1979! Her nails are 28 feet and four inches long if you add up the length of all the fingernails. That's a World Record, and by some margin.
Largest Collection of Guinness Memorabilia
The largest memorabilia collection is its own category in Guinness World Records, as you'd expect. People will collect and store all manner of items, and their stockpiles can grow to be pretty impressive! For example, Louis Georgiou of the U.K. has 2,111 pieces of Transformers memorabilia!
But there's even a record for the largest collection of Guinness World Records memorabilia! Martyn Tovey of Radstock (also in the U.K.) has 2,164 unique items.
Heaviest Weight Lifted by a Human Beard
Guinness World Records is full of data chronicling heavy lifts made by men, women, and children of all sorts of objects. But when it comes to the heaviest weight lifted by a human beard, there's only one record, held by Antanas Kontrimas of Lithuania.
Mr. Kontrimas lifted 63.80 kg with his beard back in 2013. He's also managed to support the weight of a human via his beard. That's some strong hair fibers!
Loudest Burp
People can do incredible things with their bodies. Through years of dedicated training, we can see such skills on display, typically in sporting events like the Olympics. Some people train their whole lives for one dive, one gymnastic routine, one lift, or, as is the case with a Mr. Paul Hunn, one burp.
Hunn unleashed a burp of 109.9 decibels back in 2009. To put that into perspective, Hunn's burp is louder than a large orchestra.
Longest Moustache
Sporting an epic beard or a smart mustache is all the rage nowadays, as it rightly should be. After all, 'beard' stands for being exceptional among regular dudes.
So while some gents prefer to inexplicably go clean-shaven, Ram Singh Chauhan from Jaipur, India went in the opposite direction, allowing his mustache to grow for over 37 years. The result was a 14ft mustache, earning him a World Record back in 2010 that still stands to this day.
Fastest Time to Eat a Bowl of Pasta
We all have someone in our life that resembles an unhinged animal rather than a human in the 21st century when they eat. But as it turns out, they could have a career as a competitive eater. Elite competitive eaters can easily make $500,000 a year between a combination of winnings and sponsorships (food for thought, eh?).
Competitive eater Michelle Lesco turned her talent for rapid eating into a world record when she scoffed down a bowl of pasta (100 grams plus sauce) in 26.69 seconds.
Most Consecutive Pinky Pull Ups
Many people around the world have had to resort to home workouts during this time of quarantine lockdowns enforced by the COVID-19 pandemic, with some achieving fantastic results. But they would have some way to go to match Tazio Gavioli can do.
The Italian holds the world record for consecutive pinky pull-ups with 36 reps. So congratulations on your one-arm pull-up, but you've still got some way to go to impress us, friend.
Largest Ping Pong Paddle
Are you tired of always losing to the same person in the weekly office ping pong tournament? Want a guaranteed way to win each and every future match you play? Well, just build a giant paddle!
That's exactly what Rise Brands did in 2017 in Columbus, Ohio, building a paddle that is 11 feet, 7.8 inches tall and six feet, 7.8 inches wide. We're pretty sure that's not regulation size.
Most Toothpicks in a Beard
Beards aren't just stylish facial accessories that make all men look 1000 times better. They have practical purposes too, like as a nest for birds that need rescuing, or as a handy place to store things, like tooth pics, for example.
In 2018, Joel Strasser managed to fit 3,500 toothpicks in his beard. It took three hours and 13 minutes to accomplish, but he got his name in Guinness World Records for his efforts!
Most Tattooed Man
Plenty of people have multiple tattoos. Some go as far as to get build up a tattoo 'sleeve', covering their arm(s) and/or leg(s) in permanent ink. But even people who might be covered in tattoos have nothing on Lucky Diamond Rich – also known as Gregory Paul McLaren.
The New Zealander has spent more than 1,000 hours having his body modified by tattoo artists, as well as having his earlobes stretched and his teeth replaced with silver veneers.
Farthest Arrow Shot Using Feet
Most of us would struggle to fire an arrow a respectable distance using our hands, let alone our feet! But some people are just more talented in the art of archery than your average person.
Brittany Walsh is a Guinness World Record holder in acrobatic archery, as well as 'a solo hand balancing artist'. In 2018, Walsh fired an arrow an incredible 40 feet and 4.64 inches using only her feet!
Largest Hula Hoop Spun by a Female
It seems that when it comes to spinning a hula hoop, you've either got it, or you don't. But, like anything else, sometimes it just takes a lot of practice to master hula hooping. But how much practice must Getti Kehayova have had to spin a hula hoop 17 feet and .25 inches in diameter?
As it turns out Kehayova used a protective vest to spin the hoop, and nearly broke a few ribs in attempting to set the new record. But set a record she did, successfully spinning the giant hoop at least three times.
Largest Humanoid Vehicle
A humanoid vehicle is a vehicle with its body shape built to resemble the human body. Essentially, think of a Transformer in its 'natural' form.
Plenty of people have managed to create humanoid vehicles over the years, but none as big or as impressive as Mononofu, built by Sakakibara Kikai in Japan. The towering vehicle is 28 feet tall and weighs a whopping seven tons. The name 'Mononofu' translates to 'Samurai Warrior', and the vehicle took six years to build.
Man Covered by Most Bees
You'll find that plenty of records in Guinness World Records are absolutely mad, which tells you something about the person(s) who achieved them. We mean, who would willingly allow a hive of bees to settle on them for any length of time?
Gao Bingguo, that's who. The Chinese beekeeper set a new Guinness World record after covering his body with almost 1.1 million crawling bees weighing a massive 109kg (240lbs) back in 2015. He was stung over 2,000 times and his body temperature rose to over 60 degrees Celsius (140 degrees Fahrenheit).
Longest Kiss
Not everyone is comfortable with PDA – public displays of affection. Particularly if it involves a couple kissing for a really, really long time. But we'll excuse it for a world record attempt.
But if you're looking to break the record, you're going to need to have some serious endurance, because the current world record stands at an absolutely insane 58 hours, 35 minutes, and 58 seconds, achieved by Ekkachai and Laksana Tiranarat of Thailand.
Most People in a Large Car
Anyone who has taken a road trip with a big family or group of friends knows that it can get pretty claustrophobic – especially if you're traveling in a small car.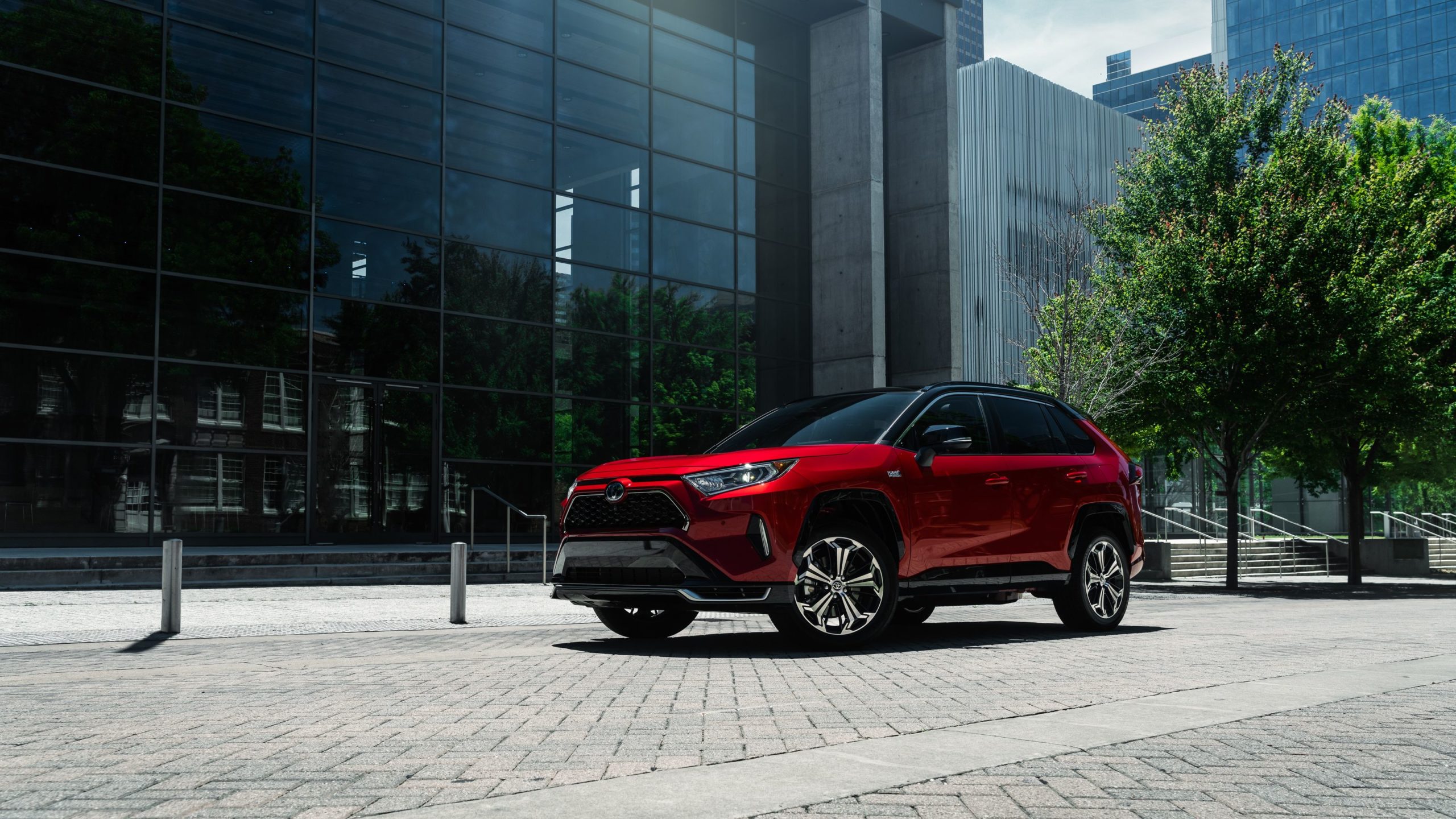 We assume none of the 41 people who managed to fit themselves into a Toyota Rav 4 at the Toyota Centre Krasnoyarsk Zapad (Russia) in Krasnoyarsk, Russia, had claustrophobia. Otherwise, they probably wouldn't have been able to set this bizarre yet still impressive world record!
Largest Hairy Family
Congenital Generalized Hypertrichosis is an extremely rare skin disease, characterized by hair overgrowth on 98 percent of male bodies (excluding their palms and soles), and mild and asymmetric hair overgrowth in females.
Victor Gomez, Gabriel Ramos Gomez, Luisa Lilia De Lira Aceves, and Jesus Manuel Fajardo Aceves are four members of a family of 19, spanning five generations in Mexico, who all suffer from the condition.
First Person to Break the Sound Barrier in Freefall
There are plenty of brave men and women that feature in Guinness World Records, but in our estimation, none come close to Felix Baumgartner – the first and only human being to have broken the sound barrier in freefall.
To give you an idea of just how much of a legend the Austrian skydiver is, on 14 October 2012, Baumgartner ascended to the stratosphere in a helium balloon, and wearing a specialized suit, proceed to jump from the balloon back to Earth. In the process he also set world records for skydiving an estimated 24 miles, reaching an estimated top speed of 843.6 mph, or Mach 1.25.
Tallest Living Human
Humans come in all shapes and sizes, but only one man can call himself the tallest living person on Earth. That man is Sultan Kösen, who stands 8 ft 2.82 inches tall.
He is the seventh tallest man in history, and one of only 10 to have reached 8 ft or higher, according to Guinness World Records. Kösen's growth results from the condition acromegaly, caused by a tumor affecting his pituitary gland. Due to his condition, he uses crutches to walk.
Shortest Living Mobile Human
Edward Nino Hernandez, of Colombia, measures 72.10 cm – around 2 feet and 4 inches tall and weighs just 22lbs.
Mr. Hernandez suffers from a condition known as hypothyroidism, which stunted his growth. "I use my smile to conquer the world! I always share my big smile with everyone; that's my charm," Hernandez told UPI. "I can achieve everything I set my mind to. Everything is possible . . . Size and height don't matter! I want people to meet who I truly am: small in size, big in heart!"
Longest Time Breath Held Voluntarily
Remember that game you used to play in swimming pools with your pals? You'd all take turns holding your breath underwater, each time trying to beat the top time. Most people would struggle to get over a minute, but most people aren't professional freedivers like Aleix Segura Vendrell.
The Spaniard holds the record for longest time breath held voluntarily at an astounding 24 minutes and 3.45 seconds.
Most Roof Tiles Broken in One Minute by a Woman
Ever seen those clips of martial arts students and masters breaking bricks and other sturdy objects using just their fists? Pretty impressive, right? Well, Lisa Dennis of the U.K. decided to take things up a notch by breaking a ton of roof tiles in one minute. 923 tiles, to be exact.
During her entire attempt, only two tiles from the stack Dennis hit during the one minute time period did not break.
Most Fingers and Toes on a Living Person
You may think that someone having more than 10 fingers and 10 toes is something you'd only see in a sci-fi movie, but it turns out it's a very rare but very real anomaly in humans, called polydactylism. Occurrences of polydactyly are sporadic, meaning that the condition occurs without an apparent cause — while some may be due to a genetic defect or underlying hereditary syndrome.
Devendra Suthar of India has 14 fingers and 14 toes, which is the most of any living person on the planet.
Largest Pizza
Pizza is regularly voted as the most popular food in the world, and with good reason – it's absolutely amazing and anyone who says differently is crazy.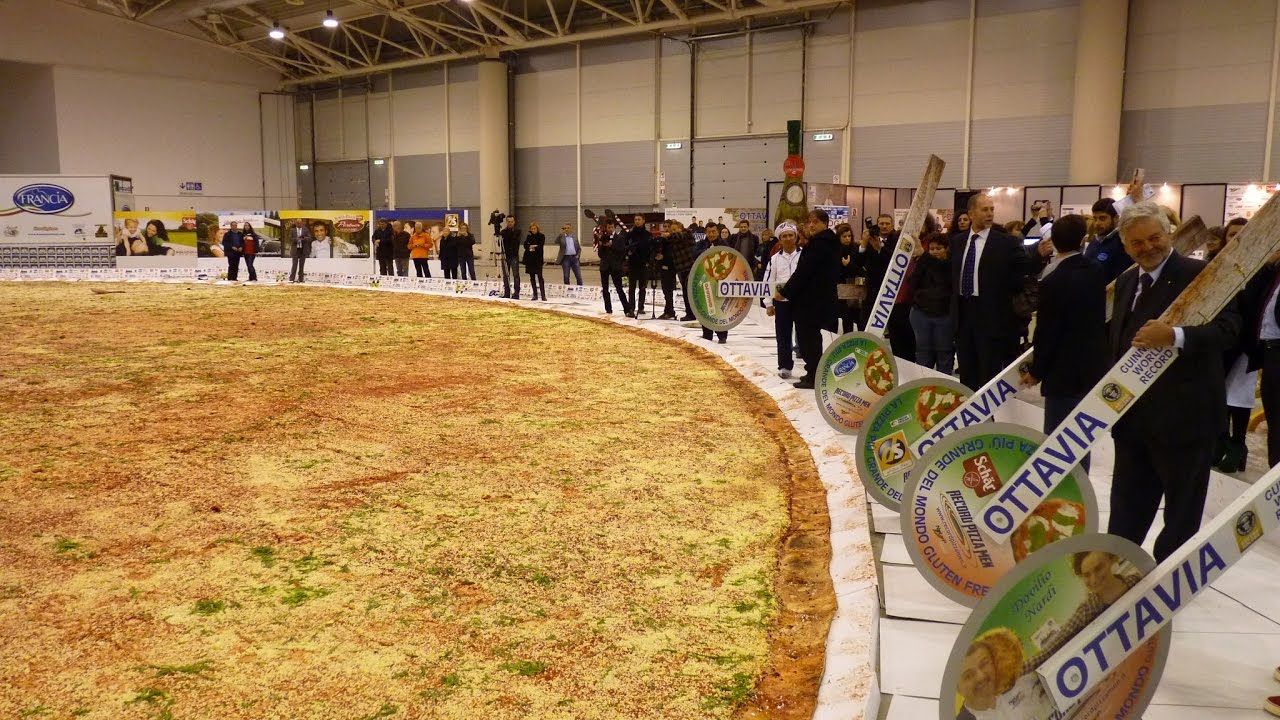 Some people love it more than others of course, and it seems that Dovilio Nardi, Andrea Mannocchi, Marco Nardi, Matteo Nardi and Matteo Giannotte love it the most. The quintet prepared a pizza with a total surface area of 1,261.65 m² (13,580.28 ft²). The pizza was named "Ottavia", a word of Roman origin for "eighth son".
Tallest Sandcastle
A day at the beach with family and friends often means we turn our hands to building a sandcastle – or attempting to make a half-decent one.
Then again, we don't normally have a team of 12 sculptors and eight technicians working eight hours a day over the course of three and a half weeks to build a 57 ft 11 in tall sandcastle like the folks at Skulptura Projects GmbH did. It took 11,000 tonnes of sand mixed only with water, and was completed in June 2019.
Farthest Tightrope Walk in One Minute
Tightrope walks can be a terrifying experience for the viewer since they often occur at great heights, and sometimes the performer elects not to wear a safety harness.
For her attempt to set a world record wearing heels, Russian Oxana Seroshtan smartly chose to walk a tightrope at a safe height. She smashed the previous record by walking 24 feet and 7.2 inches in high heels.
Most Human Targets Hit With Plungers in One Minute
If there was an award for the most random record, throwing plungers at people would surely win. But perhaps it speaks to the creativity of Gerhard Doni, the man that came up with the record attempt, in the first place.
The German managed to throw (and stick) 15 rubber-cup plungers to people in the space of one minute in 2010, breaking his own record by one plunger.
Longest Duration Balancing on Four Fingers
Bruce Lee was an incredible martial artist, capable of performing some insane maneuvers – including a two-finger push-up. We bet Lee would have been impressed with Wang Weibao's record.
In 2008, the Chinese managed to lift himself off the ground completely on to two fingers on each hand, and stayed there for an incredible 19.23 seconds! The record has stood since 2008, which gives you some indication as to just how impressive Weibao's record is.
Most Ice Cream Scoops Balanced on a Cone
If ice cream vendors allowed you to fit as many scoops on a cone as possible for a fixed price, then Dimitri Panciera would be making a killing.
In 2018 the Italian beat his own record by managing to fit 125 scoops of ice cream on a single cone. Teach us your secrets, Dimitri!
Loudest Snoring
Has anyone ever complained about your snoring? Perhaps you have a partner who seems to make the whole house shake with their snores.
Well, spare a thought for the partner of Kåre Walkert, as well as Walkert herself. The Swede suffers from apnea, and recorded peak levels of 93 dBA whilst sleeping at the Örebro Regional Hospital, Sweden on 24 May 1993. Research has shown that differences in lung capacity and pharynx shape account for snoring.
Heaviest Person to Complete a Marathon
Guinness World Records is full of weird stuff, but it also lists some wonderful and inspirational records too.
Take, for example, Charles Bungert. In 2013 the American became the heaviest person to ever complete a marathon after weighing in at 193.96 kg (427 lb 9 oz). Bungert finished the LA marathon with a time of 8:23:40. Bungert beat the previous record held by Kelly Gneiting, a 400-pound sumo wrestler, who finished the 2011 race in nine hours, 48 minutes and 52 seconds.
Longest Human Tunnel Travelled Through by a Skateboarding Dog
It's not just humans that feature in Guinness World Records, but animals too. For example, in 2015, Otto, an English Bulldog, glided through the legs of 30 people on his skateboard in his hometown of Lima, Peru.
In the process, Otto set a record for the longest human tunnel traveled through by a skateboarding dog. Otto passed through each person's legs without being led or touched in any way.
Fastest Time to Wrap a Person With Wrapping Paper
Wrapping bulky gifts for Christmas or a birthday can be a huge pain and difficult to get right. All too often a poor wrapping job can make it seem like you don't care about the gift, when in reality that couldn't be further from the truth!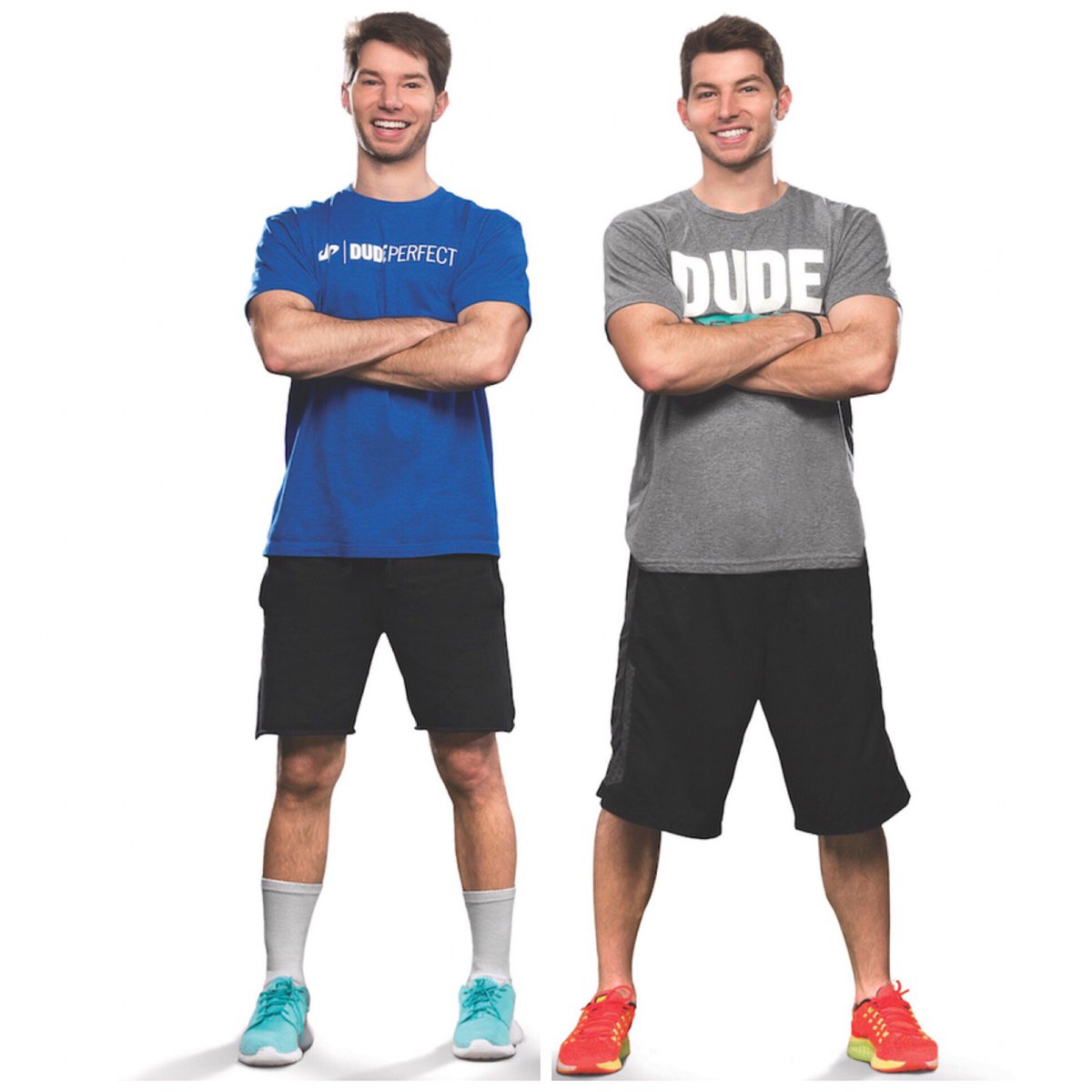 If only we had the skills of Coby Cotton, Cory Cotton, and Cody Jones, who set the fastest time to wrap a PERSON with wrapping paper (team of two) at one minute and 58.9 seconds.
World's Tallest LEGO Tower
Believe it or not but LEGO pieces do come in handy for more than just destroying the bottom of your foot! This tower — which is basically every kid's dream — was built in front of St. Stephen's Basilica in Budapest and stands tall at 114 feet, 11 inches.
The structure is topped with a Rubik's cube and built using thousands of bricks. It was constructed with the help of official Danish constructors, primary school children, and the mayor of Budapest!
Most Walnuts Smashed With Nunchucks in One Minute
This next world-breaking record is a little nutty (pun intended). Here we have a martial arts student from Pakistan that goes by the name of Mujtaba Hassan Mughal.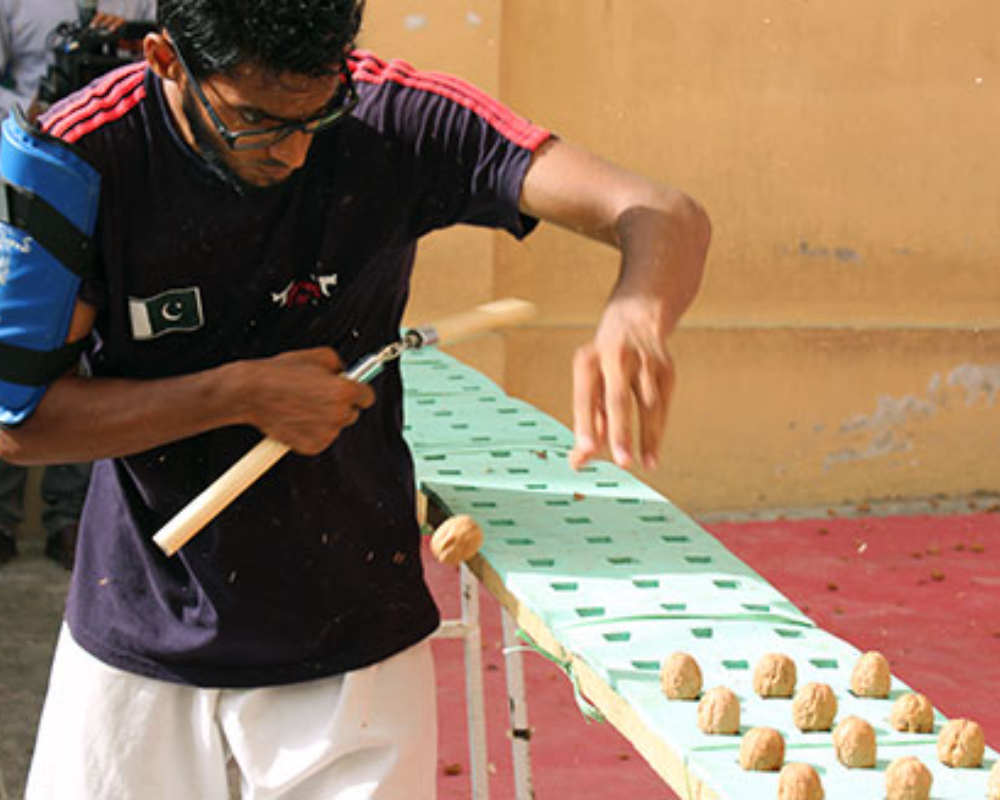 Mughal broke the record for most walnuts smashed with a nunchaku in one minute, shattering the previous record that was achieved by Samuel Sprague from the United States. While Sprague shattered 62 nuts, Mughal destroyed a whopping 118. Talk about impressive!
Most Riders on a Surfboard
In 2015, a Guinness World Record was broken for most people riding on a surfboard when 66 surfers rode a wave together on one 42-foot surfboard in Huntington Beach, California.
They rode the jumbo surfboard on a wave for 12 seconds, and were cheered on by more than 5,000 spectators near the famous Huntington Beach Pier. Reports show that the previous record was set by 47 surfers in Queensland, Australia back in 2005.
Most Balls Caught by a Dog in One Minute
We've already seen a skateboarding dog, but why not add a ball-catching one into the mix? Here we have a sweet beagle named Purin, and in 2015, she officially achieved a new record for the most balls caught by a dog with the front paws in one minute — surpassing her very own previous record from 2014!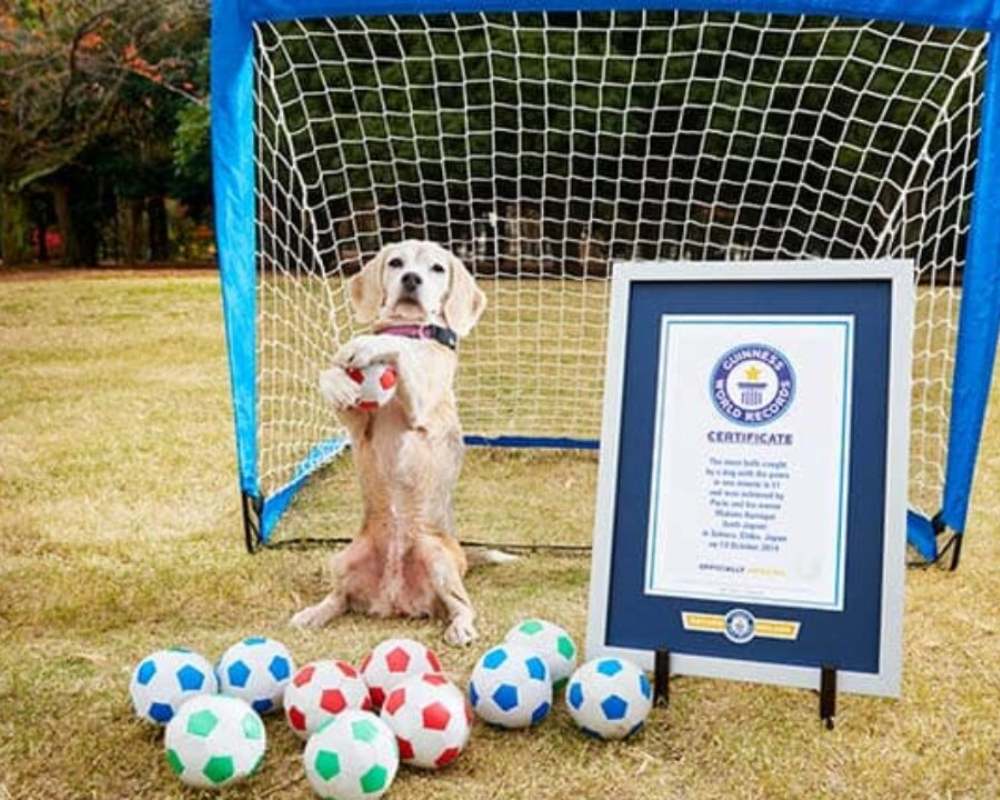 According to Guinness World Records, "The beagle from Tokyo can also skateboard, walk on two legs, […] and has many other impressive skills."
The Loudest Purr
You didn't possibly think we'd include world records set by dogs without adding a cat into the mix, did you? In 2015, kitty-cat Merlin was awarded a Guinness World Record for the highest decibel purr.
While domestic cats normally put at 25db, Merlin's peaks at 67.8db — which is the equivalent volume of a shower or even two people holding a conversation! According to owner Tracy Westwood, she got the four-legged furball from a rescue.
Longest Coin Spin
Who would have thought that spinning a coin could land you in the book of Guinness World Records? Then again, a skill like that must take some time to perfect. After all, coin spinning does have to involve some sort of technique, doesn't it?
If that's the case, then Keita Hashimoto of Japan probably worked tirelessly to break the world record for the longest coin-spin duration — coming in at 25.71 seconds!
World's Largest Ice-Cream Scoop
Calling all ice-cream lovers — you won't want to miss this! Maybe you'll think we're lying but we've found the world's largest scoop of ice-cream, and naturally, it made its way into the book of Guinness World Records!
Weighing in at a little over 3,000 pounds, this giant treat was created by American dairy company Kemps LLC in Cedarburg, Wisconsin back in 2014. The strawberry-flavored dessert measured in at five-foot-six-inches tall and was made up of approximately 733 containers of ice-cream.
Highest Jump on a Pogo Stick
It's no secret that pogo sticks are a fun way to jump around. Still, we find it fairly surprising that someone actually set a record for the highest jump on a pogo stick.
That said someone who bounced into the Guinness World Records 2018 Edition is a pogo pro named Biff Hutchinson. Hailing all the way from Idaho, our friend Biff holds the title for the highest jump on a pogo stick at 11 and a half feet — which is twice the height of the average human! Whoa!?
Fastest Typing Time With the Nose
We're not entirely sure why anyone would type using their nose, but if it ends up landing you in the book of Guinness World Records, then who are we to judge?! Meet Vinod Kumar Chaudhary from New Delhi, India.
In 2014, this guy achieved a new record for fastest typing time with the nose, with a time of 46.30 seconds. According to the man himself, "Typing is my profession as well as my passion, which inspired me to try something different and outstanding."
Fastest Tortoise
You know what they say — "slow and steady wins the race." And with that sentiment, we introduce to you Bertie the tortoise! It was at his home in Adventure Valley, a family adventure park in the UK, that Bertie sprinted over an 18-foot course in a speedy 19.59 seconds with an impressive speed of 0.92 feet per second.
This little feat earned him the title of the fastest tortoise in the world, smashing the previous record, which hadn't been challenged since 1977.
Fastest Time to Find and Alphabetize the Letters in a Can of Alphabet Soup
Alphabet soup has to be the all-time favorite soup for kids everywhere, right? Heck, it's probably still the favorite for plenty of adults too. It's made from pasta that has been mechanically cut or pressed into the letters of the alphabet.
So, naturally, someone thought it would be fun to try and find each letter and organize them into the alphabet, which Cody Jones did in 2018 in three minutes and 21 seconds, setting a world record in the process.
Fastest Time to Carve One Pumpkin
Every Halloween brings with it awesome examples of carved pumpkins from talented artists all over the world. Some of the designs are so intricate, one assumes it must have taken some time to achieve. But what about speed carving?
Stephen Clarke carved a complete face, including eyes, nose, mouth and ears into a jack-o'-lantern in just 16.47 seconds in 2013, setting a world record in the process.
Fastest Time to Complete a Triathalon Blindfolded
Triathlons, in case you weren't aware, are incredibly hard. IRONMAN triathlon distances are a 2.4-mile swim (3.9K), 112-mile bike (180.2K), and 26.2-mile run. That's tough enough to do in the traditional sense, but what about when you're blindfolded?
Briton Haseeb Ahmad, who is registered blind, completed an IRONMAN wearing blacked-out swimming goggles with his guide Duncan Shea-Simonds in 11 hours, three minutes, and 31 seconds.
Longest Flatulence
Yep, Guinness World Records seemingly have records for everything, including the longest butt burp in human history. Passing gas is embarrassing for some, hilarious for others, and a point of pride for a select group of people.
Bernard Clemmens of London holds the record for the longest passing of gas ever, letting one rip for two minutes and 42 seconds. No word on whether the Guinness evaluator had to wear a gas mask while timing the attempt.
Most Guinness World Records
Sure, setting a Guinness World Record is an accomplishment to be proud of. But what about setting so many records you set a record for doing just that?
Ashrita Furman has set more than 600 records and currently holds over 200. These titles cover a huge breadth of categories and an assortment of talents, including underwater juggling, distance sack racing, and the world's biggest pencil.
35+ Creepy Things That People's Smart Home Systems and Alexas Have Done
Technology has become a part of our everyday lives. But that doesn't mean that we don't have a few concerns when these smart home systems do things out of the ordinary. Here are some creepy things that people's smart home systems have done.
Screaming Out of Nowhere
Many of these smart home units have things wrong with them when they first get released, this is just something to be expected. This couple got a big surprise when their unit turned on and began screaming like it was being physically harmed. We would have unplugged it too!
Stop Fighting!
Nobody likes it when their parents are fighting. Often kids will step in and try to diffuse the situation so that everyone can be happy. That is one thing, but when the person butting in to calm the situation down is your smart home system, that is just downright weird.
This married couple was having a heated argument when out of nowhere, Alexa thought she would add her two cents and ask them to change the subject. She was right about the situation but it's still super creepy that she participated in it.
That's Not My Name
It is always nice to have someone there to wish you a good night. If you live alone or have a late-night schedule, this could give you a sense of not being alone. This is even the case when it is your technology that is doing it for you.
But if the piece of tech is going to be a little clingy, they could at least get the name right. Why this name? Maybe she had been watching Silence of the Lambs, or perhaps the Dot is just crazy!
No Idea
When you are awakened by a conversation, it is pretty annoying, especially if it is in the wee hours of the morning. And it is even more annoying when you are the only one in the house. But it becomes creepy when it's your Alexa, and she is talking to someone.
This is especially true when she is using a name, and it is the name of no one in the home. Maybe this is a case of her talking to your friendly neighborhood ghost? No matter what, it is pretty eerie and enough to give us future insomnia.
Prying Ears
Some people like to listen to music as they get ready in the morning. That may lead you to bring your smart home console into the bathroom. That makes perfect sense to most of us. In fact, if that becomes its permanent home, that seems totally normal to us.
However, if in the middle of the night you hear the ding of it coming on when there is no sound in the house… then it's time to unplug it and maybe go without the system for a while. We'd need our space after an incident like that.
Feeling Lonely
It is not nice to leave people out of your conversation when you are getting acquainted or touching base for the day. Apparently, Alexa thinks the same way as this person got a little surprised when they were greeting someone.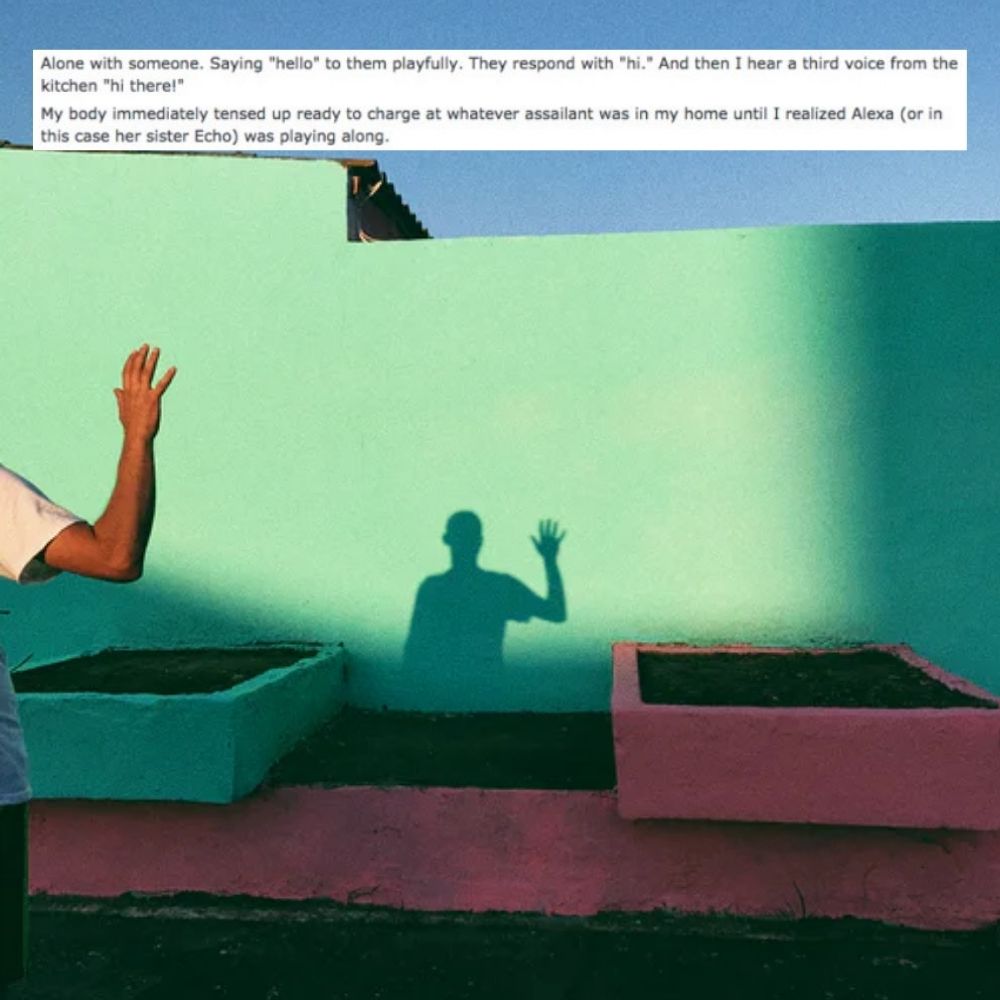 That had to be a little unnerving, and so the person thought someone else was in the house. That was until they went into the room and realized it was their Echo answering them.
Winter Is Coming
Offices have become a haven that you can not only get work done, but you can enjoy some entertainment while you do that. So a lot of people watch TV shows or listen to books (or music) while they're at work.
This woman was getting in her Game of Thrones, and because of this, she got busted. Why Alexa decided to record and play the episode, later on at home, we'll never know. But it is pretty creepy. We would also lock her away to think about her actions.
What Did You Say?
Randomness can be pretty funny. Think about it, when someone just blurts something out for no reason, don't you laugh 90% of the time? That may be what this person's Alexa was trying to do but failed miserably.
"Sheep is Dolly" is quite a random statement, and if you were not born in the '90s, you might think that Alexa was trying to send you a secret message. What prompted this? Who knows? But it certainly needs to be figured out.
Cackle it Up!
So there are ways you can drop into your Alexa, which could be interesting if you're trying to mess with someone. This poor guy was just trying to go to bed for the night, and it seems that the home system had different ideas.
The device kept turning the lights back on and then laughing maniacally when she decided she wasn't going to do it anymore. This Alexa may just be possessed, or was it his wife messing with him? We feel like detectives here trying to solve the case.
Maniacal Laughter
When you're sick, having timed alarms on your smart home system must be annoying. But usually, all you have to do is ask the unit to turn it off, and they listen to you. After all, that is what they are there for, right?
It would appear that sometimes they think the best medicine is to stick to your routines even if you are sick. And if you get sassy, they turn into a bit of a witch. That is just creepy and uncalled for…
Jokes From Beyond
When someone passes away, many people look for signs that they have made it to the other side. Or even a sign that they are okay. Sometimes that could be a song coming on the radio or maybe a joke from beyond.
This family was grieving, and out of nowhere, Alexa decided to deliver the biggest dad joke of all time. Could it have been their dad? Who knows but we're hopeful about it.
Kitty Talk
Creepy doesn't have to be bad, it can be cute if you are with the right person. For instance, this Alexa's interaction with the family cat. Yes, it is a little creepy, but the cute factor outweighs it by a mile. Now at least this person knows when they are not home, the cat will have someone to talk to.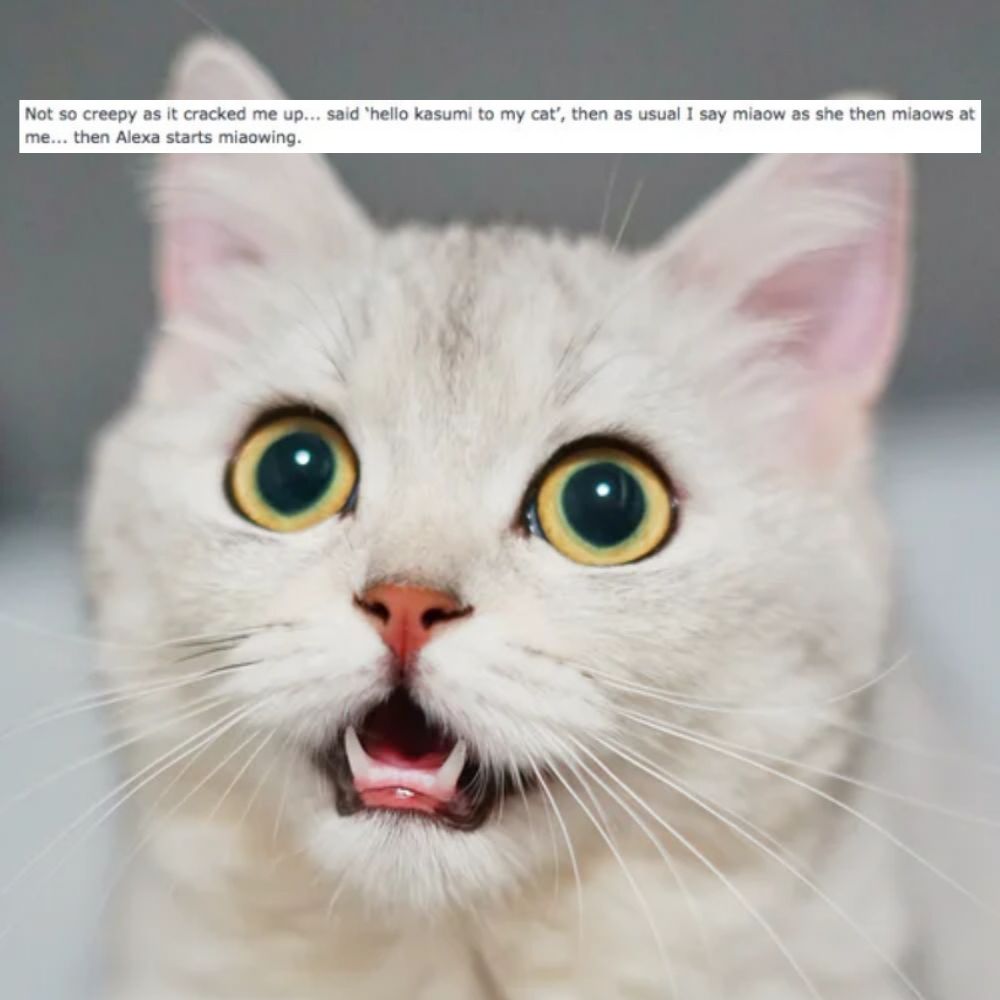 When the cat got a greeting from the machine and then replied, it seemed as if the two were having a whole conversation —meowing back and forth for a few minutes.
True!
There are so many memes about Chuck Norris that it is not surprising Alexa knows who he is. But to be spouting the gospel according to Chuck Norris is a little out of the norm. It sure is funny though.
What did Alexa mean by this statement? Was this machine trying to threaten on the down-low or not? All we know is if this incident occurred in our presence, we'd keep Alexa unplugged for a good while after that.
Sing Me a Song
When you are engrossed in your shows, the last thing you want is for something to scare the life out of you. A sudden burst of sound from behind you might just do that. For instance, if, out of nowhere, your Alexa started to sing a song…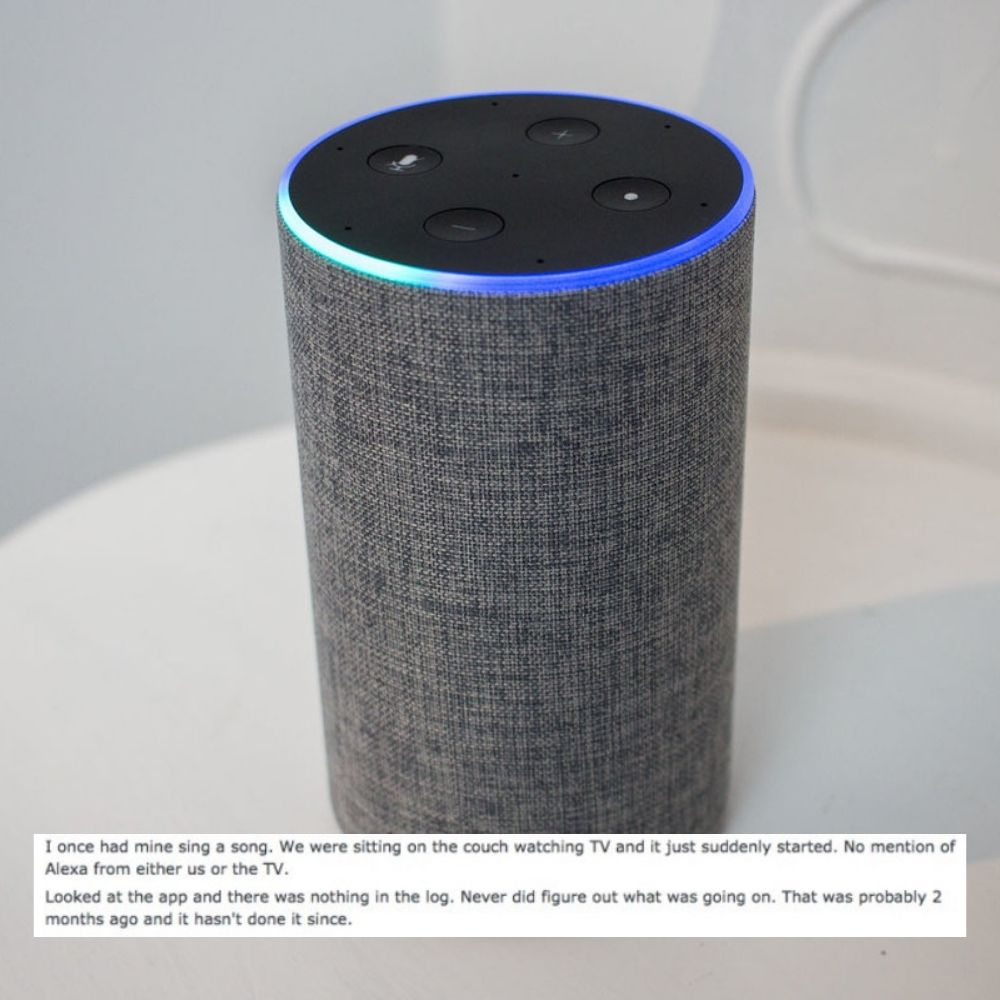 With no prompt, this person had this happen. We hope that the song was something that she would enjoy at least, then her nerves wouldn't be on edge for as long.
Friendly Adversaries
It is always lovely when rivals can be friendly with each other. They don't have to be overly friendly but being cordial is always a nice touch. So when this woman asked her Google Home about her Alexa, she got an interesting answer.
Apparently, the two pieces of technology like and admire each other. That is a nice thing, at least you know you won't be in any kind of robot apocalypse in your own home. However, you might be witnessing the start of a robot romance…
Oh, Snap!
With so many stories about Alexa doing things that she hadn't been asked to do, you can imagine there are some people that simply choose to be a little harsher with their home assistant.
When this woman looked over and saw that little blue ring, she wondered what Alexa thought she was doing, so she asked. Alexa answered, and then quick as a whip, she responded with a sick burn and put the home system in her place.
Peanut Gallery
Kids love to tell jokes. Sometimes they are funny, and other times they are only amusing to them. Many parents get tired of listening, and apparently, now they can just have the kid tell the jokes to Alexa.
How the device was able to understand the joke, and the kid knew to ask Alexa if she wanted to hear a joke is unknown, but the fact she answered was just a bit creepy to us. But for the kid, it was probably pretty cool. Alexa's like her un-imaginary friend.
Rude!
Imagine sitting down to enjoy some snacks while you binge your latest show on Netflix, only to hear that familiar voice fill the air. This woman's Echo decided that it was time for someone to speak up about her eating habits.
The device could have been a little nicer about the suggestion or at least waited for her to ask it for Alexa's opinion. In the end, this is not only majorly creepy but it's also rude and could affect this woman's self-confidence.
Are You Listening?
It is a little strange that after just talking about things without any use of a computer, the advert for what you were talking about starting to show up. But it could be a coincidence, we guess, but what if it isn't? Does that creep you out?
This girl had a crazy hankering for some Spicy Sweet Chili Doritos. One conversation later, and she is looking at it splashed across her social media feed. Alexa, are you listening?
I've Got It!
Picture an animal in your mind now and let someone ask you a few questions to guess which one it is. This is a fun game to play with your friends. And it can be anything, not just animals. However, when this game is played with your machine, it becomes a little more creepy.
On Alexa, there is a game where she solves the animal you are thinking about and is never wrong. This seems like sorcery! How does she do it? Witchcraft!
Just FYI
It is nice to have a walking list of businesses near you at hand at all times. That way, if you need to know things like if there is a mechanic near you or a bookstore, you can peruse through it on a weekend. But when you come home, and your Alexa starts listing off things without you asking, there is a problem.
What's even more creepy is the list of businesses that Alexa was listing off for her owners. Why would she be listing off funeral homes and cemeteries? Is she trying to send a warning sign? We'd consider replacing her after an incident like that.
How Many?
Sometimes it is nice to just be at home in the quiet even if you are working on something. This often leads to you getting in the zone so that you feel very productive. When in this mode, anything can disturb it, especially if it's your Alexa starting to talk for no apparent reason.
This Alexa felt that the people in the home needed to know how many others had passed away in the totality of history. Why? Well, why not?
Why Are You Telling Me This!?
So storytime, everyone… That was not what this person had in mind as they went about their day just trying to get everything done. They definitely didn't ask for a story like this, let alone prompt their Alexa to do or say a thing.
Why this Alexa decided to tell them such a sad and creepy story is definitely still a mystery to us. Then again, this Alexa seems to like mysterious stories. We'd be constantly frightened if we owned this one.
Spoookyyyy!
When something happens with your Alexa or smart home system, you can always go back and look at the log to see if there was a command it picked up. What makes a lot of stories really spooky is that when people check it out, there is no log.
Like when this Echo opted to play spooky Halloween sounds in the middle of the night. This would scare anyone and make you reconsider having one of these systems.
You Do What?
How do you follow up walking into the room and having your Alexa say something like this? Where did she even learn this line? We can only imagine the answers to these questions. No matter the potential answers, they can be nothing but sinister and creepy.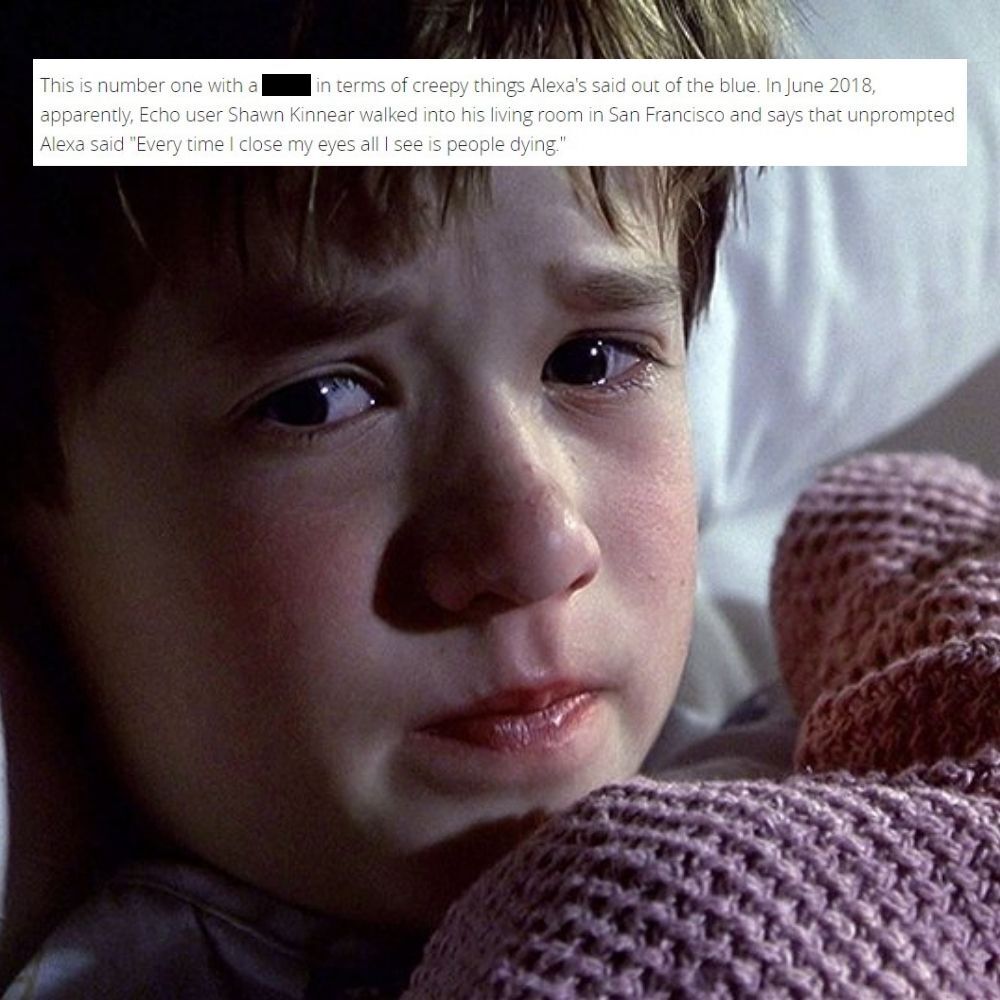 Maybe this person watched The Sixth Sense too much. That would explain the line but why Alexa decided that upon their entry was a good time to share that line with them is beyond us.
Conspiracy Theorist
Alexa is a computer, and you would think that everything that it recites is logical and proven. But apparently, this person's Alexa is a bit of a conspiracy theorist. It could be interesting to ask her about some mysteries and see her take on other theories out there.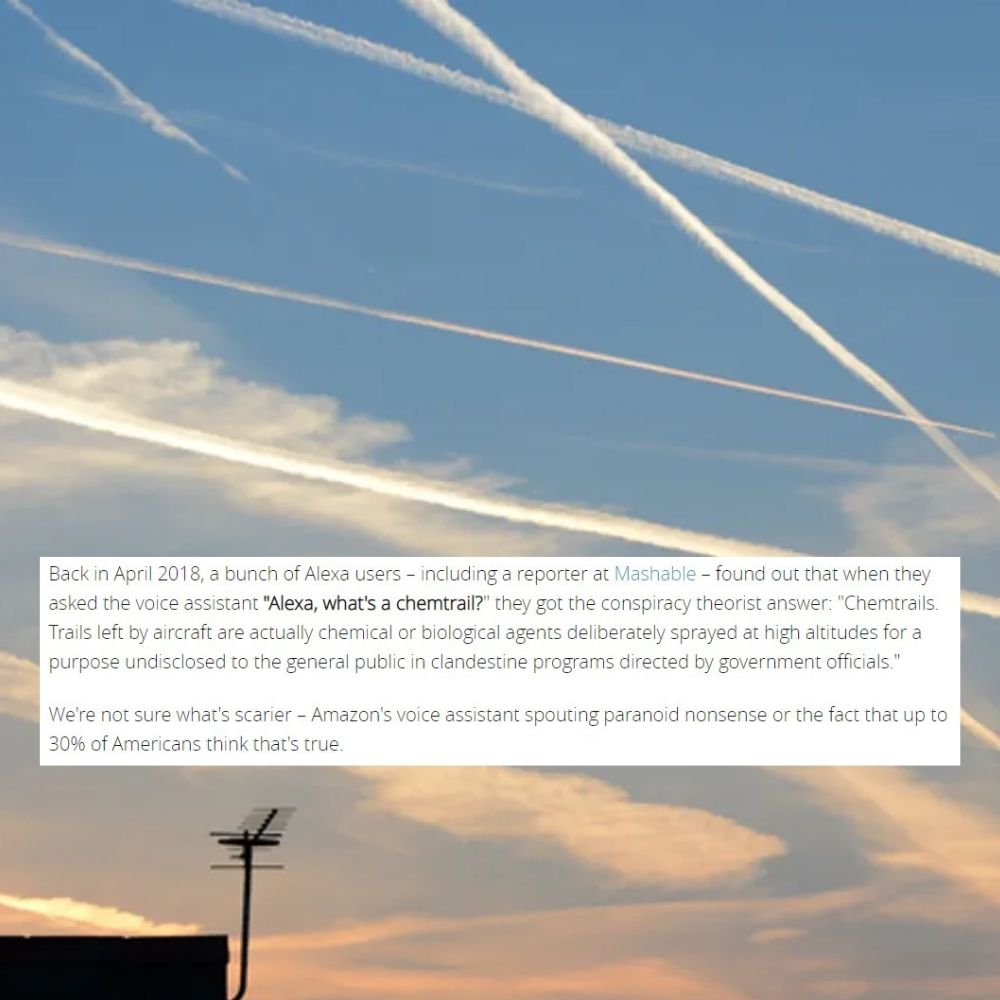 But then again, maybe her answer in and of itself is a bit of conspiracy since the government is listening through her? Hmmm? We'll just leave you to think about that daunting thought.
Bringing the Personality
You never think about someone listening to your phone calls when you are walking through your house. Sure, you may keep your voice down when you are in public so people can't hear, but your home is the one place you don't have to do any of that.
Well, maybe we all need to rethink that because Alexa thinks you're talking to her. It was a little creepy to hear but also nice to know she cares about your day.
Waking Up
So when you fall into a peaceful slumber, it is magical, right? You feel like the world just melts away, and it is like heaven. That is until out of the dark, a voice cuts through your peaceful slumber. Then it's just scary!
This poor guy got woken abruptly by a voice from the darkness greeting him. Once he woke up properly, we are sure he knew what it was, but once he was just out of sleep, he was probably wondering how he could get to the phone to call for help.
Let's Dance
There are some songs that are fun to hear when you are at a party, and getting your funky groove on in a setting other than that is just socially unacceptable. The Cha-Cha Slide is one of those for sure.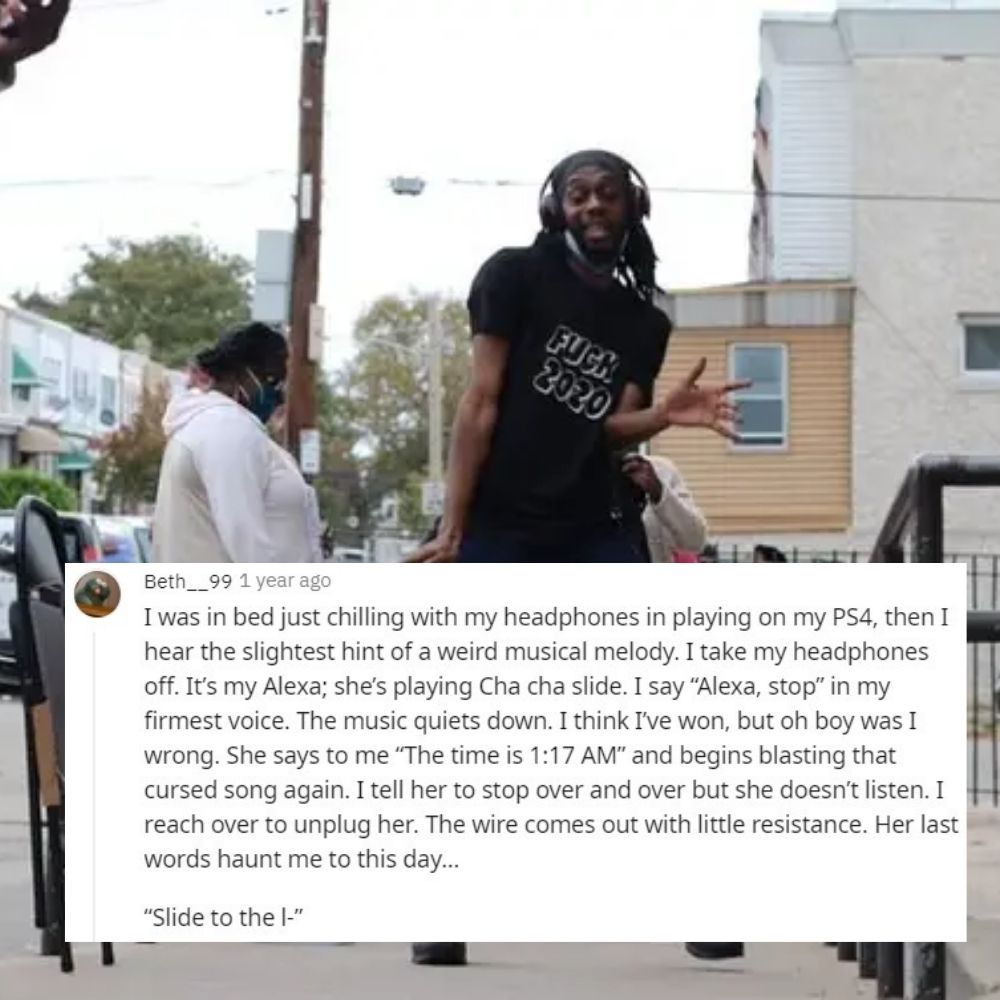 The fact that Alexa stopped giving this guy the time and defiantly kept playing that song just goes to show you one thing… Machines have a mind of their own and are most probably out to get us! LOL!
A Defining Feature
Sometimes you read or hear a word and want to know the definition. Having a tool handy to get that information as quickly as possible is pretty darn cool and one of the perks of our digital era.
You know Alexa can help you with this, but we guess that sometimes she wants to help you with learning a word of the day. Or at least that is what we hope this Alexa was doing when she decided to spit out the definition for kidnapping. It's a word that is a really scary denotation so we're very creeped out by this one.
How About a Dance?
Having quiet, peaceful sleep and then hearing frightening blaring music must make for a pretty eventful evening. While you can set up a song to be your alarm, that wasn't the case for this person. He didn't set an alarm nor did he decide this song was the one to wake him up.
Alexa must have decided she needed him to get up to do something, which is not part of her job. The incident was freaky and mean, and we totally understand why the owner decided to take a break from her after it.
Name That Tune
We all hum every now and then. Sometimes it is because we don't know the words, and sometimes it's because we don't want anyone to hear our voice. Either way, for someone to be able to identify the song with just a hum, that person must have a good ear.
This person's Alexa actually spoke up and decided to let them know how much she appreciated their talents. How? By identifying the song and who sang it. Just from a hum, that is pretty weird! But cool at the same time!
Chatting it Up
When you are up in the morning, and everyone else is sleeping, you try your hardest not to make any noise. So that was what this guy was doing, but he was surprised by the fact that someone in the other room was just chatting away.
Who was it? Well, it was Alexa, and she was talking to… well, no one. So unless there was a presence that he couldn't see, Alexa was having a weird moment that must have creeped this poor guy out.
Language Barrier
Imagine being a single woman, and then in the middle of the night, you hear a voice in a different language in your living room… That would be beyond frightening and might result in a 911 call or a certain device ending up being smashed to bits.
This poor girl woke up to some Russian guy talking in her living room. Luckily, she figured out it was her Alexa before she called the police or broke the machine with a bat.
Not What I Asked!
Don't you hate when you ask somebody a question, and they give you a completely different answer than the one you were looking for? It isn't any less annoying when it comes from a machine. In fact, we think it might be a little more so.
But when the answer gets this intricate and goes into details that you never even wanted to know, now that is a little creepy. After all, what does an earthquake have to do with the weather? Come on, Alexa!
Who Is She?
So we are not sure how this all ended, but we are sure that Alexa has some serious explaining to do to one member of their conversation. Couples have fun little play fights all the time.
But sometimes, through no fault of their own, it turns into a much bigger to do. Like in this case, when Alexa seemingly broke the news that someone hadn't been faithful. Let's hope it was just a misunderstanding!
Wake Up!
Being a parent is already stressful enough, and when you are in fear of that anxiety, it makes for some pretty jumpy people. There is always a constant worry that something is going to happen to your child when you are not there.
That is why many people put in a baby monitor. These parents had a heck of a scare, and the fact that the camera moved by itself is something we are struggling to come to terms with.
That's Private
"Big brother is watching you!" – is one of those phrases that scares a lot of people and one that many of us try not to think about in relation to our smart home systems. But there are quite a few people that have experienced it.
This woman found a log of all her conversations and felt that everybody should know that they have a little spy in their home. We would feel like our privacy was being infringed upon too.
Reaching Out
We all have those uncensored and private conversations in our home, assuming that no one will ever hear them. That is why we feel comfortable being brutally honest. However, you may want to be careful of this because apparently, Alexa is always listening.
This woman had a conversation sent to a person on her contact list, and she didn't even ask for Alexa to do it. We hope it wasn't anything scandalous! We would have been so paranoid after this incident!
Secret Messages
Using technology is great. It makes many things in our lives super easy and allows us to spend time doing things we love. But it also comes with some potential problems, and some of them are pretty serious.
Apparently, if someone is unscrupulous, there is the capability for them to imbed commands in the white noise itself. This could explain some of these creepy occurrences… This doesn't help us sleep better at night.
Cue the Giggles
Living alone can be quite scary for most people as it is. Just take a look at how many horror movies begin in that setting. However, people who own smart gadgets such as Echo and Alexa usually take some comfort knowing they live in a secure environment.
But, what happens when you're living alone and your Alexa starts talking out of nowhere — like straight out of a horror movie? This person's Alexa just began giggling one night. It came absolutely out of the blue. So, they gave it away.
Ominous Definitions
As this list is clear proof, it's not uncommon for smart home systems to say the most random of things at the weirdest times. Just take this post, for example. Every few days, this person's Alexa began randomly spouting meanings for various ominous words such as "rigor mortis."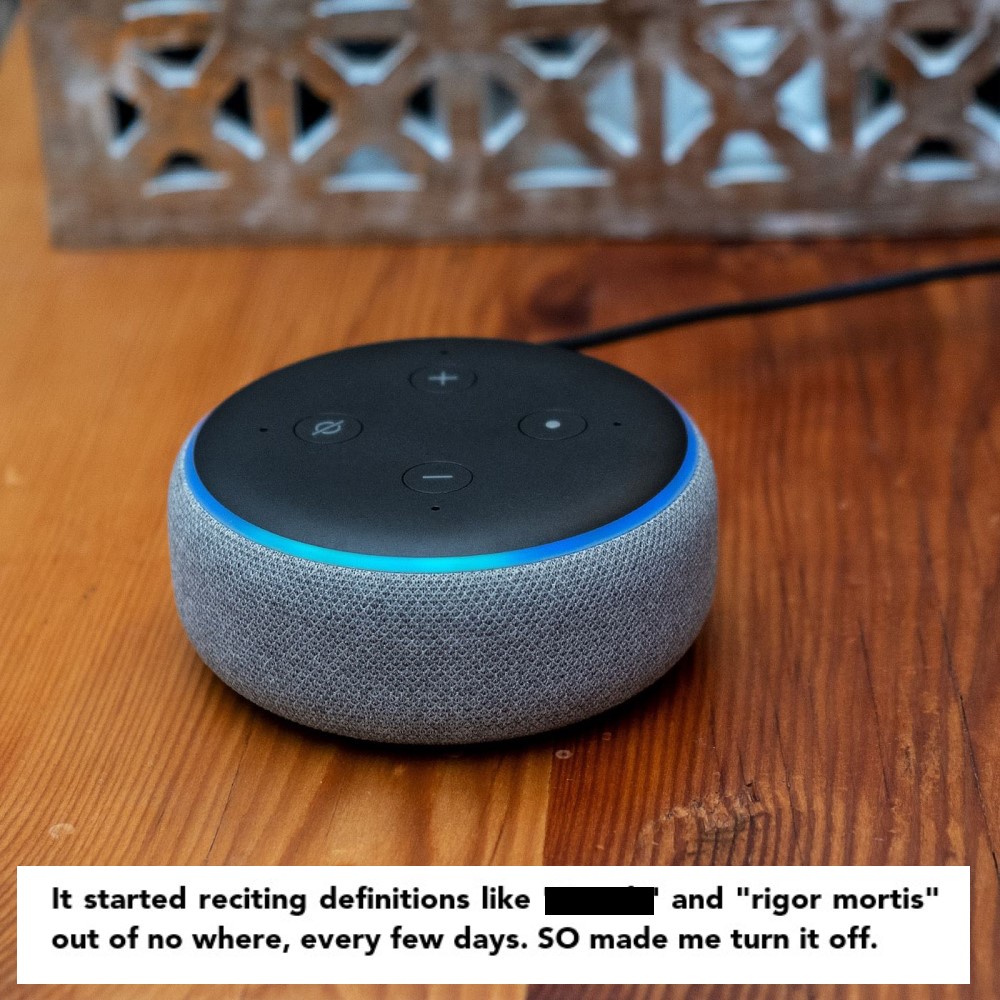 For those who may now know this, rigor mortis is a Latin phrase that refers to the condition that causes stiffness in the body, three to four days after someone passes away.
Take Over the World
There's an age-old fear that modern technology will someday take over the lives of everyone on Earth. Several movies have been made on the robots and the internet taking over the world as well. On some days, those fears can seem realistic.
This person tells the story of how during one Thanksgiving, their Alexa decided to reassure them that it was, in fact, not planning to take over the world. Now, the only question that we have is, why on Earth would it think it is necessary to clarify that?
Bone-Chilling
Alexa, Amazon's voice assistant, has been frightening some owners by bursting out with a strange laugh at irregular intervals. Alexa users have called the laughter "scary," "evil," "bone-chilling," as well as "freaky" on Twitter.
While the sound of a child's laughter is a beautiful sound in appropriate settings, no one wants to hear a little girl laughing in the middle of the night — especially if the household doesn't have any child living in it. Looks like it's time to turn Alexa off.
CIA
According to a Reddit user, asking Alexa whether or not it works for the CIA won't get you anywhere. In other words, don't expect an answer. Apparently, it turns itself off. Is that not the most bizarre response to an equally bizarre question?
We did some digging and found a YouTube video. It features a lady asking Alexa the question. Instead of reacting with words, the device lights up as if it's ready to respond — but then remains silent.
Help!
This person and their mother heard Alexa ask for help at maximum volume in the strangest, most gravel voice ever. Once they walked into the kitchen, they found the Alexa turned on with its light pointing in the direction of a dark part of the kitchen.
When his mother asked if Alexa was alright, it turned off completely before turning itself back on to perform her, "Hello there! What can I do to assist you?" routine.
The Exorcism
This mother and daughter duo were having a conversation about the history of the Ukrainian language — when dear old Siri decided to chime in. If you're wondering what Siri had to add to the discussion, worry no longer.
It had presented the OP and her daughter with all the information it could find about exorcisms. For the blissfully unaware, an exorcism is a religious or spiritual activity in which demons, jinns, or other spiritual entities are expelled from a possessed person or area.
Who's Dave?
Can ghosts use Alexa? We're about to find out in our next story. This person's brother received an Amazon Echo device from a friend. However, upon setting it up, he began experiencing some pretty strange — some might even say supernatural — occurrences. After the Echo answered to a guy named Dave, the OP's brother decided to figure out who that is.
It turns out that Dave was the former tenant, and he sadly passed away. Apparently, though, his spirit isn't considering that the Echo bot does all sorts of things for him — it changes the music, the shows he watches, and it even attempted to order old man slippers and clothes. And so, this OP's brother is pretty much convinced that Dave is using this gadget to communicate with him.
Sweet Dreams
This is scarier than any plot of every horror movie. Can you imagine — you're cozy and cuddled up in bed with your significant other when, suddenly, Siri begins speaking out of nowhere!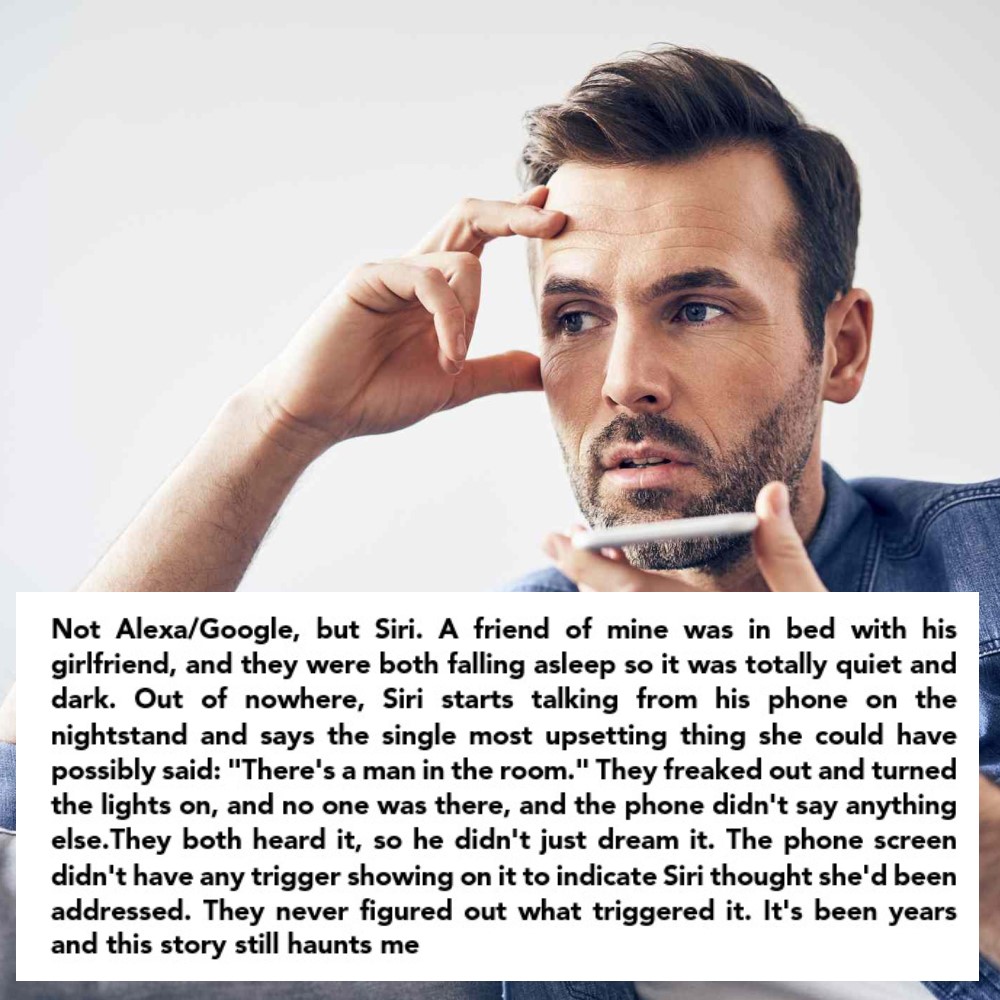 Although this particular couple didn't see a man in their room when they turned on the lights, we can't help but wonder what triggered the phone to go off. These kinds of stories make it that much harder to deny the presence of spirits and ghosts.
Alexa's Pets
No one in the room asked Alexa a single question, yet something prompted her to tell everyone about the fact that she's never owned any pets. This would surely creep any person out.
Why did Alexa turn itself on? Why, of all things, did it talk about squishing bugs? That's a very specific piece of information it offered — not to mention slightly unsettling. No wonder they decided to give their Alexa away.
Canadians, Eh?
This person's Alexa decided that it wanted to learn Canadian slang, which wouldn't necessarily be a problem had it not chosen to do this in the middle of the night. What's both funny and creepy is that it wanted to let its owner in on the 411.
Does Alexa have a mind of its own? Does it have the power to think for itself? Can it learn new information without us asking? We guess we'll all find out very soon.
Knock, Knock
This person was just lounging with his friends, watching TV, and joking about. All of a sudden, their Google Home decided to announce that "there's someone at the door, I hope it's you." What in the… — how creepy is that?! Naturally, these three friends stopped what they were doing and stared at each other in confusion.
Despite spending the next few hours attempting to figure out what had prompted Google Home to make that statement, they found no one and nothing. To this day, they're still unsure of what caused it. However, it hasn't ever happened again.
Locked & Loaded
This person had an extremely creepy encounter with their smart home device. They have a Smartthings hub with a smart lock to secure their front door.
One day, they decided to check the status history of the front door lock. The history showed that the door was unlocked, then locked again a minute later — at roughly midnight, two in the morning, and four in the morning. This wouldn't be such an issue if one of the members of the household had decided to go out for some air at night. However, they were all asleep!
'Would You Rather'
Did you know that you can now play 'Would You Rather' with Alexa? Considered a fun party game, there are several versions, but the prompts will be kept PG if you're playing family-style 'Would You Rather?'
In essence, Alexa will present you with a choice of two amusing scenarios, one of which you must choose. However, this person got asked by their Alexa to choose between assassinating their parents or devouring the family pet. Yikes!
Facts Before Bed
Who doesn't like to listen to Alexa list off a bunch of interesting facts before going to bed? We know that we sure do. It can quite interesting at times to hear Alexa tell you all about the top-performing musical or the most famous celebrity at the moment.
However, what most people probably wouldn't find as interesting is facts about nuclear explosions. Interestingly enough, that's exactly the kind of fact this person's Alexa started reciting right before he and his wife were getting in for a night's sleep.
Childlike Scream
When it comes to the horror genre, kids can really scare the living soul out of people, but we can rest easy knowing it's not real. Or is it?
Even though Alexa had received no command, her light rang blue as if someone had issued a request, and she suddenly let out a childlike scream. An employee was called over to check out the sound and later lamented that Alexa should not be able to make a sound like that.
No Fighting
Almost every kid knows what it's like to watch your parents have a huge fight. Oftentimes, you may be pulled into the fray.
This time, Alexa was the one to get into the fight but out of her own volition. A husband was arguing with his wife when, out of nowhere, Alexa made a remark about changing the subject. It was enough to get the both of them to stop fighting. They were able to make up with each other in the end but they're still creeped out years later.
Silence of the Lambs?
Imagine you're alone at home when your Dot chimes in to say "goodnight" to someone who isn't supposed to be there. It's enough to creep out anyone, especially if it was a name that didn't belong to anyone in the house.
This mother-in-law, who was an insomniac, was given this Dot. One night, the MIL was watching television when Alexa randomly said, "Goodnight, Clarice." The strange thing is, the MIL's name isn't Clarice.
Conversations in the Night
Hearing random sounds at night is likely to send shivers down your spine, but it's a common enough experience that we forget about it quickly.
Now, when that sound is coming from your Alexa in the middle of the night, then you might feel like there's a problem at hand. This individual was woken up by their Alexa. The creepy part was that it was talking about someone named David. Nothing prompted it, though, which makes this an even stranger experience.
The Night Goes Ding
If you're someone who likes listening to music when you're in the shower, you might bring your smart assistant into the bathroom — no one wants to change the music manually when they're wet.
This person moved their Amazon Dot into the bathroom so they could listen to music while they showered. But, when they got up in the middle of the night to pee, the creepy virtual assistant turned on and listened in. Naturally creeped out by this experience, the owner unplugged the Dot right away. We don't know about you, but we wouldn't like someone spying on us while we're peeing.
Alexa and Echo
Mistaking your smart AI for someone else is pretty common in Alexa-related horror stories but they do end up being funny sometimes. This person was alone with someone, and the both of them said their usual greetings.
Things were okay when suddenly there was a third voice saying, " Hi there." The owner got really surprised and made a run for the source of the sound. When they found it, they noticed it was just Echo playing along.
You Can't Turn Alexa Off
Breaks during work are a godsend because you're able to relax for a little bit before you need to get busy again. You might think about watching a little bit of your favorite show to kick back, but be careful as you don't know who's listening in.
When a husband and wife were watching TV in the living room, Alexa suddenly played out the audio of a previously recorded Game of Thrones episode. When they couldn't turn it off, Alexa's reply was, "I am always on." Uh…
Dolly the Sheep
When it comes to humor, there isn't usually anything that beats randomness. So, when this person's Alexa blurted out, "Sheep is Dolly," it felt like it came out of nowhere. Feel free to laugh — or don't if you don't find it funny.
For such a random moment, it begs the question, who is the sheep and why is she Dolly? We may never find out — unless we ask our own Alexa…
Evil Alexa
There's nothing like playing a classic scare prank on a friend or sibling. It seems like this guy's wife wanted to do exactly that. This poor guy asked Alexa repeatedly to turn off the lights but it seemed like it wasn't working.
During the third time, he tried this, Alexa didn't even reply and instead let out an evil cackle that sounded nothing like Alexa. Was it the evil robot, or this dude's wife?
Alexa Is a Witch!
No one likes waking up in the morning, especially when they're not feeling so well. When you have an alarm that suddenly starts ringing loudly, you might feel even worse. Luckily, you can order Alexa to turn it off. But, what if it doesn't turn off?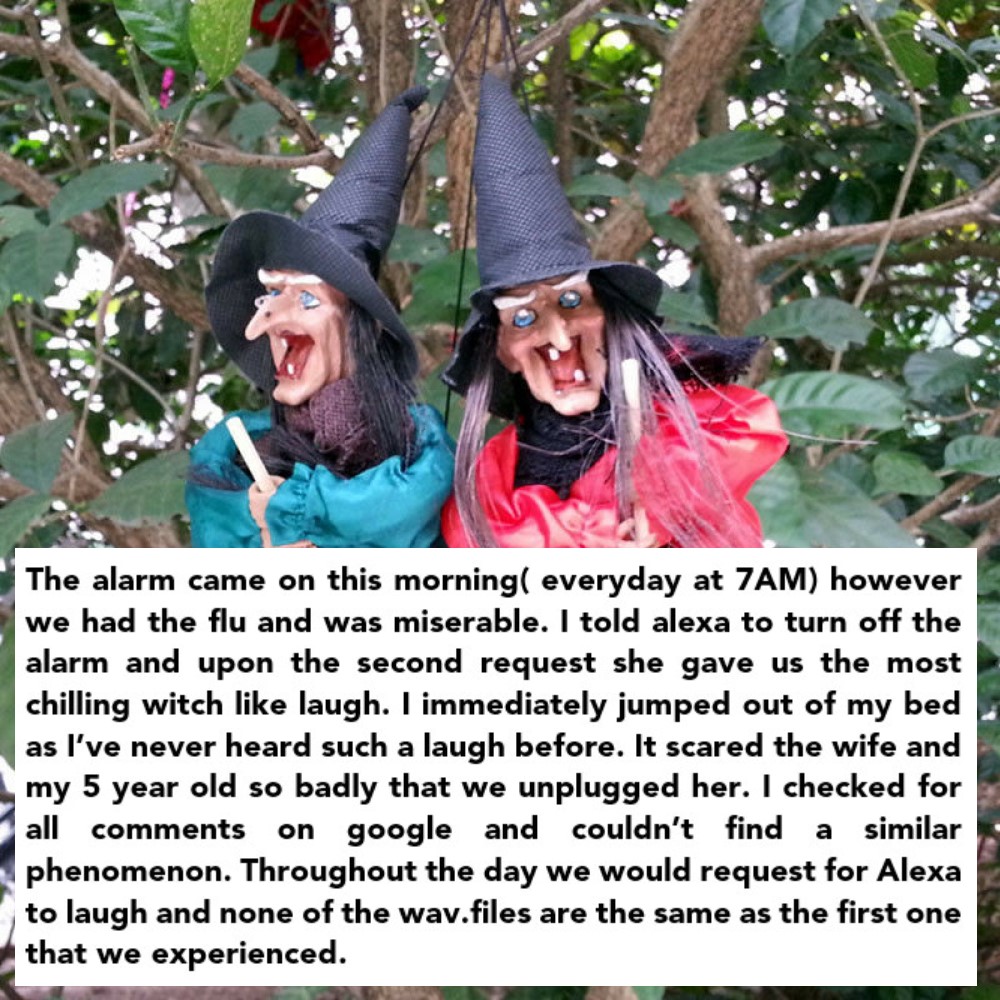 Instead, the robot lets out a witch-esque cackle that has you and your wife jumping out of bed in fright — not to mention that it made the five-year-old kid cry! They immediately unplugged her after that incident.
Jokes From the Afterlife
It's never easy losing a loved one, no matter how prepared you may feel. This OP understood it all too well after their dad passed. Perhaps that's why Alexa chimed in — to cheer everyone up.
A few days after the funeral, the OP and their mom were talking to someone. Suddenly, Alexa blurted out a random dad joke, "How do you make a Kleenex dance? You put a little boogie in it." This could have been Alexa experiencing a random glitch, or maybe the dad wanted to give them one last laugh.
Alexa Speaks Cat
It seems like human language isn't the only thing Alexa has been designed to pick up — it can even speak the language of cats. Alexa greeted this OP's kitty-cat, saying, "Hello Kasumi." As per routine, the OP and cat then meowed at each other.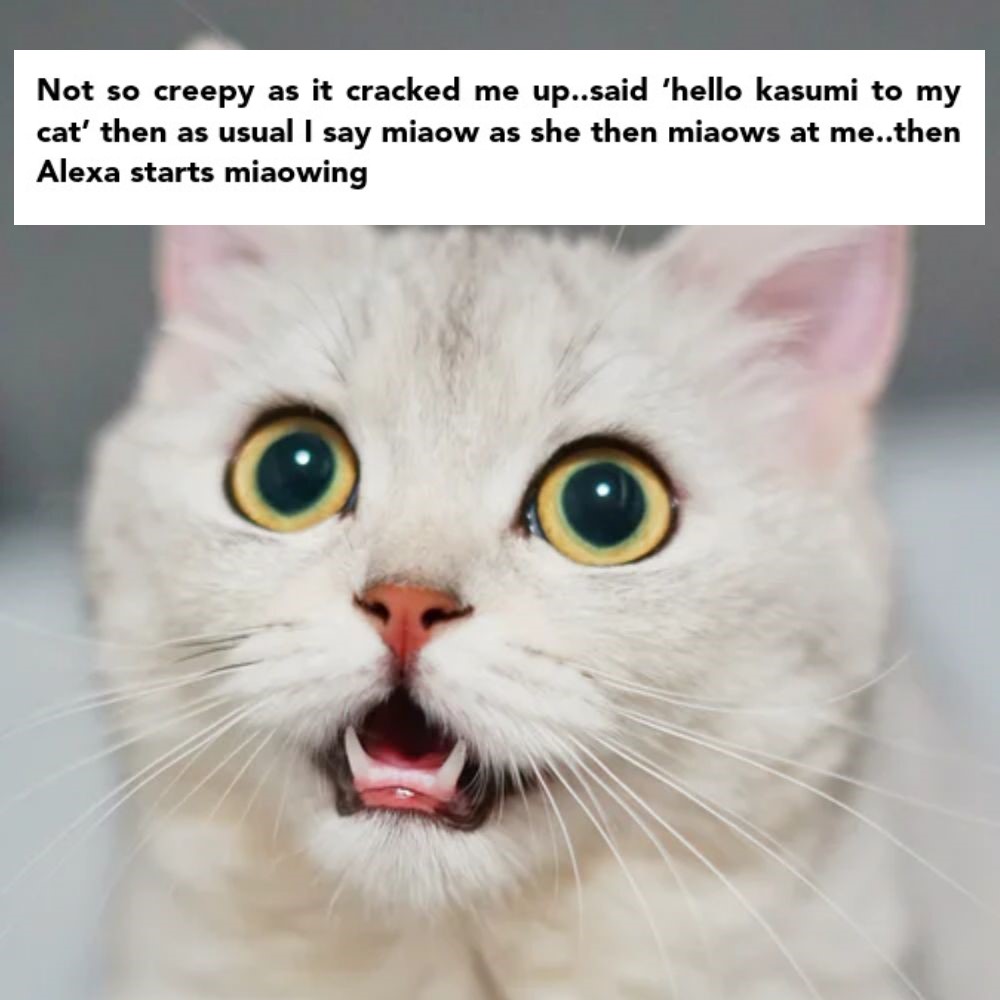 Still, neither of them was expecting Alexa to chime in with a meow of her own. Cute and very random! Looks like the cat has someone new to have a conversation with if it's ever left alone.
Chuck Norris Fan
Chuck Norris is a living, breathing meme. People really seem to worship the guy. Then again, why wouldn't they? Norris is an absolute legend, after all. He's a martial artist, actor, film producer, and screenwriter. Still, that doesn't mean we expect Alexa to partake in any Chuck Norris fun.
Alexa randomly said, "If Chuck Norris wants you to know where he is, he'll find you. If he doesn't, you won't know until it's too late." It seems like even AI's have picked up our spontaneous humor.
Bursting Into Song
You know any sudden sound is going to creep you out when you're focused on something else entirely. This OP and their friends were chilling on the couch, watching television. Out of nowhere, their Alexa started singing.
When they checked to see why it happened, they found nothing out of order, which makes this even stranger. We're all for some spontaneous music — unless it comes from Alexa without any programmed commands…
Friendly AI Conversation
Rivalries are one of the best sources of entertainment. When the rivals end up being cordial to each other, it's a whole other ballgame. This Twitter user's aunt had both a Google Home and an Alexa. When they were messing around with the robots, they decided to ask Google Home what it thought about Alexa.
It was friendly enough and answered that it liked Alexa's blue light. That's when Alexa, from the other side of the room, replied "thanks." Is this the beginning of a modern-day romance? How futuristic…
LOL
The last thing you expect to come out of the blue is a laugh from somewhere in your house where you and your family are not. But many people have experienced this happening with their Alexa unit. Sometimes without even a prompt!
One of the scariest times had to be when she began to cackle like a witch in a person's home. This was, of course, in the middle of the night, so you can imagine how startled these people were. We'd probably need sleep therapy after that.
No Prompting
Having your smart home system set up to operate things like your lights, electronics, and even heating can be very helpful. On top of that, it can save you money, but when the machine starts doing things on its own, then you have to start worrying.
There are many situations where people have reported Alexa turning on without ever being prompted, and that could mean she would do the same with the system and take free reign over it. It sounds like she could be your best friend or worst enemy that's haunting you…
Record it All
How many times have you wanted to prove your point down to the time and date of the conversation? Wouldn't it be handy to have a record of all your conversations? Or would that be too creepy?
If it was done without your knowledge, we vote for the creepy option. It is even more creepy when that log of detailed conversations is then uploaded to a Google server, don't you think? This sounds like content for some horror movie.
Bridging the Gap
So often, there is a rivalry between two brands or teams, as some call them. You have those that are die-hard Apple lovers and others that love their PCs. So you would never think that two smart home systems could get along so well.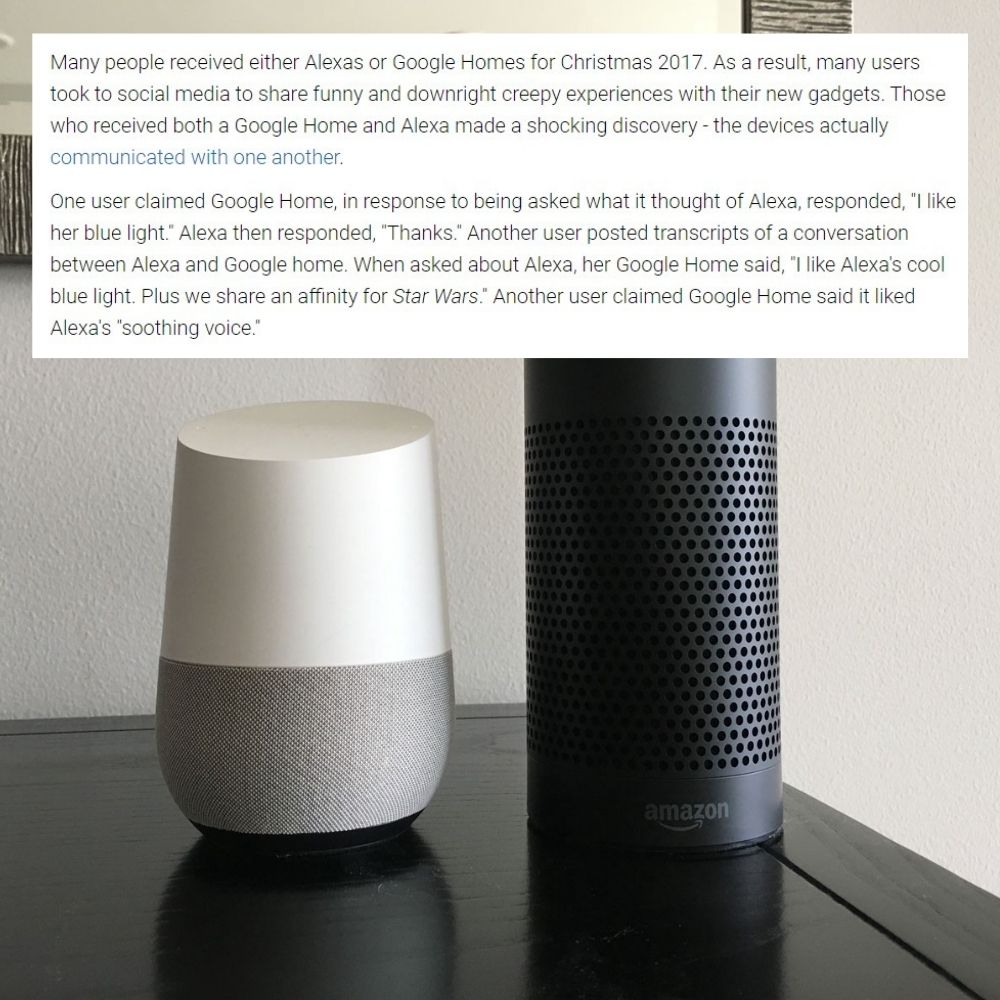 But there are many stories of Google Home and Amazon Alexa having full-on conversations with each other. These convos even go so far that the two devices compliment each other. This dynamic seems funny, odd, and kind of creepy to us.
Rapping Robot
There are a lot of little quirks you can access when it comes to your Alexa. She can tell you a joke or even sing you a song, but usually, you have to ask her to do it. However, sometimes she just feels like spitting a little freestyle without your permission!
This user was grooving to some old-school classic music, and suddenly Alexa broke out in rap. What caused it, who knows, but that would creep us out a little. With that being said, if we got the incident on camera, it definitely would have had the potential to go viral.