18 Years And Going Strong!
It's safe to assume that Michelle has probably heard her fair share of rude comments, wisecracks, and jokes about her family's name.
As a matter of fact, in middle school just about every time a teacher needed to read the attendance list, Michelle would ask to use the rest room. A lot of time has passed since her days of hiding in the bathroom during the daily attendance and grown-up Michelle wants the world to know that she is now proud to be a Ho!
Something Doesn't Add Up…
High school was hard for Zachary Chastain. It's nothing short of a miracle that he somehow managed to balance academics, extra curricular activities, a social life, and college applications, all on top of being a teenage male single mother with no children.
The yearbook committee had a policy of accepting every yearbook quote, as long as they weren't vulgar, so Zachary's still made the cut. Once all of the students saw what he wrote, they realized that they probably should have been friends with him.
Liar, Liar
Brandon and Tasha seem to both have a pretty warped view of what 'everyone' is thinking.
While Brandon is clearly a bit delusional, assuming that everyone he has ever come in contact with thinks he his the nicest guy ever, Tasha also doesn't seem to be the most reliable source, making the outlandish statement on behalf of 'everyone' that Brandon Dawson is a serial liar. With senior year in the books, these two will just have to agree to disagree.
She Didn't Choose The Single Life, The Single Life Chose Her
For many, high school can be some of the cruelest and loneliest years of life. The awkward trials and tribulations of love can leave many adolescents feeling overwhelmed, and helpless.
These students cling to the hope that they will find a significant other in their 20s. While her four years of high school were certainly difficult, at least Morgan has a sense of humor about it and will be able to laugh at her hilarious yearbook quote for years to come.
Modest Maxwell
When life gives you lemons, make lemonade. That's what Maxwell Barrett learned from his high school experience. Maxwell's sense of humor and inspirational attitude definitely came in handy during his high school years.
While he most likely dealt with his fair share of bullying, ridicule, and name-calling before graduation, Maxwell certainly got the last laugh with his hilarious and clever yearbook quote. We just hope that Maxwell brought his positive outlook, sense of humor, and wardrobe with him to college!
Quoting A Scholar
Kim Kardashian is at it again, proving to the world why her net worth is valued at $175 million. If you thought it was her television show, fashion empire, or relationship with rapper Kanye West that led her to her current level of fame and success, think again.
Before the highly intellectual Kim Kardashian was known for her reality television series, business exploits, or overly publicized love life, she rose to fame as one of the world's leading linguistics scholars.
The Over-Share
It was always a mystery why Tyler Bentley would laugh hysterically for the entirety of sixth period, her first class after lunch. Well, the mystery has officially been solved.
Tyler should learn that some things are better kept secret, or at least not published in her high school yearbook for all of her classmates to see. When it comes to sharing information about bodily functions, less is always more. It finally makes sense why she laughed so much harder on pizza day.
Never Too Old
Here we have yet another clever duo of yearbook neighbors. This time they wanted to honor everyone's favorite Nickelodeon cartoon.
Considering that the first episode of Spongebob Squarepants aired all the way back in 1999, this is truly a timeless reference and will probably still be relevant when these two decide to reminisce and share some cherished high school memories with their children and possibly even grandchildren. This just goes to show that you're never too old for some Spongebob.
Missy Knows Best
When the school administrators told Hannah to "pick a quote that matches your personality," she knew exactly who she wanted to quote- none other than her role model Missy "Misdemeanor" Elliot.
Missy Elliot is a rapper and producer who pretty much ruled the 1990s and early 2000s with her catchy beats, innovative style, and willingness to say anything on her mind. When they asked Hannah why she chose Missy to be her senior quote her response was, "Real recognize real, right?!"
Twinning
Yearbook twin jokes never get old. With practically endless material out there and two photos almost guaranteed to appear next to one another, twins never cease to amaze us.
This time, Katherine and Rebecca Henderson came up this hilarious side-by-side demonstration of why it's so awesome to be a twin. While most of their classmates probably laughed and appreciated the twins' humor, we're not so sure that their parents felt the same way when they saw their daughters' page in the yearbook.
Syked!
Having a positive self image is so important, especially for high school students. Garrett Syke is the perfect example of what it means to be proud of who you are.
While having butterflies is typically a sign of love or attraction and some might even say it's a little weird to get them when thinking about oneself, we're just going to go ahead and call it a sign of self-admiration. Way to go Garrett Syke! Keep being who you are!
Quoting A Legend
While we don't doubt that Martin Luther King Junior probably did, in fact, eat some incredibly delicious tacos at some point during his life, we're not sure that these exact words actually came out of King's mouth.
Sure, if the tacos were actually some really good tacos, he could have said it, but we can't help but wonder if this high school graduate could have maybe chosen a better, more appropriate quote from the most influential civil rights leader of all time.
Not A Morning Person
Connor Hart must have a pretty bizarre morning routine. For just about every high school student, the act of waking up is the most difficult part of the morning by a landslide. For Connor, however, there is something more challenging that he faces every morning.
Perhaps Connor has a strict and demanding workout regiment that he follows each and every morning. This could also explain why Conor never wears sweatpants to school because they are always dirty after his morning workouts.
Classic Shwartz!
This one is really just classic Shwartz. We all thought he had outdone himself when he took his shirt off at the senior museum field trip and started riding one of the dinosaurs. But nope!
Shwartzy is at it again! Good old Greg definitely had his fair share of success with the ladies during his reign at GHS and was never shy about it. We're just thankful that the always-classy Shwartz decided to pull off one more epic senior year shenanigan before graduation.
Giving Credit Wear Credit Is Do
This gentleman used his yearbook quote to give a shoutout to all of the English teachers who have molded him into an intelligent and capable young.
We're sure his WHS teachers are so proud of how far he has come since his freshman year, when his writing needed improvement, to say the least. Now, as a graduating senior, he has learned so much more than can be taught in the classroom. His former teachers are confident that he will always do the write thing.
Know Your Role
Mitchell Wieland decided to use his senior yearbook quote to drop some harsh truths on his peers. While parents will often tell their children to "be themselves," this advice can oftentimes be problematic and misleading.
What parents fail to consider is the possibility that their kid is naturally an unlikeable and undesirable person. Thankfully, for these kids, that's where Mitchell comes in to tell them that it might be better to just try to blend in with the crowd.
An Honest Vegetarian
These days, it seems that everyone is talking about the latest dieting trends. Whether it's vegan, vegetarian, paleo, or carb-free, the food we eat has become much more than a source of nutrition.
For some, switching to a plant-based diet has become an obsession. We all know that one vegan who, no matter what, will never stop talking about being a vegan, despite obvious social clues of disinterest. As the first ever honest vegetarian, Ankit Jain is truly a breath of fresh air.
Just One Time
Jason Avina chose to use his yearbook quote as an opportunity to advocate for one of everybody's favorite breakfast foods. With absolutely zero context, we're not really sure what Jason wants us to do with the information presented under his photo.
Perhaps Jason was trying to drop hints about the graduation present he had been hoping for- a gift certificate to his favorite bagel place. A much more likely option, Jason was simply a class clown looking for one last laugh before graduation.
Honesty Is The Best Policy
Anyone who's seen Mean Girls, knows that high school girls can be incredibly cruel to their peers. Alixandra Garcia was apparently known among other students as a hilarious friend who would often say things that were so mean, there's no way she could have possibly meant them.
Alixandra decided to use her yearbook platform to confess that she was, in fact, being entirely serious with all of the terrible things she said over her high school career. At least she was honest.
Dropping Some Knowledge
With one of the more profound and inspirational quotes on our list, James Curtin decided to quote a man with wisdom far beyond his years. We're talking about none other than Sisqo of course, an R&B legend from the late '90s.
Some might argue that Sisqo's subject matter is simply too deep for a high school senior to comprehend. But James Curtin would dare to disagree. James believes that it's never too early to take on deeply philosophical texts and quotes.
Ambition
We could all learn a lot from Madi Genz and her inspirational attitude when it comes to food.
Madi is a true go-getter and the type of girl who refuses to let limitations such as dietary guidelines or what may or may not be considered socially acceptable hold her back from chasing her dreams and turning them into reality. There's no mountain she can't climb, no ocean she can't swim, no obstacle she can't conquer, and no pizza she can't scarf down in one sitting.
That Spelling, Though
The always eloquent John Wayne has brought us some great words to live by. Wayne's advice on how to live a happy, healthy, and fulfilling life is so moving that this gentleman decided that it belonged in a place where its wise words could echo into eternity- his high school yearbook.
This powerful commentary was included alongside two equally powerful senior photos. The only thing that could possibly strengthen this quote would be a quick spell check. Nicely done, yearbook editors.
That's What She Quoted
Something tells us this kid might be a fan of The Office. Raunak Manandhar's clever yearbook quote is a play on words inspired by one of Michael Scott's favorite one-liners.
While at first, it may be unclear or difficult to understand, anyone who's seen the show will surely appreciate Raunak's subtle and dry sense of humor. We're just glad that Raunak decided against using a boring inspirational quote like most of his peers and went with something a little more entertaining.
Shake And Bake
These yearbook neighbors drew some inspiration from the famous Will Ferrel comedy film Talladega Nights: The Ballad of Ricky Bobby. As huge Ferrel fans, Anthony and William decided to get creative when they realized that their yearbook photos would be placed next to one another.
The shake and bake duo of Ricky Bobby and Cal Naughton Jr. was the perfect starting point for this brilliant yearbook idea. It was definitely worth convincing the yearbook photographer to capture the notorious fist bump.
The Spam Folder
Well played, Segun. The best way to deal with sticking out in the crowd is to simply embrace your differences. Segun is the perfect example of this theory.
When he first got his photo taken for the yearbook, he clearly understood that his name would stick out in a sea of typical American names like John Smith or Sam Thompson. So Segun Akigbogun decided to use his yearbook quote to acknowledge and embrace his Nigerian roots in the most hilarious way possible.
A Can-Do Attitude
Here is a student who simply can't be brought down, no matter what. Despite the face that Yonosuke Shigeta's 10th grade English teacher told him he'd never amount to anything, he continues to put his best foot forward and strive for excellence.
The ultimate secret to his success is his tunnel vision. Yunosuke has the unique ability to turn any negative feedback into a positive and beneficial learning experience. He is always putting his time and energy into what matters most.
Not A Typo
Carlos Carlos from the class of 2017 had a rough time in high school. "It wasn't just hilarious because he had two first names, but also because both first names were the exact same name!" said class bully Chad Stevens.
"I honestly felt an obligation to pick on him for it." Since his yearbook entry was published, Carlos has moved on to college, where he is still frequently ridiculed for his hilarious name. He has been contemplating legally changing his name.
The King Of The Dad Joke
Bumb Avkit always knew what to say to get his teachers laughing. However, his unique brand of puns didn't sit as well with his fellow classmates.
While they initially found his humor to be mildly entertaining, the novelty soon wore off and Avkit's jokes were eventually received with sighs and scoffs rather than laughter and applause. Based on his pun game, However, Avkit may just have a long and successful career as a dad joke comedian in his near future.
Taking A Stand
Agboke Toluwalope decided to use her yearbook entry as an opportunity to stand up for African high school seniors all over the country.
Agboke strongly believes that the number of syllables should not influence how badly the principal butchers a name when the time comes to walk across the stage and accept a diploma. Agboke just wants her school to recognize that not everyone grew up with easy to pronounce names like Jennifer Smith, Sarah Johnson, Tiffany Goldstein, or Jessica Thompson.
Silence The Doubters
Nothing feels better than proving someone wrong who thought you couldn't succeed. However, it's a little different when your very own mother was the one doubting you in the first place.
Mothers are supposed to believe in their children, no matter how ambitious their dreams may be. Let's face it, graduating high school isn't exactly the same thing as discovering a cure for cancer. We hope that Sofia continues to surprise her mother, along with anyone else who doubts her.
Ladies' Man
Though he may not look the part, Keegan Large was the smoothest ladies' man in his entire high school. He even won the superlatives of Class Flirt, Nicest Eyes, Most Likely To Succeed, and Best Hair.
Ever since his sophomore year, ladies were lining up to date MHS's most eligible bachelor. Some of the teachers even admitted to having a crush on the charming and handsome student. For his yearbook entry, Keegan chose to use his very own motto as his quote.
Spellcheck Is There For A Reason
For those of you who may not be familiar with popular rap music, Gucci Mane is a popular figure in the world of hip-hop who rose to fame in the mid-2000s. Gucci Mane has certainly made a name for himself in the world of rap and hip-hop music.
But we're not so sure he's the best possible source for a yearbook quote. While other students went with quotes from Steve Jobs or Albert Einstein, Jared went with this poorly-spelled quote from his rap hero.
Shameless Self-Promotion
Marvin Biano has always strived to be the next big hip-hop superstar. Even though he graduated with honors, his heart has always been in his music.
Rather than finding an inspirational quote which defined the four years he spent in high school, Biano decided to seize the opportunity and promote his latest mix tape. These days, it's all about getting your music to reach as many people as possible. After all, you never know whose parent might be a big-time record executive.
Words Hurt
This student is sick of people calling her a dumb blonde and she wants her entire high school to know that she has had enough! Unfortunately, she must have gotten her words mixed up and ended up submitting this yearbook entry, which most likely did not help her cause.
Hopefully, she got a dictionary as a graduation present so she can look up the correct way to use "pet peeves." Hopefully, she'll be able to laugh about this hilarious mix-up one day.
Joanna's Guide To Success
Joanna Clark has always been an overachiever. Her can-do attitude, high level of motivation, and all-or-nothing mentality have helped her come in third place back to back years at the state tennis tournament, finish high school in the middle of her class, and get into the safety school of her dreams.
In her acceptance speech for winning runner-up for best hair in her class's senior superlatives, Joanna made sure to thank her parents, teachers, siblings, and "most importantly, Paris Hilton."
Sharing A Private Moment
Everyone has their own relaxation methods. Who are we to judge Aaron Portillo for what he wants to do during his nightly bath time? What he wants to do within the confines of his tub is his business and his business only.
However, we have to admit that it is a bit concerning that he felt the need to share this strange part of his personal life with his entire high school. Some things are better kept to yourself, Aaron.
Wait For It…
When best friends Emily and Benjamin heard that their photos would be placed in the yearbook next to each other, they couldn't pass up on the opportunity to share one of their favorite Barney Stinson quoted from How I Met Your Mother.
The only thing that would have made this yearbook entry more epic would have been the dramatic and suspenseful effect of needing to turn the page between each photo. We still think it came out pretty awesome though.
Use Your Emojination
James Royel is a high school senior who knows how to think outside the box. While most of his classmates went with boring words for their senior year yearbook quotes, James decided to get creative and express himself in a different way.
When making a statement, sometimes, words just don't get the job done. Sometimes, if you want to truly add emphasis and evoke an emotional response, you need to add emoticons, also known as emojis, to your work.
Triple The Fun
Ever since they were little, the Durham triplets, Kassidy, Keaton, and Kylee, were always known for their hilarious shenanigans. They simply had a knack for comedy.
In elementary school, their jokes became so distracting to other students, that teachers needed to physically separate them and place them in different classrooms. When it came time to select quotes for their yearbook, the entire school was expecting something big from the Durhams. They definitely did not disappoint with this hysterically cheesy knock-knock joke.
Quoting Yeezy
When it came time for Kelly to choose a yearbook quote, she decided to go with a quote from one of the greatest musical geniuses of our generation- Kanye West.
While she could have quoted one of his many song lyrics that provide an astute social commentary on the politics of the 21st century, or maybe even one of his intelligent Tweets about family, she decided to go with this Kanye quote, which criticizes flight attendants for giving out unnecessary water bottles.
When You Put It That Way…
Jessica Enciso is truly an original thinker. In today's world, we spend countless hours worrying about whether or not we'll ever find that one special someone.
We think about and stress over our potential loneliness so much that we miss out on valuable time which could be spent sleeping. With just one senior yearbook quote, Jessica unintentionally started a movement which urges men and women to spend more time sleeping and less time swiping. She then took to Twitter, tweeting, "#moresleeplessswipe."
Keeping His Eye On The Prize
Will Faurot never let his eye patch get in the way of his love life. Over time, he learned how to use it to his advantage.
When asked about it in an interview, Will said, "Girls were always quite curious about the eye patch, but they never knew how to ask me about it. Maybe they were worried I'd get offended. But once I started making jokes, it opened a whole new world of possibilities." Will was voted "Class Ladies' Man."
Still Counts
Hannah Goldsborough learned a valuable lesson in high school. She learned that, as long as you finish something, it doesn't matter how close you came to failure. The only thing that matters is that bullet point on your resume.
When the time came for job interviews, Hannah only needed to explain that she graduated high school. She chose not to share that she "barely" graduated because that piece of information was not relevant. Her yearbook quote was a different story.
Just To Be Clear…
High school was tough for Alice, Kim, Theresa, and Vivian Nguyen. Every single student, and even most of the school faculty just assumed they were quadruplets without even thinking to ask.
No matter how many times they attempted to get the point across that they weren't sisters, nobody paid attention. They even went so far as to make an announcement over the loudspeaker after the Pledge of Allegiance. Hopefully, their classmates will finally understand that they aren't quadruplets.
Life's Not Fair
Sometimes, life is unfair. That's what Aditya Tammana learned when he tried to stick it to the man with his yearbook quote which happened over the 100 character limit. Aditya truly believed that his voice was censored by the school's harsh administration.
Out of his frustration, he tried to lead a school-wide walk-out in protest. Unfortunately, the school year had already finished, and no one else showed up to protest alongside him during their last summer vacation before college.
An American Pastime
These two senior baseball players just can't seem to remember their positions, so we will try to clarify. Will is the pitcher and Makenzie plays catcher. Or is Makenzie the catcher and Will the pitcher? Or do they switch off between the two positions?
Apparently, we also can't recall who plays what. In either case, the baseball team finished with a state championship in their last high school season ever, so both Will and Makenzie came out on top.
Proof
Paulyn Trinh has always been the type of student to think ahead. She was already planning which colleges she would be applying to back in middle school.
When it came time to choose a yearbook quote, Paulyn decided to use her yearbook entry to serve a different and unusual purpose. She wanted to have some proof for her future children that she was "hot back in high school." As usual, Paulyn was thinking ahead, preparing herself for anything and everything.
Just A Lil' Yearbook Joke
Lucky enough to have seats assigned in alphabetical order, Abbigail and Tory spent all of senior year sitting next to each other in first period, thanks to their shared last name.
Over the course of months, they weighed out their options and ultimately chose these powerful lyrics from the inspirational musician, Lil' Jon. Not everyone understood their choice of yearbook quotes, but at least they could take their bond to college and beyond.
No Shame In The Game
Makenzie Goluba just wanted to clear the air. Following a series of false rumors that began circling her junior year, Makenzie just wanted all of her classmates to know the truth.
Rather than picking the typical yearbook quote, Makenzie decided to dismiss the rumors about herself and proclaim her love for food as well as her healthy eating habits. We sure hope that her classmates respect the courage it took her to face this issue head on, in the high school yearbook.
C's Get Degrees
Hugh Vo is an athlete with his priorities in order. The All-American football player had an amazing high school athletic career and is hoping to make a big impact at the next level.
While football will be a big part of Hugh's new life in college, he understands that he is a student first and athlete second. That's why he'll be provided with the best tutor the university has to offer to take his tests and write his papers for him.
40+ Funny Text Convos That Took a Strange Turn
Texting has become most people's chief form of communication. But sometimes, as we are texting our friends, family, or coworkers, the conversation starts to take a turn for the strange. These funny text convos that took a peculiar turn can be funny, puzzling, or just plain odd. Most often, for those looking in from the outside, these conversations are quite funny, and that is why we have compiled a list of them below.
That's Just Awkward
Strange and awkward are two words that come to mind when we look at this text exchange. But we have to say that the second guy's humor is only topped by his compassion for his fellow brother.
It would have been even better if the guy had sent a picture with the same picture but with a shirt on that would have been absolutely perfect.
You Never Call
Random texts can be awkward, but when they affect your life outside the phone conversation, then they become a whole different case. For instance, in this situation where this person thought their mom wanted to talk to them.
She probably did but hadn't sent the message, and so this person was looking out for her even without knowing they were. But the strange thing is the person felt like they needed to scold the first person.
Sick & Tired
So this may not seem strange to some, but the response to the picture definitely makes it a peculiar conversation. But maybe someone should have a more in-depth talk with the person that thinks that a thermometer is a pregnancy test.
That in and of itself is a huge problem. And we are sure the continuation of this conversation gets even weirder, so we are glad we got the simple beginning. It's enough to give everyone a good chuckle.
Mothman Texts
When you are in the bathroom, in general, you are in a vulnerable position. When something you are afraid of comes in, and you don't think you have any way to get it out, this becomes a frightening situation. So what do you do? You reach for your phone and text your dad.
Now what your dad does with that text is up to him. Maybe, he will do what this guy did and decide it's funny to play with your emotions. Then things will get a little strange.
New Age Beliefs
There are many new religions in the world. Even some that have tons of beliefs and practices that others don't understand. So this may seem strange to some bit maybe it's not the most bizarre religion ever.
The conversation still is an odd one, and the fact that the guy is just ready to jump right into this fascinating new religion is odd to us but also very humorous.
Back-Up Plan
This is a perfect example of the difference between moms and dads. The mother is clearly worried about the son and the fact he has been gone for several hours for a straightforward task.
When she shares this with her husband, his response doesn't seem to match her fear level. Though the fact he thought her worry was about dinner is perfect and right on point for most dads.
Missing a Note
A lot of kids get up to crazy things when the parent goes away for the weekend. Most of the hijinks typically surrounding having a little get together at the house. But this sometimes leads to interesting conversations.
This mother is missing a piano and just wants to know where it went. We have the same question, and why couldn't the guy listen in the house it belongs to? Strange!
Pay Attention
We have all had this happen, right? You feel tired, and then you lay your head on the pillow, and suddenly you just can't sleep. Then the next morning, we want someone to feel our pain, so we share our problem with them.
But with this woman, she seems to have found someone to confide in that doesn't seem to be understanding what she was trying to say.
Seems Simple
Not sure Marie understood the question, and yet she seems pretty confident in her answer. This conversation was short but turned strange quick. Maybe this was a case of someone only half-heartedly reading the other person's text?
We certainly hope that was the case, but hey, maybe it was Marie just being like the answer to the question is simple… women! Perhaps she should have been a little more clear on her answer!
Show & Tell
Randomness can be a strange thing, especially when it comes to texts. Take, for example, this random text of what we are told is a standard cable. What do you do if this comes to a wrong number or to a contact that doesn't know what is going on?
Well, if you're this person, you decide to have a little fun and try to share with the other party a bit of your life as well. This may mean texting an image of your handsome cat.
Fine Then
Making a friend for some is difficult. You don't know when to approach, what to say or how to work your way into a conversation. So texting makes this much more comfortable as you don't have all the pressure of all eyes on you.
So why not reach out and see if someone wants to get together? This person must have thought that it was an open path. But that path got shot down real quick.
Captcha Please!
It seems like the little Captcha boxes are the answer to everything. There are few websites that you visit that, when entering information, there isn't one of these little boxes present. Sometimes they are easy, and other times they are pretty tricky.
One place you never think to see one of them, though, is in your text conversations. Especially as a way to prove your love is real and not the work of a bots programming.
Google It
As we have already said, some from the older generation just don't get the functions that are used on a smartphone. This can lead to some pretty strange conversations. Like a laundry list of what looks like Google searches.
Even better is that even after the child has told mom it's not google, she kept going. Maybe she was just looking for a little help from her kid and not Google.
Ummmmmm?
So this is a fine example of how much a part of our communications that texting has become. Without thinking about it, this woman wants to let their kid know they have forgotten their cell phones at home.
But that text, though sweet, seems a little odd since the kid doesn't have the phone and won't get the text until they get home and find the phone on the kitchen counter.
What's Your Name?
Your first is important, and most of us remember the name, date, and time of that person. But with this couple, that doesn't seem to be the case, and it probably makes the guy question the validity of him being her first.
One word of precious advice, ladies, always try to remember the name of the guy you're texting; otherwise, that convo could get a little strange.
Fruity Texts
Who just texts a picture of fruit? This conversation doesn't get strange; it starts out strange. Not sure if this was a personal joke between two friends or someone was just amazed by the size of the melon.
But if you are going to text random pictures of a melon, you might want to make sure the person on the other end is who you think they are. Otherwise, you get this reply.
Brand Recognition
This is just a classic case of someone being a bit of a smart…well, you know. Look, some people just use generic terms that were brand specific for the type of product they are describing. This makes sense to a lot of people.
The other person is just being a little sarcastic, and though it makes for a funny read, maybe next time explains to this poor person that the "i" makes it an Apple product.
Misuse of the Emoji
Emojis are a great way to add little accents to your text to say more than your words can say. But you have to know what they are and what they mean, otherwise you might wind up with an interesting discourse.
This woman thought she was being cute, but when it came down to it, she used one too many emojis and wound up saying something different.
Killing My Dream
We all need dreams, and when we achieve one, what fills that space? Perhaps a new drama, or maybe that space is blank on the shelf, and who wants a blank shelf in their life? But if you don't strive to achieve your dreams…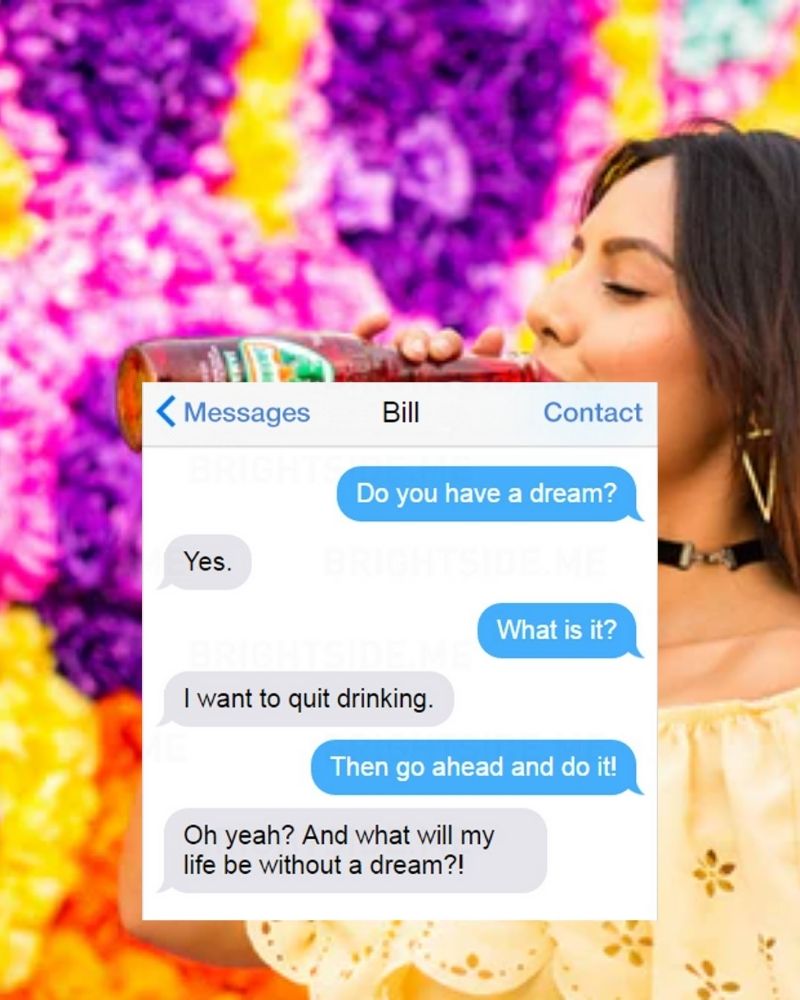 What is there? Even still, this person's conversation brings up a deep level of thought. Or maybe they were just being a little sarcastic.
Unrequited Love
Love is love, and it doesn't matter where it's found. But this is probably the strangest place and way that we have ever seen it. Just a random text saying I love you would brighten anybody's life up.
Who knows, maybe this will end up being the love affair of a lifetime. Or perhaps, after all, look at that picture. Not sure if that means that the person on the other end is a guy or just someone with a wicked sense of humor.
Strange Cravings
This conversation went wacky real quick. How did they start talking about tea and then end with mackerel? This is not even a logical progression, and frankly, the ingredients of this meal seem like a pregnant woman made the menu.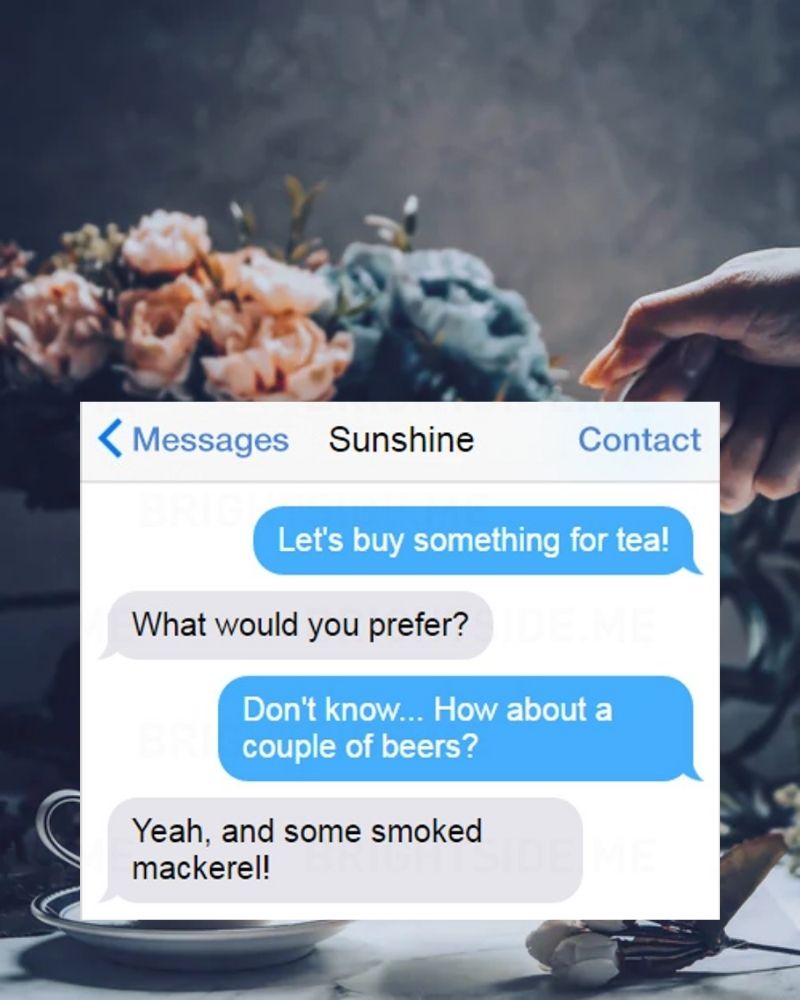 It's almost as if the one side of the conversation was actually meant for a wholly different person. We have all done it right, been texting two people and got the conversations mixed up. We are sure that is what is happening here.
That's Rude!
This conversation starts out so nice and is one that has the potential to make somebody's day. But then it goes a whole different route and one that could be looked at as kind of mean.
The reaction and tone of the conversation gets weird when the guy sends a picture of himself. Then it becomes almost rude. They could have just said no normally; the extra was not needed.
Don't Let Go
It's always nice to have your significant other able to tell you how much they fear losing you. This revelation makes us feel loved and important, but as the years go on, the reply to this question gets more and more matter of fact.
This guy may seem like he is being a jerk or trying to be funny, but he's just being honest. It makes for an awkward conversation but a funny one.
Read Between the Lines
When you are setting up a blind date, it can be very stressful. Not only have you never really talked with this person, but you may not even know what they look like. So this conversation starts out very normal.
But the guy on the other end seems to think highly of themselves, and to knock him down a peg, the girl has to come back with a good quip.
I Feel You, Man!
Strange isn't always a bad thing, right? When you answer someone you don't know's text and do it with a big heart, that might seem strange, but it is actually really nice. This guy understands where the other is coming from.
Because of this, they wanted to give that guy who got the wrong number a bit of virtual support. Good on you! That guy probably appreciates it.
Not the Question!
Technology is changing fast, and some of the older generations took a while to get into it. So this means that your grandma may have just got a smartphone, and like with anything, it will take her a little time to adjust.
But even with that adjustment, there is no way that this conversation should have gotten this strange this fast. That's not even an answer, grandma!
Oh, Snappp!
Wrong numbers are always a good time, but some people are clever and quick on the comebacks. So when this person texts a name and a question mark, the person receiving the text goes into a lightning reaction.
And the response may seem strange, but it is right on point and one that any 90s kid would laugh out loud at hence the texters response. We thought it was pretty funny too!
Oreo Cereal or Me
This text conversation starts out so sweet and then takes a turn nobody could have predicted. Letting someone know you miss them is so nice, but maybe the person on the other end isn't missing you as much.
Typically this might lead to a shorter conversation but not one that could potentially hurt your feelings. Though Oreo cereal is pretty good, so we can understand Sierra.
Amurrrica!
There are a lot of very patriotic people, and some of them may well take this to a strange place, like this text. It started out with one friend asking if the other was free to get together to have a day out at the movies.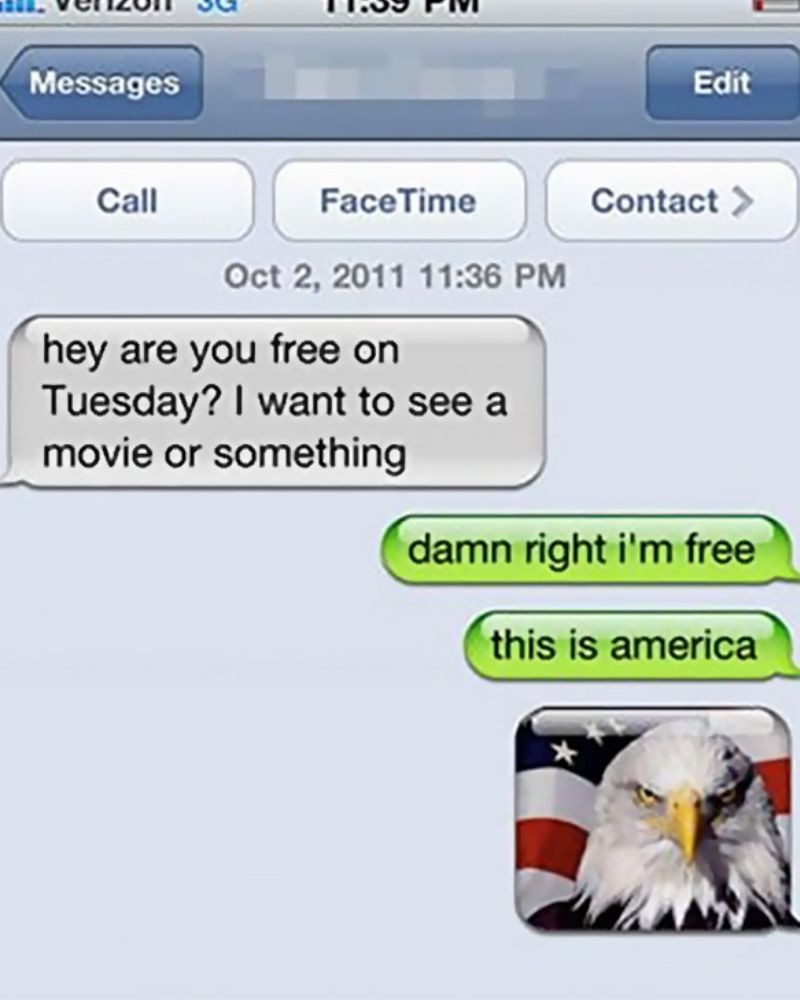 The answer seems a little strange to us, but it's not wrong. They are free, but we are sure that is not the "free" that the other friend was meaning.
Condolences…
So is it us, or do you find that fact that someone was okay texting about another person passing away? This is just another sign of how much texting has taken over our lives, and that texting is now the preferred form of communication.
The exchange may get heated, but it is quite humorous and strange. Why, if some texted you and it was the wrong number, would you even answer the text.
Predictable Text
When you get a text specifically asking not to do something, the best reaction is to go ahead and do it. So that is what happened when this person texted their friend. But the initial text is very strange.
We can only assume that this is a thing that these two friends do with each other. If not, it is quite strange and a little random.
Everyone's Entitled to an Opinion
How do you start a text like this? That is just mean and a little strange. We all have our days where we want to vent, but this is a little extreme. But then, once you realize it isn't the person you should back off, right?
But strangely enough, this guy just sticks to their guns and decides that whoever this is in the same boat as James.
In the Nick of Time
Don't you wonder what the pic is that this woman was asking for from her friend Paige? But then again, this wouldn't have made it on a list of strange texts if she had gotten what she was looking for. Or would it?
Anyway, the images they got back were kind of strange, hilarious, but very strange. Then again, anything with Nicolas Cage falls under those two words easily.
Give Me the Details
A random message comes across talking about inexpensive green means with no information attached you want to know the details. But this texter refuses to give it to the other person.
No questions were ever answered, and that makes this a pretty one-sided conversation. Not wholly strange, but strange enough to make it on this list for sure. But we still are wondering what the price was on those green beans!
Is That Code?
You never know what is on someone's mind and so asking them is one way that you can find out. However, sometimes asking will get you some amazingly odd answers, so be prepared. We hope this person was.
Because who would have to guess the other person was thinking of a short giraffe. And what the heck is a short giraffe?! The picture is not enough information.
Facts!
There are many things that struck us as a bit strange in this conversation-starting with the guy's nickname…T-Rex. But then when the person who got the wrong number text answers back, the text exchange gets a little more strange.
Though the texter sent it to the wrong person, the response certainly gives us the option to have a good laugh and learn a little about the dinosaurs despite the odd conversation.
Social Distance Dating
This isn't that strange until we go to the final text. That poor little dog is not a cat, and that is just too mean. This could develop into a dog dating service, though, if they really wanted to push the concept a little farther.
Even still, the fact that random people are texting a picture of what we presume is their cute puppies seems a little odd.
Random and Weird
Okay, so there isn't really a conversation here, but the single line of text is definitely strange. Imagine rolling over to this text in the middle of the night. The first thought would be, what was mom on?
The next would probably be how did that deer get a taco? The whole interaction is strange, and who knows what response you will get when you reply to mom.
Shouldn't Have Asked
If Liz couldn't tell that her friend was setting her up for some punchline, she is a little crazy. After all, Liz is typically only short for one name.
But hey, let the other person have their laughs, we guess. It only gets a little strange when she takes the bait a second time. Maybe her next question should be, what the heck is Disney's The Lizard King?
Broken Communications
When you text somebody and don't get an answer back, sometimes you just move on. This doesn't always end in a strange conversation. That is unless you finally get a response to that text.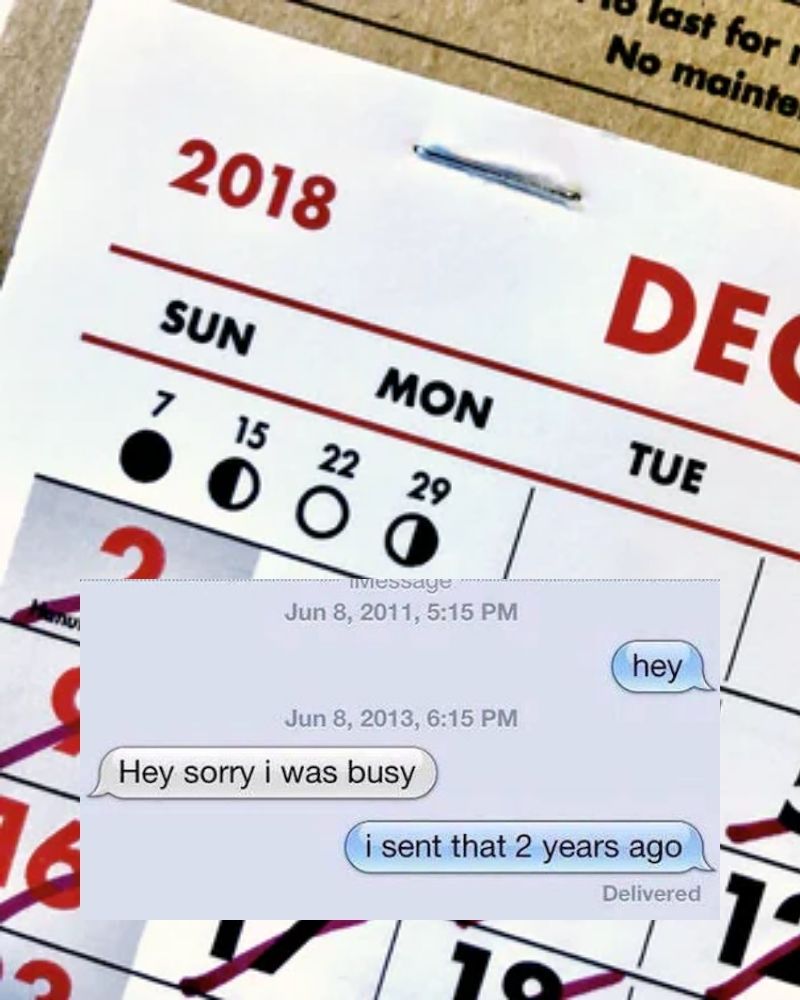 This is especially true when that response comes two years after the initial text was sent. But hey, at least the person got back eventually. They must have been really busy, we guess.
A Girl Can Dream
Since the Covid-19 pandemic began, traveling has been put on the backburner. And while a lot of us just wish we could just be transported to an island like Figi, the truth is that FOMO has always been a thing, long before this travel ban started.
The lavish high-life of traveling, glamorous purchases, and relaxing on some tropical beach appeals to us all but real-life circumstances get in the way and stop this dream from coming to fruition. These dream crushes include kids and taxes – you get the drift.
Change the Song
When it comes to music on our phones, radio, or TV, if we don't like a particular tune then we can just change the song or the channel. However, life is not always so simple. What happens if you're at a restaurant or cafe and a song that you loathe pops on?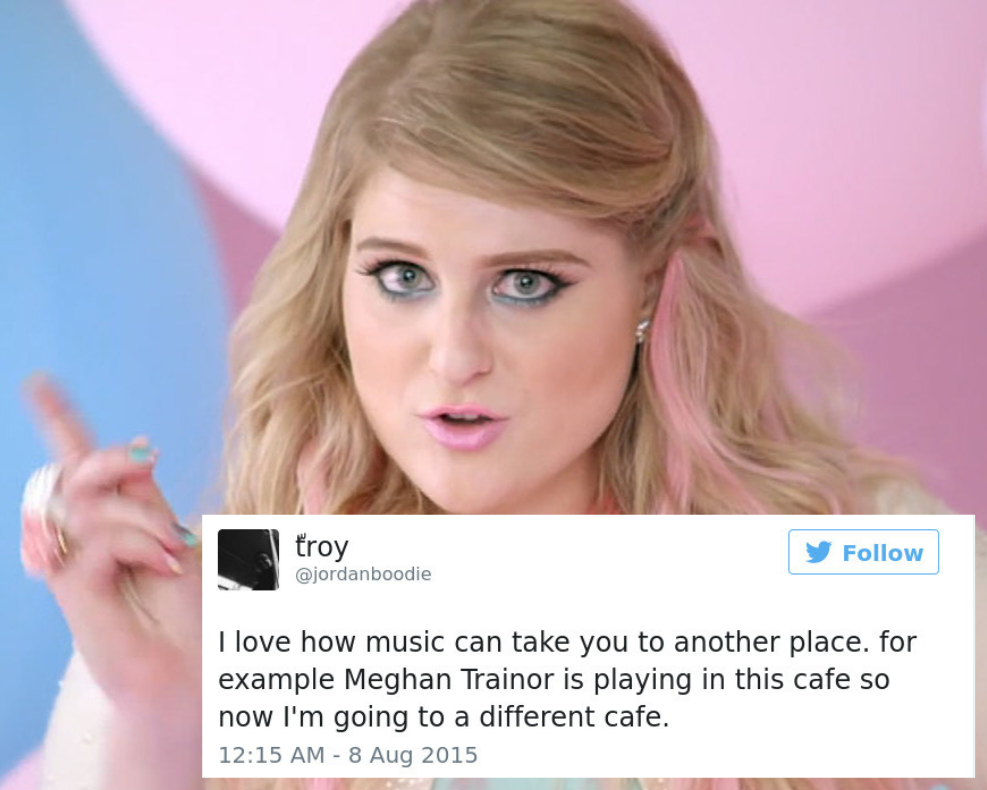 Well, there are a few ways you can go around this predicament. You can choose to be annoying and ask a waiter to change it, you can just be miserable and let it play or you can be totally obnoxious and leave the place as this guy did. As you can tell, none of these scenarios have a happy ending.
What Did He Do?
The only way in which this wife would commit such a dangerous act, like opening a car door while the car is still going is if somebody really got her worked up. We're just going to assume from the tone of this dude's tweet, that he was indeed the culprit.
So, that brings us to our next thought – what did he do? We're so curious to know… We've got every idea possible running through our heads from a cheating scandal to her finding the receipt for his new and expensive golf clubs.
Money Hungry
Money really does help to make the world go round but it's not everything in life. That's why we get irked when we hear about people doing these purely for monetary benefits.
Take, for example, Mr. Funny here who thinks he's so smart with his snarky tweet. Well, the joke is on you man because we're pretty certain you're still single. Have fun with your imaginary dollars!
Too Good to Share
We all know that sharing is caring but there comes a time when we just have to be selfish and keep our goods to ourselves. This could be in the form of clothes, body and skincare products, or our personal favorite, food.
That's why we can't blame this mom for blatantly deceiving her kid so that she can savor the last bites of her beloved cheesecake. Even though mothers are expected to be honest and fair, we all have our sacred items and hers happens to be this.
Meet My Girlfriend
Introducing your new love interest to your family can be daunting, so it's best to have that encounter once you feel like you really know the person. However, if you happen to be married and cheating on your spouse, then the time to make this introduction is never.
Instead, we have a different suggestion in mind – how about don't cheat in the first place? If you don't feel like you can stay being faithful to someone then marriage isn't for you. Try adopting a puppy if you get lonely – they won't mind if you bring over more.
Bush Baby
There's a reason why your ex-partner is your ex, so having a relationship with that person after being together can prove to be very difficult. That's why most people recommend not to keep in touch with old flames, especially if you have someone else on the scene.
However, from time to time, we all get curious and want to know what our ex is up to. At this point, a social media stalk should do the trick. Anything else beyond that i.e. hiding in the bushes is unacceptable and downright creepy.
Do Not Use
Call us slow but we seem to be missing something here. At first, this just looks like a generic label for a chopping board but upon closer inspection of the instructions, we realize this board should not be used for that. So now you're caught up as to why we're so confused.
What can this board be used for? To surf on? As a trivet for hot food? The options are endless but the company that created it really needs to stipulate the board's real purpose.
'A' for Effort
Most of us take pride in our cooking and want the recipients of our food to both enjoy and appreciate our hard work. So, when this doesn't happen it can be a pretty heartbreaking and embarrassing experience.
In situations like this, we say that laughter is the best medicine. Don't let others know just how much your subpar meal has affected your confidence. You can always cry in the back while you secretly order dessert to compensate for your cooking.
Just Be There
Sometimes in life when you're going through a hard time, all you need to hear from your family and close friends is that they've got your back and are there for you. That feeling of support can carry you through some of your lowest lows.
But you're not going to feel all that comforted knowing that a perfect stranger is thinking of you so remember to make sure that you know the person well before you start to share your deeper thoughts. Or in this case, just know the person at all…
Grill, That Is Not Right!
Random numbers in your phone can lead to some pretty uncomfortable interactions. This one is not that bad in comparison to some of the others out there stored in people's phones.
Autocorrect or misreading? The answer to that question is how you see it, but without either of these two, we wouldn't have this amazingly strange interaction to give us a good chuckle.
Look Out!
Fears, whether irrational or rational, are something we all have. Sharing those fears with a friend is a sign that you feel really connected to them. But when you share something, and they share something very rarely, does it get this strange?
However, on the low flying train fear front, we can see and definitely agree it would be frightening. Though this is probably not what the one friend was expecting to get back as an answer to their question.
More Than You Bargained For?
This conversation starts out very ordinary—two guys talking about setting up a meeting to sell a car. But somewhere along the way, one of the guys mistakenly sent a text meant for someone else.
That made this get a little strange for sure. But the guy's response made it worth all the strangeness. Well, at least for us, maybe not for the guy on the other end.
Spatial Relations
Some people are so logical, analytical, and literal that texting them can be difficult. So this conversation takes a turn when the person gets all spatial with the direction of the frown on the emoticon.
But it cleared up real quick, which is how you know these two texters are good friends. They really get each other. This friendship is literally about birds that flock together.
A Promise Is a Promise!
This conversation starts out strange and only gets stranger. Who starts a conversation with an esteemed guru? We knew once we read that intro that this was going to get a little weird and most definitely hilarious.
But it also makes sense, right? If you have been given a gift as this person clearly feels they have, you want to give the person that gave it a gift in return. Not sure his fully grown child will appreciate it, though.