Give me my space
One of the common realities of the subway is that we don't always have the opportunity to have our personal space respected. Of course some people know how to assert themselves to claim their space.
Like this lady, who not only ensured she had a seat, she ensured no one was too close to trip her or even spit on her. Quite a forewarned woman, a useful quality in this day and age.
Combining ando
It's embarrassing enough as it is when two people are dressed the same way because they took advantage of seasonal sales or so by pure chance. Well, now we think it might be worse.
We don't know what the probability was that the print on this man's shirt was exactly the same as the one on the subway seat, but it happened. Fortunately, he willingly registered it for us to see.
Sweat Protection
Daily protectors are for women's use, they said. Well, no, it turns out that since anyone can buy them, anyone can use them. And if they thought that the use was limited, the ingenuity of this man broke any scheme.
To avoid losing hygiene, presence and even the whiteness of his flannel, the gentleman in the photo had the brilliant idea to wear a daily underarm protector!
The panda who needed to grovel
Industrial design and engineering didn't come into the world because they weren't needed. In fact, knowing where to wear a costume can be vital to avoid mishaps. If you don't believe us, take a look at this panda.
Evidently, the authorities are quite active to solve the situation and to keep Japan's subway on its successful schedule. Now would the panda be going up or down?
In ecstasy
On the subway we can go comfortable or uncomfortable, stressed or relaxed, awake or even asleep, but the expression of this French bulldog leaves us speechless.
For starters, we're not even sure if it's in the rules of this subway to transport animals, but the adorable pet is riding in his owner's bag and the truth is that we don't know if he's going dizzy or he's going overjoyed.
Superheroes in everyday life
And not just any kind of superheroes. In a version somewhat lacking in aesthetics or budget, someone managed to find none other than La Mole, Spider-Man… and of the other two we still have doubts.
We find it valid to wonder if the one standing next to Spider-Man is Hulk? the Grinch? Or did the Hulk suddenly eat the Grinch? And let alone the being that looks like a fusion between Aquaman and the Lorax.
Paying penance
Deader than simple, they say out there, a matter we don't have to agree with after seeing this guy and his heavy style, literally.
We don't know where the young man should be headed by subway, but this boy's accessories seem to be a burden or penance. Dude, lighten up that style, the chains are too medieval to pair with the Beats brand.
Chucky and the Bride
The problem is not that people dress up, of course not, the problem is when they don't even go out of character in the subway! It makes our hair stand on end to think that we could find the protagonists of our nightmares watching us for minutes in a place from which we can not run away.
Anyone's torture, travel with Chucky and his girlfriend, and they both threaten you with crazy looks.
Act natural
If before seeing this photo we had been asked the options of what positions we can travel in on the subway, we would have said: standing, sitting or lying down. Oh, but there is always someone capable of surprising us with a new alternative.
Naturally, or as natural as it may be for an individual who likes to go hung, you can also go between the handrails from end to end. Let us know if you try it.
Like Britney
And there's a compelling reason, two in fact, to say that a person can go with the best of styles a la Britnet Spears in the memorable performance of her I'm a Slave 4 U track.
Like someone calmly taking his pet to the vet, this man took to pulling two constrictor snakes out of the suitcase. Too bad the handrail tube covers the baby's expression, I bet he must be gawking.
Vicious out of control
Just like when you can't stop playing a new video game. Well, so is this guy who took his vice all the way to the subway, and not exactly in pocket size.
With a console and a 32-inch flat-screen TV, we think someone's video game habit is getting a little out of hand.
The Invisible Man
One of our favorites! It really is a totally ordinary situation but perfectly captured by whoever was in front of this gentleman in the subway seats.
And the invisible man thing was at least the effect achieved by this gentleman's socks, having exactly the same weave and the same color as the wagon floor.
Jumanji
To us the following image reminded us of when the jungle invades the house of the kids playing Jumanji. Would the plants be on sale and did they all match on the same wagon after buying them?
It's too much of a coincidence to be true. We did some research on it and the image turned out to be of someone selling plants on the subway. Suddenly it's good to suggest selling something more practical.
Recognize yourself
Sometimes we think of those who work in the modeling industry as extraordinary people who wouldn't do something as common as riding the subway even if their advertisements were shown there.
The thing is, not everyone who models does it for Versace, Calvin Klein or Hugo Boss. What's more, they suddenly didn't believe this man that he was the same as the one in the ad and so he repeated the gesture.
Time to eat
When the commute is long and the commitments are many, the solution is obvious: Let's get out the container, the little table, the little bottle of water and let's eat!
And for the record, this is not an invitation to repeat the behaviors of others. Please, let's take into account the rules of the means of transportation and that if someone was hungry along with this man, the smell and sight of food would have made his journey an ordeal!
Einstein
Among the people with whom it would be possible to meet on the subway, we all have a list of actors we dream that one day want to live a few minutes of normal life and coincide with us.
What happened to the one who took the picture was quite an accomplishment, and for those who shared even a few minutes of life with the genius Albert Einstein, or well, his impersonator.
Penguin migration
We are all becoming more modern, more technological every day, and what if nature also wants to be part of this? What if an animal species wants to vary its migration patterns? We show you:
Here we can see how the whole subway station was filled with penguins. Truly amazing, I don't know how we haven't seen documentaries about it before. Okay, we admit they are people in disguise.
Someone woke up in the wrong place
Or not. One part of our team claims that someone was abducted by aliens with everything and bed.
The other part of our team, much more focused and skeptical of the unproven existence of intelligent life beyond Earth (as if we could be alone in the universe), believes it was someone who decided to be a few steps closer to their work.
Men on dinosaurs
That men don't grow up is a rather trite saying. We find ourselves fascinated by the feat of these men on dinosaurs. And not just any old way, they are riding the reptiles of bygone eras.
At least the effect of being short is pretty good on them in that costume, admittedly. What we really don't understand in that image is what dinosaurs have to do with soccer and the Brazil team.
Clever foresight
First thing in the morning, sleepy and all, we are more likely to be able to keep up with routine demands. However, already at the end of the day of work, study or whatever we have to do… it is normal to surrender to Morpheus.
And if they already know that falling asleep is normal why not just accept it and call in the favor of being woken up?
She forgot the broom
As much as we want to convince ourselves that it could have been a Halloween costume, there's something about this girl's attitude that we find both convincing and disturbing.
Suddenly it's her reserved and defensive posture, it could also be the full black outfit with dark makeup. Or, clearly, it could be that that raven has real dimensions and we're almost betting it's the real thing.
Traveling in style
My mother always told me I had to feel like a star if I wanted to be a star. It didn't work out and here I am writing for you. But not everyone has to give up their dream or their essence.
Indeed, nothing stopped this man from showing himself to be the king he feels he is. bravo! Surely his mother would be proud, and the man behind him in the carriage feels honored to be standing next to his highness.
Did they have to pay for the ticket?
There's not much to comment on when the metro authorities insist on making the means of transport an inclusive place, away from any kind of discrimination… But did they have to pay the ticket?
It's a grim but valid question, even if the casket was suddenly empty. However, from the number of people carrying the casket, it's also likely to be busy.
Matrix
We know it's quite awkward when, out of nowhere, you get a person who is dressed exactly like you. For this very reason, we'll assume these guys don't know each other.
What we can't help but think is that, when one of these young men sees the other, he might be in for quite an impression.
Packed Husky
We love dogs, it had to be said and it was said! That's why we can't pass up this adorable image where this boy's furry friend was in a fitted bag and carried everyone happy for his good behavior.
The animal doesn't seem weirded out at all with the way he's being transported by his human parent and, what's better, even the people next to him don't seem to decry the puppy traveling along with them.
Comfort above all
There are spaces that demand a specific dress code, such as school, church, meetings with bosses at the office, and even the beach if we're watching.
The subway on the other hand, doesn't demand a unique dress code, as this guy can demonstrate. After all, he's not showing anything untoward, although he must have thought the slippers would be a bit much.
Meat to go
If you thought there should be no vending in the subway, well, just know that someone suggested the exact opposite. Maybe street vending is annoying, but if some routes are not crowded, can you imagine being able to buy the meat for dinner?
As we show in this picture, somewhere in Asia (we zoomed in on the photo to distinguish the letters) they enabled a butcher shop inside a wagon.
Late to her own wedding
The image we're about to show may be the definition of having a bad day, after all it must be very stressful to be the bride and be late to your own wedding! Or at least we think that's the reason for her crying.
We'd like to think that it's completely impossible that she was left alone, to ride the subway back, after being jilted at the altar.
Brightest row
Among all the coincidences we can list to find in the subway, this is an extraordinary one. We say so because in the same subway, in the same carriage, gathered the most brilliant minds! or at least the most brilliant bald heads.
There's always the possibility that everyone went to be an audition to be Bruce Willis and everyone present was told no.
Fish calling for help
There are not one, but two things that may be distasteful in this image. You will decide – the shoes or the rubber-lined seat?
Personally, this lady's footwear seems to be portraying a fish asking for help. Surely they don't like the smell of the foot wearing them.
Medieval knight
Surely you may think that this is just another costume, we differ emphatically. Being a medieval knight requires fulfilling obligations, being ready and willing to go out for the maiden in distress.
Of course, to this knight, his noble steed must have fallen ill. However, we have a deep admiration for his commitment as we suspect the helmet must not be at all comfortable if you're not in a fight.
Plane to the subway
The subway ride may always seem the same, routine and tedious. Yet there are people who are willing to make the journey on public transport much more entertaining.
Using just a little imagination, someone drew to enter the subway car the pictures of the little plane game. If you do the sequence, you would also be taking a plane to get to work.
Hello, Mr. Stark
Superheroes do exist! We don't repeat it so that you believe us, we don't need to convince anyone because in fact there are those who have seen them in person and photographed them!
Like Tony Stark, I mean Ironman, when he's not wearing the suit. It must be reassuring to find a superhero going about his normal life on public transport.
Floating hat
There are photographs that are about opportunities at just the right moment. Is anyone else familiar with the surrealist works of René Magritte? Many of them portrayed men in bowler hats, just as the one who captured this image did.
At the precise moment, the man in front of him was positioned right under a piece of floating hat that was actually outside the carriage.
Mom's puppy
Even if a dog is a man's best friend, for a woman it becomes her child and deserves to be treated as such! If not, let's ask this spoiled canine with all his pout.
The truth is that we had already seen children too big to be riding in strollers, but this is the first time we found an English bulldog in these Did we already said we love dogs?
A little forgetfulness
Being the father of the year is a difficult task, complicated, mistakes are always made because for fatherhood there are no universities and the school of life is extremely hard. Of course there are things that should not be overlooked, like children!
But the phone doesn't forget, does it? These parents today. It's time to reflect on priorities. Let's hope the woman in the photo isn't the mother, otherwise that baby will make Tarzan feel lucky.
I better stay home
You know something's not right when you meet characters like these. We don't know what happened to the regular costumes, but this is the worst recreation of the singer from the Fifth Element movie.
And if it's not that character, it doesn't matter but does he have to stare at us so hard? I don't focus on anything: it's the necklace, the gloves, the mismatched shoes, the tattoo that is visible thanks to the transparency of the fabric….
No time to waste
When the journeys are long and you know you can make the time pay off, let's get to work! And board and knife too, as this woman who is not afraid to cut herself or shed a tear shows us.
With very little regard for whoever is riding next to her, who can indeed get teary-eyed over the onion or disgusted by the smell of it, the lady possibly decided she could go ahead with dinner.
The wagon as an office
Students are always blamed for leaving everything to the last minute, but what about teachers? A normal office man he is not, those surely have another kind of computers already waiting for them at their workplace.
We have no proof and no doubt that this man was correcting some papers, or finishing the final grades of his students. Let's hope the girl spying on him is not in his class.
Batman vs. Darth Vader?
Even the meeting of two worlds (Europe and America) couldn't be remotely more exciting than this subway ride, note how ordinary people are transfixed by the tension between the Dark Knight and the Star Wars antagonist.
It's safe to say they didn't expect to meet on the same planet, let alone in the same subway car. But what's the big deal if there are fans to spare for both?
He escaped from a video game
It seems that beasts must also work to bring money home. Also the half-man, half-monster beings, like the case of this gentleman who travels against the door. His little offspring with hairy legs and human head are not going to feed themselves.
Or maybe what happens to this man is that he has a costume party and must come straight from the office. If so, arriving with half his body ready is a great idea.
The canine plaza
We have already seen how some animals move in the subway. Sometimes even more comfortable than humans. Having four legs doesn't mean you have to stand all the time.
The curious thing is the way his owner managed to keep the puppy sitting. It is likely that this is his favorite toy, so, on any walk or trip, he demands to move it. Either way, this is the first cowboy dog – a furry cowboy aboard his horse!
Thinking like a machine
Yes, we have already heard several times that artificial intelligence is matching and surpassing human intelligence. We have already been told that, in a few decades, many computers will be able to do tasks that people do today. What no one expected is that the change would happen in this way.
Little by little, computers and monitors will be so incorporated into our routine that they will go to our heads. Here, in this subway, the perfect example appeared.
Enjoying the scenery
Subways or subways have many advantages, such as their speed and their network of combinations. But also some disadvantages compared to other urban transport. For example, not being able to observe the environment through the windows.
Going underground, the landscapes change. Lots of tunnels, power lines, rocks and culverts. Therefore, it is more entertaining to observe the internal scenes. With the exception of this poor passenger, who should probably close her eyes and go to sleep for a few seasons.
The Titanic Under Ground
No one who has seen the movie starring Leonardo DiCaprio and Kate Winslet can forget the scene of the violinists as the ship sank. It seems this passenger had it in mind to give a memorable serenade at the worst moment to show off his skills in front of the passengers.
Judging by the image, the listener was more than delighted. And best of all, the subway can't sink, because it's already underground.
Comfort above all
Anyone who has traveled or rides the subway frequently knows that sitting is not always an option. Less so at busy times, such as on the way to or from work.
That's why this experienced passenger, who surely has hundreds of trips under his belt, decided to take matters into his own hands. After a certain age he no longer wants to feel the fatigue of being transported on foot, so he carries his portable seat around the carriages.
The minotaur zebra
Mythology is riddled with strange animals, anthropomorphic beasts or deities of all kinds. One of the best known is the Greek minotaur. We don't know if this guy wanted to make a zebra version of the famous monster, or simply chose the black and white striped combination for fun.
What there is no doubt about is that the costume is very well done. We wonder if the subway is really suitable for this type of passenger.
The art of traveling
Who said that riding the subway can't be quite an artistic experience? Even a visit to a museum in the flesh. Inside the carriages anything can happen, even encountering an live action version of "La Gioconda", the famous painting by the Italian Renaissance painter Leonardo da Vinci.
We're not sure if the woman was heading to a costume party or to the Louvre Museum to reposition herself among her frames. Perhaps she was out for a walk, tired of so many stares from visitors.
Strolling to the garden
Yes, to the garden you don't just go for a walk. Sometimes the equation is reversed and it is the garden itself that goes for a walk. We have already seen dozens of strange situations that happen in subway cars. However, something new never fails to appear that continues to shock the viewer.
In the case of a costume, the choice does not seem too wise. Looking and breathing spaces are not plentiful, so this person will have had a bad time during the event.
A very real journey
Not all subways in the world have enabled the entry of animals to the wagons. Especially when it comes to domestic pets, such as dogs and cats. But authorities are unlikely to refer to exotic species, e.g. peacocks.
That's why this passenger decided to take his bird inside the carriage, before the astonished look of the rest of the travelers. The important thing is that the animal does not display its majestic fan of feathers, because they are going to occupy the whole train.
Don't go out in the cold!
It is increasingly common for some people to treat their pets almost like children, something that includes buying accessories, toys and all kinds of clothes. This is the case of this passenger who, above all, decided to protect her puppy from the cold.
We don't quite know how low the temperature is in that carriage or that city, but judging by the window, it looks pretty cool. And if the dog's coat is anything to go by, it's the Arctic Circle.
Yes my general!
Infantry troops have no business moving at a trot all the time. That's best left for training, while for everyday movement they have as much need as anyone else to travel by subway. However, it seems a somewhat strange case with this soldier.
He likes the military green color so much that he decided to paint even his face. It reminds a lot of the toy soldiers from the movie Toy Story, that troop under the orders of Sheriff Woody.
Practical solution
Surely most people who are looking at the image are thinking: how did I not think of that before! It seems like the ideal solution for every subway car. They are spaces where the bars and spouts to hold abound, a fundamental element in the installation of hanging hammocks.
What seats are not plentiful, so the solution found by this passenger is a measure to be taken into account by the authorities in charge of subways around the world.
Walking torture
Not all subway riders wear exotic animals, bizarre costumes or nice accessories. Some can make the atmosphere a little weird, not to say terrifying. Finding yourself traveling peacefully and suddenly coming across a guillotine must not be a very pleasant experience.
It depends on who is transporting it and for what purpose it may or may not be dangerous. Just in case, I would recommend to the surrounding passengers to change wagons. You never know when medieval methods of torture may return.
Personal Delivery
It's true: many times the craving for a good pizza can lead to extreme situations. For example, going out to pick it up anywhere, even if it is necessary to get there via a subway. It is likely that delivery apps are not working for this person, or that this specific place does not work with deliveries.
Whatever the situation, it's clear that the man was in need of a pizza and not a slice made it all the way home. He was so hungry that only the box was left.
It looks like on purpose
The awareness campaigns that are often installed in metros don't always seem necessary or real. However, no one can argue that, in this case, it is an everyday situation. The example is more than clear, directly below the poster you can find the evidence.
Some people, generally men, tend to get too comfortable when the size of the seats don't allow it. Looks like this passenger didn't have much use for glasses to read the sign.
Hence the mask
One of the first measures taken by health authorities around the world to combat the coronavirus pandemic is for passengers to travel protected on public transport. This includes the face mask or chin mask, an accessory that has already been installed in thousands of cities.
If anyone doubted that the virus circulates in the subway, here is the irrefutable proof. This new strain of the disease has even acquired a worrying size. Soon it will be necessary to cover up with full face masks or helmets.
The phantom subway
Amusement parks, amusement fairs or game spaces in shopping malls, usually have a set of attractions that include bumper cars, roller coasters and the classic ghost train. However, a spooky ride can also emerge on the subway.
Just cross paths with this group of living statues mixed with strange specters, who for free offer a terrifying ride home. Coming home from work can always be an adventure on the subway!
Cat fan
Some accessories look so realistic it's scary. This woman, surely a cat fan and cat lover, has to watch out for the animal protection society. Some distracted member may get confused and report her for animal abuse!
Anyway, you have to recognize the originality of that wallet. It may not be worthy of a party in a first class palace, but it is certainly fun. Plus, you can have a pet without spending on food or a vet.
To each his own
We agree that people can dress as they prefer. Yes, some styles are more eye-catching than others and may arouse the curiosity of passersby. However, this woman saved herself the trouble by avoiding seeing the stares of others.
We don't know if this is a very introspective person or he just didn't want to carry yet another bag in his hand. But what is striking is that he doesn't even have a peep hole – hopefully he was very careful on the subway tracks!
45 Creative Ways People Covered Up Tattoos of Their Exes
I Suspect Fowl Play
It's been said that getting inked is a great way to kiss goodbye to the break-up blues. A creative solution, this woman covered her ex's name with a watercolor-inspired feather. Cover-ups usually have to be large enough to disguise the original design, and the artist of this piece decided to take it one step further, getting creative with color.
Nature-themed cover-ups are a popular choice, and feathers can event represent freedom from a toxic or troubled relationship. Goodbye forever, Darwin!
Marge Makes the Best Muse
Cover-ups don't have to consist of the typical images of flowers, birds, roses, skulls, or feathers. If you want to erase bad memories of your ex, why not replace your ink with a fun tribute to your favorite cartoon character?
Altering the text on a tattoo is a convenient way of changing its meaning without having to cover the design entirely. This tattoo artist cleverly altered 'Mary' to say 'Marge', complete with a portrait of the blue-haired mother of three.
Portrait Gone Wrong
Getting a portrait of your significant other can be risky, and when the relationship breaks down, a trip to the tattoo shop is inevitable. Thankfully, some tattoos are more easily covered than others.
Sometimes, the artist may suggest a few sessions of laser removal, but this is not always necessary. When a design has faded over time, the artist can conveniently cover the original piece of work using bold colors, as seen in this 'Day of the Dead'-inspired piece.
Birds of a Feather
When a tattoo consists of a long line of script like this one, it can be difficult to cover it up. This tattoo artist decided to experiment with vivid shades of blue and purple, creating a colorful and fun feather. This bright design leaves no trace of the original, transforming the client's arm into a canvas.
Sometimes the old tattoo can peek through, but not in this case. Even the small flower has been covered with a splatter of ink!
Ain't No Mountain High Enough
Natural landscapes can be a popular choice of tattoo — reminding the client of peace, tranquillity, and rest. If a relationship falls apart, it can be a good idea to cover the tattoo with a tribute to your happy place.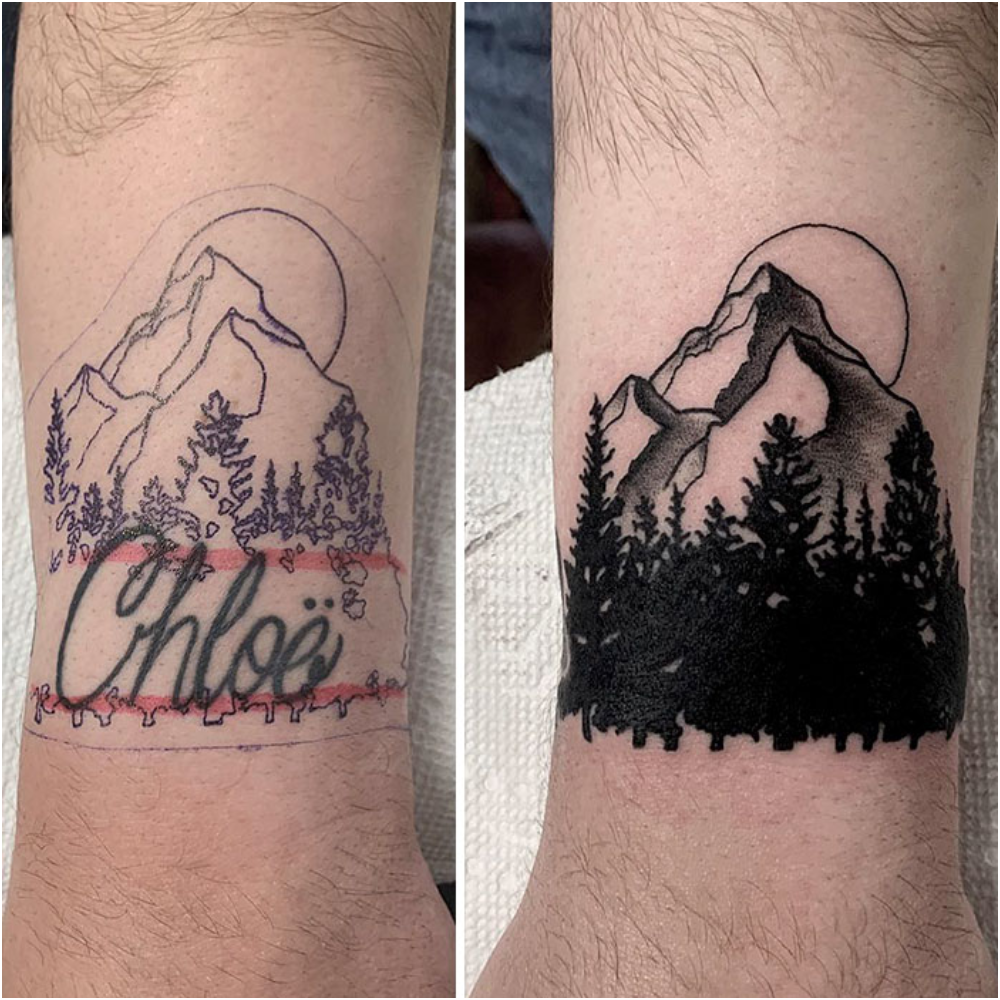 The artist of this piece decided to cover the original text with a cluster of trees. The mountain range and rising sun add another layer of beauty to this stunning tattoo. You wouldn't even know that this was a cover-up piece.
Mother of Dragons
Sometimes a tattoo can be difficult to cover entirely, due to the placement or size of the original text. In some cases, names can be completely covered by circular designs like this one. This Game of Thrones-inspired piece transforms the old tattoo into a powerful dragon symbol.
Dragon tattoos can represent freedom — and in many cultures, they connote strength, good luck, and knowledge. If only the client had the wisdom to avoid getting a tattoo dedicated to their partner.
Til Death Do Us Part
On their big day, some couples decide to get matching tattoos instead of exchanging rings. However, not all marriages stand the test of time.
Ring finger tattoos are subtle, but they can be tough to cover up when relationships go up in flames. However, if you decided to celebrate your marriage with ink, a lotus design like this one can be a beautiful solution, symbolizing beauty and spiritual awakening. Next time, maybe you should just put a ring on it!
King Kong Cover-Up
What do you do when you have a huge tattoo of your ex adorning your leg? Cover it with a gorilla, of course! When a portrait is this big, covering it up can be a mammoth task. Sometimes, the only solution involves exploring the animal kingdom.
This gorilla tattoo is a fun way to disguise a detailed portrait, and the dark coloring helps remove any trace of the original. If your favorite movie is King Kong, then that's a bonus!
Gotham Before Girlfriends
Getting a massive tattoo of your girlfriend's name across your back seems like a good idea until you split up. This Batman fan came up with the ingenious idea of dedicating his back piece to the caped crusader. The large script may have posed a challenge for the tattoo artist, but the classic shape of the Batman logo worked perfectly to disguise his homage to Kayleigh.
Never mind Bruce Wayne — in this story, the tattooist really saved the day.
Growing a Forest Apart
If your true love has left you, don't despair. Cover up that tattoo with an image of a place that brings you joy! This piece follows the natural curve of the lettering, disguising the fateful ex's name with a tall, powerful tree.
Forests are places of peace and relaxation, and simply looking at this forearm piece would be enough to dispel any bad memories of a failed relationship. Simply inhale, exhale, and focus on the future. A new life awaits!
Wings of Freedom
Getting your loved one's name tattooed on you is a big commitment. In the throes of love, sometimes this decision seems like a perfectly natural thing to do. This client desired his girlfriend's name inked over his chest, just above his heart. How sweet!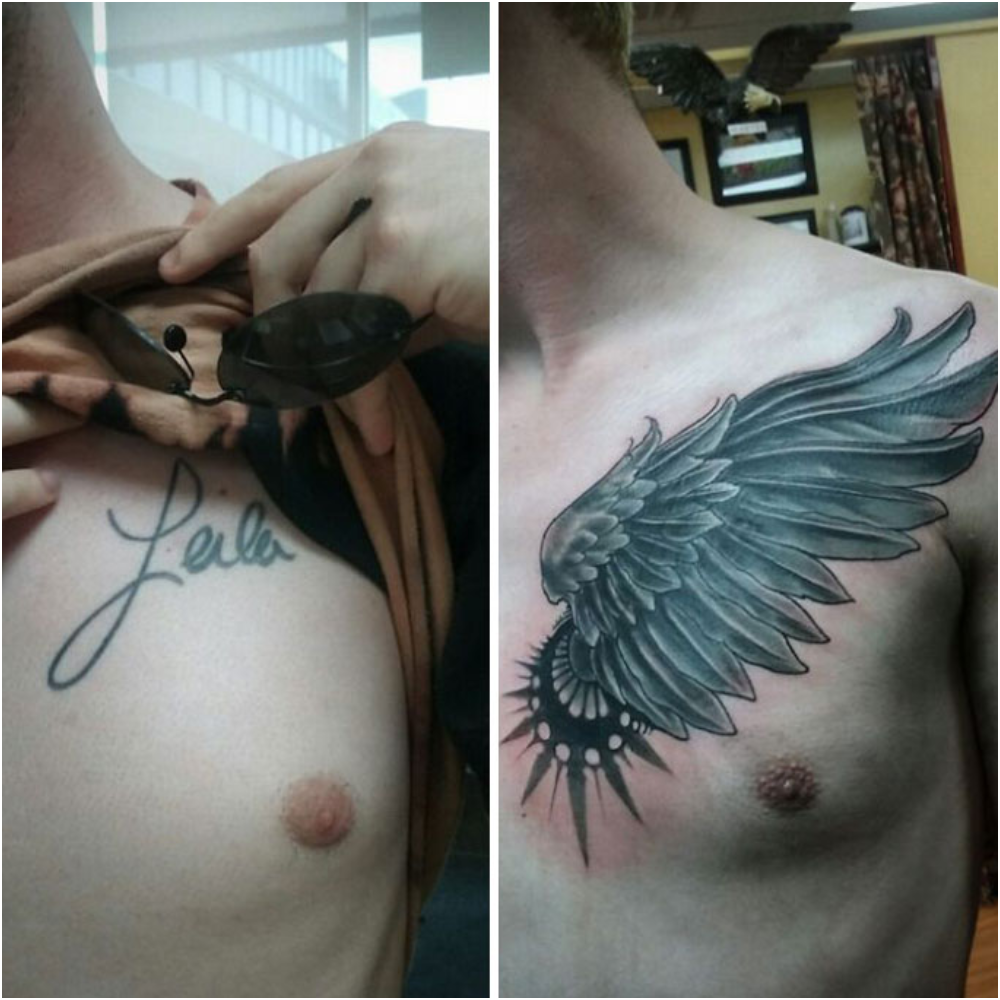 However, when things went sour, he had to go big to cover up the huge original artwork. This new piece uses intricate shading to complete the bold design. Sometimes birds of a feather don't stay together.
Devil in Disguise
Ouch. Let's hope this guy's ex never sees his new tattoo, as he decided to transform her portrait into a creepy, cartoon devil! The tattoo artist of this piece had to get creative to cover up the original design, as detailed portraits can sometimes prove difficult to erase.
The brilliant use of coloring really allows this piece to stand out, whilst still incorporating elements of the former tattoo, such as the hair. Check out those devil horns and sharp fangs!
Touchdown Cover-Up
People can decide to cover their tattoos for a host of reasons. Sometimes this is triggered by a relationship break down, but often the original tattoos were also terribly done! In this client's case, both of those factors played a part in their decision.
The original tattoo is shoddy, amateurish, and lacks detail. The new design uses vibrant shades of green and yellow, showing off this guy's love for sports, whilst covering the name of his ex-boyfriend. It's a win-win situation!
Mythical Medusa Transformation
Oh, dear! Poor Kim. Not only has her ex entirely removed any trace of her original tribute tattoo, but they've also replaced her portrait with a colorful, detailed portrayal of an evil creature from Greek mythology! The artist of this piece cleverly covered the text and the image with a host of slithering snakes.
This cover-up is bright, bold, and leaves no trace of the original black and white design. Hopefully, Kim won't be offended by her ex's new ink!
Paint it Black
Sometimes, a piece is so detailed and large in size that there is no point in trying to cover it completely. This client definitely has a sense of humor, and the artist took advantage of this! In this design, the ex's name is concealed by a smudge of black ink, which is being painted on by a hardworking stick-man.
Taking a comedic approach like this one can be a fun and light-hearted way of covering up a tattoo. We like!
Dead Man's Bones
Some relationships just aren't built to last. Thankfully, this client was able to say goodbye to their old relationship with this dramatic skull tattoo. The intense shading ensures that the original name is completely gone, while the skull design represents the death of an old life. Also, this tattoo can hold symbolic meaning for the wearer, showing that change and growth lie just around the corner.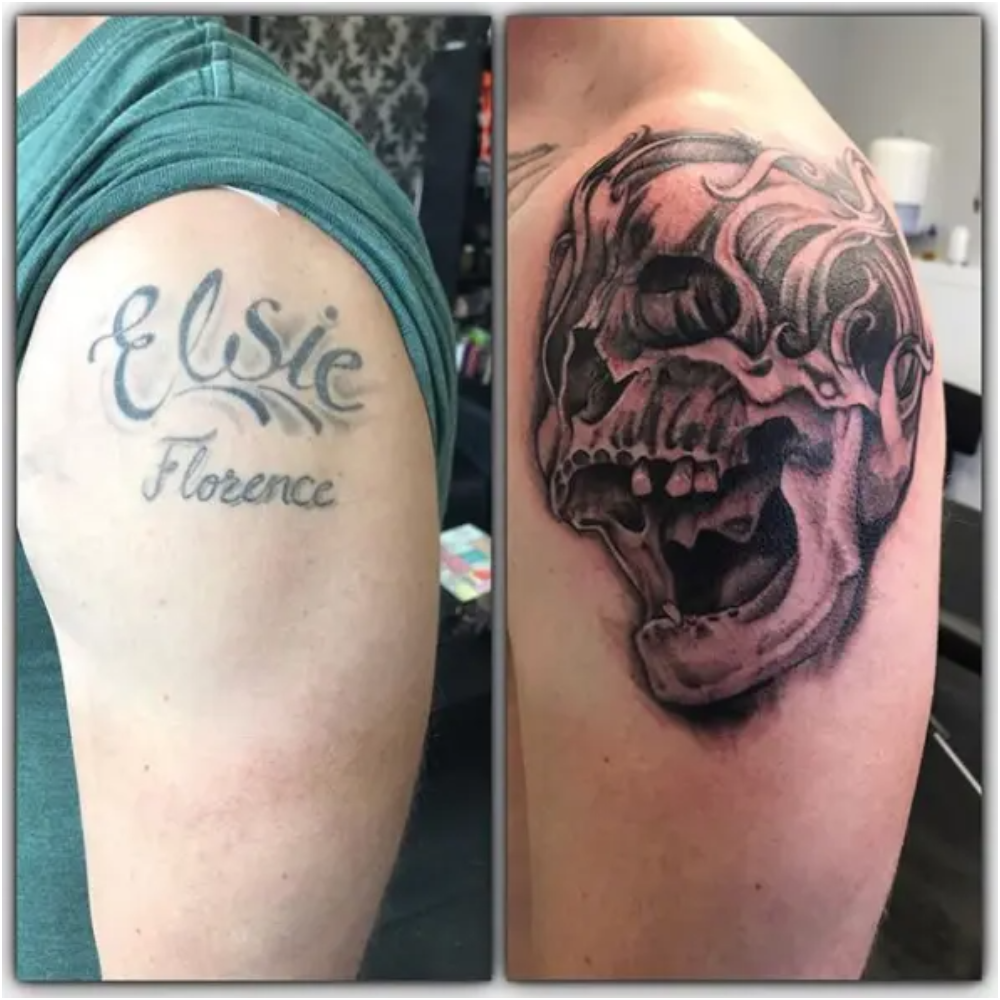 Aside from all that soppy stuff, skull tattoos also make you look pretty tough.
Rainbow Feather Fever
When the piece incorporates many bright colors, it can be a challenge for the tattoo artist to come up with a new design. This artist decided to craft a tribute to all things nature-inspired, sketching a watercolor feather surrounded by flying birds.
It was a stroke of genius, as the stunning shades of purple, pink, blue, and green really help to conceal the former script. Feathers may be a popular choice, but this is for a reason. They look great!
Diamonds Are Forever
This fun design brings the bling. Unfortunately, the client's relationship with Isaac didn't work out, but this didn't mean they had to kiss goodbye to their beloved diamond tattoo. Instead, the tattoo artist masterfully concealed the text with a luxurious purple ribbon.
They even went to the effort of brightening the blue colorwork and adding some sparkle with the lines at the top of the piece. This goes to show that completely covering a design isn't always the answer.
Out of This World
Being in love can make a person do crazy things and getting a neck tattoo is a brave way of declaring your romance to the universe. Unfortunately, not all relationships are meant to be. This time, the artist decided to go galactic, covering the dark, Gothic script with a colorful outer space design!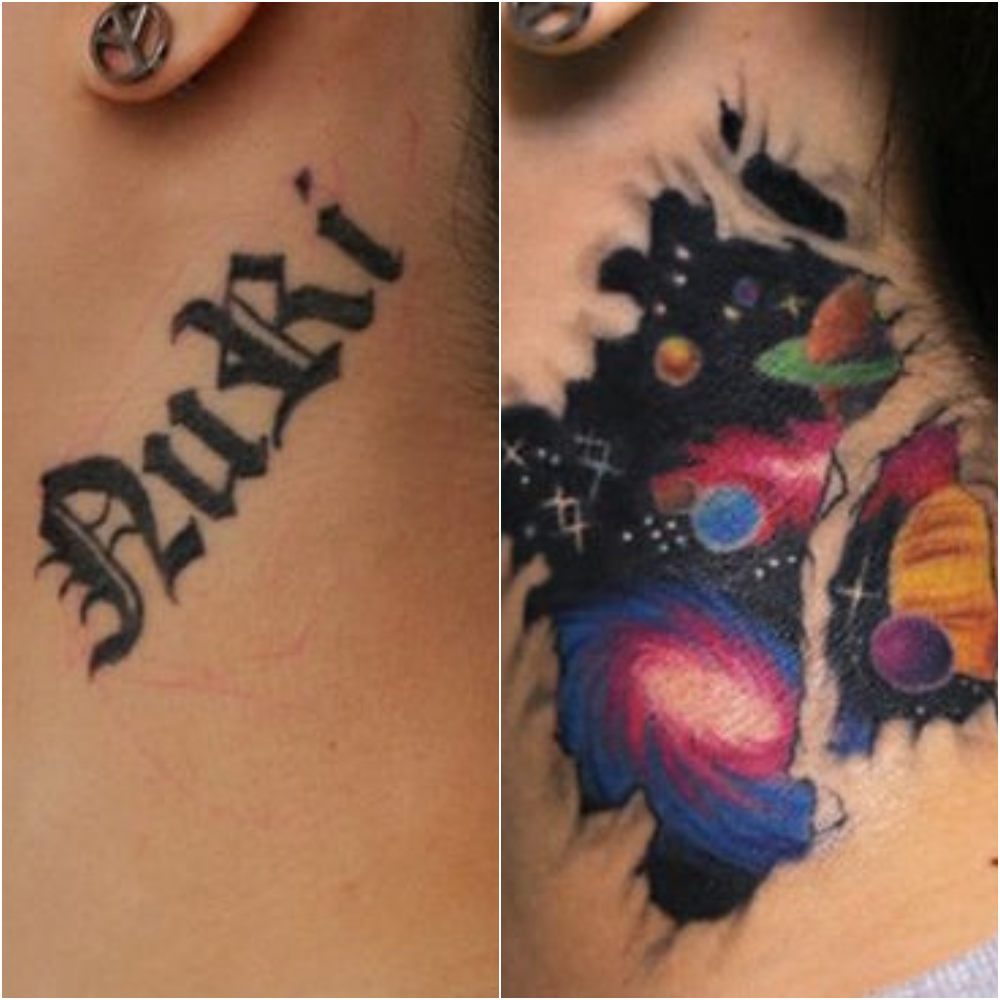 Break-ups are always tough but getting a quirky and unusual tattoo like this one certainly makes the best out of a bad situation. To infinity and beyond!
Guard Your Heart
Sometimes it's necessary to book a few sessions of laser tattoo removal to erase the original design. However, a talented artist will be able to avoid this by coming up with a design large enough to conceal the old piece. As long as you have a high pain tolerance, getting a huge tattoo is a good way of transforming unwanted ink.
This design is cartoonish and cute, but it reveals a deeper layer of emotional meaning for the client.
Dagger Through the Heart
Relationships can crumble for a number of reasons. Tension, a mismatch of priorities, or different values are just a few potential triggers for a break-up. Sometimes, instead of simply covering up an old tattoo with a pretty picture, people want to get a tattoo that symbolizes the end of a turbulent time in their life.
This client chose to get a dagger plunging through a heart, surrounded by a crown of roses, showing a newfound sense of strength and bravery.
Bye, Bye Billy
A mandala design can be an excellent way of covering up an old flame's name. In many spiritual traditions, mandalas are used to aid meditation — representing divine guidance, sacred spaces, and dreams.
Whilst this person may have made a big mistake getting their partner's name tattooed, perhaps the mandala will remind them to consider their actions and avoid getting into similar situations in the future. Detailed and usually large in size, they can cover a multitude of tattoo sins.
Lotus Move On
According to an ancient proverb, the lotus flower blooms most beautifully from the deepest and thickest mud. It can be hard to move on from a break-up, especially if you carry a reminder of your ex's existence on your skin.
This lotus design is a great way of covering up an old tattoo, as it creates a beautiful image that can hold brand new significance for you as you continue with your life. Life is tough, and so are you!
Star Crossed Lovers
If you've said goodbye to your significant other, it's time to say goodbye to your old tattoo as well. It's true that lower back tattoos can be tough to cover tastefully, due to their length and position. This artist chose to simply block out Edwin's name using thick, bold lines.
This cover-up isn't exactly subtle, but it certainly sends a clear message! Sometimes you just need to cross your ex out of your life. As Beyoncé once said — "Boy, bye!"
Wisdom of Ganesha
This cover-up stands out as a beautiful tattoo in its own right. To your average artist, this bold and dark typeface would be difficult to conceal. The creative tattooist of this piece decided to cover the text with a bold Ganesha design.
The detailed headpiece cleverly covers the writing, allowing the features of the elephant's face to stand out. With this piece of art on your body, no one will ever remember the original! Look at those piercing blue eyes.
Hayley's Misery Business
Even celebrities make mistakes! The powerhouse lead singer of pop-punk band Paramore tattooed the initials of her former husband Chad Gilbert on her fingers, only to split a few years after getting hitched. Rather than remove this with laser treatment, Williams opted to cover each letter with a bold, black square.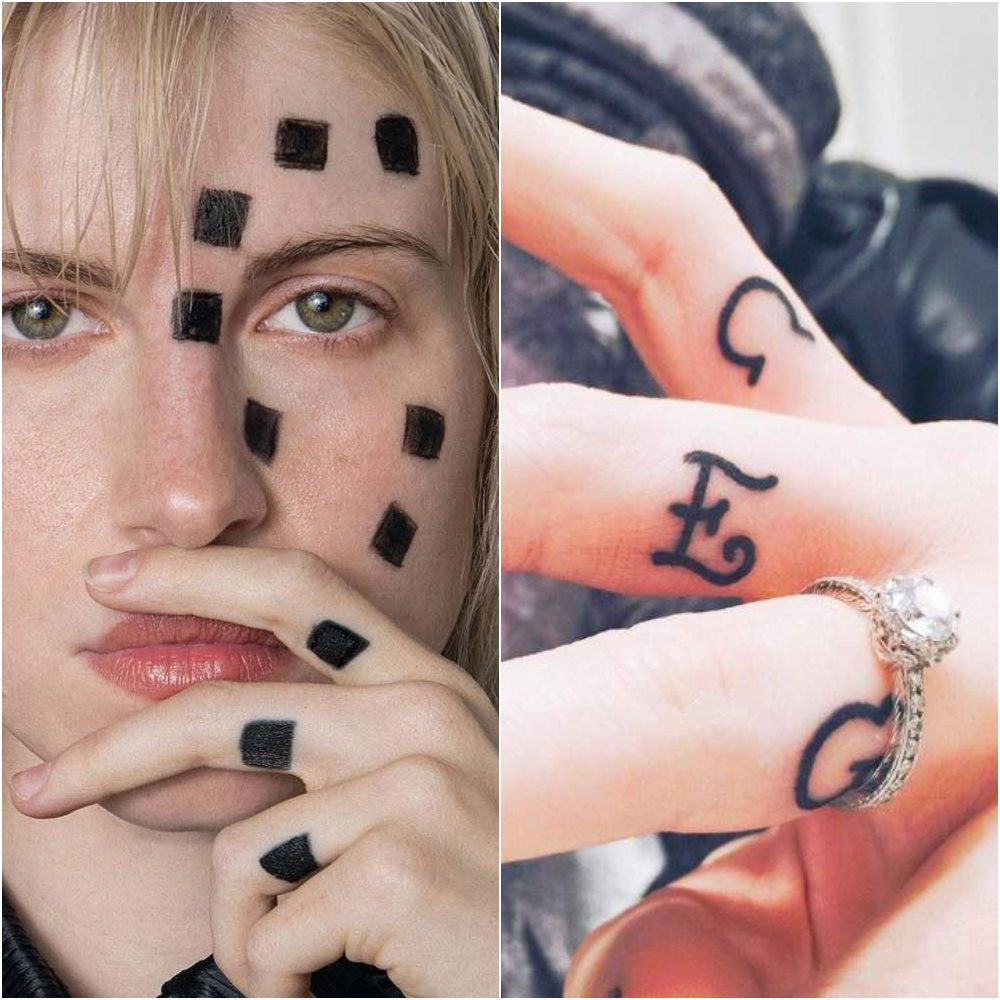 The design formed the basis of her first solo album cover, as she sported black squared painted along her face to match. I guess he wasn't the only exception.
Risky Wrist Tattoo
When they think they've found the one, some people want to dedicate a piece of art to that special someone. Some write songs for their lovers, whilst others create beautiful paintings and drawings. However, songs can be deleted, and artworks can be destroyed. Getting their name permanently inked on your skin may not be a wise choice.
This client decided to cover their tattoo with an intricate mandala design. This one was a massive improvement from the wobbly text of the original.
Wise Old Owl
Another wrist tattoo that needed to be covered up with a bold design. If you're an animal lover, you'll love this colorful owl piece. The artist left no trace of the original initials, instead creating an entirely new and fresh addition to the client's body.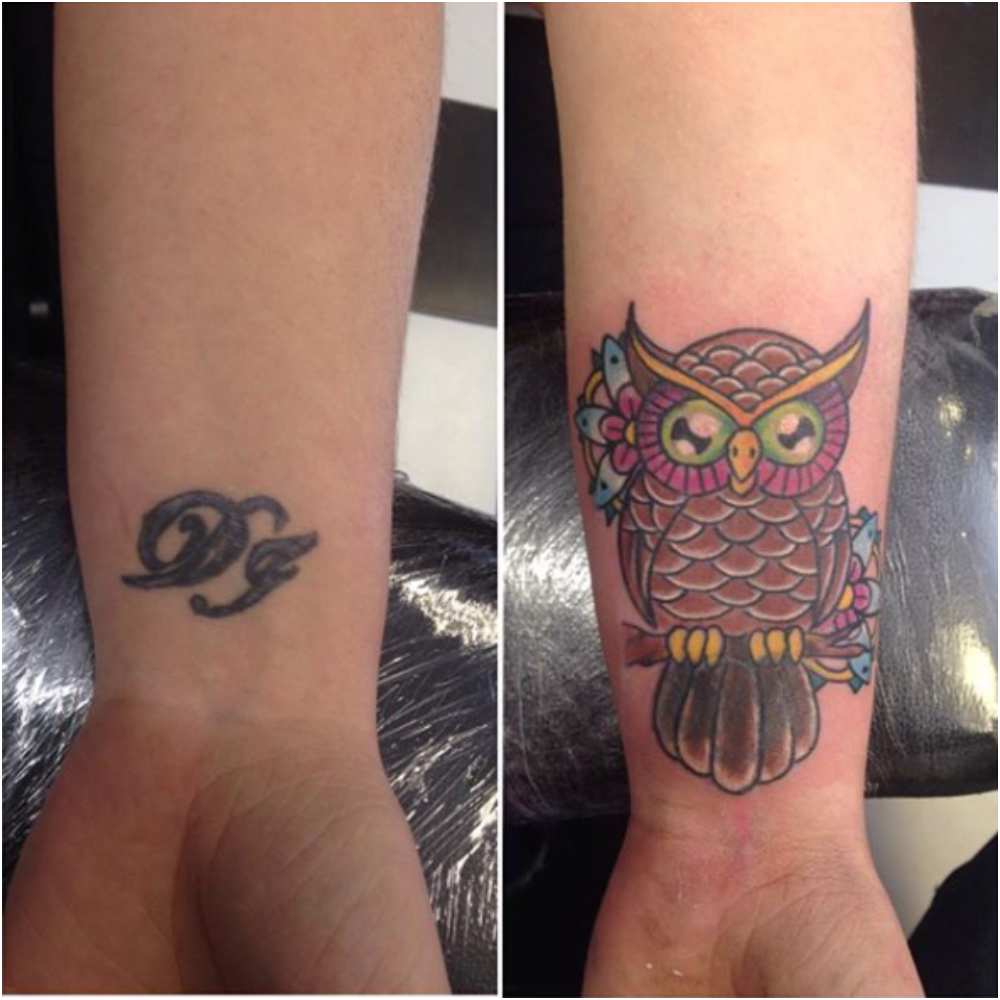 When a tattoo is particularly dark and difficult to conceal, tattooists can use bright and vivid colors to disguise the old artwork. This owl comes to life in shades of brown, pink, green, and blue.
Gothic Tattoo Heaven
This tattoo artist had their work cut out for them when trying to cover these bold, heavy, gothic initials. Only a dark design using black ink could disguise this tattoo, and so they came up with this incredible crow piece. White ink has been used in places to brighten up the tattoo and add beautiful highlights, resulting in a traditional yet modern bird tattoo.
The crow also makes a change from the usual sparrow tattoo, popularized by the sailor style.
Classic Car Heaven
It's been said that the love between a man and his car can only be understood by those who have felt it. This guy certainly felt it, because he decided to cover up his ex's name with a massive portrait of his automobile. The length of the chasse is perfect for concealing the entire script of the original tattoo, while the dark colors and detailed shading complete this striking design.
If you're a car enthusiast, you'll love this creative cover-up.
Feel the Force
If your significant other ever makes fun of you for loving Star Wars, simply cover your tattoo of their name with the perfect Storm Trooper ink! This cover-up takes a creative approach to the classic design of the original character, adding some mandala-style details and a spiderweb effect to completely conceal the original tattoo underneath.
The result is a fun and alternative tribute to the classic film series that will charm any Star Wars fan. Nerds, unite and take over!
Slam Dunk Cover-Up
Some people decide to cover up their ex's names with vague designs of animals or hearts. Others decide to get tributes to the other loves of their life — sports teams. This fan wanted to cover up the initials of their ex with a flaming basketball design, paying homage to their favorite team, Miami Heat.
This is a fun way to decorate your skin with something that's sentimental, yet fun! Plus, your favorite team can never break your heart.
Not-So Happily Eva After
Getting inked is a big commitment. When this client realized that they had made a mistake, it was straight to the tattoo shop to get a cover-up. The new artwork shows a definite improvement. How could you not fall in love with this beautiful, nature-inspired design? The intensity of the blue and indigo tones really allows this butterfly to stand out, while the pink coloring of the flower adds a sense of femininity.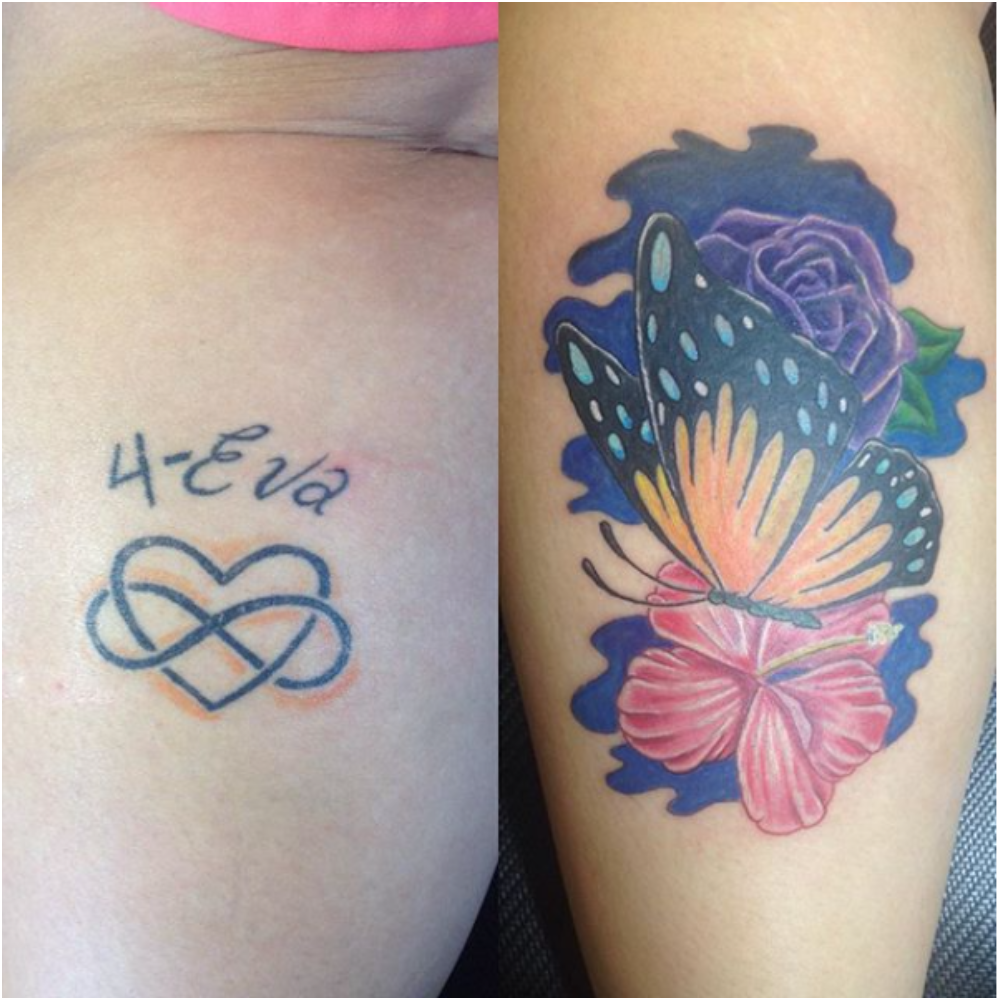 Some relationships aren't made to last '4-eva.'
Anchor in Life's Storm
More often than not, break-ups are intense and exhausting. Being in the middle of a split can make you feel like you are in the eye of a storm. When this client decided to cover their ex's name, alongside a Celtic heart and sentimental date, they had to trust their artist to come up with something good.
This tattooist blew them away with a traditional anchor tattoo complete with a detailed, blooming red rose in the middle of the piece.
Pete's First Mistake
On-again, off-again romances can be very tough. Saturday Night Live alum Pete Davidson learned this the hard way when he began dating Cazzie David in May 2016. On paper, their relationship seemed like a match made in heaven. After all, David is the daughter of Curb Your Enthusiasm star and comedy legend Larry David.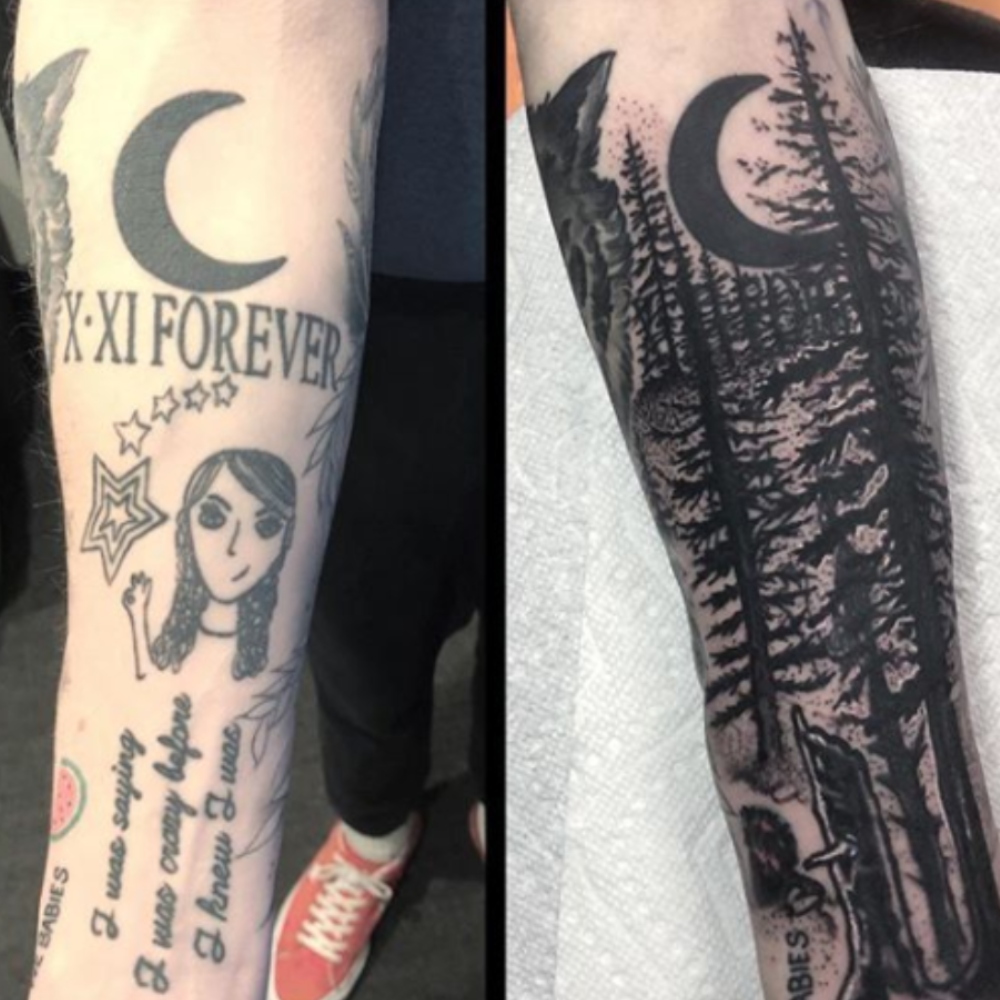 However, it was not meant to be. Following their split in 2018, Davidson decided to cover up Cazzie's cartoonish portrait with a detailed, moody forest design.
A Truly Dangerous Woman
You think he would have learned his after his previous break-up, but no! After a whirlwind romance, comedian Pete Davidson became engaged to pop star Ariana Grande in 2018. However, five months after they first got together, the couple split, causing him to cover-up his tribute to the singer.
Placed on his neck, the tattoo showed a bunny ears design that featured on the artwork of her 2016 album Dangerous Woman. Davidson decided to cover this with a simple heart.
Tribute to Slash
Another celebrity cover-up! American model and television personality Amber Rose has had her fair share of famous exes, from Kanye West to 21 Savage. In 2011, she began dating hip-hop star Wiz Khalifa, and the pair married in 2013. However, they filed for divorce shortly after, and she decided to remove her tattooed portrait of her former husband.
Showing that she is not only a rap music fan, Rose covered this with an image of Guns N' Roses guitarist Slash.
City of Angels
Before her relationship with Travis Scott, model and make-up mogul Kylie Jenner dated another high profile rapper, Tyga. At the height of their romance in 2016, Jenner got a small tattoo of the letter 'T' to represent their love. Following their split, Kylie showed off a re-worked version of the tattoo, which had been changed to a lowercase 'la.'
Despite hailing from the nearby Calabasas, this ink is thought to be a homage to her current home of Los Angeles.
It Moth Be Love
The Big Bang Theory star Kaley Cuoco married professional tennis player Ryan Sweeting in 2013 after only three months of dating! Their brief romance didn't last, and following their divorce, Cuoco decided to cover up this tattoo on her back, which showed the date of their wedding in roman numerals. So, why a moth?
In an interview, she remarked that there was no sentimental reason behind the design — it simply had big enough wings to cover up the old ink!
She Loves Me Knot
This is an interesting one! Celtic knots are complete loops that have no start or end. They are said to represent eternity, loyalty, togetherness, faith, love, and unity. This might seem like an unusual choice for a cover-up tattoo, as it signals the end of a relationship. But, in this case, the knot could signify a new beginning — or a commitment to one's self.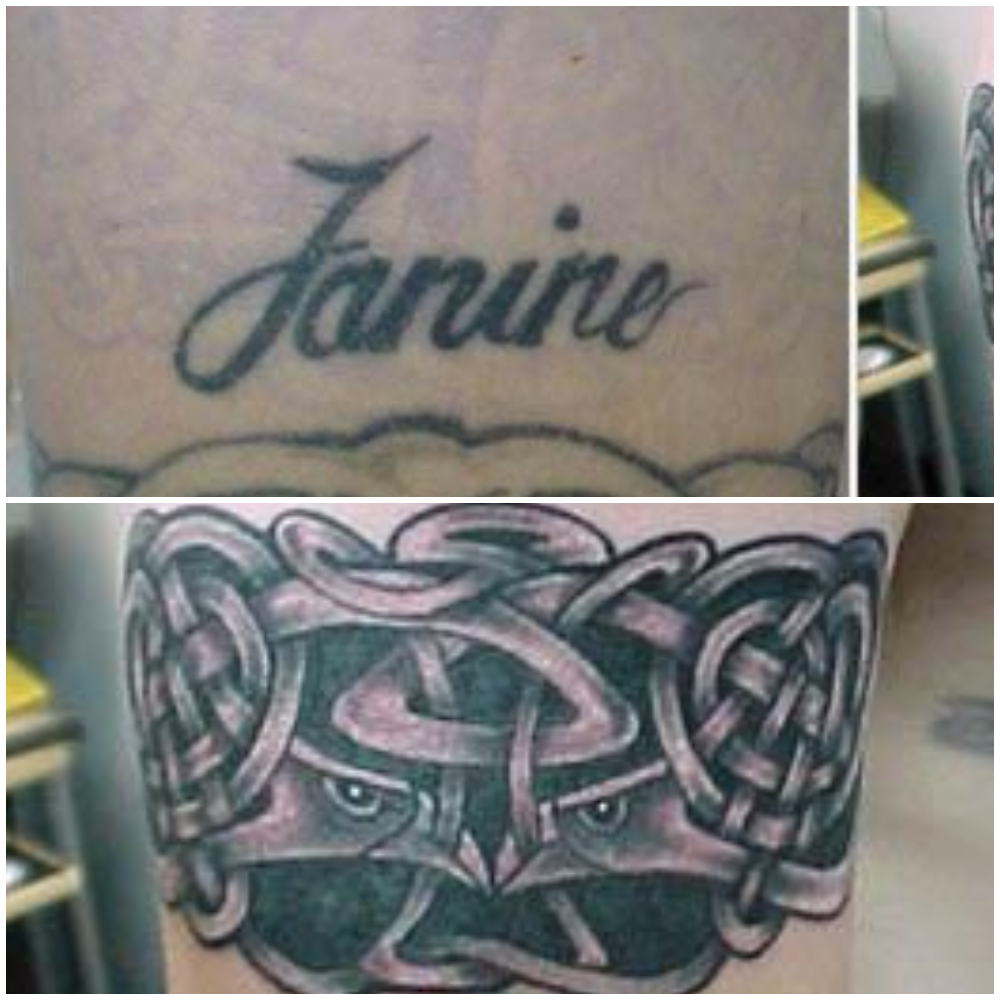 If you look closely, you can even see the faces of two birds, suggesting inner peace.
Goodbye, Jenny From the Block
American singer-songwriter and actor Marc Anthony is known for two things — his tropical salsa smash hits, and his former marriage to singer Jennifer Lopez. He used to sport a tattoo on his wrist, showing the name of his former wife in delicate cursive. However, after their split, he decided to cover the ink, choosing a detailed design inspired by the Statue of Liberty.
According to reports, this was a tribute to his new girlfriend and represented freedom from his past.
Smell the Roses
Roses are traditional tattoos for a reason. They look beautiful and they never go out of style. This purple rose is a modern and fun version of the timeless design. The leaves are created using a sketchy, hand-drawn technique, adding another unique twist. The size and placement of this tattoo allow the original name to be completely covered.
It's bold, yet feminine and definitely does a good job of disguising the old piece. A great way of updating a classic.
Good Bear Gone Bad
No longer cute and cuddly, this client decided to cover up their original tattoo of a teddy bear with a giant gargoyle! Maybe it reminded them of their ex, whose name was inked underneath. The resulting tattoo is a rather scary piece of ink. Whilst it may not be the most attractive design, the dark shading and bright shades of green and yellow ensure that the original bear is nowhere to be seen.
Check out those ginormous wings! Spooky stuff.
Tribal Tail Piece
Occasionally, tattooists have the tough job of covering up only one aspect of a client's design. This lower back piece featured the name of the client's ex-boyfriend. However, they did not want the entire tattoo to be covered. The artist managed to sketch a brand new tribal design, that accentuated the original piece whilst entirely concealing their ex's name.
This style of ink may not be everyone's cup of tea, but at least the client is no longer associated with their old flame.
Aries Rears Its Horns
This is one creative cover-up. The original design consisted of a cute heart dedicated to the client's wife. When his relationship ended, he decided to dry his eyes and mark a new chapter with a new tattoo. Covering the original design with some shading and fun colorwork, he decided to get inked with a tribute to his astrological sign.
The first sign of the zodiac — Aries — is known for being fiery, stubborn, and independent. Who needs a significant other?